6 Great Hikes Within 15 Minutes of Banff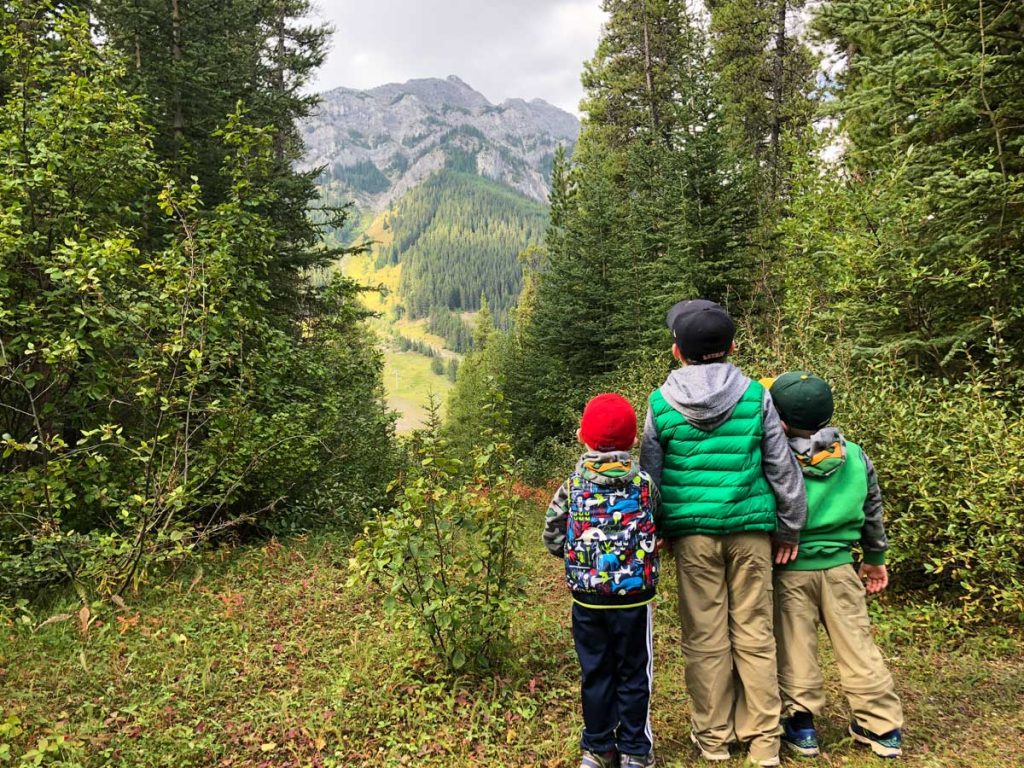 We've invited our friends at 10hikes.com to help us find some of the best hikes in the area. They've tested them all and want to give you the lowdown on each hike and why you should make room for them this season.
If you're in Banff and you simply need to get out on a hike, we're here to help. You don't always have time for a long drive to the trailhead, so we are sharing 6 hikes within a 15-minute drive of the town of Banff. We've grouped the hikes by difficulty, and thankfully some of the hikes start right from Banff Avenue, which means you don't even need a car!
EASY HIKES
If you are in Banff for a day, why not add on an easy hike for the family? These easy hikes take from 1-3 hours and range from 3-5 km with elevation of 70 m – 300 m over the hike.
A classic, family-friendly walk in Banff is the route along the Bow River to the Banff Springs Hotel. This is a very pretty walk and allows you to walk from Banff Avenue to the Banff Springs Hotel, with a stop at Bow Falls along the way. This hike is great year-round, and with a total distance of 6 km and little elevation gain, it is popular for all ages. We often do this as an after-dinner walk during the summer.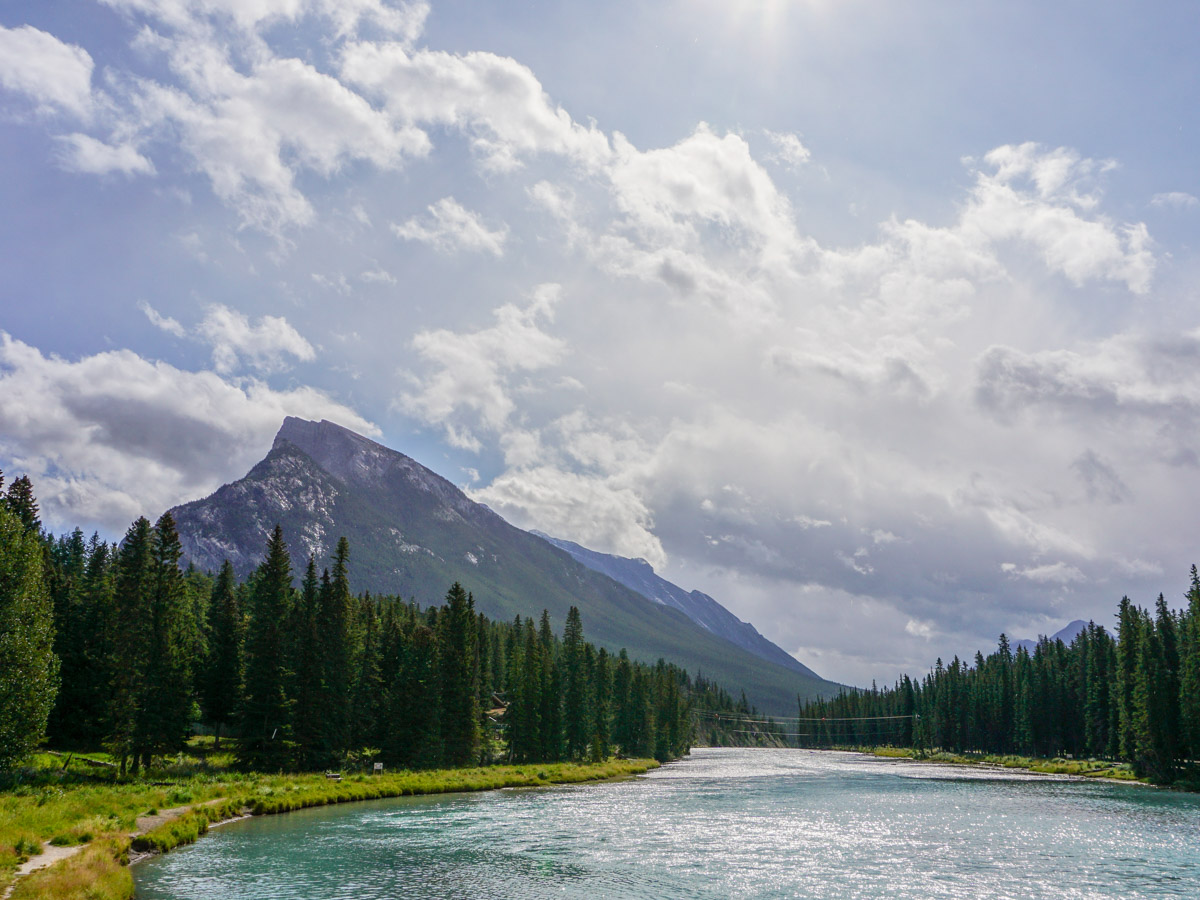 Another great family-friendly walk is the popular Stoney Squaw Trail at Mount Norquay ski resort. This walk starts from the far end of the Mount Norquay Parking Lot and is a wonderful 4.5 km journey through the forest gaining 190 m of elevation. The route takes you to one of our favourite viewpoints around Banff, the Stoney Squaw Lookout. Not only can you look down on the town of Banff, but you get an exceptional view of Cascade Mountain. Kids love this walk, and for older kids you can make it a circuit. In winter, this is a nice snowshoe or microspike trail. Save a step, leave your car parked in town, and catch our free shuttle from the town of Banff – it runs most of the year.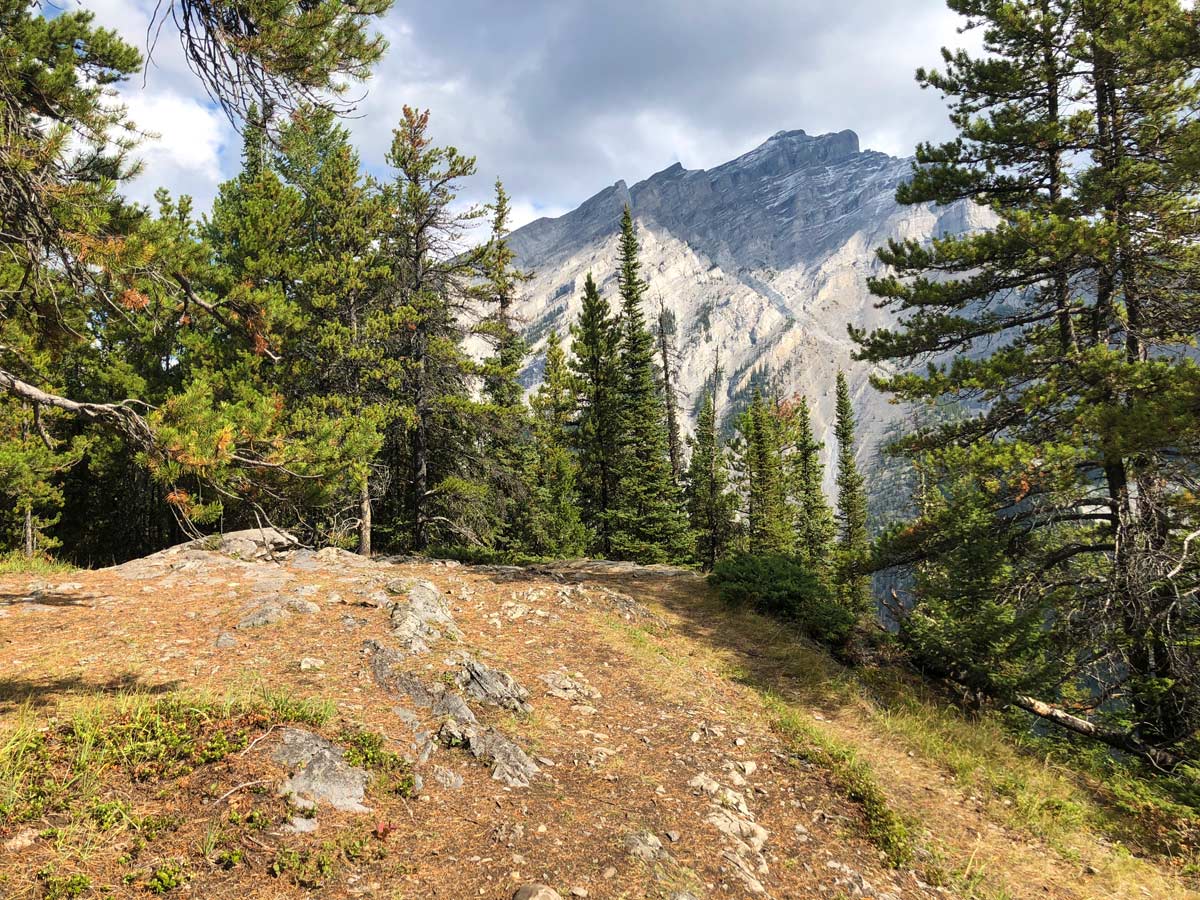 INTERMEDIATE HIKES
These intermediate hikes are great half-day hikes and are good for more experienced hikers. The hikes are longer and have more elevation gain than the easier hikes shared above.
While not exactly towering over Banff, Tunnel Mountain is the smallish mountain east of the town of Banff. Tunnel Mountain starts and finishes on Banff Avenue – so there's no excuse not to grab a coffee and some patisseries and hit the trail! The route gains 300 m over 4.3 km ending with a birds-eye view down to Banff and out to the Bow Valley. This is a steep hike, though children as young as 4 are known to have hiked the whole trail. In winter, the path can be icy, so you'll need microspikes and some experience if you want to tackle it.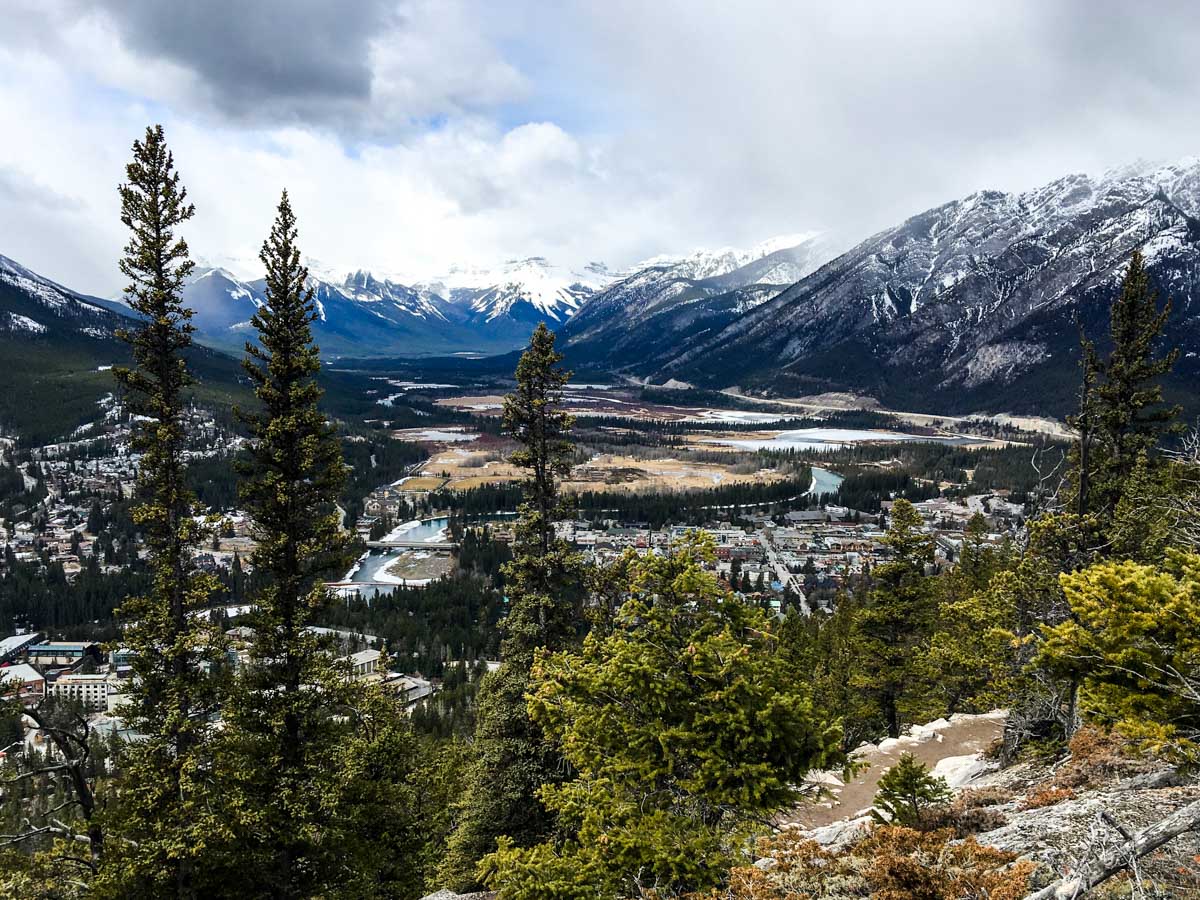 Another great intermediate hike is the hike to Cascade Amphitheatre, which is another classic Banff hike. This hike starts at the Mount Norquay ski resort parking lot and snakes along beside the base of the Norquay ski lifts before crossing a creek and heading up to the Cascade Amphitheatre. This hike is more challenging, with 675 m of elevation gain over 12.9 km, though it's on a good trail. This is a great day out for intermediate hikers. End your day at the Cliffhouse Bistro for a celebratory beer or tea-infused cocktail.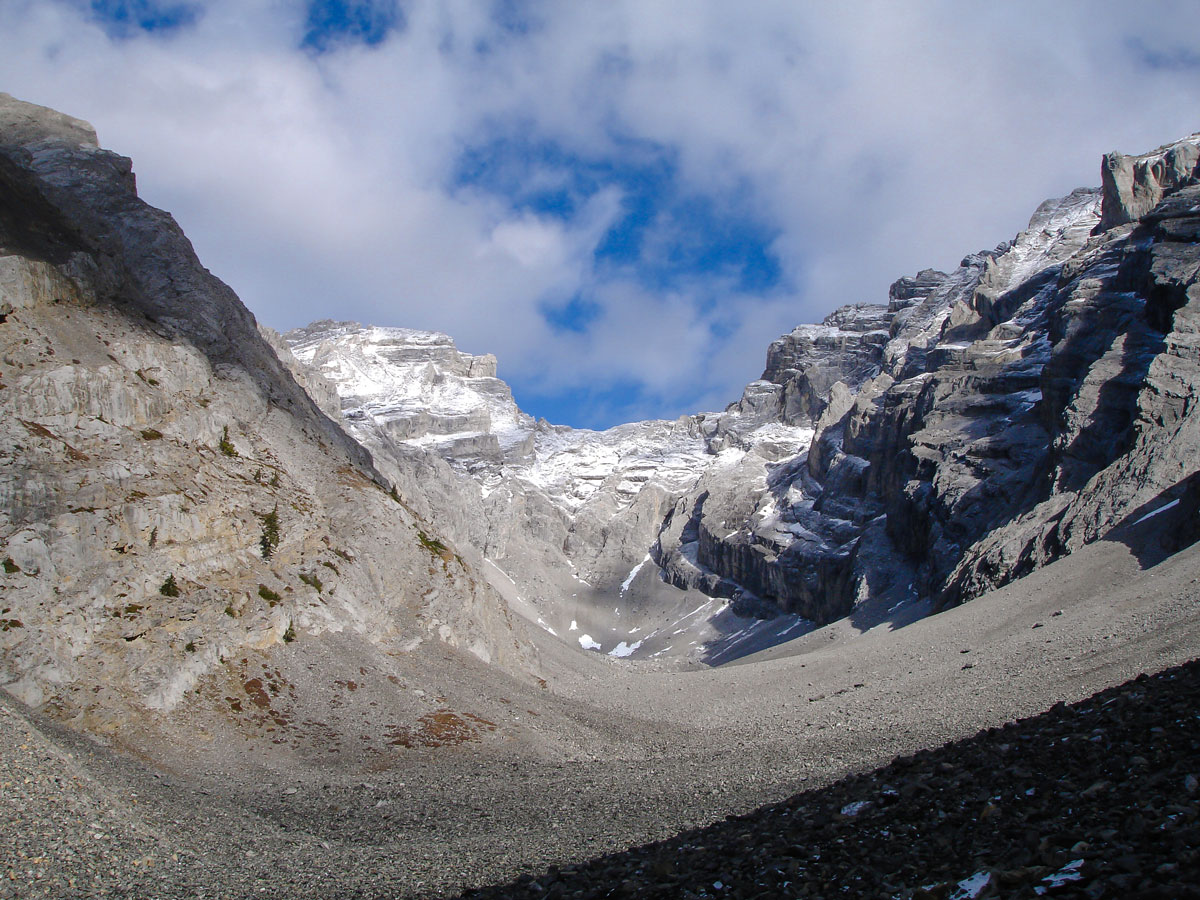 HARD HIKES
There are a couple of incredible full-day hikes near the town of Banff. These are big days and we urge you not to underestimate these hikes. Make sure you are prepared and experienced before embarking on either of these hikes.
We love hiking the Cory Pass and Edith Pass Circuit, located just off the Bow Valley Parkway (Highway 1A). This hike has a couple challenging bits that involve the use of hands (and bums) to get over difficult parts, however the views along the Gargoyle Valley are spectacular. It's hard to believe this hike is so close to Banff with how remote you'll feel. It's a big day out with 1,075 m of elevation gain over 14.3 km, but it's completely worth it.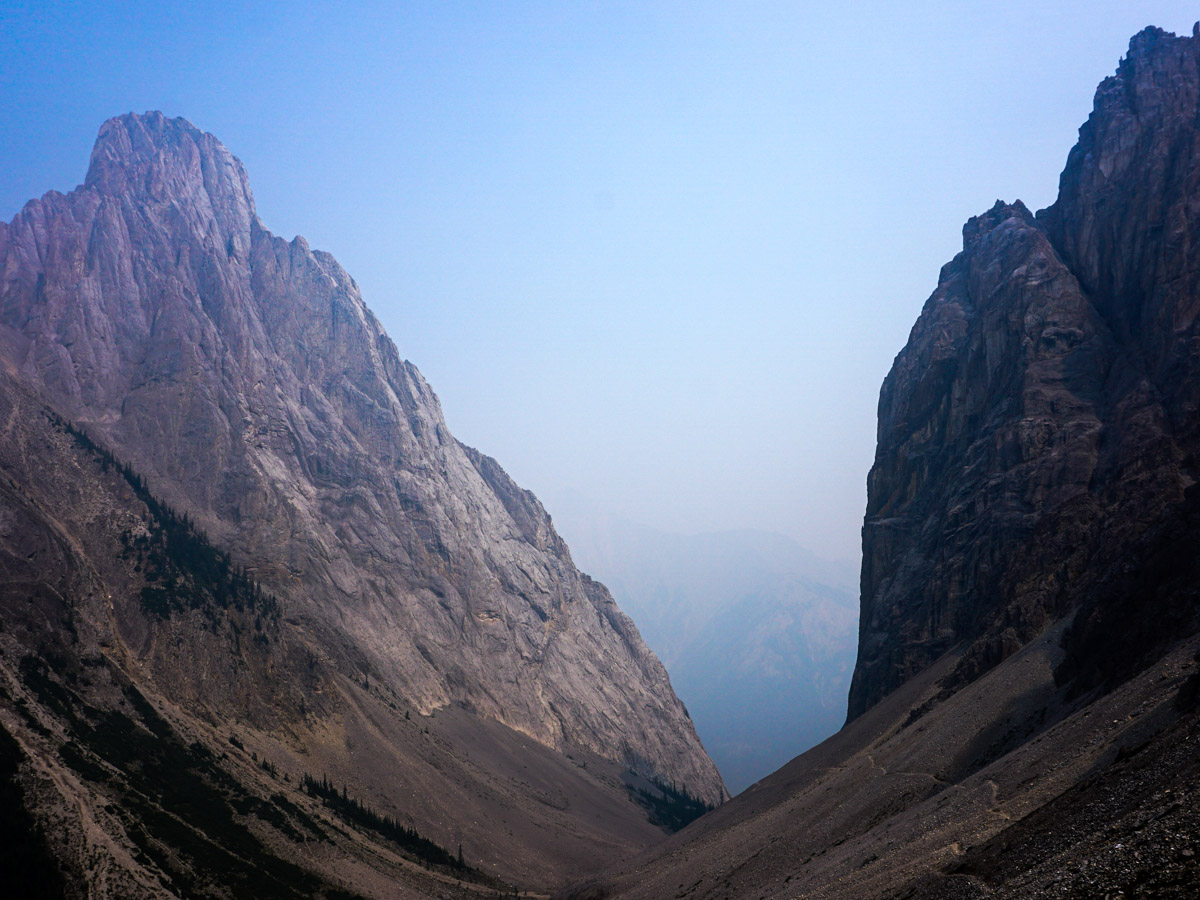 We saved the best hike for last, the stunning trip up to Bourgeau Lake and Harvey Pass. While some people feel this hike has too much time in the trees, we think the payoff at Bourgeau Lake, Harvey Lake, and Harvey Pass are worth it, all of which welcome you with spectacular views. It's a big day of hiking with 1,075 m of elevation gain over 20.4 km of hiking, though the trail is well maintained. If you're feeling fit, you can also hike up to the top of Mt Bourgeau, however that's another 400 m of elevation gain and 2.7 km!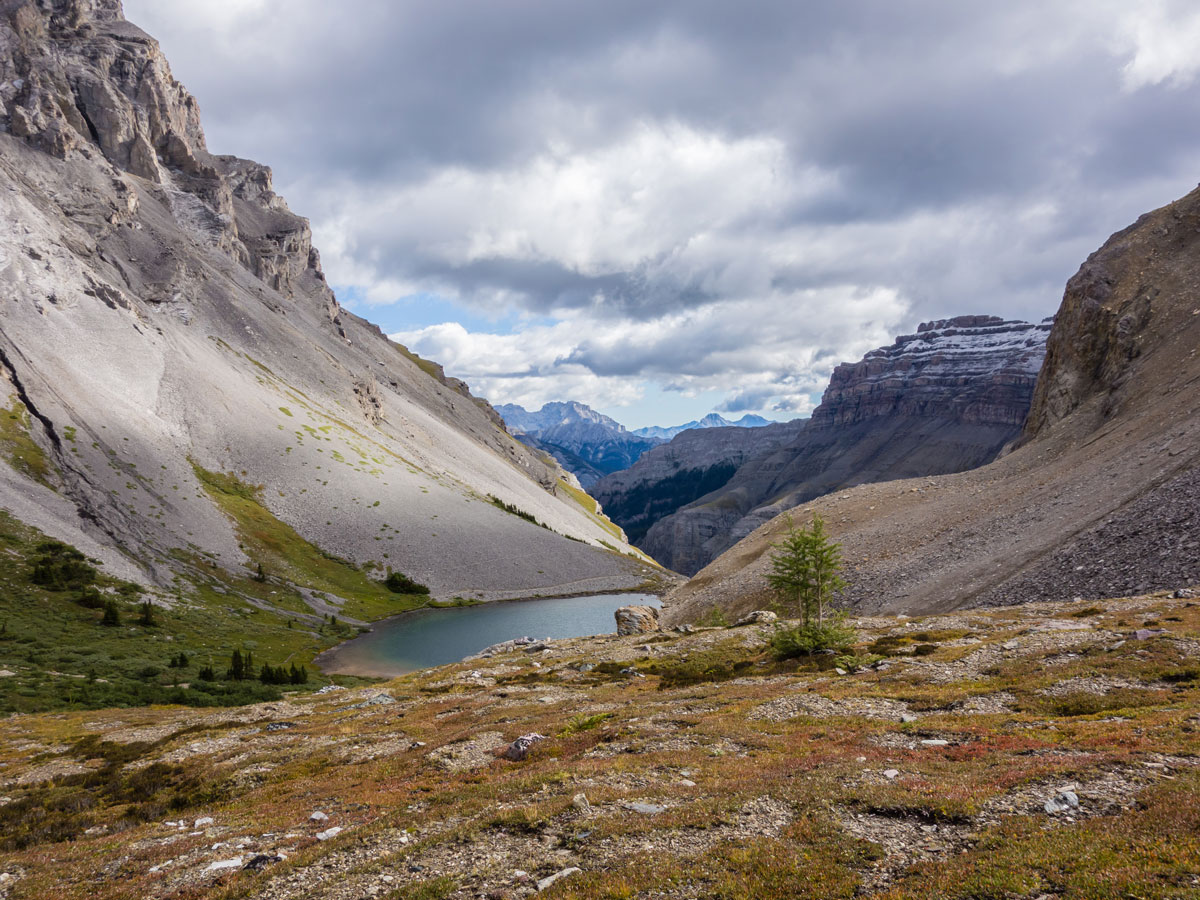 About our friends at 10hikes.com
10Hikes.com provides over 140,000 users a month with free, guidebook-quality route guides to the best hiking in 50 of the most beautiful places on earth. We are soon to launch 10Adventures.com, which will share not only the best hikes, but route guides for the best biking, backpacking, skiing and climbing.