All Things Christmas at Mt. Norquay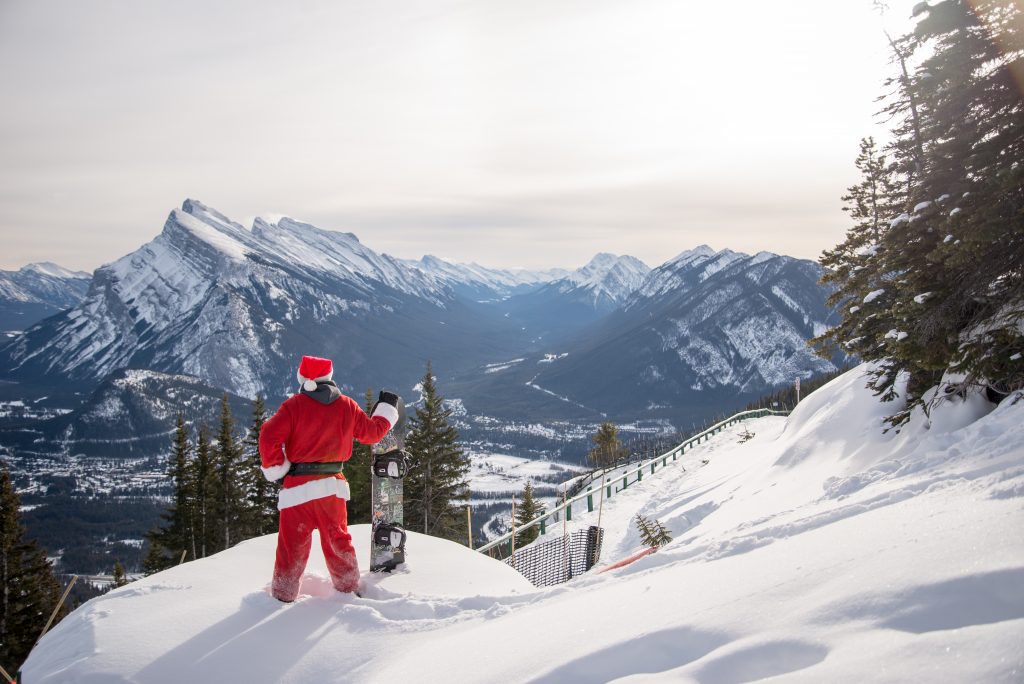 It's happened. The Ho! Ho! Holiday season is officially upon us.
This is the best time of year to spend some quality time together, and there's no better place to do that than within Canada's first (and finest) National Park.
Here at Mt. Norquay, we're big believers in making memories – and to help you do just that, we created a full roster of Christmas events throughout December.
Breathe in the crisp mountain air and dive into fun activities for every member of your family. Whether you want to cozy up with a hot drink by the fire or head out on the hill, the choice is yours.
On December 13, our legendary Tube Town returns with 8 lanes of fun. Great for ages 4 years and up, our friendly staff will help you and any little ones into a specially designed tube, before you spin your way to the bottom. Once you've found your feet, board the magic carpet and do it all over again. For everything you need to know about tubing, click HERE.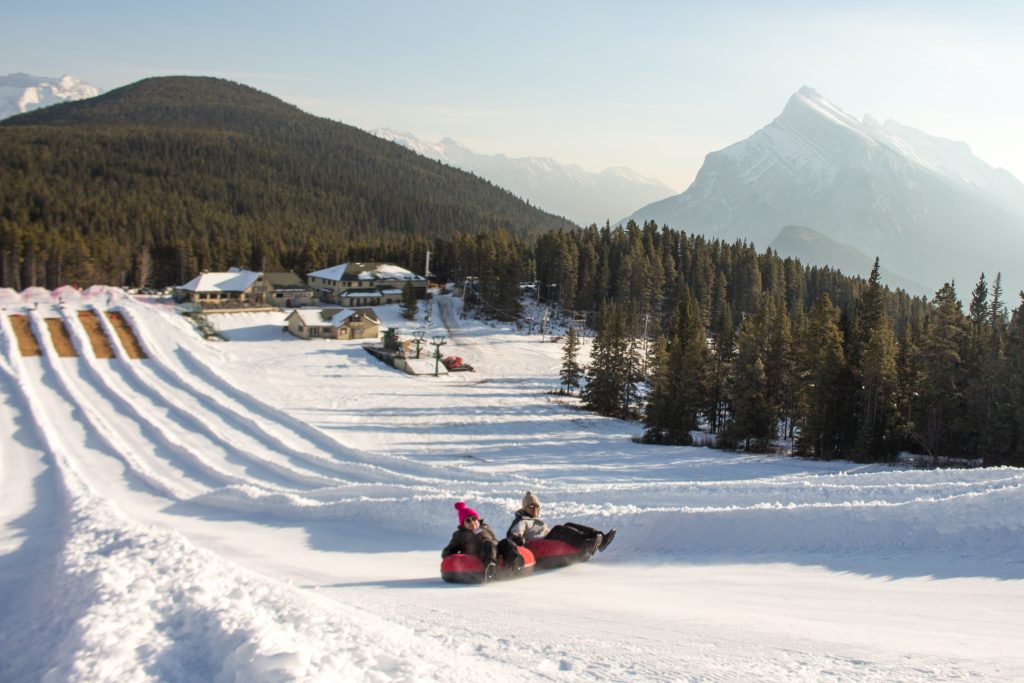 Save on gas, help the world, and receive discounted lift tickets. Each month we have a 'Cool2CarPool' ski day, where you (and everyone else in your vehicle) will save on lift tickets when you share a ride to the resort. Those who catch our FREE shuttle bus from Banff will also be eligible for a heavily discounted ticket. Plus $2 from every ticket sale goes towards a good cause. It's a simple way to give something back this Christmas season. Click HERE for all the details.
Would you rather spend your Saturday knee-deep in wrapping paper or making fresh turns on the mountain? It's a silly question, we know. Let us take one thing off your to-do list while you make fresh turns. During the weekend of December 20 to 22, drop off your presents and we'll wrap them with finesse. Once you're done skiing and riding for the day, collect your perfectly packaged gifts and take all of the credit for how amazing they look under the Christmas tree. Learn more HERE.
Take a ride on the North American chairlift to 7,000ft and enjoy incredible views, food, and drink at the Cliffhouse Bistro, our modern eatery with 1950's teahouse roots. Stop by from 11am – 3pm, Friday to Sunday, to sample some of the finest local brews, and a menu of upscale-yet-unpretentious dishes. For some extra holiday spirit, the Cliffhouse will also be open from December 27 through January 5. For more on the Cliffhouse Bistro, click HERE.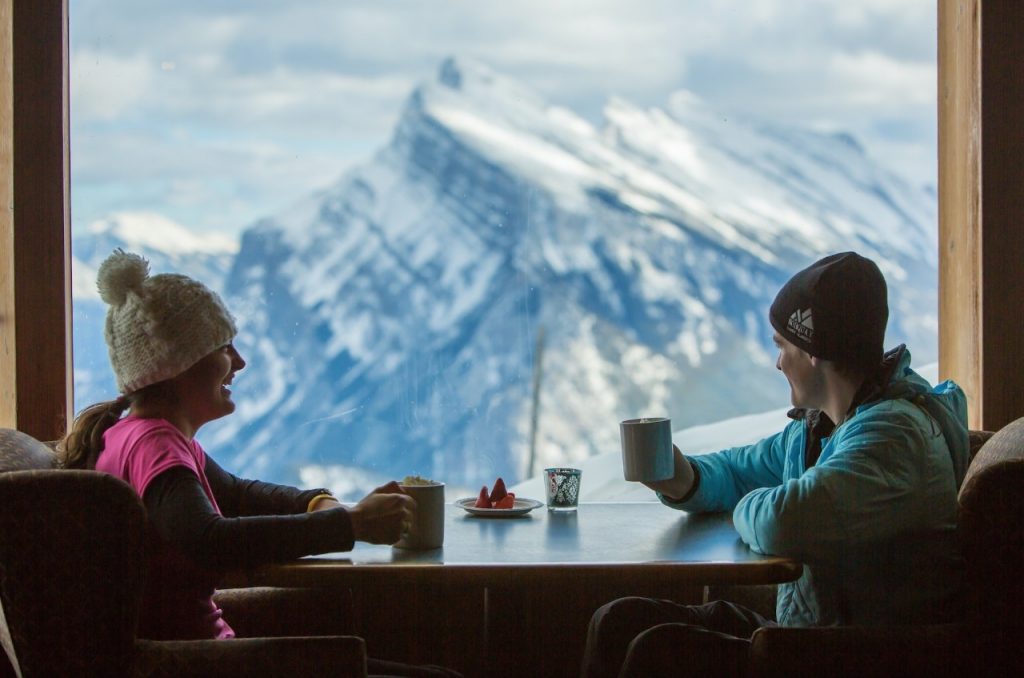 Lap the popular Cascade chair on Friday and Saturday nights as we open after dark for night skiing. Cruise the runs, hit the terrain park, or test your ski legs on the bunny hill. Non-skiers can enjoy snow tubing from the North American Lodge as it also opens during night skiing hours. When you've had your fill, head to Cascade Lodge for late evening après. Click HERE for all the details.
Even after a full day on the mountain, kids seem to have endless energy – we get it! This is why on December 21, you can drop them off with us from 4:00pm-5:00pm for an hour of supervised crafts! You can relish some uninterrupted après, and we'll keep them entertained with felt, glue and a few festive activities. For more info, click HERE.
It wouldn't be Christmas if Santa didn't shred for free at Mt. Norquay. Get into the festive spirit by dressing up as either Mr. or Mrs. Claus, an elf or even a reindeer, and you can ski or ride all day for free. Only those truly dedicated to Christmas by wearing a full costume (i.e. just a Santa hat doesn't count) will receive a lift pass, and you must remain in costume while out on the hill. Learn more HERE.
Witness a longstanding tradition in the Canadian Rockies with the iconic Mt. Norquay Torchlight Parade. Watch from downtown Banff as some of the Mt. Norquay team ski the North American run with red flare torches between 7:00pm-8:00pm. It creates an impressive light spectacle for those below, and it's the perfect way to wrap-up the holiday festivities. Click HERE for all the details.