Climbing the Ridgewalker One Rung at a Time
Kristy Archibald joined us on the Ridgewalker Tour this summer. She is a creative Communications and PR strategist, freelance writer, coffee enthusiast, and wine connoisseur who has a strong passion for style, travelling, and grand adventures. See how she fared on her very first Via Ferrata trip.
Have you tried the Via Ferrata at Mount Norquay? Trust me when I tell you if I can do it, so can you. And here's why!
Meet new people, embark on an adventure, and experience memories that you'll never forget – sounds like a description that is usually right up my alley!
It's always felt natural for me to be one of the first to volunteer to try new things and push myself into situations that are out of my cushy comfort zone. With being a writer and extremely right-brained, it's these scenarios and experiences that are key to staying endlessly creative and continue to lead my journey throughout my life and career. However, that being said, usually (more like always) these situations are ones that involve me keeping two feet on the ground.
It's no joke when I say I am absolutely terrified of heights. Acrophobia is more of an accurate description.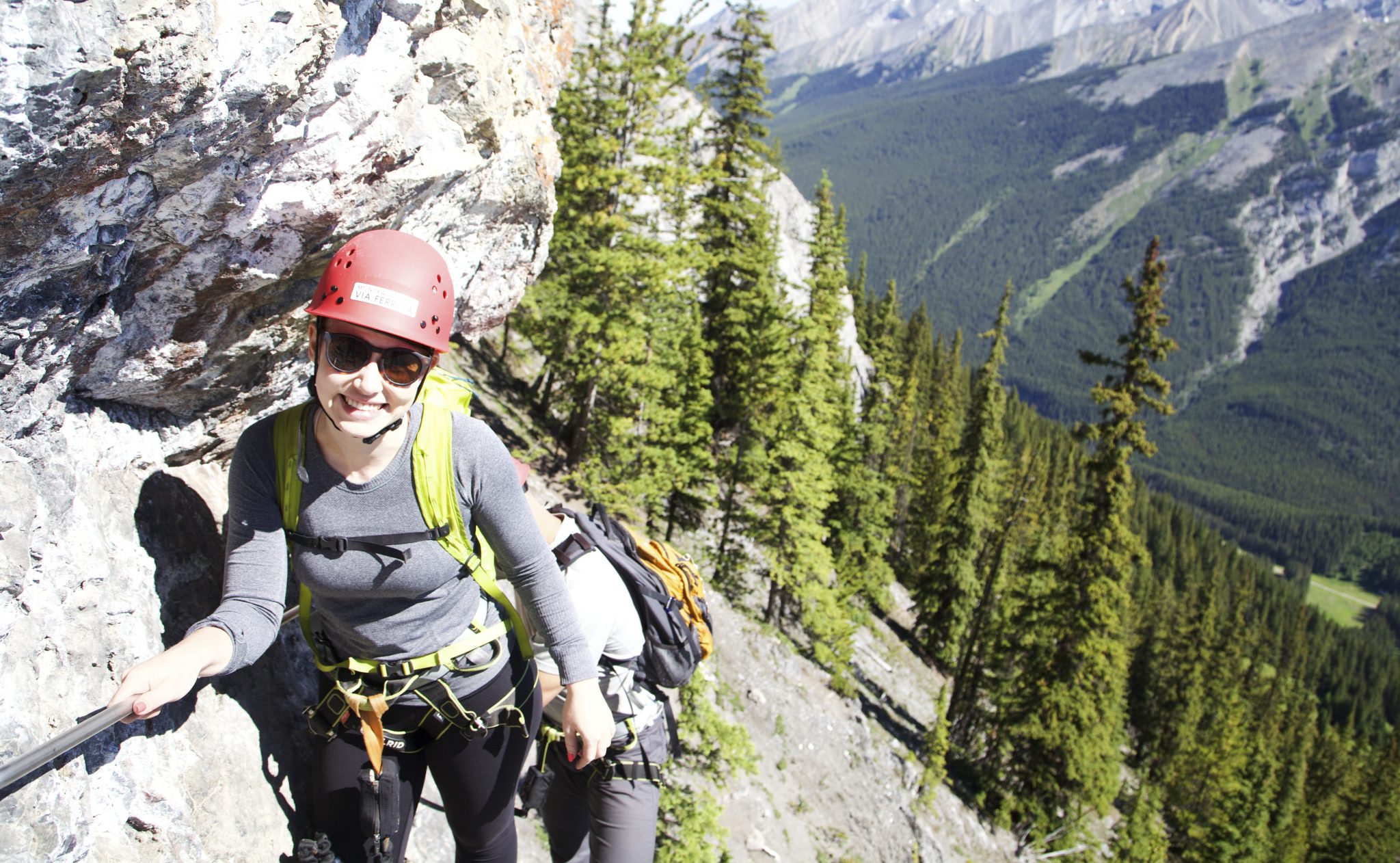 When I was a kid I puked on the tilt-a-whirl at the Stampede, had an anxiety attack I had on the Twister (if that's what the kids are calling it these days), tried to make it up the climbing wall at summer camp and had to be immediately rescued halfway up, and to this day still have to knock myself out with sleeping pills every time I go on an airplane. You get the point – adrenaline infused activities and I don't generally mix well together!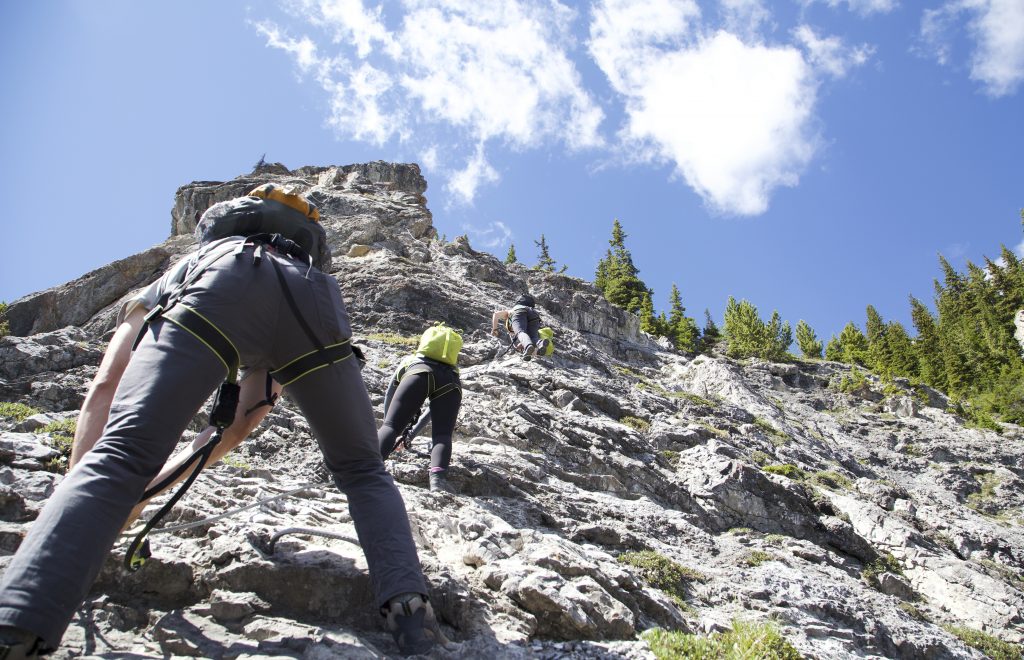 When I was asked to join on a Via Ferrata adventure I instinctively said "let's do it" – being naive is bliss sometimes! I did a bit of research the night before our mountain adventure and learned that Via Ferrata is Italian for "Iron Path," a type of hiking combined with climbing that is well known all over the world. Still, I had never done something like this in my entire life, so I had no real idea what to expect.
This is the largest piece of advice I would offer anyone who is a bit hesitant to head up on the Via Ferrata. Don't go into it completely blindsided, but allow yourself to embrace the unknown and go into this experience with a positive mindset.
I didn't allow myself to question my ability, think of all the "what-ifs" of the situation or allow the little man on my left shoulder feed me thoughts that I couldn't do it. Perspective and mindset are huge, this is one of those many life challenges that I highly recommend not overthinking.
When I arrived at Mt. Norquay that's when I began to freak out a little bit, "this is really happening" I thought to myself. However, our guide, Katsu (bless him) did an amazing job at making us feel at ease by walking us through all of the steps and reminding us that we were in control of how this adventure was going to go.
A great perk to this adventure is how little you need to actually prepare on your end. All you need to bring is a litre of water, protein bar, hiking boots, and a lightweight backpack – free rentals are available upon request. Aside from those items, they provide you with all of the equipment that you will need to get yourself up and down the mountain, including the harnesses and clips.
To say I remained completely calm throughout the entire trip would be a complete lie. When we started I definitely had a very strong urge to run in the opposite direction, and there were many moments where the pit in my stomach continued to grow as I wondered how the heck I was really going to make it off this mountain!
As cliché as it sounds, it truly is about the journey. Throughout the climb, our group began to chat more, and everyone began to loosen up. We were making jokes and even cheering each other on by the end, making the last little bit of the climb and even the trek on the way down fun!
I definitely had many moments where I just didn't look down, I only set my focus to the next rung and where my foot needed to be to make the next move. Thankfully Katsu was climbing ahead of us with his camera and ensuring he got the "money" shots for us to look back on later.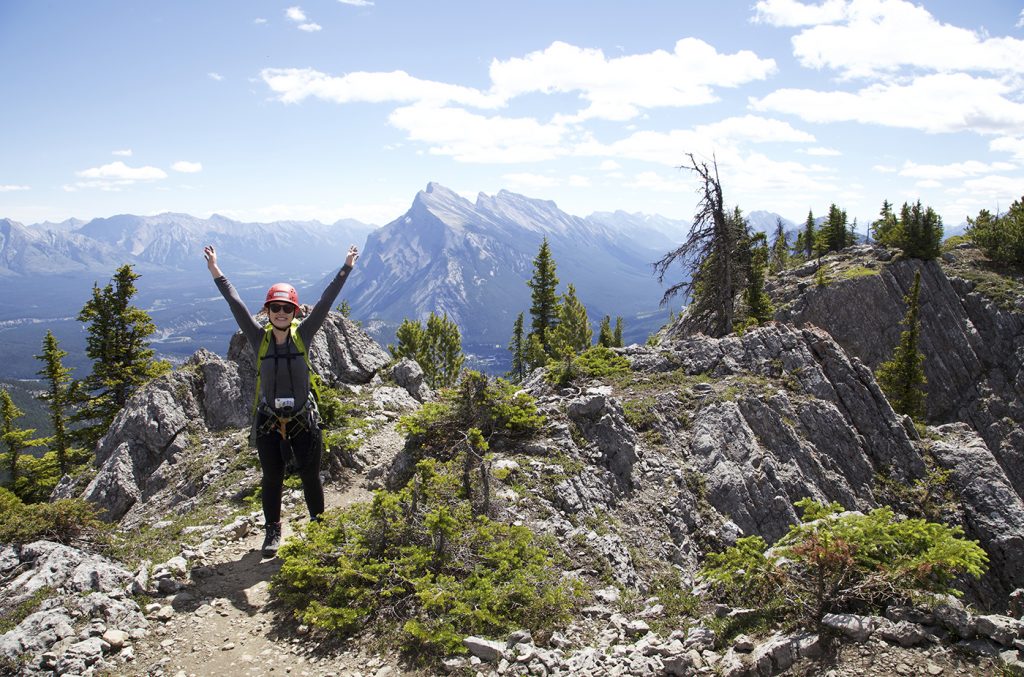 When I look at those photos it still amazes me that I made it up and down the mountain in one piece. I am proud of myself for persevering through it and not giving up because I certainly had a few moments where I would have liked to.
For those looking for a taste of the Via Ferrata, The Explorer is a great starting point and it's only two and a half hours. If you want to push your adventure a little further, try The Ridgewalker. This is the journey that my group took and to be honest it felt good to go that extra little mile. The views are incredible and it's only a four-hour journey, which goes by much quicker than you might expect. The Skyline and the Summiteer can be reserved for next year, once you have conquered the shorter routes!