Come for the Views, Stay for the Casual Bistro Experience to Remember
Think you know the Cliffhouse Bistro? Take a bite into what Chef Morne & team are doing to keep things fresh and exciting at 7,000ft. (and yes, we're taking menu highlights to match those mountain views).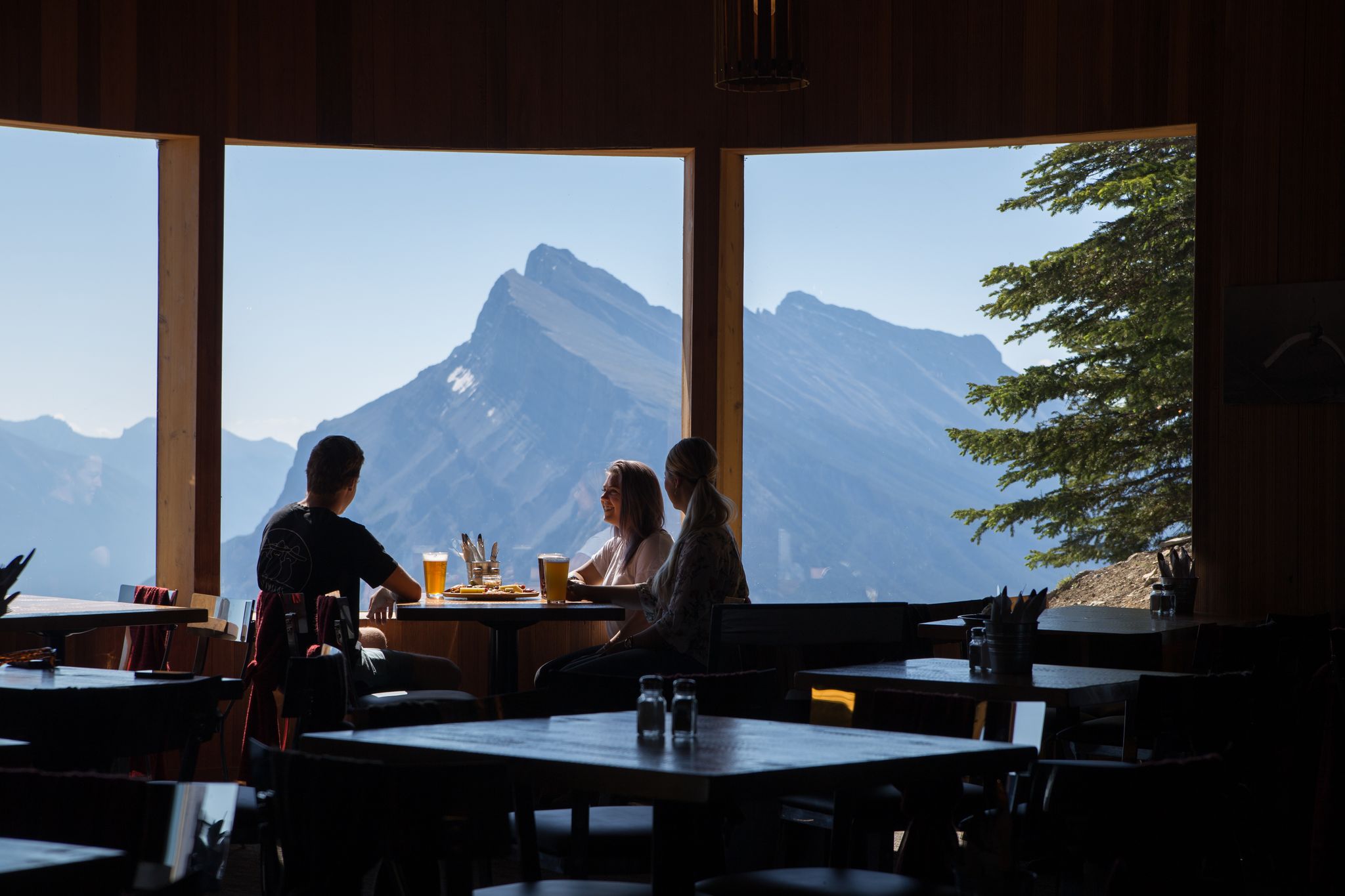 Because in terms of a sense of arrival, the Bistro's got it.
And by it, we mean an uninterrupted, 360-degree mountain backdrop to this low-key yet unforgettable eatery in the sky. Take a seat high above Banff and gaze out into one of the Park's finest viewpoints while you sip and savour what the kitchen's got in store.
Sitting atop the North American chairlift, just by the sightseeing deck, the Cliffhouse Bistro – originally drawing Banff crowds as a tea house in the 1950s – has become a must-visit lunch spot, thanks to Chef Morne's careful curation of a bistro menu that is inviting, sociable, casual – yet with a hint of sophistication, a whole lot of flavour, and some surprises along the way.
Heavily focused on simple, wholesome dishes that can be enjoyed in groups, with a commitment to locally-sourced ingredients and featuring Canadian Rocky Mountain signatures with a bistro twist, The Cliffhouse is serving fresh, local flavour – paired perfectly with a warm, friendly ambience that's got visitors and locals alike coming back for more.
"The Bistro's got such a unique, charming feel to it, we have a lot of fun creating the dishes that'll appear on the menu every summer," says Chef Morne.
"We like to think we're adding an exciting, modern flavour to what is a vintage, chalet-style, intimate restaurant, with a menu that lives up to such an incredible location," he continues.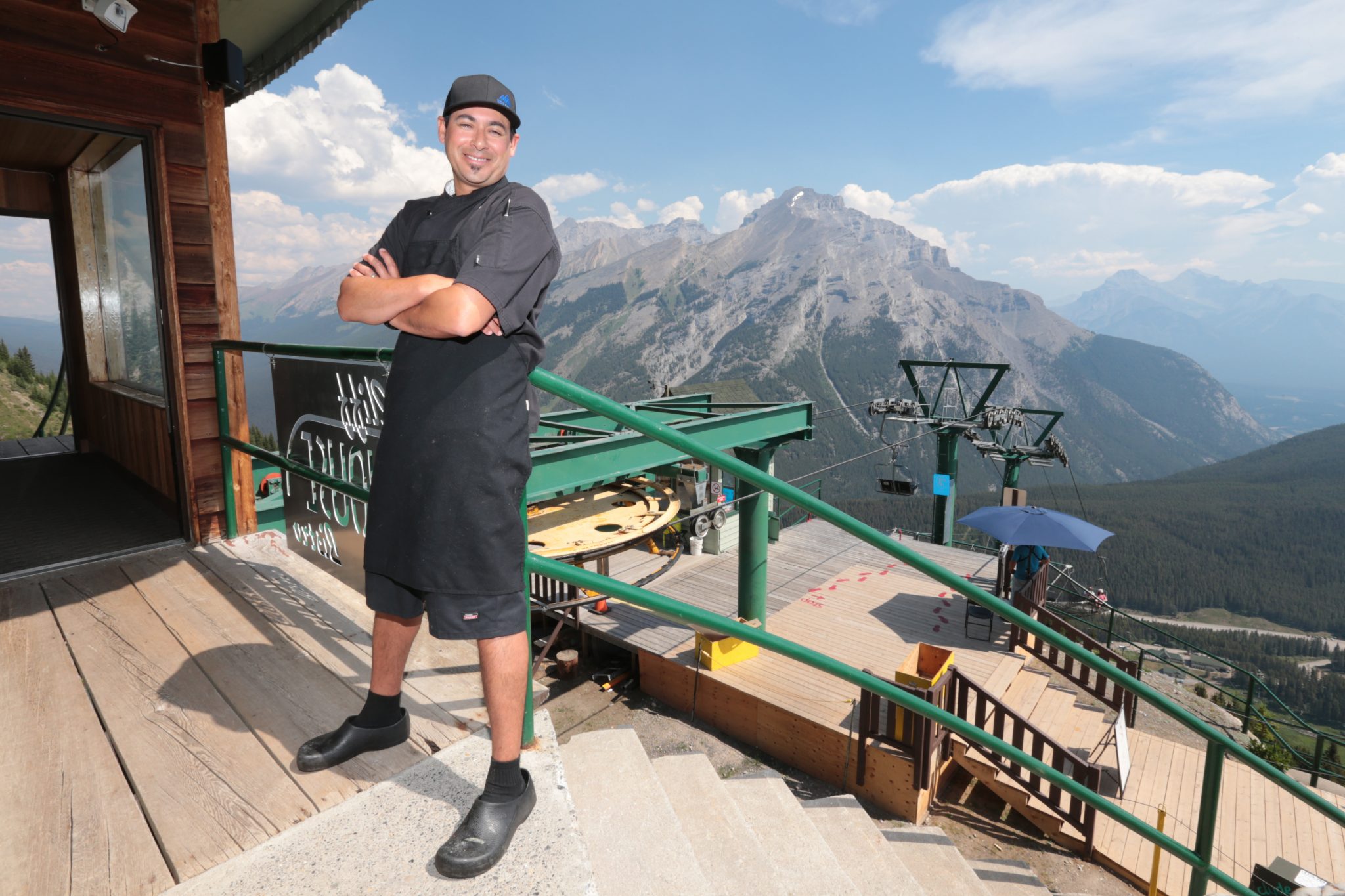 "The Bistro is social, and relaxed; it's the place where friends enjoy time together over sharing plates, where travelers come for lunch with a memorable slice of Banff, and where those that have just completed a Via Ferrata route enjoy a celebratory "cheers" over chilled, locally-crafted beer.
Our chef team take this vibe as our inspiration. We create a menu that speaks to our place here in Banff and the quality produce available in Alberta, with dish options that reflect and complement the bistro experience, and ultimately keeps things interesting, and fresh – and encourages diners to return time and time again.
We'll add new dishes or offer a different take on a Bistro signature or locals' favourite. We also take great care to accommodate everyone, so almost all our dishes can be switched out to cater for allergies, or to be vegetarian. Over recent seasons, we've also enhanced our cocktail and on-tap beverage selections, and work with local distillery and brewery partners to serve exciting combinations. It's an experience that keeps evolving while staying true to its roots and the style of Norquay, and we love that."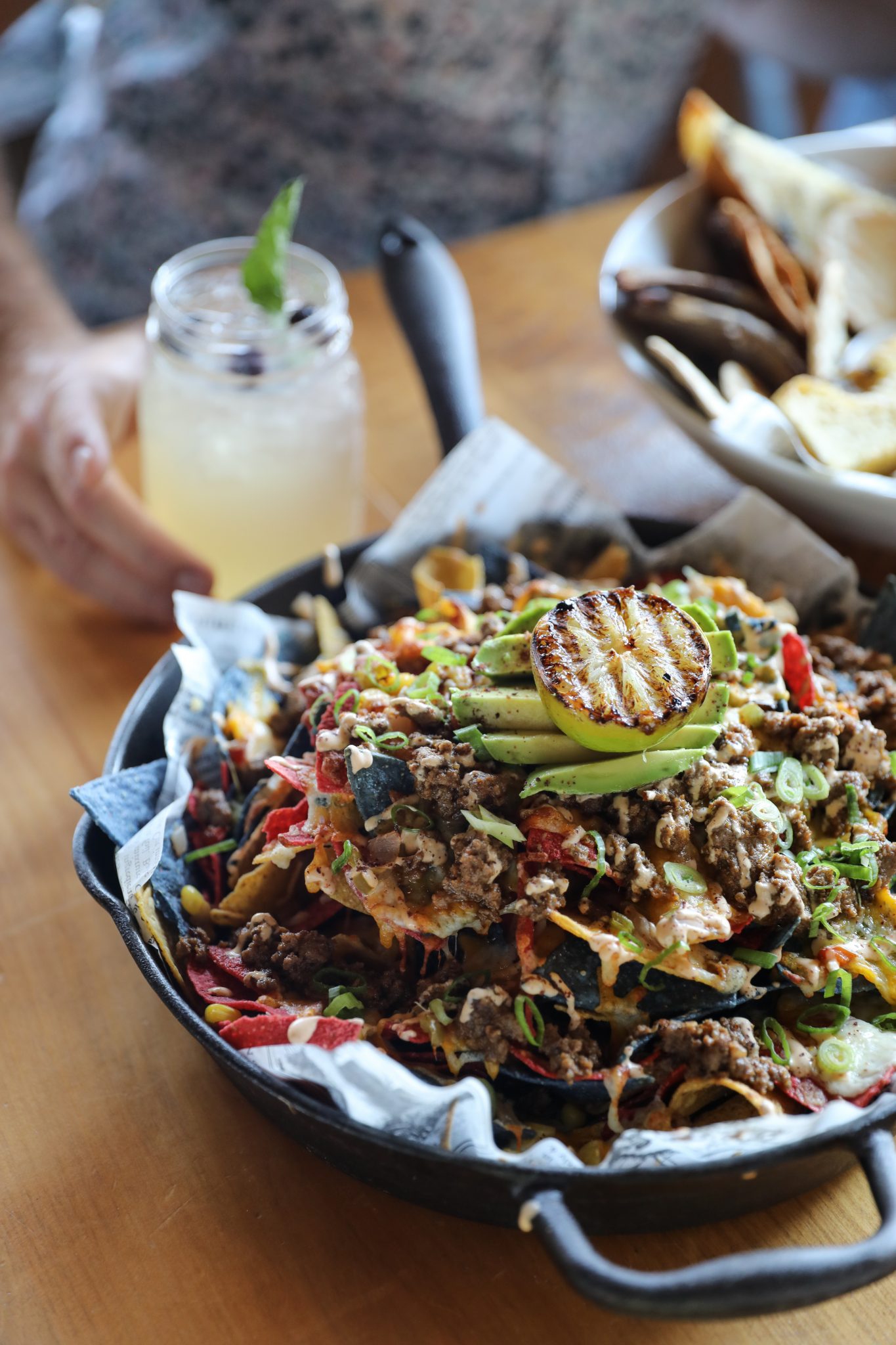 So, if you haven't made a date with the Bistro so far this summer, read on for a little of what you can expect:
Brunchin' at the Bistro
Avo toast with a little extra bite. If you're more in the mood for breakfast than lunch, then this one's for you: with two fried eggs, pickled onions and some dukkah spice to top it all off nicely, the avocado on sourdough is a must-try.
Too good to share…?
Sharing is one of the most popular ways to dine at the Cliffhouse Bistro, and so Chef Morne has taken this friendly way of feasting into a new direction this summer, with the introduction of the Bistro's flatbread offerings. The "Fungi" is garnished with wild mushrooms, truffle oil, goat cheese, arugula and olive tapenade, and "Bruschetta" is finished with bocconcini, arugula, basil pesto and balsamic reduction.
A Berry Fresh Salad
The latest bistro salad offering is packed full of sweet summer freshness. Enter the "Summer Berry Salad", with mixed berries, candied nuts, generous crumbs of goat cheese, and a good drizzle of balsamic vinaigrette served over a hearty helping of spinach leaves.
Taking a Summer Dip
This sexy little side dish comes highly-recommended by Bistro Manager, Chris; it's the new "Baked Antipasto". Order as a welcomed appetizer or for something savoury to nibble as the ideal accompaniment to your choice from the beverage list. Made from artichokes, roasted red peppers, green olives, and mushrooms, this is a delightful dip for the homemade bread and crackers it's served with.
Nacho Average Dish
There are nachos, and then there are nachos. And the bistro's version falls under the latter. A fan favourite year after year, this bestseller is still packing a punch on summer days at 7,000ft. A healthy (scrap that, humongous) helping of this loaded sharing treat can easily satisfy a group of four (trust us, we've done the research). 🙂
A Smash Hit
Because, when in Alberta, a quality beef dish experience is a must. And so, the "Smash Burger" was created. AAA beef, aged cheddar, bacon jam, and the hamburger classics of lettuce and tomato, presented on a brioche bun, this is a smash by name, and a smash by nature; one of the bistro's all-time bestsellers.
For Sweet Cravings
For the sweet tooth this summer, the new chocolate brownie dessert, served warm with locally-made gelato to finish things off nicely, is the one. And because everyone knows calories don't count at elevation.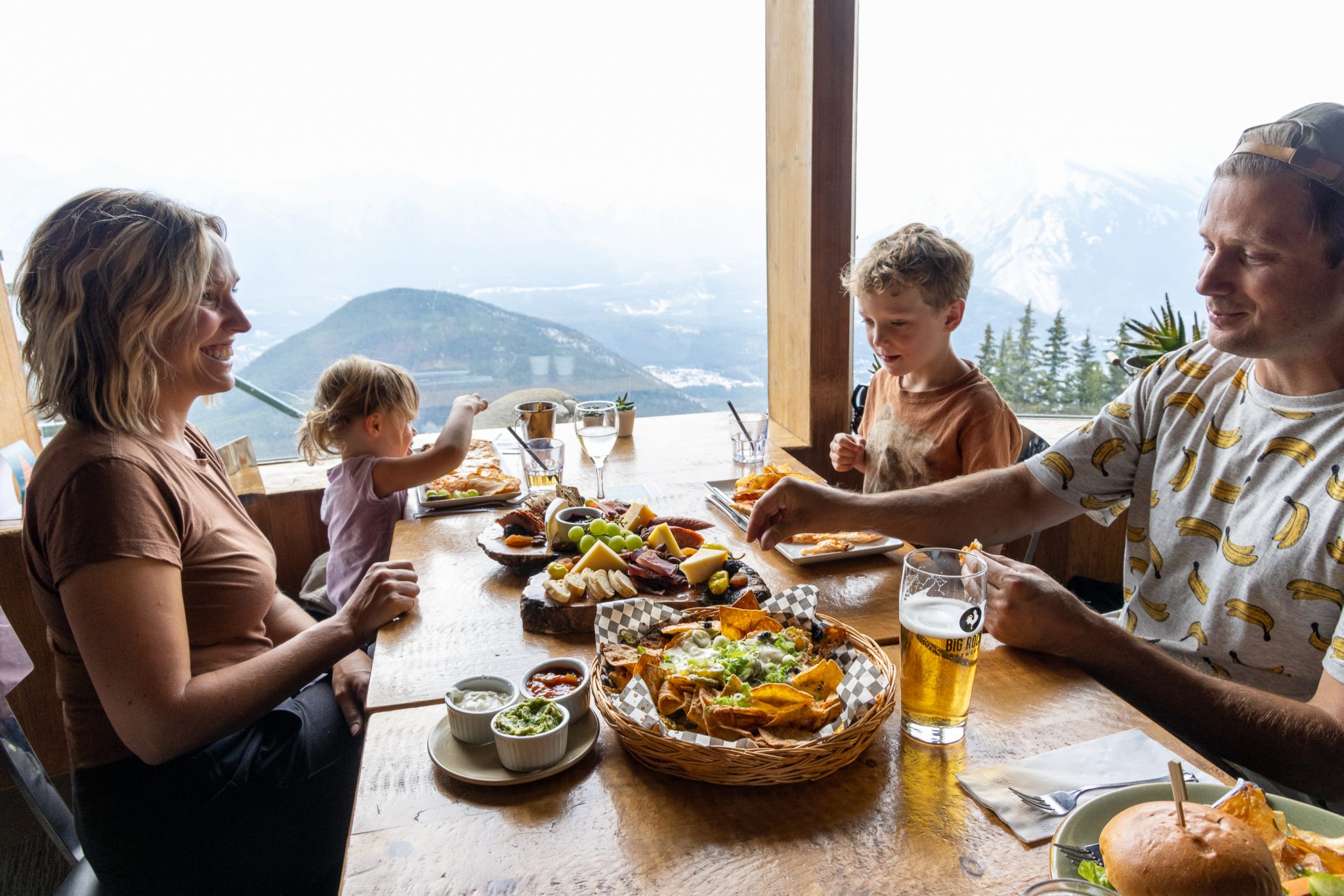 Not Your Average Mule
With a line of new seasonal craft cocktails to try, all made with locally-distilled gins, vodkas, and whiskies from Banff Ave's PARK Distillery, the bistro's really shaking things up in the cocktail game. This year, the new additions are the "Maté Mule", the "Bitter-Sweet Sour", the "Champagne Gin Gimblet", the "Glacier Rooibos Old Fashioned" and the "Maple-Ginger Mojito".
Cocktails On-Tap
And speaking of cocktails, the bistro's most popular item from the cocktail list so far this season, is the "Strawberry Smash", a locally-made cocktail-on-tap made from organic ingredients. Made by Banff-based mixologist, ByHendo, this handcrafted, refreshing, fruit-forward cocktail is the ideal summer refresher. Including flavourful gin, aromatic mint, tangy lemon, and sweet cane, it's guaranteed to be the perfect finale for any Cliffhouse Bistro visit.