Eddie Hunter – Memory Maker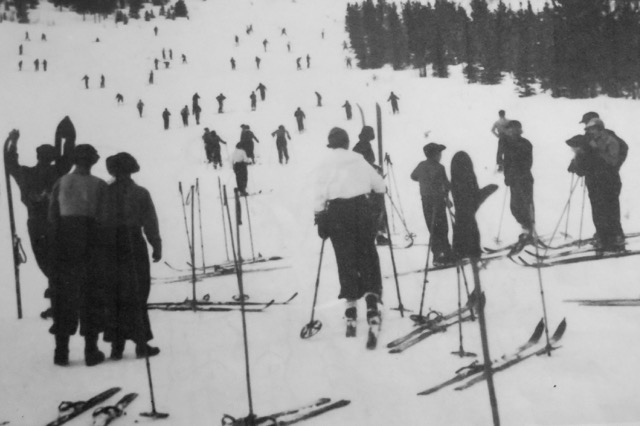 You may not think of it at the time, but it doesn't take much to realize the beautiful days you now spend with your family or friends will be the golden days in your memory bank when you go searching memories in later years.
I know I didn't.
Maybe I just thought I deserved all of those amazing days – having so many does make me feel greedy. If I had to, I would gladly match my memories with anyone's.
And, having skied Norquay slopes for about eighty-five years, does give me a wide choice.
I can almost remember walking up the gulley from town with my Dad to watch a jumping event at Norquay. I can remember going in the races myself with fair success in the late thirties before the Second World War started. During that time, well-trained Swiss and German ski teams skied in events here to show us how much better they were.
I remember the outstanding skiers we lost in the Second World War. Gordie Hoggard, Don Lewthwaite, Rupe Edwards, are just a few killed in that war. That is not a happy memory, but it's nice to remember how good of skiers they were.
My good memories started after the war when they built the chair in 1948. Before that was a 1941 rope tow that was about 100 metres long. Before that chair we had to climb all the slopes to our races. One downhill run would take about an hour climb.
I can remember a ski day in 1937, that memory comes a little easier because Bryon Harmon took a picture of it. My age would have been 11 at that time. I was standing with friends, Dorothy Morrison, who sat in front of me in grade five, Josephine Woodworth, Don Hayes, and Miss Gratz, the famous Banff high school teacher. The original cabin was not visible, but it was still there. Destroyed by fire the next winter of 1938.
From that old log cabin came the foamiest hot chocolate ever made and it could be yours if you had a dime.
Looking at the slope with so many inactive skiers, one might ask, "was it really that enjoyable?"
My answer: "oh yes, the experience was the same if not more. We got our skiing in and it was on our terms, or initiative. The technology wasn't there to get you through your mistakes. This day I am talking about was completely lift free. The best run of the day was always last as we skied the Stoney Squaw trail to Banff. You can't see it now, but it crossed the road five or six times."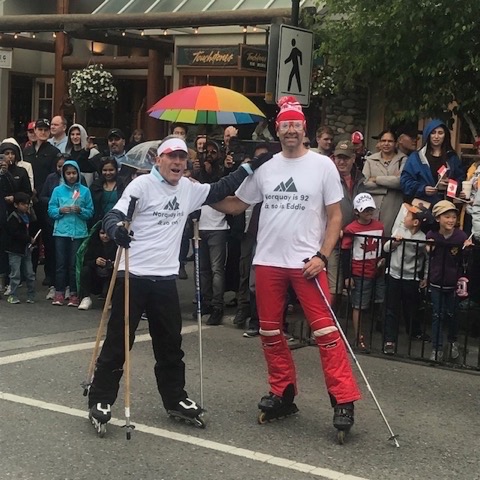 The skier that ended their day in 1937 is nothing like the skier leaving Norquay today. They would both be happy, but the things that made the first skier happy was all provided by nature, and maybe a hot chocolate. Today's skier depends on human effort for just about their whole outing.
I can't leave my memory bank visit end on a negative thought though.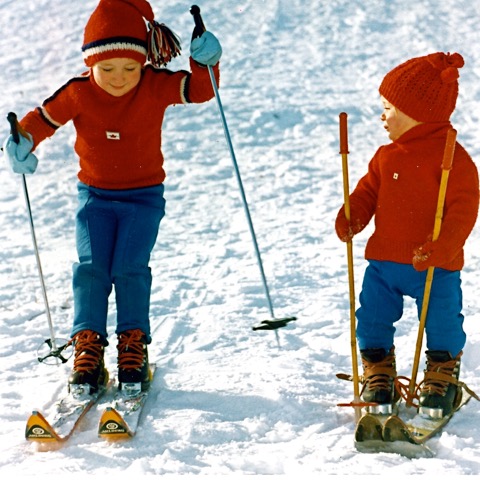 A happy memory for me is putting my daughters Mystee and Kendall on their first skies. Both girls were on skis when they were one year old. I had a pair of skis made for children, with a base that prevented them from sliding backwards. They could ski much better than they could walk. Mystee, now is skiing her 55th winter of her 56-year life. Kendall lost contact with the mountains but is still an amazing skier.
Mystee's boys, Jake and Noah, are excellent skiers. Just a few years ago, when I was only 88, Mystee, Noah, and myself skied in a Sherpas Production on Norquay that toured the world as a film known as the best of the Mountain Film Festival. That was a great treat for this old guy to ski in the same snow, or almost, as my children.