Monod's Legacy: freeskiing star Tatum Monod reflects on home-mountain memories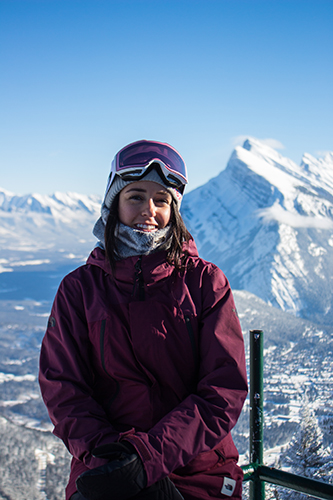 Freeskiing star Tatum Monod returns to her roots at Norquay, visiting in February 2018.
The Monod name is synonymous with Canadian winter adventure—and while 26-year-old freeskier Tatum Monod is continuing her family's skiing legacy, she's firmly carving a name for herself in her own right.
Tatum's parents met through skiing, her dad was a racer on the Canadian Ski Team, and her grandfather was a Swiss Mountain Guide who founded one of North America's earliest outdoor gear shops, Monod Sports in Banff, which her family has operated since 1949.
Growing up in Banff, and learning to ski and ride at Norquay, Tatum has go on to compete in the Freeskiing World Tour, winning the qualifiers and scoring second place overall at the Revelstoke, BC event—her first ever big-mountain contest.
Today, she has redirected her focus from competitions towards ski films, following a breakout, award-winning performance in the film, Less, by Level 1 Productions in 2014. And while Tatum is no longer based here in Banff, she says there's no place quite like home. This month, we were stoked to have her back on the Norquay slopes once again, filming a news feature with CNN Travel, and sharing her early skiing memories with us.
Check out our Q&A with Tatum below, where she shares her inside scoop on the best runs at Norquay, how she ignited her own passion for skiing, her advice for the next generation of powder chasers, and more.
10 Questions with Tatum Monod
NORQUAY: Your family's name has been synonymous with the ski world (and Banff) for generations now—but you didn't actually start skiing until you were 12. Can you explain what it was that made you want to follow in your family's footsteps and embrace skiing?
TATUM: While skiing is a huge part of my family, it was never something that was forced on me. I started out snowboarding at Norquay, and then when I turned 12 and decided to try skiing. Something just clicked. By age 15, I qualified for the Alberta Alpine Ski Team and was traveling internationally on the race circuit. My parents waited for me to decide for myself that I wanted to ski—and I think that's how my love of the sport remains so strong.
NORQUAY: What are your memories from the early years of learning to ski and getting a feel for the sport? Who taught you or showed you the way?
TATUM: Skiing the "Big Chair" at Norquay (the North American Chair) are some of my first memories of skiing. It didn't matter the conditions, being out there and smashing the moguls down the Lone Pine with my friends was the most fun in the world for me.
From the first day I clipped on my skis, I remember just being able to go down the hill. I was never really taught how to ski, it was something that just felt very natural to me. But learning the technical aspects of racing was another story. I had some amazing coaches with Banff Alpine Racers at Norquay, including Momo Kagitani, Richard Jaggar, Duane Baird, and the late Rob Bosinger.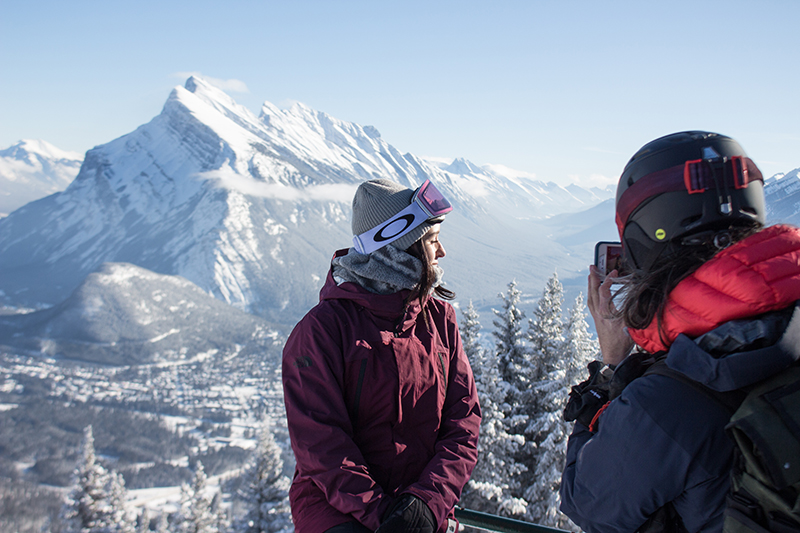 Tatum enjoys a bluebird ski day, fresh powder, and reflects on her early days at Norquay.
NORQUAY: Do you think that being based in Banff and close to Norquay helped as you were learning, and then later progressing in the sport?
TATUM: When I started with the Banff Alpine Racers program, we skied and trained up at Norquay. We had some of the best access to steep and technical terrain—and I think that is what truly built me as a skier.
NORQUAY: Can you tell us what you like most about Norquay? What makes this place special for you?
TATUM: Norquay has so much steep terrain to offer, and I have so many great memories here. I love going up and ripping groomers off the Mystic Chair. My favorite runs are Monod's Legacy and Giver Grandi.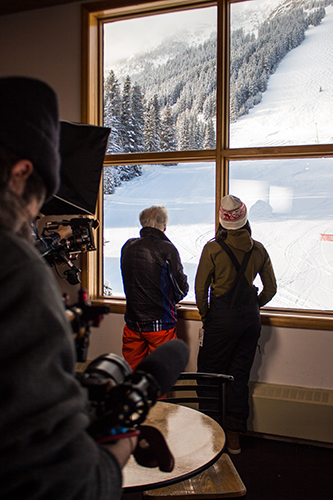 CNN Travel films a feature story with Tatum at Norquay in February 2018.
NORQUAY: Can you describe the moment you realised that you wanted to take your skiing to the next level, and when you took the leap to make that happen?
TATUM: For me, qualifying for the Alberta Alpine Ski Team at a young age really motivated me to follow my passion for skiing. I switched to freeskiing and signed my first two pro contracts with Orage outerwear and Rossignol skis. I love what I do, and it's been a blast.
NORQUAY: Freeskier Magazine has named you "freeskiing's next it girl", and your career is soaring. What are your main goals for where you want to take your skiing next?
TATUM: When you're filming for 99% of the winter, trying to fulfill various sponsor obligations, and overcoming injuries, it's really easy to get burnt out on skiing. My main goal is to just have fun, and never lose my love for skiing.
NORQUAY: You've got some pretty impressive achievements under your belt. What are your career highlights to date?
TATUM: I was honoured to be voted Skier of the Year by Freeskier Magazine in 2014/15 and 2016/17, and to win Best Female Performance at this year's Powder Awards for my role in Habit, by Level 1 Productions.
NORQUAY: As you're often travelling, how often are you home in Banff? What do you usually do when you're back in town?
TATUM: I come home to Banff three or four times a year. For me, coming home is a great way to hit the reset button. I love having some down time with my family and seeing some of my best friends.
NORQUAY: For much of 2017, you were recovering from a knee reconstruction after a skiing accident in Alaska. How did it feel to be back at Norquay recently (with the CNN crew) following your recovery?
TATUM: It was an incredible opportunity to have CNN share my story here in Banff. I'm so proud of my hometown roots, and Norquay holds so many memories for me. I celebrate that connection whenever I can.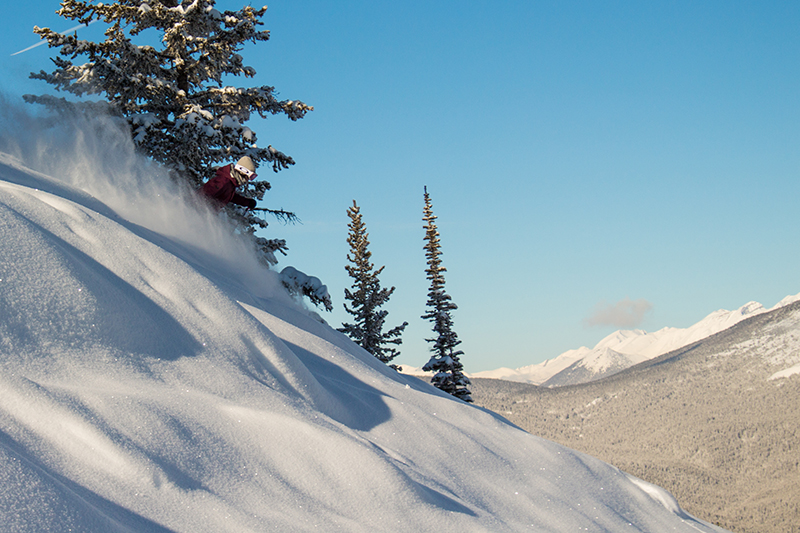 Fresh tracks, mountains of powder, and plenty of nostalgia, Tatum rips it at Norquay.
NORQUAY: What advice would you give to young skiers who want to take their sport to the next level—any tips?
TATUM: Having fun is the most important reason to ski, and your skills will come naturally the more time you spend on the mountain. Ski because you love it!
To stay in the loop with Tatum, join her 77k-strong following on Instagram @tatummonod—and watch out for some steep shots snapped at @mtnorquay!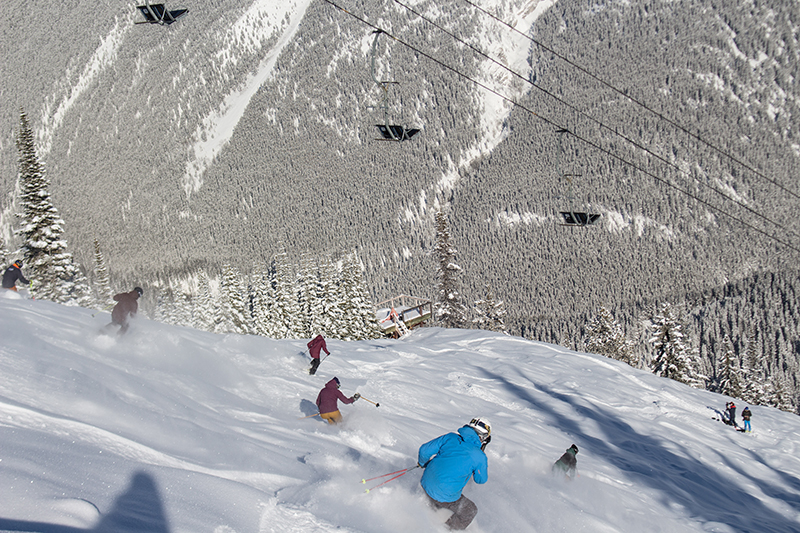 Party shred! Tatum hits the slopes with the Norquay team.