Passion, Community & Olympic Heroes: Banff Alpine Racers Celebrates 40 Years
If you're a skier who loves watching your sport at an elite level, you probably saw Canadian ski racing stars Jan Hudec, Trevor Philp and Erik Read in action amongst the world's top competitors at the PyeongChang 2018 Winter Olympics.
But did you know these Olympic athletes started out with Banff Alpine Racers, right here at Norquay?
While the club's members continue to make their mark on the world stage, in 2018 Banff Alpine Racers also celebrates its 40th anniversary as Banff's renowned local ski club.
As we mark this milestone at Norquay, we caught up with Pete Bosinger—Executive Director at Banff Alpine Racers, and a former Olympic competitor himself.
What's the "secret sauce" behind the club's success? What separates a talented skier from an Olympian? Why is Norquay the ideal training ground for the next generation of racers? For these insights and more, check out our chat with Pete below!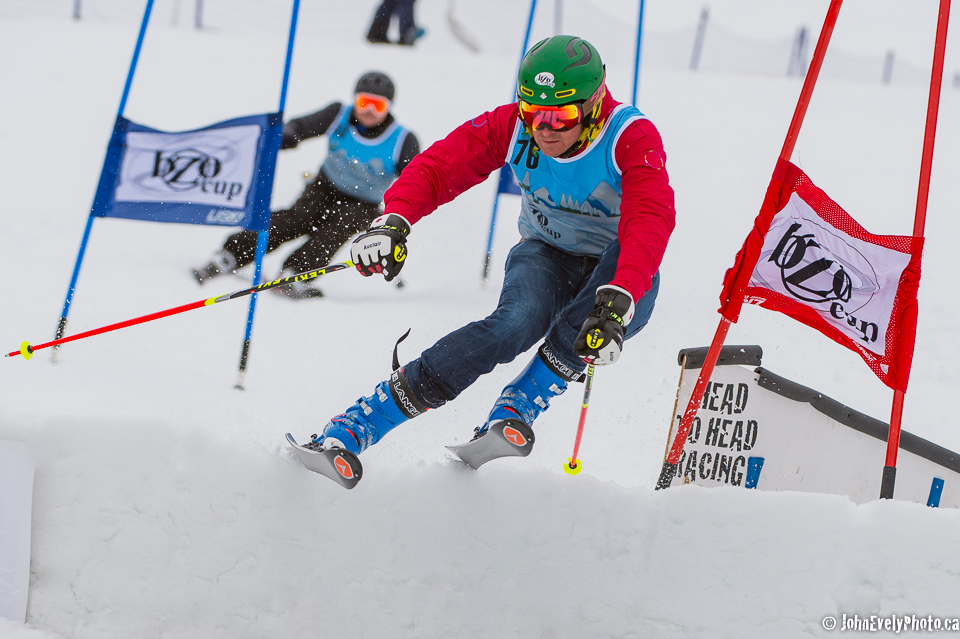 Pete Bosinger hits the Norquay slopes in 2017 for Bozo Cup, held each spring in honour of his late brother, Olympic ski legend Rob Bosinger. Photo by John Evely.
Q&A with Pete Bosinger, Executive Director at Banff Alpine Racers
NORQUAY: You've dedicated your life to your love for skiing—what drives that passion?
PETE: As long as I'm healthy and fit enough, I'll never stop chasing that adrenaline rush of skiing down a mountain out of my comfort zone. It's that sense of exhilaration, independence, and the ability to connect with others. There's nothing in my life that makes me happier than skiing with people who share the same passion, and I'll be doing it for the rest of my life. You see people out there skiing into their 70s, 80s, and 90s, and it's for the same reason. Whether you're on a mountain here with your friends and family at Norquay, or skiing anywhere else in the world, there's so many ways to enjoy the sport. You have to be grateful for that freedom.
NORQUAY: Could you share with us some of your highlights of your own career as an athlete?
PETE: A lot of what I've done in my own racing career ties into my current role. I moved to Banff at age 16 and was on the Alberta Provincial Team. While I wasn't a member of Banff Alpine Racers, I grew up here and represented Banff from an early age. As my career progressed, I had the opportunity to compete at the Calgary 1988 Winter Olympics. It was an honour to represent our country and our town, and a fantastic learning opportunity.
I also raced on the Continental Cup level, NorAm, Europa Cups, and a few World Cups, and a couple of seasons in the US and Japan on what was known as the Pro Tour—it was a different format, similar to the parallel format team event at the Olympics today. Looking back on what I gained in my own time as an athlete, it's the knowledge of the sport, learning what it takes to progress to the next level, and the lifelong friends and memories that are the biggest highlights.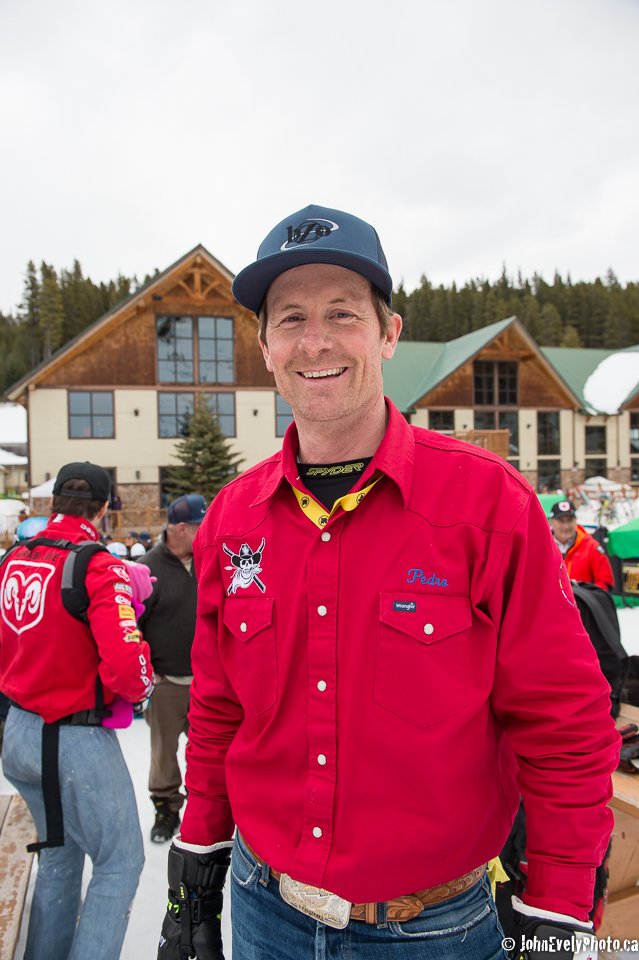 Smiles all round at Bozo Cup 2017 at Norquay, with Pete Bosinger leading the way. A celebration of skiing, Bozo Cup welcomes skiers of all levels. Photo by John Evely.
NORQUAY: From coaching the Canadian and US National Teams, to managing venues for the 2010 Vancouver Winter Olympic Games, you've worked in the industry in many capacities since 1994. When you started this leadership role with Banff Alpine Racers in 2014, it was a change in direction. Could you tell us about your experience transitioning to a local club system?
PETE: It's been a great learning experience. When I coached the Canadian and US National Teams, it was a different model of coaching. Your entire focus is on striving for excellence and competing at an elite level. Now, with Banff Alpine Racers, we focus on the fundamentals: it's teaching kids to ski, instilling that passion for the sport, and the importance of teamwork, commitment, and life skills. We provide a pathway for kids to achieve excellence based on their own goals—whether they ski recreationally, or progress to the Provincial Team and beyond.
NORQUAY: What inspires you and the team about leading the next generation of racers and seeing them flourish?
PETE: It always comes back to the passion for the sport. That's what gets me out of bed every day, excited about my work. Seeing six-year-old kids having a blast while learning to ski, watching kids making that next step to the provincial level, or seeing our top athletes racing at a national level and achieving a career best. It's rewarding in so many ways.
We have a lot of great role models who have excelled through our club. Our athletes like Jan Hudec, Trevor Philp, Erik Read on Canadian National Team, and now Jeffrey Read, a top NorAm and Continental Cup contender, all started out as Banff Alpine Racers. They're more than "alumni"—they're ongoing members of our club, and they're an inspiration to all of us.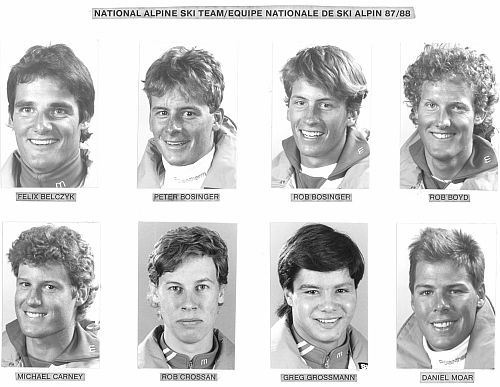 Canadian Men's National Alpine Ski Team 1987-88 (top row): Felix Belczyk, Peter Bosinger, Rob Bosinger, Rob Boyd (bottom row): Mike Carney, Rob Crossan, Greg Grossman, Dan Moar.
NORQUAY: And on the flip-side, what are some challenges faced by Banff Alpine Racers?
PETE: Today, we have fewer members who live in the Bow Valley, especially in Banff. It's a missed opportunity for locals who live only minutes away. There may be a perception of cost challenges with ski racing, but for an entry-level skier at a young age, it's no more expensive than other local sports. One great initiative supporting local access to skiing is the free Caribou Kids Pass at Norquay, funded by Caribou Properties. We want to encourage more locals to join us, and welcome anyone who's interested to get in touch with us to find out more.
NORQUAY: With the club's history of Olympic-level alumni (or rather, continuing members), Banff Alpine Racers is renowned for producing generations of top skiers. What's the secret?
PETE: It's the culture, our exceptional coaches and partnership with Norquay. Our mission is to provide a pathway of excellence for kids to reach their goals, instilling passion and commitment for the sport. We do that by focusing on a strong entry-level system (Bow Valley Quikies), where we introduce kids to the sport, and families become part of that culture. It's also important that we have a program at the elite-level club program. We promote integration between age groups, so younger kids can ski with older kids and aspire to that top level.
For kids who choose to go to university after high school, we've also created a program allowing them to return as coaches while studying. This creates a cycle of members mentoring the next generation. Our club grows in strength because of the knowledge that comes back.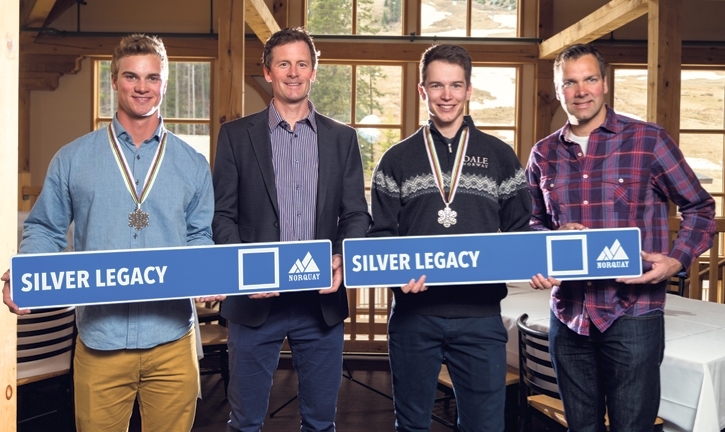 Banff Alpine Racers alumni Trevor Philp (left) and Erik Read (centre right) hold up signs for the Silver Legacy run at Norquay in 2016. The run was named after the silver medals received by local skiers Jan Hudec, Trevor Philp and Erik Read at world championship events. Pictured with Pete Bosinger, and Andre Quenneville, Norquay GM. Photo by Rocky Mountain Outlook.
NORQUAY: You've competed amongst the world's top athletes, and coached some of the best up-and-coming racers. What is it that separates a talented skier from an Olympian?
PETE: There's talent, and then there's commitment. Talent only gets you so far. You have to be able to work hard, take what you learn and push yourself independently. We instill that work ethic as our kids grow within our club. They have to embrace the process in the work they do off the snow, in the gym, in their conditioning program, during the off season, and in their mental preparation. But they always need to keep it fun and have that passion. Whether they want to pursue their sport professionally, or to further their education at university, the skills we work on are life skills they can apply to any path they choose.
NORQUAY: 40 years of Banff Alpine Racers at Norquay, and still going strong! What makes this an ideal location for racers to train and compete?
PETE: We have what I believe is one of the best training and racing environments almost anywhere in the world—and our partnership with Norquay has helped us build and maintain that. We're a big club in a family ski resort, so there's a very strong community component with how our club operates. That's harder to accomplish in a bigger ski resort, and I can honestly say there aren't many ski clubs that offer the kind of training environment that we do.
We have access to great conditions and terrain, and we have priority on certain runs, so we can stay focused on our mission: building kids' skills and passion for skiing. Families come up with their kids, kids go and ski with the program, parents go and ski together, then everyone comes back to the Lone Pine at the end of the day for a beverage and a plate of nachos. Volunteerism created by this kind of club environment is so crucial, especially with hosting races and fund raising. Parents are out there working together to deliver safe, fair ski races for these kids.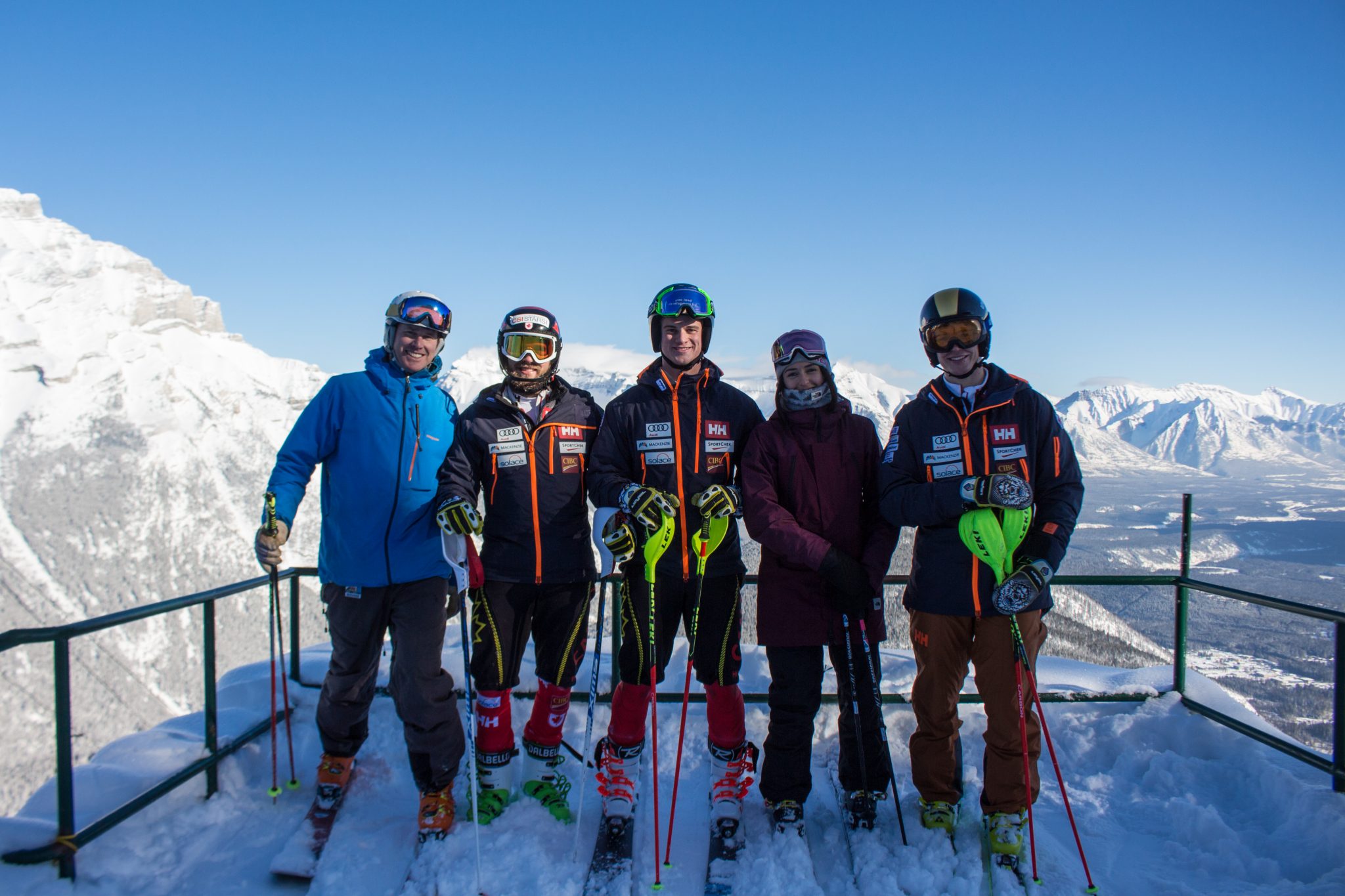 Phil Brown (centre left), Trevor Philp (centre) and Erik Read (far right) training at Norquay on a powder day in February, ahead of the 2018 PyeongChang Winter Olympic Games. Pictured with Norquay's Simon Moffatt, and Banff freeskiing star Tatum Monod. Philp, Read and Monod returned to their old stomping grounds, as Banff Alpine Racers alumni.
NORQUAY: It's safe to say you're quite familiar with these slopes. On a personal level, what do you like about skiing at Norquay?
PETE: The fall-line. There's nothing better than a sunny day and fresh snow on the Big Chair. Skiing all the great lines, lapping on that chair… it's Banff. There's nothing more exhilarating than getting off that chair and looking down at the town you grew up in, and skiing down one of the most iconic runs in the Canadian Rockies. It challenges you every time you get off that chairlift, and I love it. We're pretty lucky to have this place right here in our own backyard. The accessibility of getting from my doorstep to the base of the lift in 15 minutes is hard to beat.
It's also incredible to have a team and GM [Andre Quenneville, Norquay General Manager] like they do here, who are so passionate about skiing, racing and everything related to the industry. Andre still comes out and foreruns—every race you have to run a few people down the race course to check timing and safety, and he's always there if he has time. I can't name a GM at another ski resort in this country who would do what he does at every opportunity. That kind of leadership makes a difference. We'll race each other at Bozo Cup this year. I always look forward to racing him—we've had our battles over the years!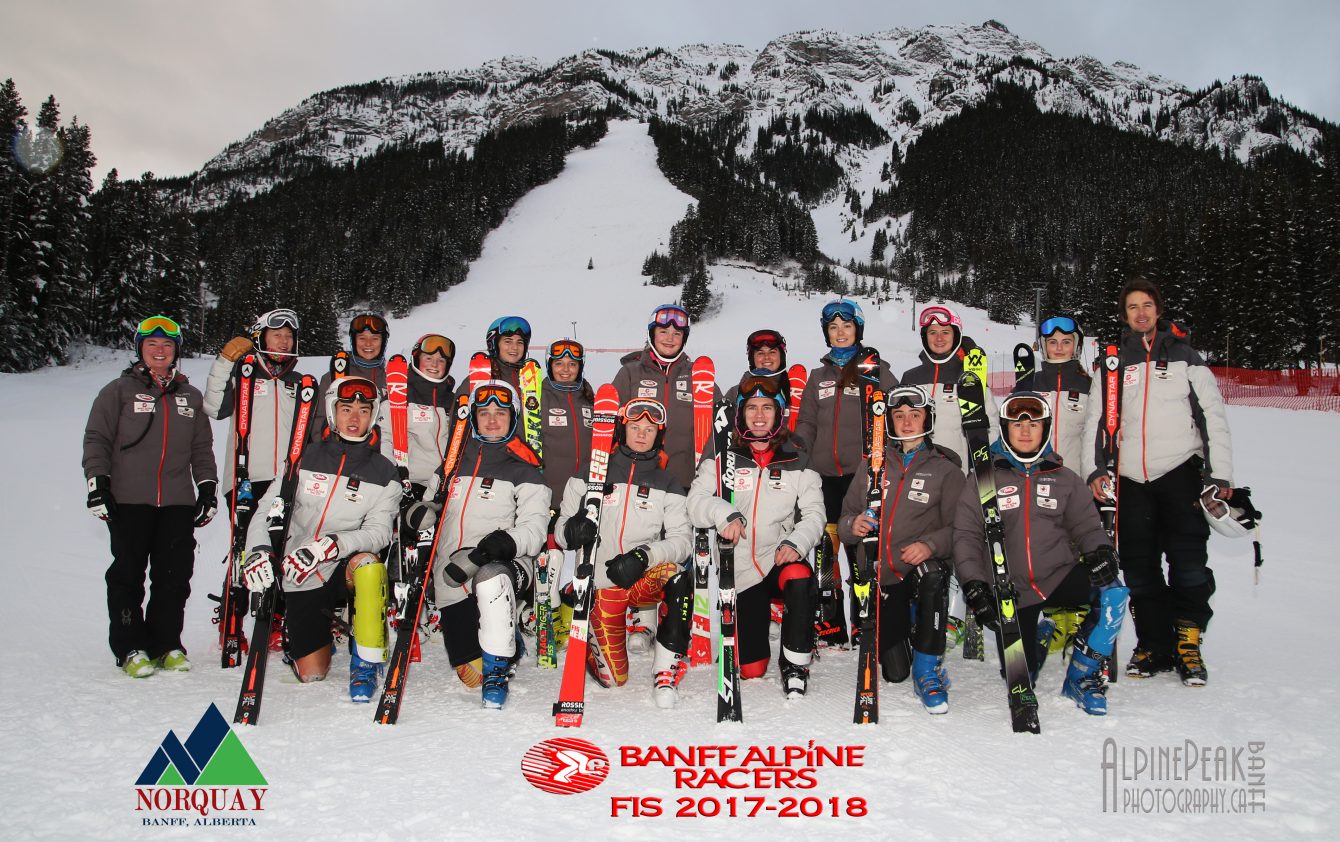 Banff Alpine Racers' 2017/18 FIS Team, the club's top U19 athletes, gear up for an exciting winter season, pictured at Norquay in early winter 2017/18.
NORQUAY: What makes ski racing ideal for families? How can they enjoy it together?
PETE: It's one of the few family sports where you can truly be a part of it with your kids. Our club hosts around seven events each year, with two of our biggest competitions each spring.
Caribou Cup (March 24th-25th, 2018) is one of our high-profile U12 provincial races, with around 250 kids racing in slalom and giant slalom formats. The week after, the Rob Bosinger Memorial Weekend includes Bozo Cup (March 31st, 2018) and Kinder Cup (April 1st, 2018).
Bozo Cup is a celebration of skiing, not just ski racing, where we welcome the whole community to participate, even if they've never raced before. There are amateur categories for both men and women, and it's a great way for families to experience the sport.
Kinder Cup is the season favourite for many kids. It's a chance to dress up and celebrate, and it fills up every year. Kids don't often get to race head-to-head like they do in this event. It's a fun format of racing—you see more of it now in the sport, even happening at the Olympic level.
We'll have families come along for the Rob Bosinger Memorial Weekend where the parents race in the Bozo Cup, then their kids race in the Kinder Cup the next day. While the kids are competing, the parents are out there themselves at Norquay, watching, volunteering or skiing. There aren't many sports like that for families to share together.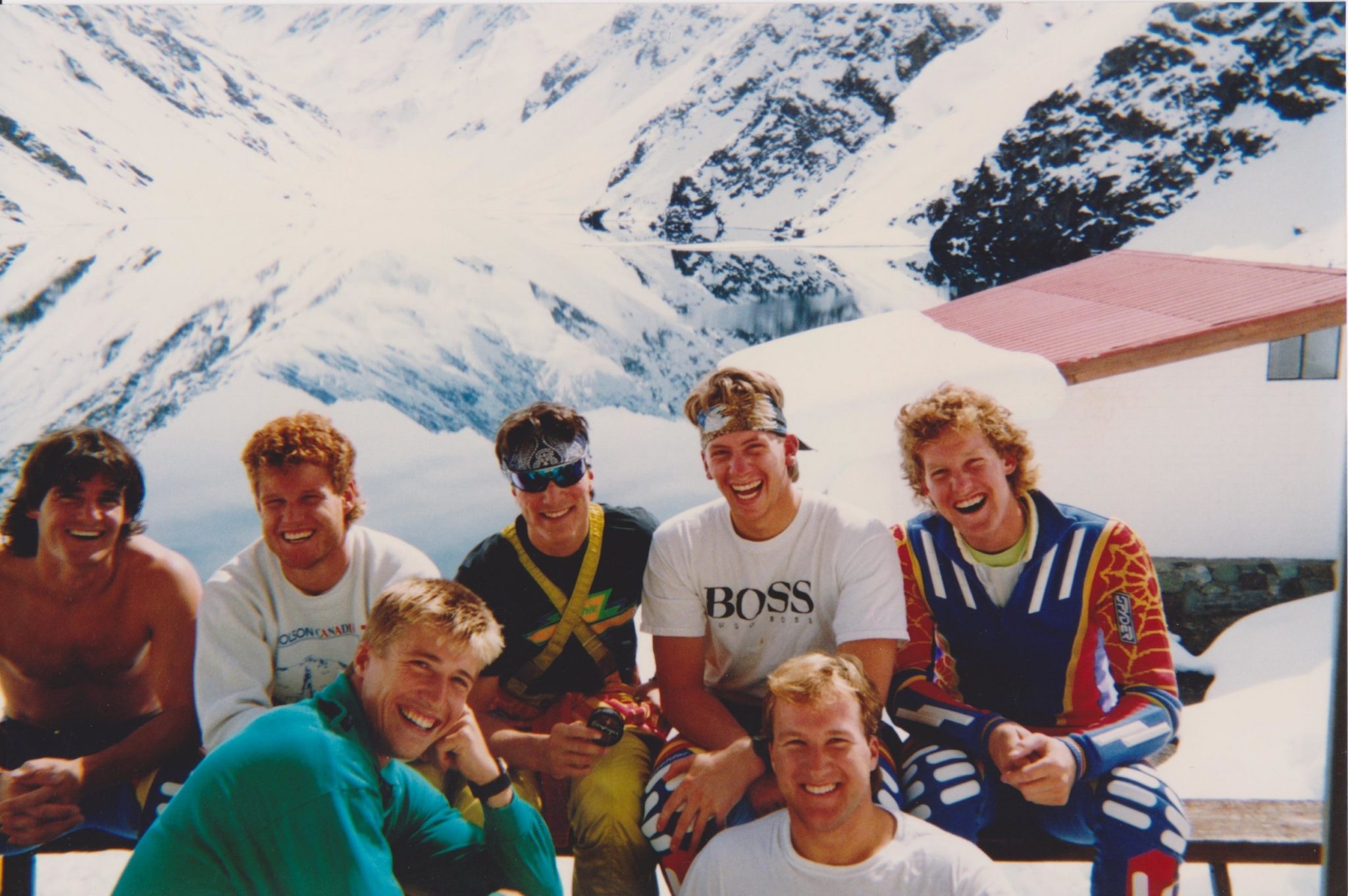 Pete's brother, Rob Bosinger, pictured with the Canadian Ski Team in the early 1990s, during summer training in Portillo, Chile (top row): Felix Belczyk, Mike Carney, Darren Thorburn, Rob Bosinger, Rob Boyd (bottom row): Cary Mullin, Brian Stemmell.
NORQUAY: Your family name is synonymous with ski racing, thanks to your successes and those of your late brother [Rob "Bozo" Bosinger, World Cup downhill racer/coach with Alpine Canada] and father [Fred Bosinger, Canadian Rockies Ski Racing Hall of Fame: 2016 Honoured Lifetime Builder]. What does your family's connection to the sport mean to you today?
PETE: As we celebrate our club's biggest events, it's a bittersweet time as we remember people who are no longer with us. We hold the Rob Bosinger Memorial Weekend in honour of my brother, who passed away in 2005. Our family only recently lost our father, too, in late 2017. Dad used to compete in Bozo Cup, and was there just last year. Along with initiatives like the Rob Bosinger Scholarship, [funding two up-and-coming U16 Alberta Alpine racers], these events will always be close to our hearts.
To find out more about Banff ski racing programs here at Norquay with Banff Alpine Racers and the Bow Valley Quikies, visit https://banffalpineracers.com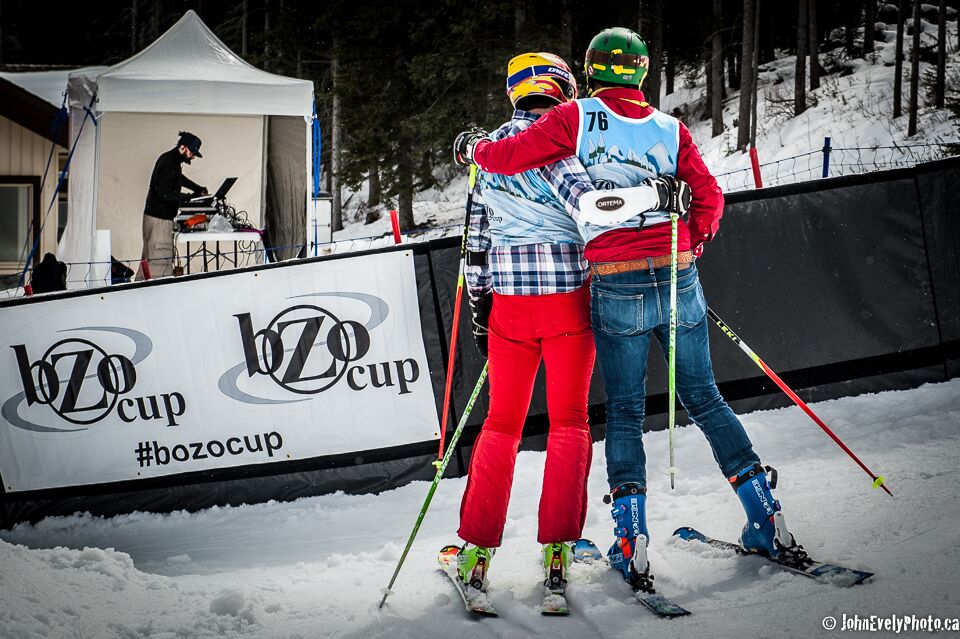 Andre Quenneville, General Manager at Norquay, and Pete Bosinger, Director of Banff Alpine Racers, celebrate after some friendly competition at Bozo Cup 2017. Photo by John Evely.