Save a horse, ride a ski race: Cowboy ski race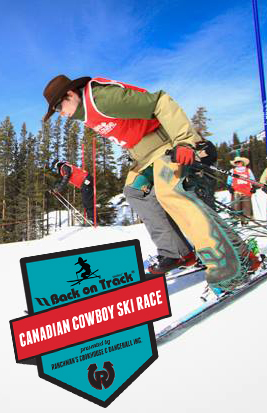 Help us invade the Banff slopes at Mt. Norquay this weekend with leather, flannel, and ten gallon hats. Mt. Norquay is proud to host the 5th annual Back on Track Canadian Cowboy Ski Race. No belt buckle is too big for racing this Saturday, March 18.
This might be the only time it's appropriate to wear jeans to ski, and ski fast. Check out the events page for the full details if you think you're tough enough to hang with some the salt of the Earth Canadian Cowboys.
All proceeds from the day's festivities go to Canadian Pro Rodeo Sports Medicine team. This awesome team of professionals is dedicated to helping Rodeo athletes by providing care on site at Rodeo events across Canada. They have over 40 practitioners working hard to keep Cowboys and Cowgirls competing through the Rodeo season.
Registration is from 8:30 – 11:00 in the Cascade Lodge.