The Ski Legacy Lives on with Jeffrey Read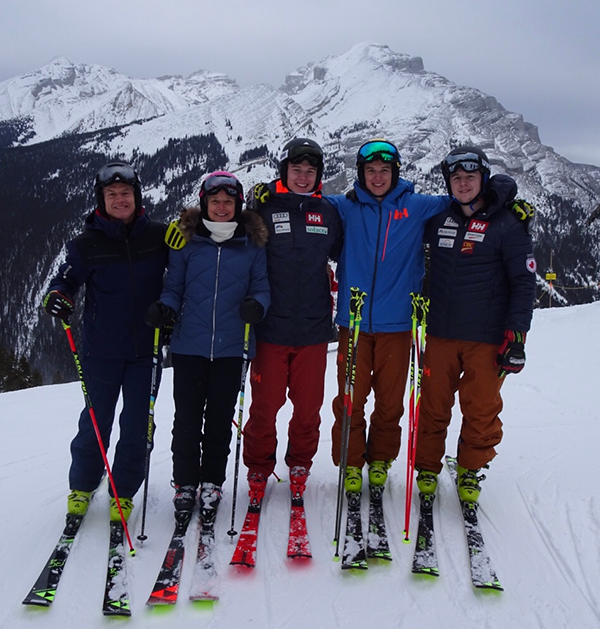 Mt. Norquay wouldn't be the same without its long line of ski racers that flow through the veins of this ski resort. For generations, these slopes have been used as a training ground for ski athletes and it has become a part of the inherent identity of the hill worldwide. This has been a safe place for skiers to gain their strength, take risks, and refine their skills which has led many of them to go on to achieve success and set records on the world stage.
Although still a young skier, Jeffery Read has achieved more than many at this stage in his skiing career. In the 2015-16 season, Jeffery made the Canadian Alpine Development team and accumulated nine top-ten finishes in the North American (Nor-Am) Cup circuit for the season. He then went on to achieve three top-ten placements in 2016. Most recently, he and his brother Erik Read, represented Canada at the World Championships in Sweden.
Jeff comes from a family of skiers, his mother Lynda Robbins competed on that national team along with his father, two-time Olympian, Ken Read, known as one of the "Crazy Canucks," with his other two brothers. It's safe to say that Jeffery is only getting started on his thrilling career as a professional ski racer. Getting his start at a young age on the slopes of Norquay, like many, we have watched him come a long way and it's exciting to see what he will achieve next this season.
We caught up with Jeffery to learn a bit about his background and his persevering spirit that keeps him dedicated to his sport day in and day out.
When was your first introduction to skiing?
Honestly, I've been skiing longer than I remember. Being from a family where my siblings, parents, and both sets of grandparents were all avid skiers I was bound to get an early start. Also, being the third born child I was definitely pushed to be able to go out and rip around the hill, while keeping up with my older brothers.
What is your first memory on skis?
My first memory was skiing with my dad on a harness. We were out skiing as a family and I was starting to get the hang of it, so I began trying out some turns. Through my over-confidence, I caught my dad's tip and actually made him crash. Initially, he was worried that he hurt his knee, but he ended up being alright.
When did you decide you wanted to make skiing a professional career?
I wouldn't say there was an exact moment, but more a gradual realization. When you're younger you're not focused too much on your future with the sport, more on beating your buddies down the hill. However, as I progressed through U14 and U16 I started feeling the competitiveness and drive to be the best. When I began to compete against all my friends around the province trying to qualify for the Whistler Cup or fighting for the overall Provincial Series title is when the racing part really got fun. This is when I began to realize that this is something I want to do professionally as a potential career. As I moved into FIS things certainly got more competitive and there were more challenges that were incredibly rewarding to overcome. Now that I am competing on an international level, I am even more motivated to work towards being at the top level of this sport.
What are your earliest memories of skiing at Norquay?
I have fond memories of being in Quickies with my friends and having fun just ripping all over the mountain. Norquay is a very special place for me, because I practically grew up on its slopes. Rob's Run holds particular significance, because that's the run where I've been skiing gates since I was six. Nearly everything I've learned about ski racing has been on that run.
Can you describe your training process in the early years? How has it changed?
When I was in Quickies I was skiing every weekend either with the club or with my family. I also did lots of road trips tagging along to my older brother's races. As I grew up and moved into U12 we started doing some fitness training in the off-season and one or two extra days of skiing in a week.
This obviously caused me to miss school, which is another challenge you have to face as a ski racer (the National Sports School helps!). When I hit U16 I did little more skiing and dryland, but it wasn't until I hit FIS that it became a full-time activity. Nearly every day of the off-season you're working to get as fit as possible and during the season you're skiing anywhere from four to seven days a week.
Were there any challenges you needed to work through in order to get where you are now?
It definitely wasn't an easy road to where I am now. There were countless days of freezing my toes and grinding out training runs in the gates, I learned to enjoy every step of the process. That feeling of going as fast as I possibly can is what would drive me to do that one more run, no matter how much I didn't want to. Along the way, I have had a handful of minor injuries that would restrict me from doing some of my off-season conditioning or training, but I have been fortunate enough to never have sustained a serious injury that would have taken me out for a while. So far at least!
What do you think was the most important factor on your journey to be a successful ski racing champion?
Passion! You must have a burning desire for every aspect of this sport if you want to take it to the top level. Passion is what pushes you to be as fast as you possibly can be and to keep going when you're down. This is a sport where you are bound to face adversity and with a strong desire you will figure out a solution and overcome any challenge.