Trevor Philp Continually Sets and Surpasses His New Ski Racing Goals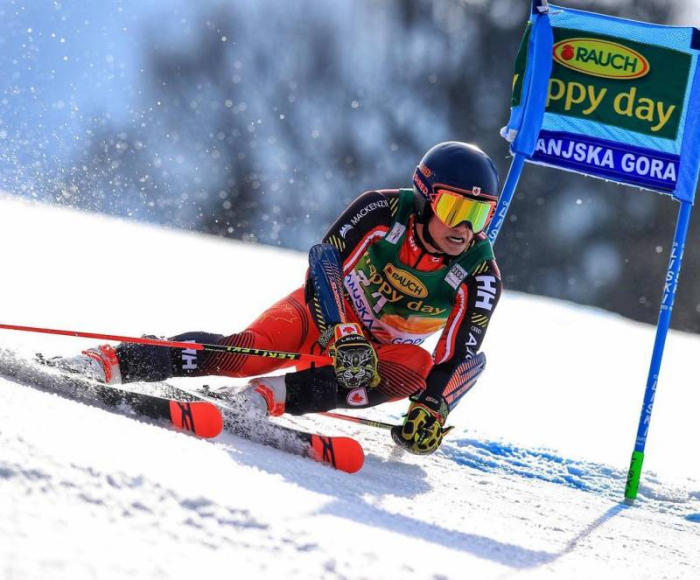 From a young age, Trevor Philp has been skiing the slopes with his family at Mt. Norquay. When their family-focused activity turned to a competitive sport with Banff Alpine Racers, he started to see impressive results. Now, Trevor tours with the Canadian Ski Team and has competed in two Olympics.
Keep reading to find out how his career started, what drives him to constantly improve, and how he finds balance between working abroad and maintaining relationships at home.
1. Trevor, you started on the slopes young. What are your memories of Norquay during those early days?
My memories from growing up at Norquay are great ones. At a young age it was such a family activity for us, going up every weekend with my parents and two brothers. We were in the racing club from a young age, learning the lifelong sport before I knew how much I'd enjoy it many years later. Skiing with my group in the morning, coming in for lunch with my family, and then back out for some more skiing in the afternoon. I remember (perhaps I remember the story more than the event itself) tackling the great North American chair at 4 years old. My coach at the time wanted to take me up after our program had ended one day, and asked my parents if they could. My parents cautiously said yes, and off we went!
My later years at Norquay were different from those early years, but so fun in their own way. When I joined the K1, K2, and FIS programs (aged 11-17ish), we started taking the team vans to the hill instead of riding with our parents. Loading our skis and equipment in the vans and driving up to Norquay, before a day of training. The location and fun was the same, just with a bit more focus on the training and with some added independence from our parents. I met some amazing friends during these years.
2. Why skiing; did you come from a skiing family? Where did the passion for skiing come from?
Skiing was simply a family activity for us growing up, a way for us to enjoy a great sport all together. Both of my parents were skiers, my Dad was a good racer and my mom was more of a recreational skier. But that brought us to the family-friendly Norquay to enjoy the slopes! The passion for skiing was initiated by my parents, but grew over my 13 years skiing in the racing clubs at Mt. Norquay.
3. And apart from the skiing, what other benefits did you find there was in being part of a ski team from an early age?
There were so many friendships gained over those years being on the team, many of which are still great friendships. People from Calgary and the Bow Valley came together in the club; there were a lot of great families involved. You also learned how to be independent, as with each age-group progression within the club, we travelled to more away races, trained more, and spent more time with our coaches and teammates.
4. And the years when you started competing internationally, how do you prepare for that as a youngster? Were there any hard lessons you needed to learn?
For me it was a fairly natural progression, from kids' skiing to early years in the International Ski Federation (FIS) to later years when I was actually racing internationally. With every year or two that passed, I moved up to the next level, and the ski program became more of a commitment. Over the years the training became more and more focused, the off-snow dryland training became more prominent, and it all started to take a greater portion of my time. For me, I always welcomed those progressions to the next level, I was excited to put more energy and time towards skiing, and I loved doing it!
5. How important do you think it is for young enthusiast skiers to have ski areas with ski clubs / teams for all ages, to progress within?
The race club at Norquay allowed me to get to the place in my career I am today, to become a World Cup and Olympic skier. There was no long-term plan on what had to happen each year from when I was a kid to make it to the World Cup level, we just relied on the ski club programs to keep progressing me. And it did just that! So having a club that allows such seamless progression from one level to the next it essential to developing racers for the world stage.
6. When was the moment you decided to take your skiing all the way; was there an "ah-ha" moment?
I don't think there was one particular moment when I knew I could take my skiing to the top international level, it happened at a step-by-step rate. I remember being on the FIS team at Norquay and watching the Alberta Ski Team athletes, looking up to them as skiers. And then I qualified for the Alberta Ski Team and saw the athletes on the Canadian Development Team as my idols… until I made that step as well. I was also lucky to have a brother two years older than me, as I followed in his footsteps through all those years. He was always a step ahead of me, so he continually introduced me to those next levels of the sport. That was so beneficial for me, I learned a lot from him.
7. How often have you returned back to Norquay in recent years? How is it to be back to your "home" ski area when you're there now?
At this point in my life and career its tough to get back to Norquay very often, though every time is a special feeling. A couple times a year I will make it up there, whether it's to ski or just to visit it in the off-season. Last season we did our Olympic prep training at Norquay, which was amazing. Being back there for a full week of training before flying over to Korea, it was a great week. And as always, Norquay was so accommodating in creating the best training environment for us!
8. What is your career highlight to date?
I have two: one of my favourite race days of my career was at Beaver Creek, Colorado in December 2017. I finished 11th in the Giant Slalom, which was my best GS result on the World Cup at that time. But, to make the day even more special, I had family there (my Dad and Janie), as well as many friends from my years of school in Denver. A great result plus a lot of close friends and family!
The second is very recently, in Kranjska Gora, Slovenia. In a similar fashion, I performed a new personal best GS result with an 8th place, and it was again in front of friends and family. The race was so exciting because I felt I put it all on the line and had a great result, and then to have my Mom in the crowd (along with many other Slovenian family friends) made it very special.
9. And your seasonal highlight so far?
Again, sorry but I have two: one highlight of the season so far came in Bansko, Bulgaria. I placed 5th in the Alpine Combined race, my best World Cup result of my career. I finished the Super G portion of the day in 27th place, but then had the fastest Slalom run to move me up to 5th. To add a little more fun to the day, I actually tied for the win on the Slalom run with the world's best Marcel Hirscher! Finishing in the top 6 meant I was part of the awards ceremony that night in the town. My first World Cup awards ceremony – that was a first for me and was a fun experience.
The second was very recently in Kranjska Gora, Slovenia. Following my 8th place result in the GS there, I attained enough points to bump up my world ranking to 25th place which qualifies me for the World Cup finals in Andorra! It will be my first time competing in the Finals, and it felt like such a milestone in my career to qualify.
10. What do you miss about Alberta when you're travelling / on tour?
These years on tour, I spend most of my winters over in Europe. The things I miss most about home are the people and the home cooking! As well, there are many amazing mountain regions around the globe, but nothing feels like home more than the Banff area.
11. Do you think there are sacrifices to competing at your level, if so what?
Of course there are big sacrifices to competing on the World Cup, which a big part of is time. I spend less than two months a year now at home, between winter skiing, off-season skiing, and dryland training I am constantly on the road sleeping in hotels and living out of a suitcase. Your life at home really goes on hold for a while, as you just aren't able to be there and see your friends and family much.
12. What's the best thing about doing what you do?
The experiences I/we create on the road are ones that will stay with me for life. The places we get to go (some glamorous, some not), the life-lessons learned while training and competing at this level, and the friendships with people from all over the world are a few great parts of the job.
13. Who do you most look up to, who inspires you?
I take inspiration from many different people for different aspects of their own life. There are certainly some ski racers who inspire me based on their impressive skiing, both in technique and in tactics. Some examples here are Pinturault, Hirscher, and Kristoffersen. There are other people (skiers and others) who have inspired me for their commitment to give back to the community, be it on a large or small scale. Mike Janyk and Manny Osborne-Paradis put on a great ski camp for kids for a numbers of years, which was an amazing way for them to give back. I would love to be able to give back in such an impacting way one day too.
14. What is your ultimate goal in ski racing?
My goal is ski racing is multi-part: I always want to be driven to improve with a belief that I have further room for growth in the sport, and on the results side my goal is to have multiple World Cup podiums.
15. What's your favourite thing about Norquay?
This one is easier! I love the family-friendly side of Norquay, from the slopes to the day lodge. It is so facilitating to skiers of all levels, and the base area with the beautiful day-lodge is a perfect place to all gather for lunch or an après ski gathering! Norquay is also the place of a couple of my favourite ski runs. If I want to carve up some GS turns on a fun and challenging slope, I'll head over to Giv'r Grandi for a few laps. After that maybe take the wider skis up the North American for a couple leg-burners!