Winter Fresh (And a Little Fruity): The 'Norquay 92' Local Brew Is Now On Tap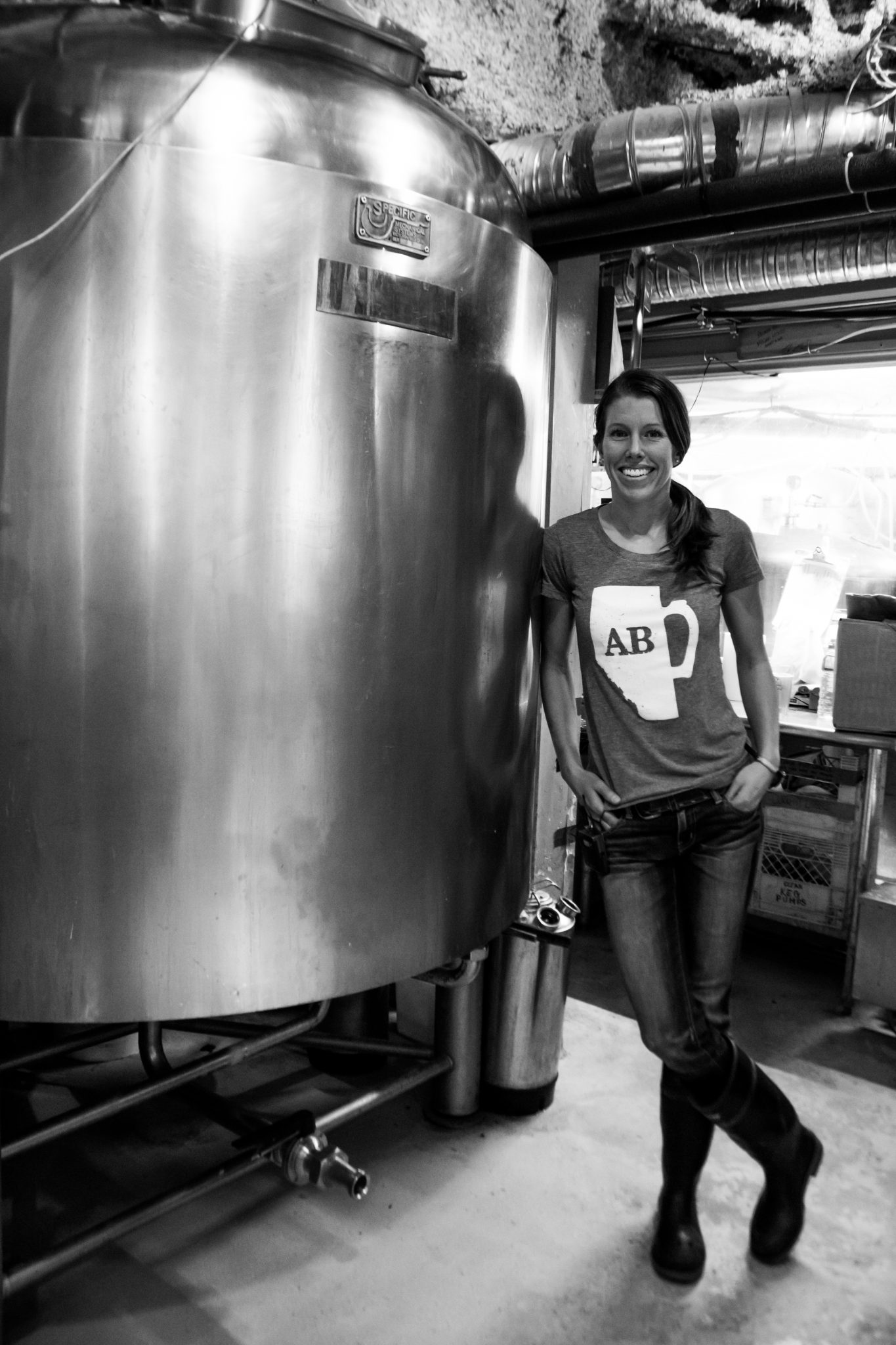 Head Brewer Miranda takes some time out from brewing, in the brewery at Banff Ave Brewing Co.
This week, we visit our friends at Banff Ave Brewing Co. as they uncap their seasonal cask of Norquay anniversary ale, a deliciously refreshing way to mark our 92nd season.  Here's what happened when we went 'behind the brew' with Head Brewer Miranda Batterink. 
Ever tasted a Saison?  Ever even heard of one?  We hadn't either.  But, let us tell you: it's hella tasty.  Prepare to have your thirst seriously quenched, as the limited-edition, Norquay 92 cranberry and citrus Saison is now fresh on tap and ready to be savoured – available at select Banff locations during Norquay's winter season.
Locals and loyal Alberta brew enthusiasts will know, that this Banff collaboration has been in the hopper for a few years now.  Starting with the Norquay team approaching their favourite watering hole to ask what it would take to create a locally-brewed variety to mark 90 years of ski in Banff National Park, plans for a special brew were quickly in the works.
"That was really where it all started," says Kent Patterson, Community Beer Guy at Banff Ave. Brewing Co.
"It made complete sense.  The first – and only – brewery in Banff National Park, and the first ski resort in Banff National Park teaming up to create a new beer that told a local story, and had some real community heart to it," Kent continues.
"It was a huge year for Banff and the deep-rooted ski culture we have here, so we just had to create a tasty Norquay 90 – and we did," adds Kent with a grin.
For Norquay's 90th year [back in 2016 – Norquay was established in 1926, as the very first ski resort in the Canadian Rockies], the brewery team produced a nice Kolsch; light and crisp.
It proved to be a popular choice, and the Norquay 90 flowed through the taps and satisfied thirsty Banff dwellers throughout the season.  Then came the Norquay 91.
"For Norquay's 91st year, we started to get creative," says Kent.
"We brewed an Alberta Wheat Ale, using wheat that had been harvested from a farm just outside of Calgary – it was a real Alberta beer."
He continues: "Since we started the collab, our signature Norquay brews have really built momentum, becoming somewhat of a tradition in our brewery.  Each year we want to do something different, original; invent something that both locals and visitors to town are going to want to try.  We like to be creative and keep our Norquay blends interesting, that's for sure."
Creative brewing you say?  Enter Miranda, Banff Ave. Brewing Co.'s sassy, meticulous, and "beer-nerdy" [her words not ours] Head Brewer.
A Grad of the Brew Master's Program at Niagara College, this Ontario resident has settled into Banff life nicely, having been in her role as Head Brewer since October 2016.  Excited by the industry, armed with brewing know-how, and keen to be a part of the Alberta's craft beer explosion [or Albeerta as the folks at Banff Ave. Brewing Co would have you say], Miranda packed her bags and moved out West – and hasn't looked back.
For Norquay's 92 brew, it was over to Miranda to write the seasonal recipe – and her thirst for experimentation and adding a little flair to the mix led her to try a first for Banff Ave Brewing Co. [this is where the Saison comes in].
"I had to get the creative juices flowing," Miranda says.
"I wanted to do justice to the 92nd year, and I see so much local pride for Norquay.  It was important for me to create a blend that was going to get the thumbs up from the local crowd," she adds.
Miranda placed her bets on adding fruit flavours to this edition of the Norquay collaboration – and it certainly passed our taste test.
"The Saison is a French-Belgian style of beer," explains Miranda.
She continues: "It has lots of yeast-derived, spicy, fruity complexities to it.  To create those flavours, we added orange rind at the boil stage of the brewing process, and then cranberries at the secondary fermentation, giving a citrusy, fruity finish."
Well, we're confident that the Norquay 92 brew is going to be as, if not more, popular than its beer predecessors.
"There's really been a great demand for the Norquay seasonal in previous years," says Kent.
"Restaurants in Banff and Canmore have requested it for their winter menus, and we think the Saison could be another bestseller.  It's fresh and different, and our brew community always respond well to that," Kent adds.
First brewed in early November, and having been perfecting in the conditioning rooms [where it was resting when we visited the brewery], the Norquay 92 cranberry and citrus Saison is now available on draft – available at Banff Ave Brewing Co., Mt. Norquay's Lone Pine Pub in the Cascade Lodge, and a select number of local restaurants and bars.
So, cheers to supporting local!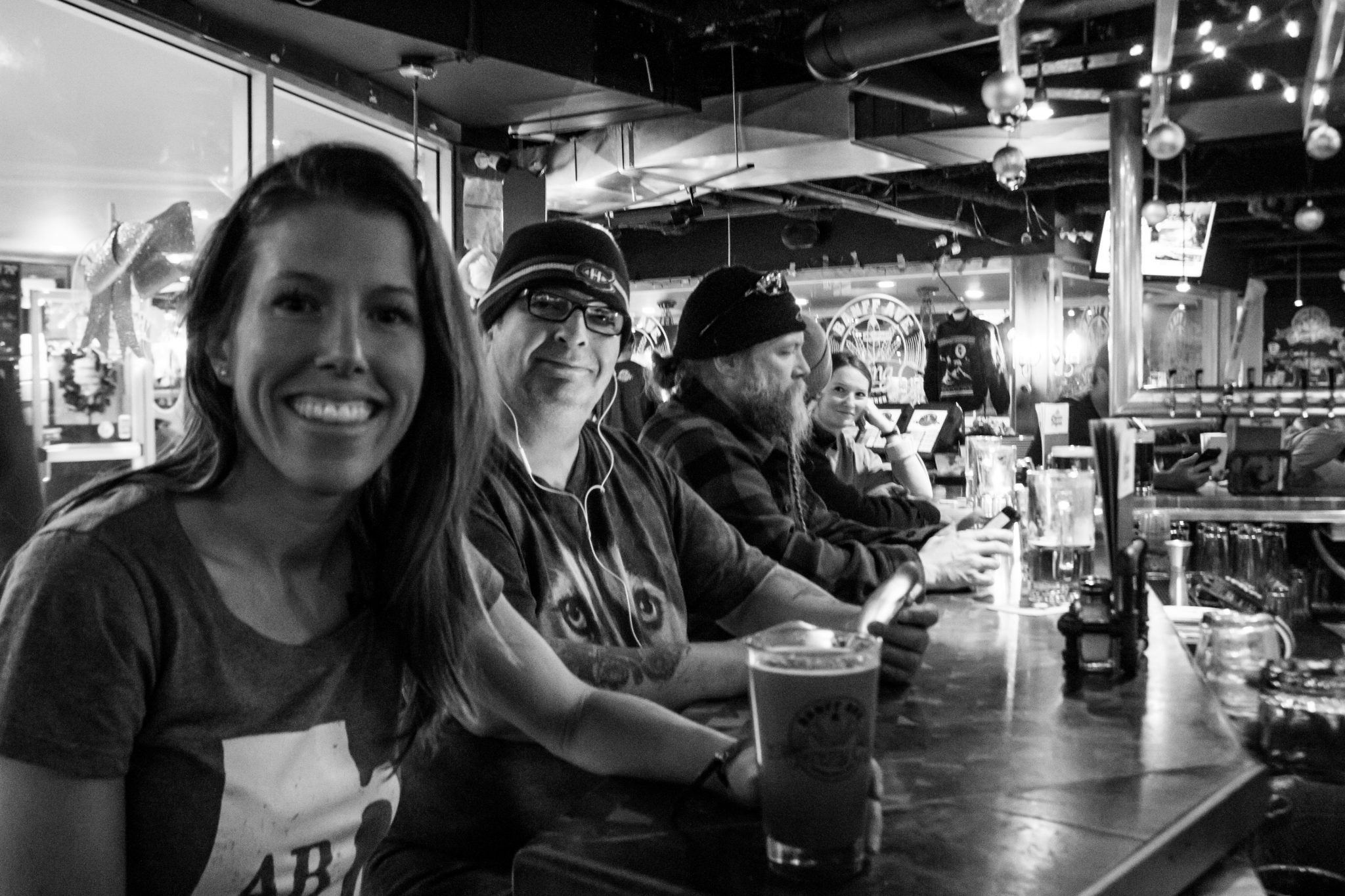 Head Brewer Miranda Batterink enjoying the Norquay 92 Saison with the locals, at Banff Ave Brewing Co.