Kids Lessons
Calling all mini mountain enthusiasts!
If you wish to book snow school lessons please call us direct @ 403-760-7716 and we will be happy to assist you with booking your lessons.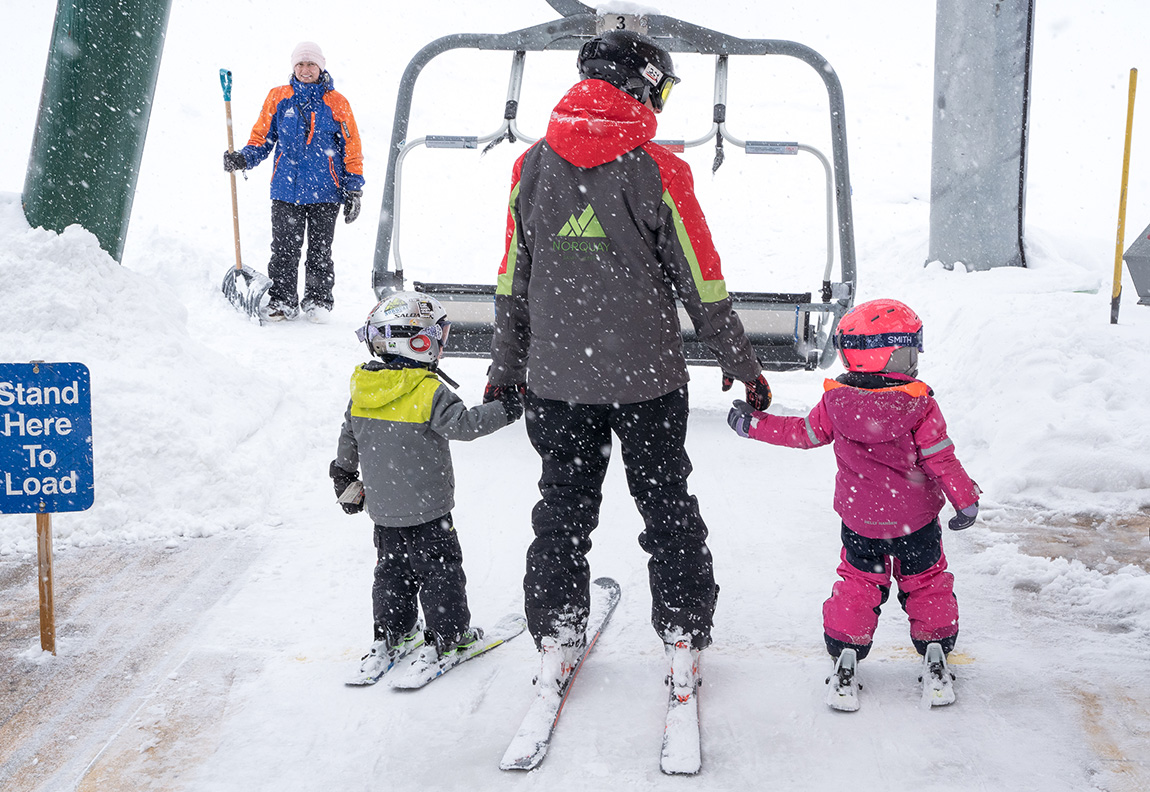 Our Kids' lessons are a whole lotta Norquay fun!
Skiing or snowboarding lessons are a great way to spend a winter day, and offer a variety of benefits beyond the basics of the sport.
Experiencing our Snow School programs, lessons and camps can help kids build skills that will benefit them for life, including confidence, fitness, socialization, problem-solving, and patience.
It's all about learning to navigate the mountain – and here at Norquay, fun is always in the forecast!
Group Lessons
Lessons are even better with new friends.
Our Kids' Group lessons are ideal for kiddies that thrive in the company of others. Watch them go off with their Ski School buddies and see how much fun they'll have!
We'll match them to participants of similar ability levels, to build their confidence at their own pace.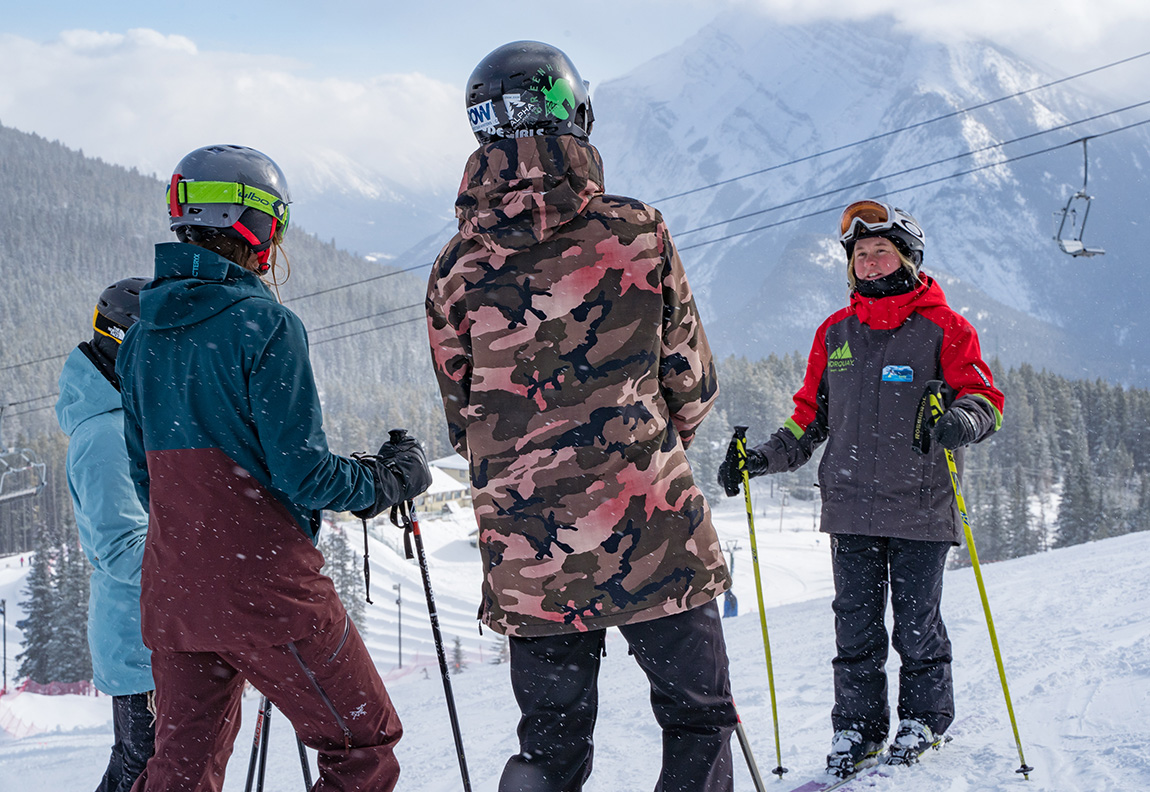 Discovery Ski & Snowboard Lessons
In our specially designed learning area, you will learn to ski or ride the safe way.
Ages: 6-12 | Skill Levels: 1-7
Designed to be the perfect introductory experience to skiing or riding.  No on-slope experience at all?  No problem.  These 2 hour, full day and two-day programs are the ideal entry point.
| | 2HR | Full Day | 2 Day* |
| --- | --- | --- | --- |
| Lesson Start Time |  10am & 1pm |  10am |  10am |
Little Rip 'N' Riders/Riglet Snowboard Lessons
The perfect way to get your little ones comfortable on snow. Start them out young with lessons from Norquay's child-friendly instructors.
Ages: 3-5 | Skill Levels: 1-7
The best start on snow for your little ones (aged 3 to 5). Set them up for success with lessons they'll love, in the expert care of our child-friendly instructors, and the benefit of small-group attention (3 kids or less).
| | 1HR | 2HR |
| --- | --- | --- |
| Lesson Start Time |  10am, 11am, 1pm & 2pm | 10am, 11am, 1pm & 2pm |
Rip 'N' Riders
Whether you have only skied or boarded a handful of times or your looking gaining more confidence, we have lesson that suits you.
Ages: 6-16 | Skill Levels: 1-7
Specially designed for our rippers and riders, aged 6-16 years. Whether they've skied or boarded a handful of times or looking to take their skills to the next level, we have a group lesson to suit their needs and get them on their way. During the lesson our Norquay Rip N Riders will get encouraging feedback from their instructor, to make sure they're progressing well and having an awesome day – all at the same time.
| | 2 HR | Full Day | Two Day | Three Day |
| --- | --- | --- | --- | --- |
| Lesson Start Time |  10am & 1pm |  10am |  10am |  10am |
*Full day and multi day lessons include lunch supervision. Lunch can be added for an additional $12. Lift tickets not included.
Terrain Park Lessons
These lessons will be taught by a terrain park qualified instructor. These lessons teach safety, etiquette and techniques that will drastically improve your time in the terrain park.
Ages: 6-16 | Skill Levels: 1-7
Is your group of shredders ready to experience Norquay's Terrain Park?  With lots of space to hit the jumps, ride the rails and master freestyle prowess, they can hit the Park and have awesome fun!
| | 2 HR | Full Day | Two Day | Three Day |
| --- | --- | --- | --- | --- |
| Lesson Start Time |  10am & 1pm |  10am |  10am |  10am |
Private Lessons
Just an expert and your little one.
Allow your kiddies to explore Norquay on their own terms.  Customise their experience and see them enjoy phenomenal one-on-one training. Just them, their instructor and the mountain.
Available for all skill levels, Kids' private lessons are the perfect way to build their confidence with the individual guidance of an experienced instructor while enjoying our famously fun, and safe, learning environment.
| | 2HR | 3HR |
| --- | --- | --- |
| Lesson Start Time | 9am, 10am & 1pm | 9am, 10am & 1pm |
*Ski pass/Lift tickets not included.
Note: To ensure your visit and lesson experience runs as smoothly as possible, please check in a minimum of 1 hour ahead of your scheduled lesson start time. The Snow School desk is located in the Main Cascade Lodge on the right hand side. Visit us first for all lesson booking prior to collecting tickets and rental equipment.
Please take a moment to read our cancellation policy
Sign Up Now!
Quality Time Since 1926
Sign up and be the first to hear about
the latest events, news and deals.
Be the first to know
Get the inside scoop on Norquay deals, news and events