Holiday & Special Camps
Not in School? Then head to Snow School!
Holidays get even better with Norquay's Holiday Camps!
With fun games, friendly faces, and lots of laughs, Snow School Camps are a popular way for little ones to maximize their time on the mountain!
Known for great value, a safe and fun learning environment, and lots of time to build confidence on the snow, they're also a great option for kids who have other winter commitments, but still have the time for a more compact program.
For an affordable head start to the winter season, Early Season Camps have got you covered. For fun games, friendly faces, lots of laughs, and memories that last a lifetime, look no further than our Christmas Camps – holiday cheer starts here! A popular choice to meet new friends and share the February long weekend with our Norquay family, Family Day Camps are a much-loved by kids for a reason. And when school's out, camp's in – sunny-day good times are guaranteed at our Spring Break Camps!
Early Season Camps
Ages: 3-12 | Skill Levels: 1-7
Get ready for the winter ahead these great programs are set up for the kids to get out and get a good warm up for the season. All our programs have been developed around safety, fun and exploring.
The Early Season Camps are an inexpensive way for your little ones to get a head start on the winter season ahead. These programs run 3 consecutive Saturdays or Sundays Nov 28/29, Dec 5/6 and Dec 12/13.
*lift tickets and rentals are not included in this price
Family Day Camp
Ages: 3-12 | Skill Levels: 1-7
For kids of all ages. Spend quality time with the Norquay family! Held over three days during the long weekend in February each year, this camp is a great way for kids to have fun on the slopes this Family Day weekend.
*lift tickets and rentals are not included in this price
Spring Break Camps
Ages: 3-12 | Skill Levels: 1-7
Sunny skies, warmer temperatures, beautiful bluebird days. 3 day program for all experience levels. Send your little ones to enjoy blue bird days full of fun and games!  We love spring skiing – and your little ones will, too! Held over the Spring Break school holidays, this is a fun option for kids to enjoy more snow days before the end of the season.
*lift tickets and rentals are not included in this price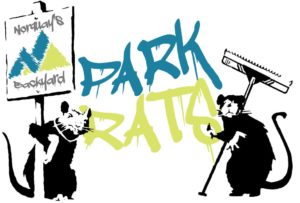 Brand new this winter is our new Terrain Park specific program. Open to kids aged 6-13, this series of sessions aims to develop your Freestyle Skiing and Snowboarding in a low pressure environment, whether you are a brand new to the Terrain Park or just looking to improve your skills and learn new tricks with others who are keen to shred.
Park Rats: Intro to park
New to Norquay's Backyard and not sure where to start? This session will introduce participants to the terrain park by developing prerequisite skills, terrain park safety and etiquette to get you going in freestyle terrain confidently.
Who can sign up: Must be a comfortable Green Terrain Skier/Snowboarder aged 6-13. Please refer to Level 4 on the Norquay Ability Classification chart.
Park Rats: Park Progression
This program is designed for skier/boarders that are comfortable on blue runs, in the trees, in variable terrain and are already riding small features in the terrain park. Students will gain a stronger foundation for safety, ride different features and create variations of movements to build their bag of tricks. Basics of terrain park building, maintenance and design will also be explored.
Who can sign up: Level 5 and up Skiers/Snowboarders aged 6-13 with prior terrain park skiing/riding experience. Please refer to Level 5 and up on the Norquay Ability Classification chart.
Dates, Times & Pricing:
Spring Break 1: Mar 27-29, 10:00 AM-15:00 PM. $189.00 + GST
Spring Break 1: Apr 2-4, 10:00 AM-15:00 PM. $189.00 + GST
Snowboard Backyard Bootcamp
Spring is in the air, which means only one thing- Park Laps with the homies. Don't have any skills and don't know where to start? That's ok, we have you covered. Go from lazy to steezy in 4 weeks, regardless of how many sessions you attend. Open to Snowboarders aged 16+, at a strong level 4/5 ability
Dates, Times & Pricing:
March 15th to April 8th 2021, Monday & Wednesday 10 AM to 12 NOON, Tuesday & Thursday 1PM to 3PM. $279.00 + GST
Sign Up Now!
Quality Time Since 1926
Sign up and be the first to hear about
the latest events, news and deals.
Be the first to know
Get the inside scoop on Norquay deals, news and events