Cliffhouse Bistro
Vintage Feel, Contemporary Flavours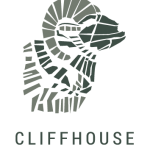 Pickings
small snackable plates
Spiced Nuts & Kettle Chips $14
mixed nuts in maple syrup & spices, slow-roasted fresh fried kettle chips, lightly salted
Marinated Olives & Artichokes
w/ Fresh Homemade Bread $14
accompanied with balsamic & olive oil
Brunch
served all-day
Granola Bowl $13
ask your server what makes ours better than yours!!
French Canadian Toast $16
egg dipped fried apple & thyme bread,
apple fig compote, maple lemon labné
Shakshuka $18
two eggs baked in harissa sauce, pork belly,
potato bravas, served with grilled sourdough
Salads
big bowl salads fit for a meal
Caesar Salad $17
romaine, crisp capers, pancetta,
shaved Parmesan, croutons, grilled lemon
TexiCanadia $18
romaine, artisan blend, roasted pico,
crisp tortilla chips, avocado, Catalina dressing
Middle Eastern Salad $19
artisan blend, falafel, pickled vegetables,
heirloom tomatoes, goat feta,
lemon tahini dressing
Add grilled chicken or pork belly $8
Sharing
a platter for all to share
Nachos: Half $24 Full $32
beef & pork chili, pico, hombre sauce, avocado, salsa & sour cream
Substitute black bean for a vegetarian option
Meat & Cheese Board $46
locally cured meats & pâté, artisanal cheeses, nuts, jams & homemade bread
Lunch
enjoy w/ simple salad & kettle chips
Grilled Cheese $21
black bean & smoked Gouda
served w/ sweet chili jam
Grilled Chicken Burger $24
double-smoked bacon, pineapple, Gruyere, avocado, sweet chili jam aioli
Beef Burger $24
double-smoked bacon, onion ring,
sharp cheddar, pickles, kimchi aioli
Gorditas
hardshell wrapped in a softshell
served w/ salsa, sour cream & simple salad
Cumin Black Bean 2/$18
Beef & Pork Chili 2/$20
Cajun Spiced Chicken 2/$22
fresh pico, hombre sauce, crisp lettuce, avocado & grilled lime
Sides
Kettle Chips: Sm $5.5 Lg $8
Onion Rings: Sm $6.5 Lg $9
Drinks Menu
BEERS ON TAP
Pint $9.00 (20 oz) / Pitcher $26.00 (60 oz)
Banff Ave Norquay '94
5.2% Honey Brown
Banff Ave Ride or Dry
4.8% Extra Dry Pilsner
TALL CANS
$9.50 (473 mL)
Big Rock
Pilsner – Grasshopper – IPA – Traditional Ale
Rock Creek
Apple Cider – Pear Cider
COCKTAILS
2 oz
Bow Berry Vanilla $15
Park Vanilla Vodka, Wild Blueberry Tea Syrup, Lemon & Soda
Woodbury Gin Bramble $15
Park Alpine Gin, Scarlet Berry Tea Syrup, Lemon & Soda
WINES
By the Glass – $9.00
By the Bottle – $37.00
Please ask your server for our current selection
NON – ALCOHOLIC
Coke – Diet Coke – Coke Zero – Fanta – Sprite – Ginger Beer – Root Beer – $3:50
Apple Juice – Orange Juice – $3.00
Sparkling Water 500 mL – $4.00
COFFEE
Coffee – $3.25
Espresso Shot – $3.5
Double Espresso – $4.50
Latte – $4.50
Cappuccino – $4.50
Flavor Shots – $1.00
NATUR'EL TEA
Single Pot – $3.50
Orange Pekoe – Creamy Earl Grey – Alpine Peppermint
Jasmine Gold Dragon – Wild Blueberry Rooibos
Sign Up Now!
Quality Time Since 1926
Sign up and be the first to hear about
the latest events, news and deals.
Be the first to know
Get the inside scoop on Norquay deals, news and events