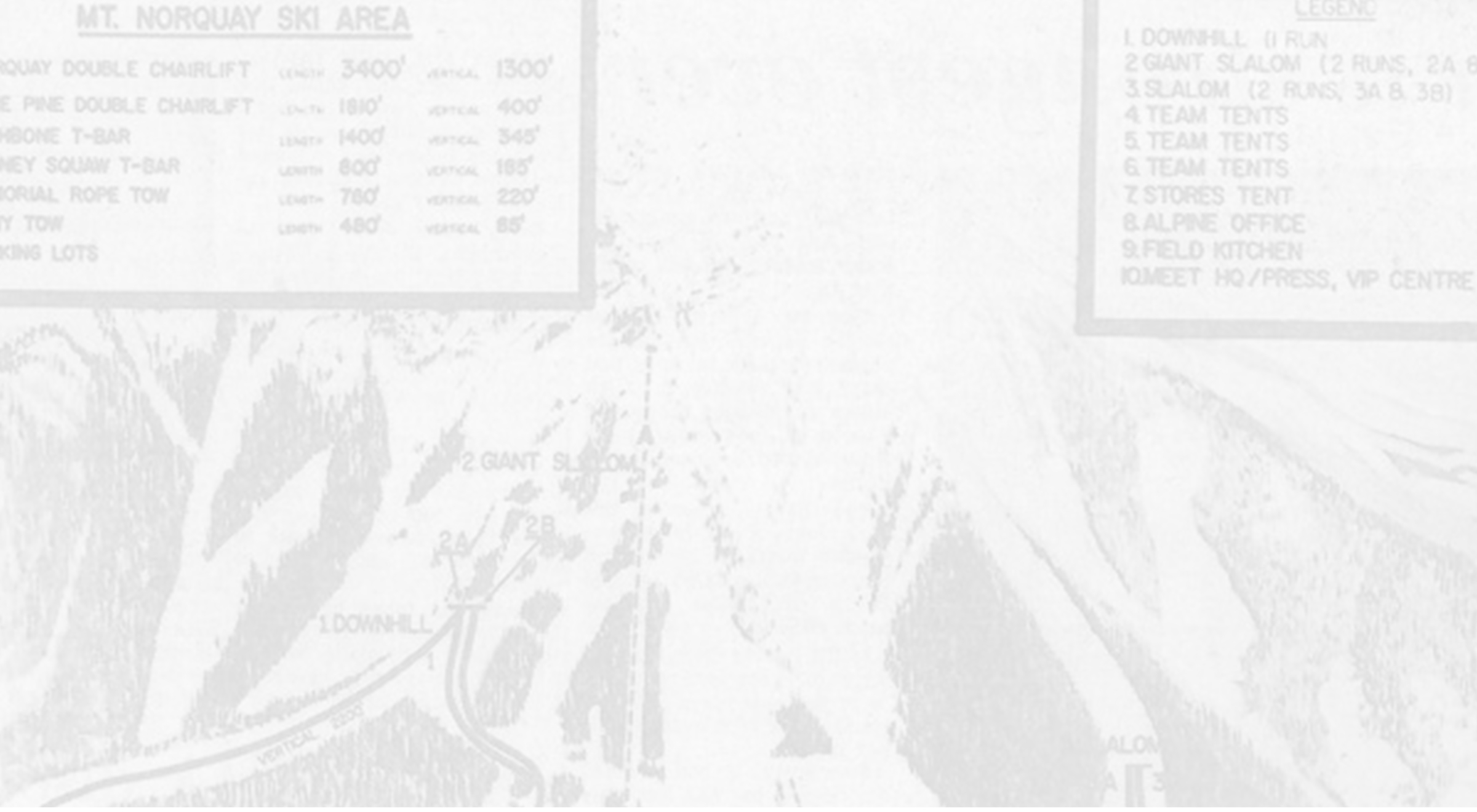 Reflections of Norquay
70 Years of the North American Chair
From its earliest introduction to the Banff area by Scandinavian Canadian Pacific Railway workers and Swiss mountaineering guides, for more than a century skiing has been the very soul of Canadian Rockies culture. At Norquay, this living history is represented by an iconic piece of infrastructure, still in use to this day: The North American Chairlift. The "Big Chair," as known by locals, has offered a gateway to some of Canada's most challenging terrain, and best viewpoints, since 1948—and 70 years later, in winter 2018/19, it's still spinning. But riding the Big Chair is more than just a way to get from A to B—it has a lifetime of stories to tell. To celebrate its 70th year, join us on a ride through some of Norquay's most memorable moments.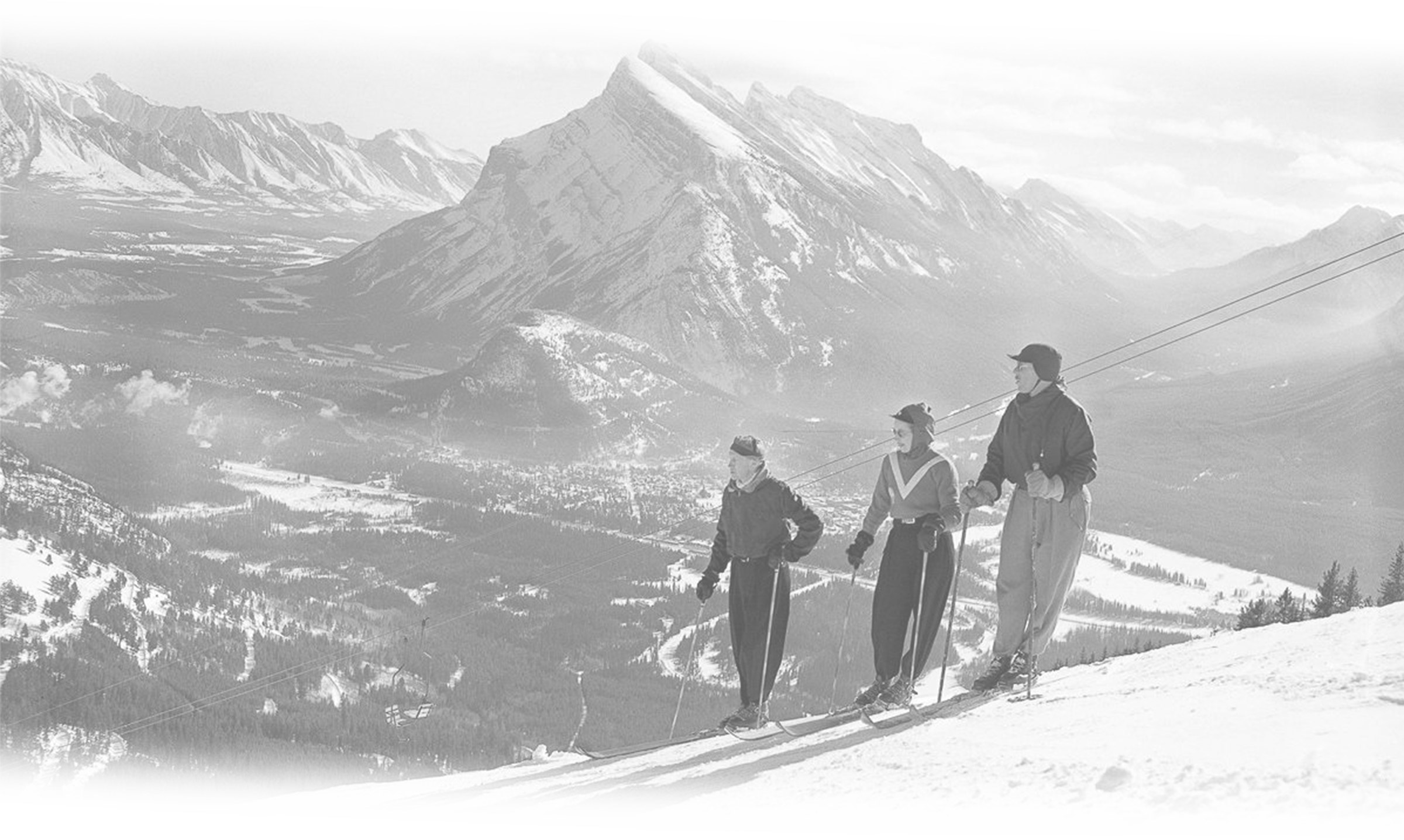 Natural Splendour:
The Birth of Tourism in Banff
In the 1870s, construction began on the ambitious coast-to-coast Canadian Pacific Railway. The planned route tracked through the Bow Valley in the Canadian Rockies, and in 1883, it was here that three railway workers stumbled upon a series of natural hot springs.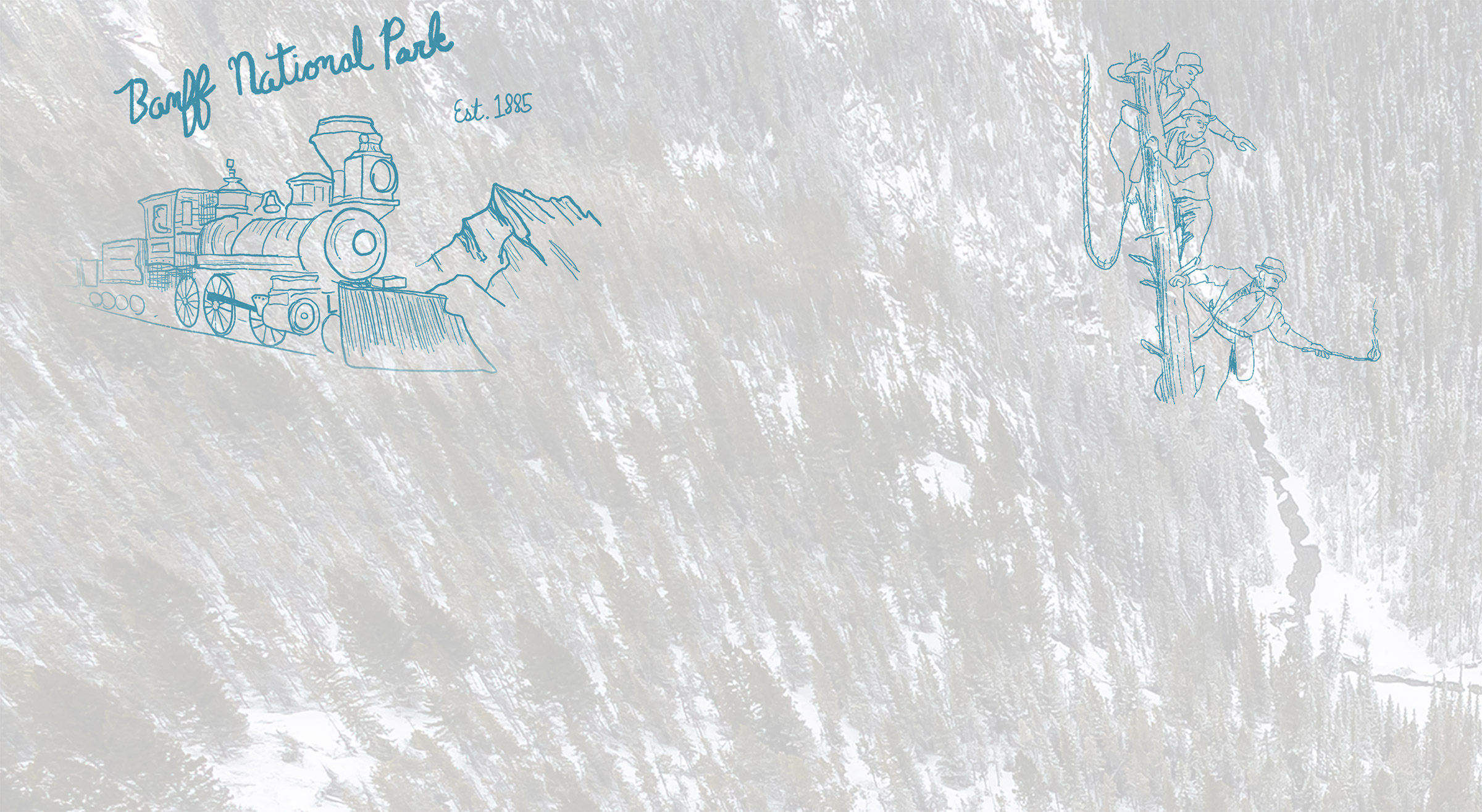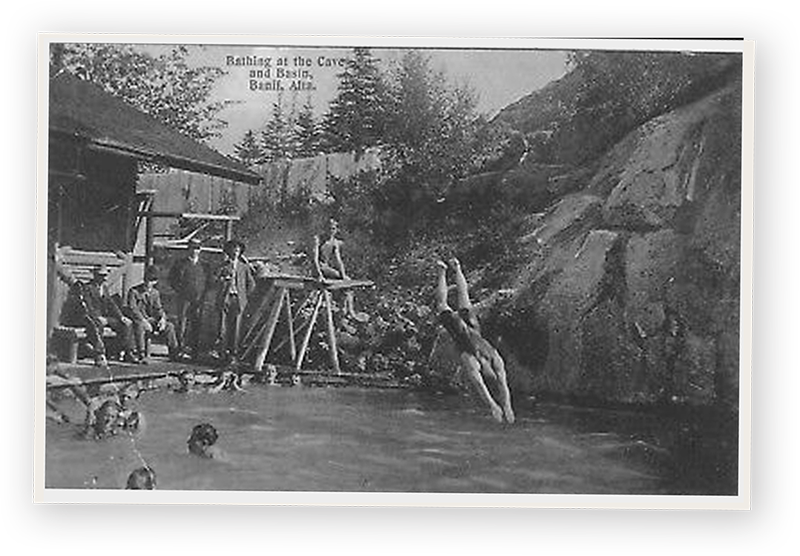 Prompted by competing claims for development rights, in 1885 the Canadian government created a reserve to protect the hot springs and surrounding area. Expanded in 1887 and named Rocky Mountains Park of Canada (later, Banff National Park), Canada's first national park, and the world's third, was born. Soon, with a townsite established and hotel built, the area was promoted as a resort and spa destination, its natural beauty throughout the seasons enticing visitors from across the world.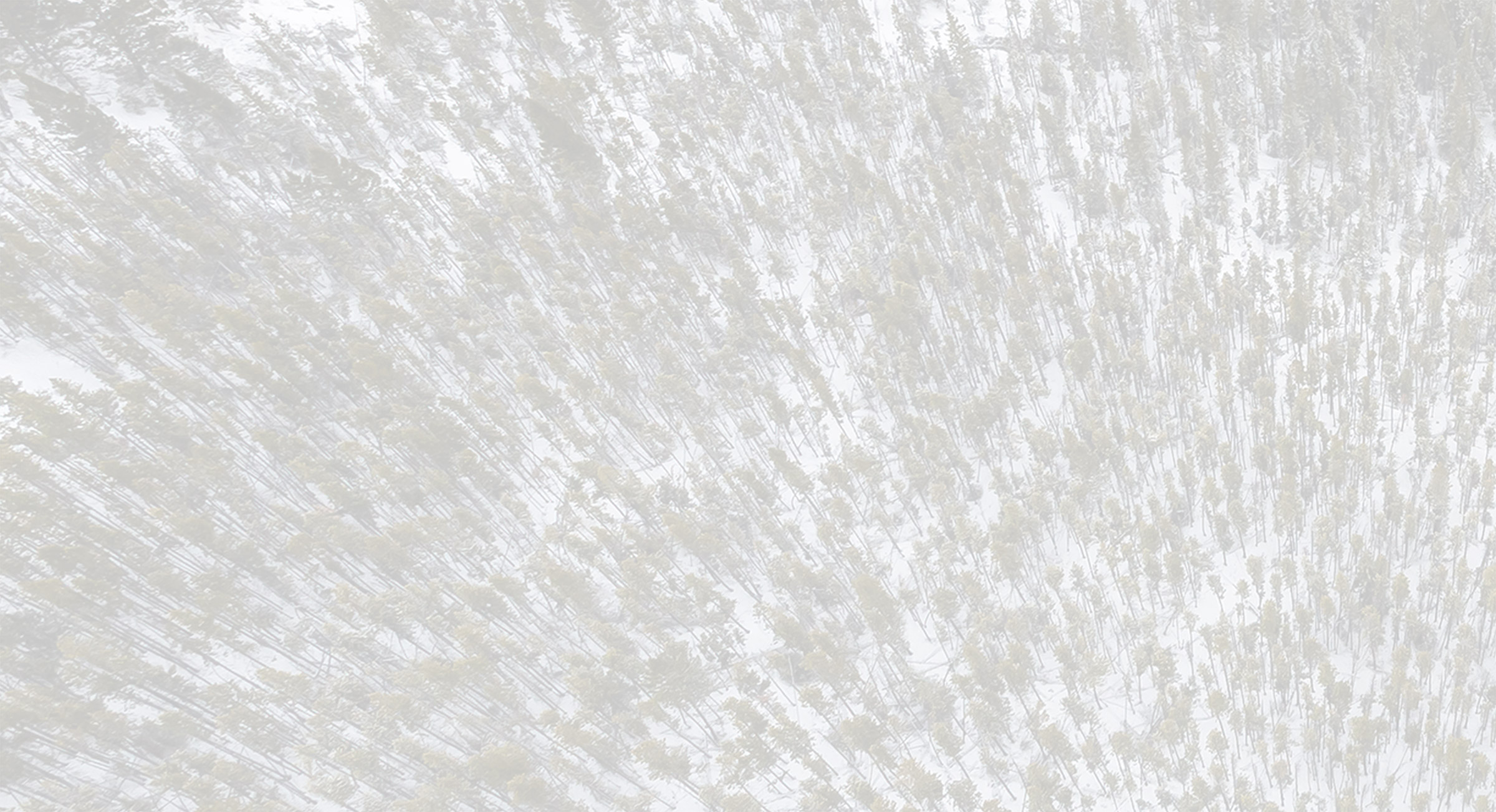 Ski Jumps, Slaloms, and Beyond:
Start of Norquay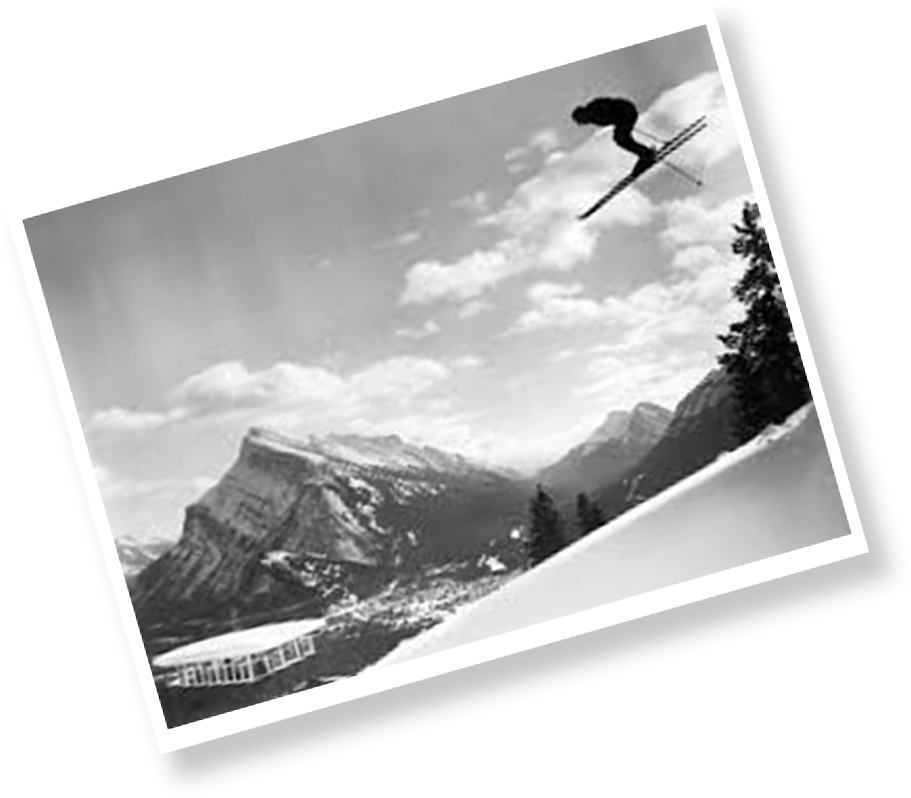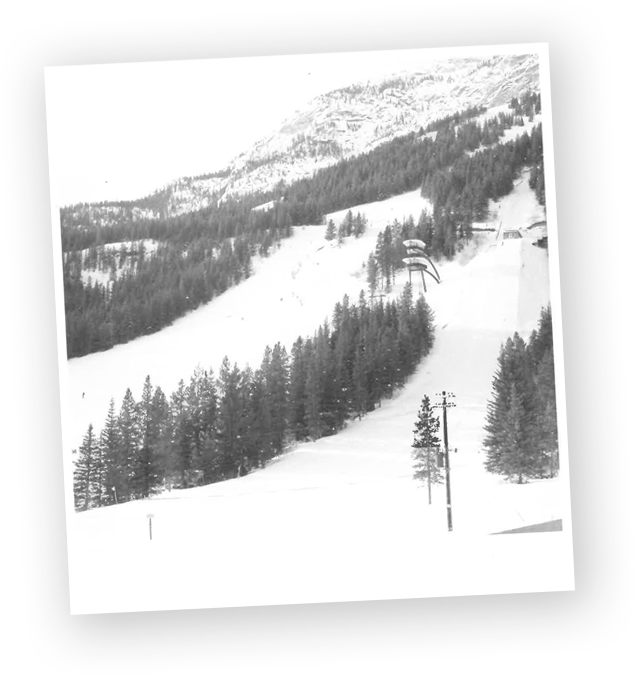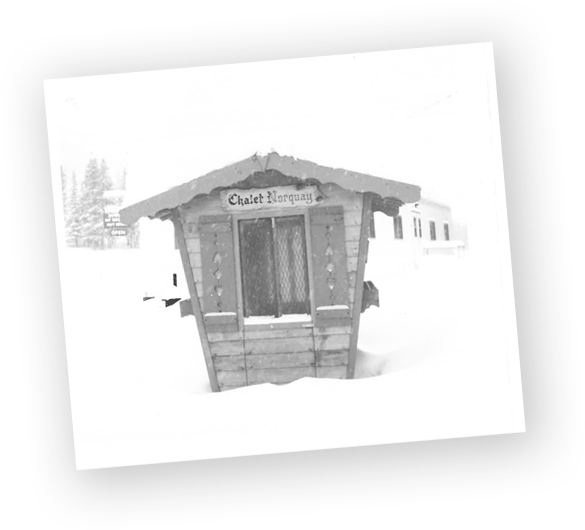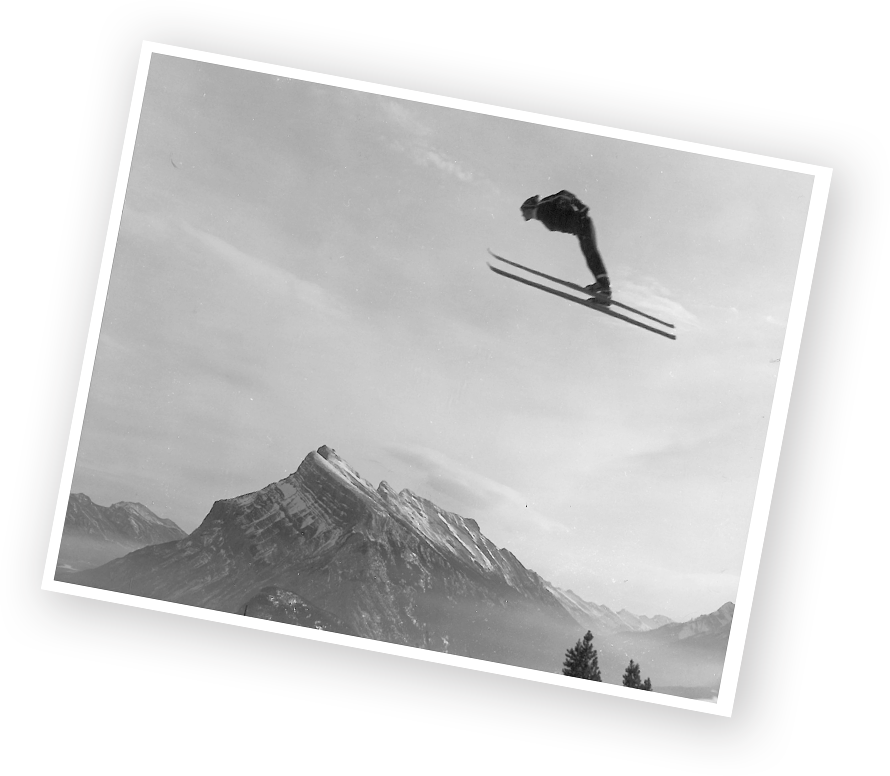 The Canadian Rockies' ski culture started right here in Banff National Park, when Swiss and Austrian mountain guides arrived in the early 1900s, bringing with them a deep passion for skiing. After building ski jumps and teaching local children to ski, winter sport pioneer Gus Johnson sought out a location for a ski camp. One thousand feet above the town of Banff, he chose a slope on Mt. Norquay, where the first runs were cut in 1926. Following Johnson's death, the Banff Ski Club, led by locals Cliff White and Cyril Paris, continued his vision, building the first ski cabin at Norquay in 1928.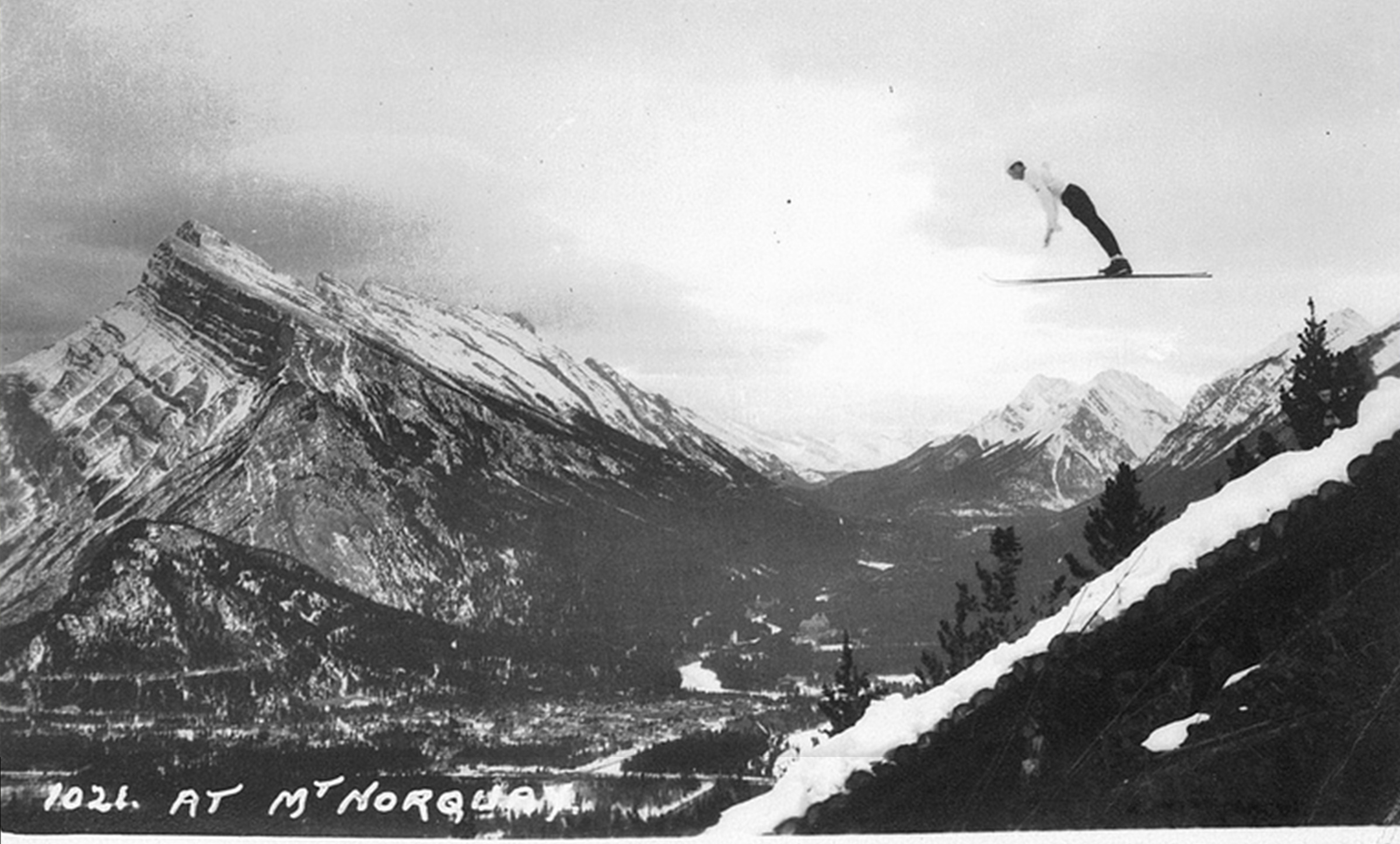 The mountain's first slalom courses were set in 1929, and Norquay hosted races with teams from Europe in the 1930s. A road was built to the cabin in 1935, further trails were cut, and downhill skiing soon replaced ski-jumping and cross-country skiing. Calgarians came on weekends, commuting by train, car and bus. One cold night in January 1938, Norquay's original ski cabin burned to the ground. It was replaced in 1940 by the North American Lodge—which still stands to this day. With close proximity to town, easy access via road, and a popular day lodge where skiers could gather and warm up over lunch, Norquay was known as Banff's home of skiing. In 1940, as it continued to grow, Frank Gourlay was appointed as the first official ski patroller.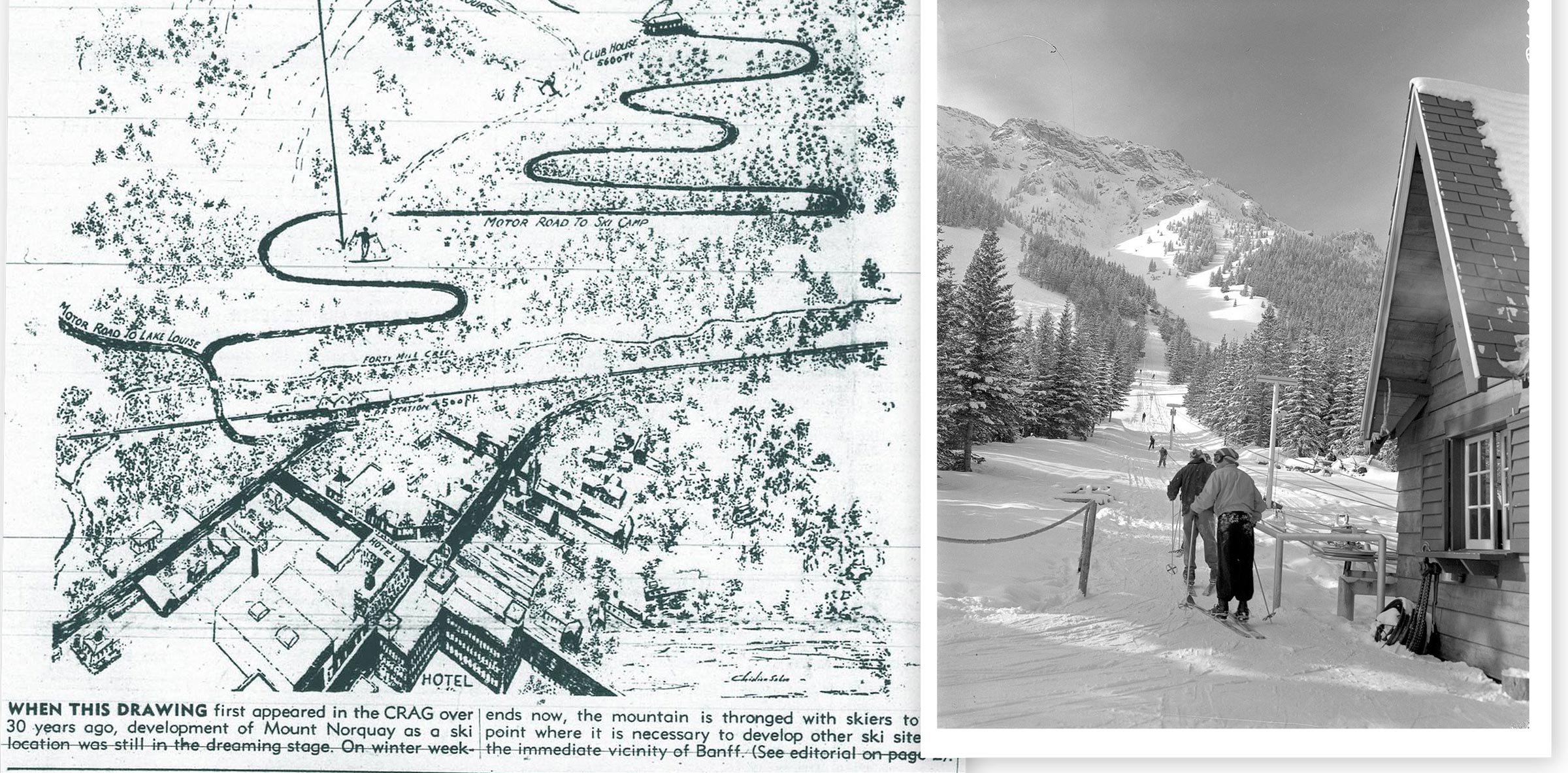 With the installation of Norquay's first rope tow in 1941, skiing in the Rockies was set to evolve. Powered by an automobile engine, the tow pulled skiers to the top of the run, at a charge of 25 cents for four trips. At that time, average weekends drew 200-300 skiers. After World War II, an influx of immigrants came to Canada from Europe. Among them was a world-class skier and racer who'd risen to fame in the 1930s: John Monod. He joined his brother Jerry Monod, and Swiss mountain guide Bruno Engler, who were ski instructors at Norquay. When he arrived in 1947, skiing in Banff encompassed Norquay's rope tow, and a small lift near Temple at Lake Louise.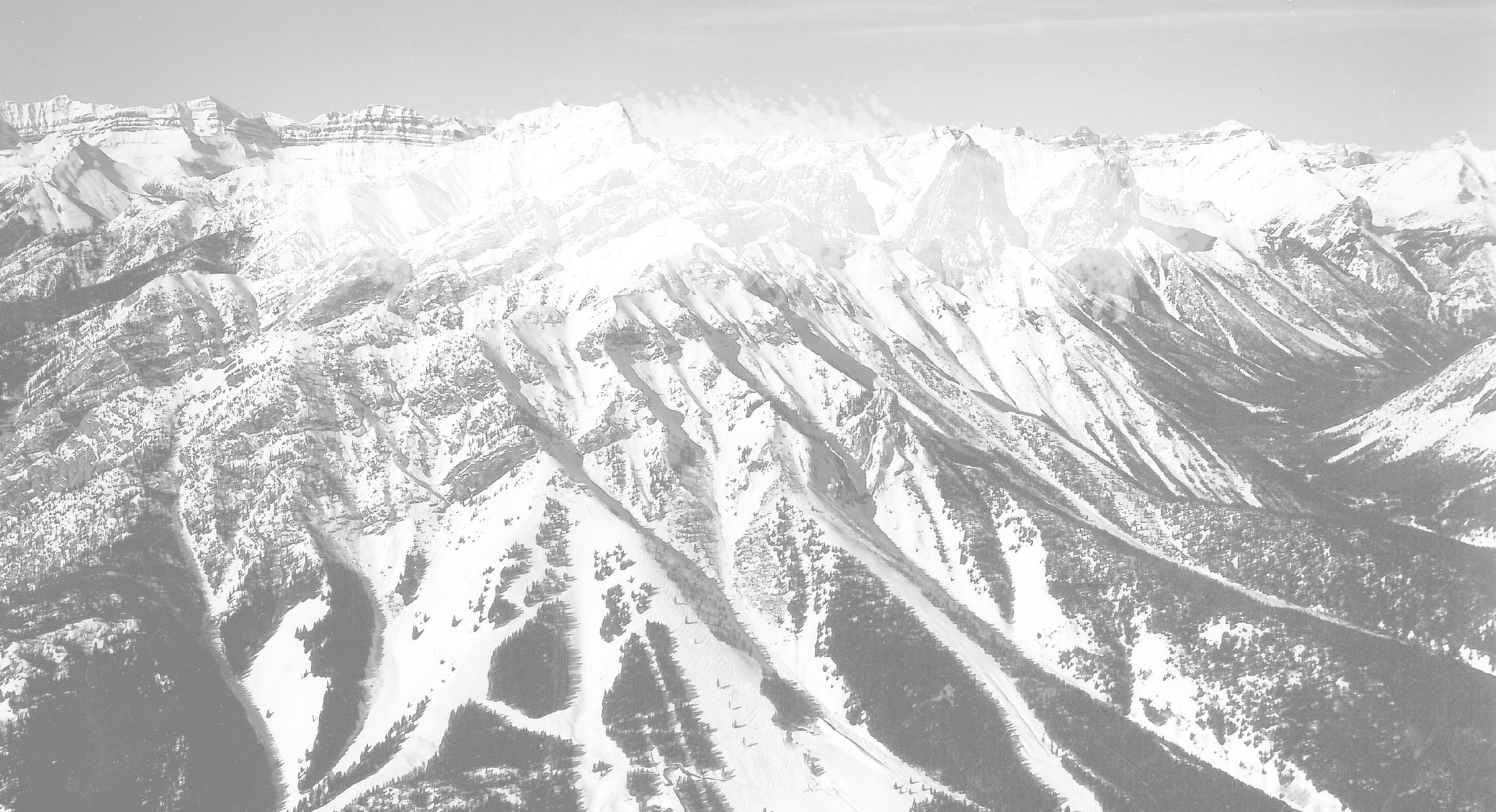 Norquay's Evolution:
"Big Chair" Opens up the Mountain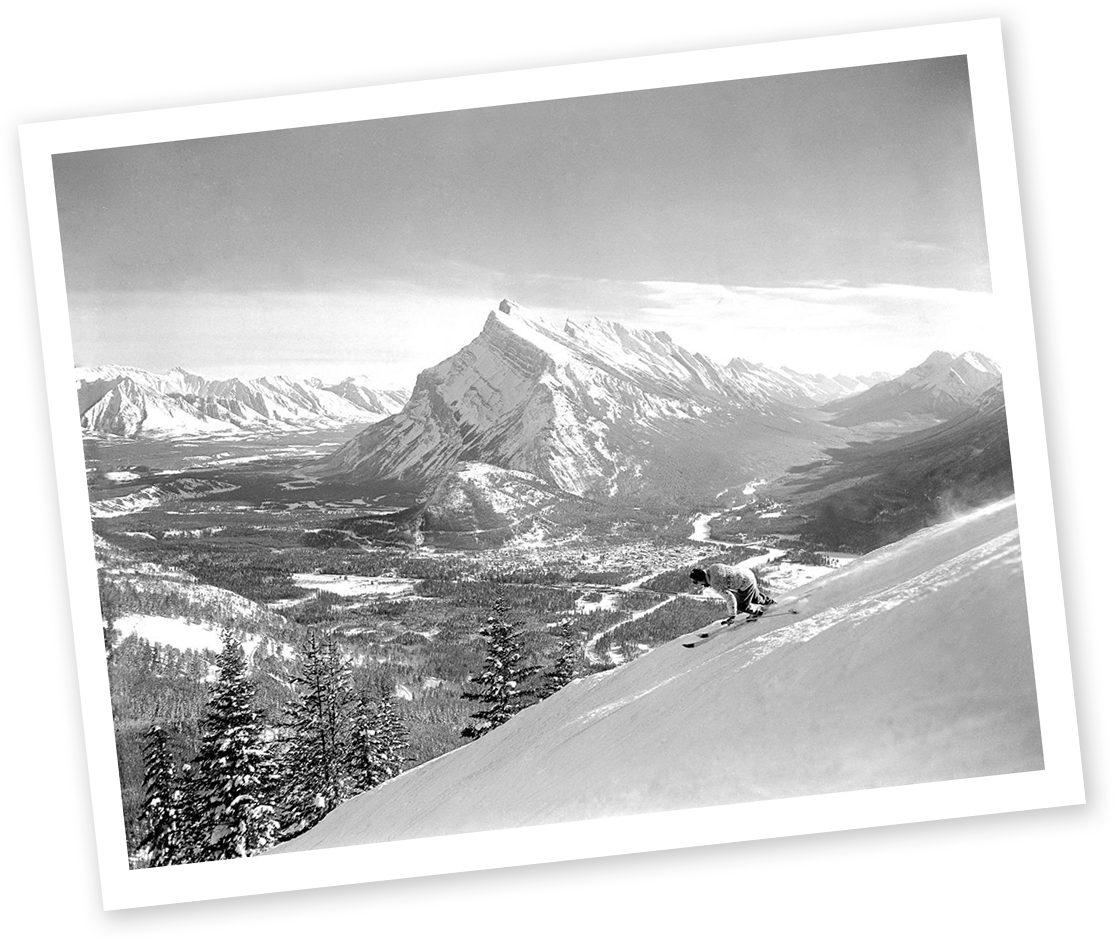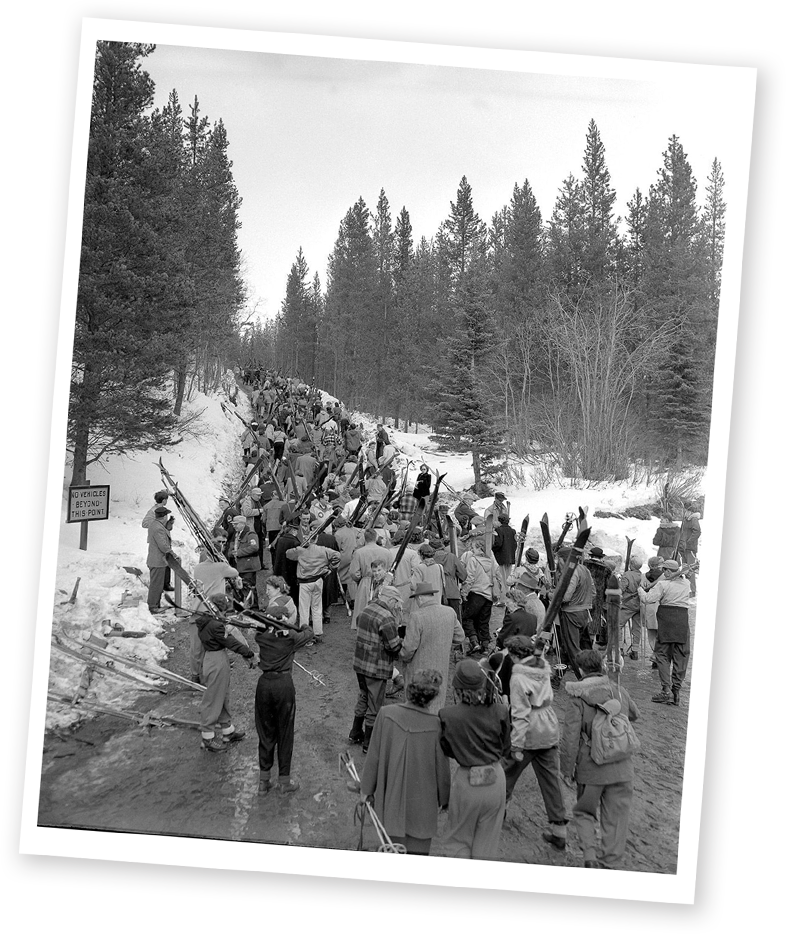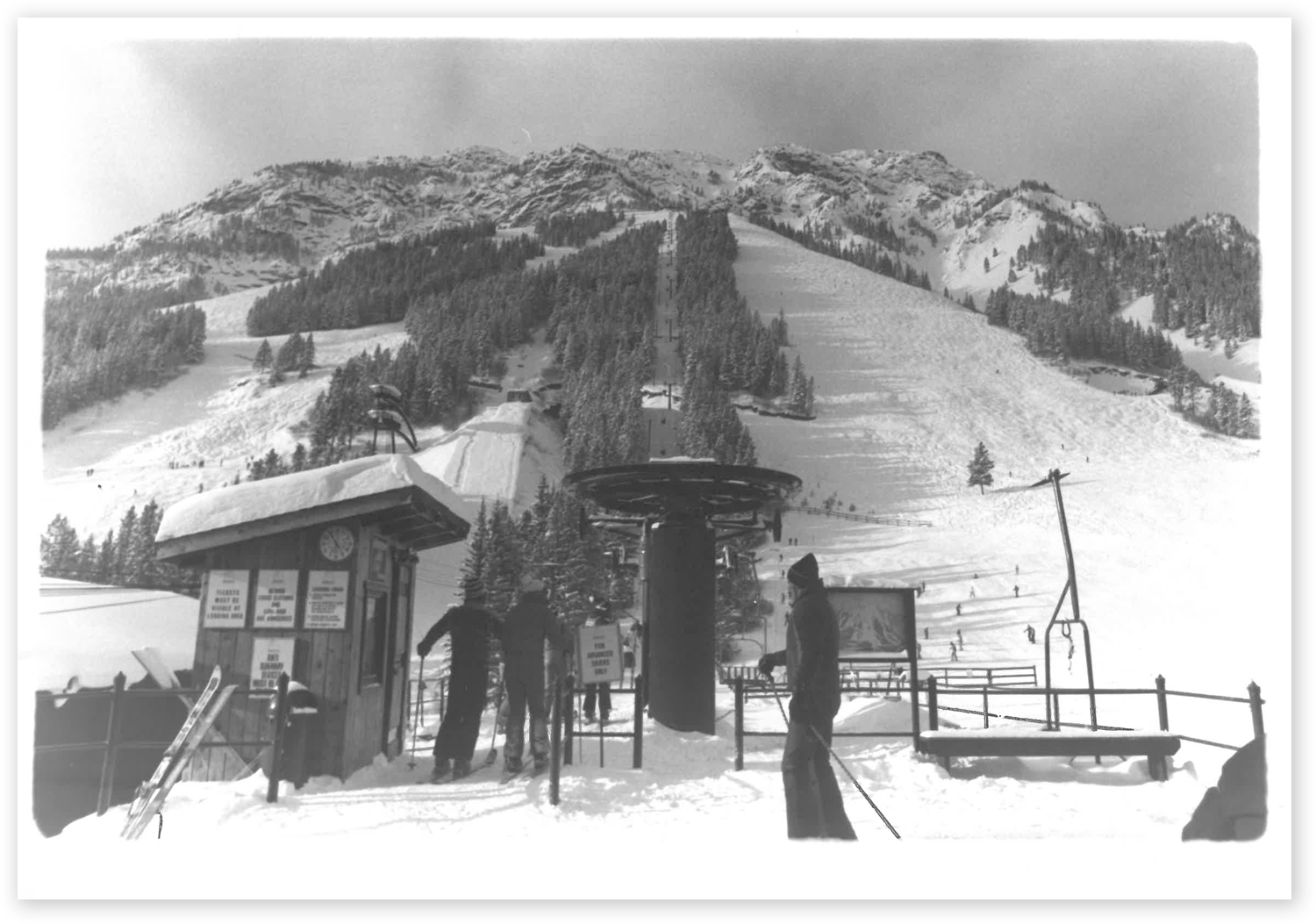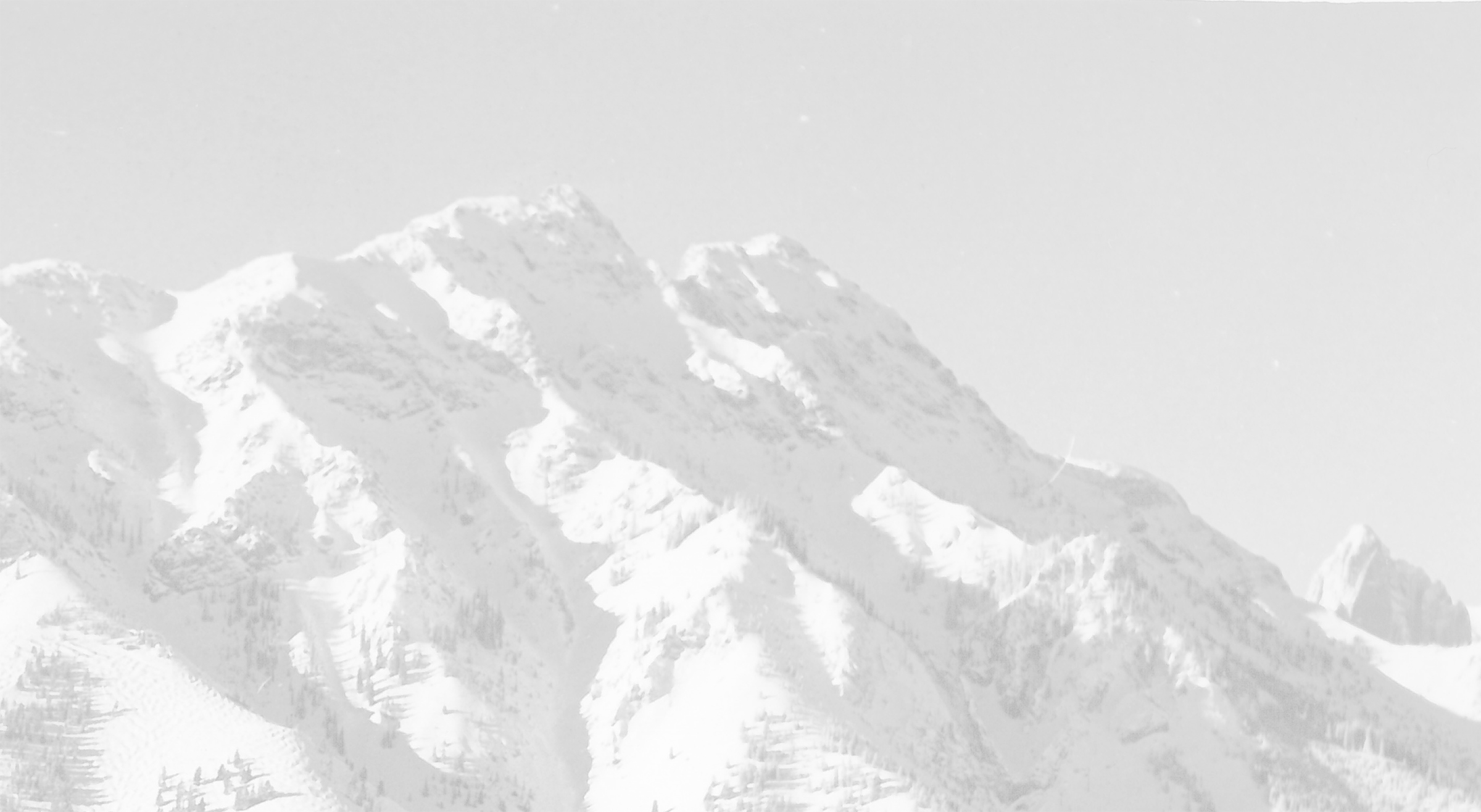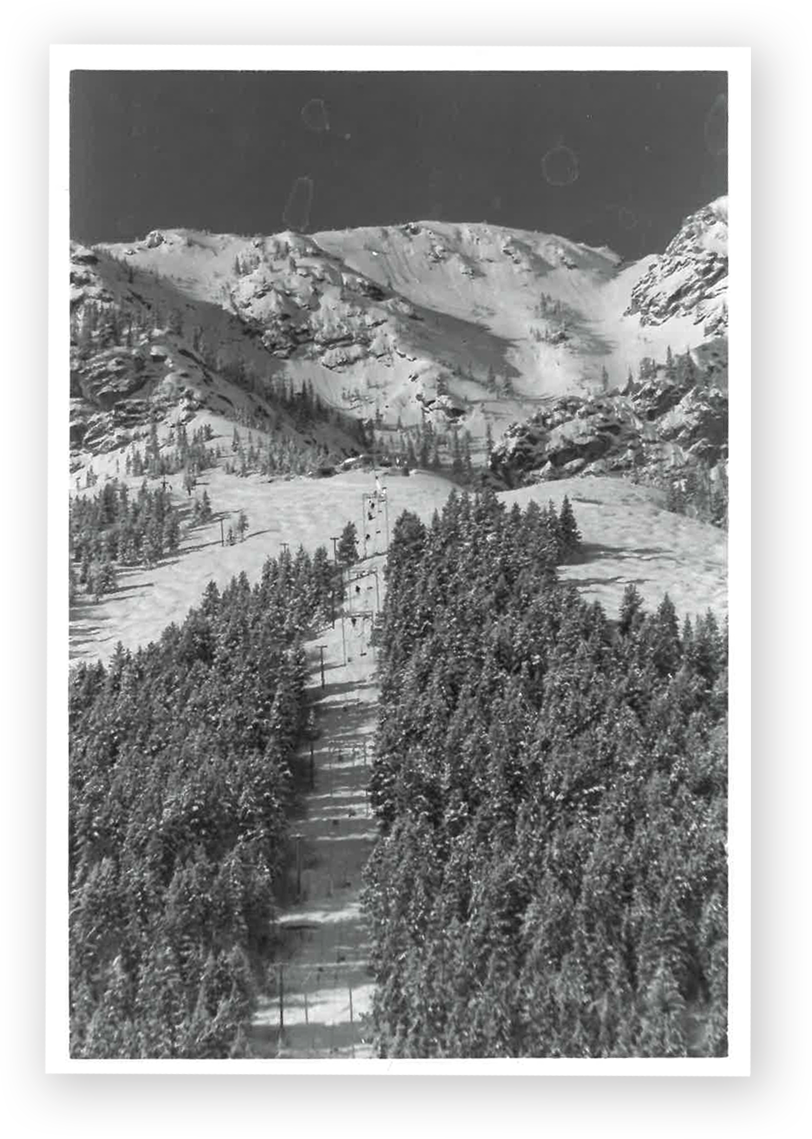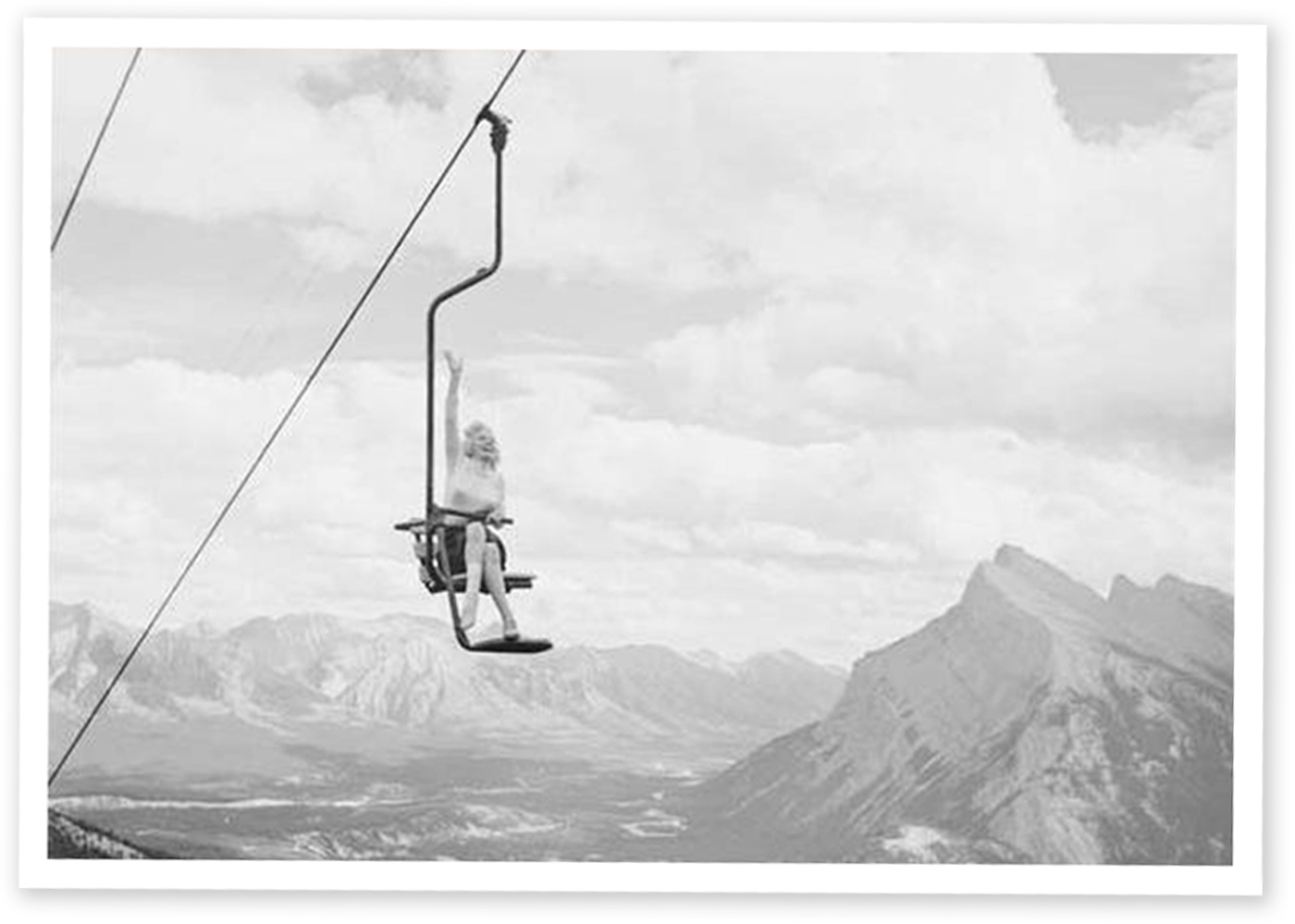 In December 1948, Norquay owner George Encil installed the North American Chair—nicknamed the "Big Chair" by locals. Named for its access to the steepest, longest terrain in North America at the time, it was also the second chairlift in Canada. Before this, fit skiers carried their skis up to "The Bowl," making the trip perhaps twice a day. With the lift, it was easy to make eight runs—and this accessibility would open up this whole part of the mountain. To this day, 26 runs feed from the Big Chair and promise a challenge even for expert skiers, with the steepest run hitting 39 degrees. In 1952, under Encil's ownership, Norquay gained another noteworthy feature: a teahouse above the Big Chair, at 7,000 ft elevation. The Cliffhouse Bistro, previously known as the Tea Room, is where visitors rode the lift to, to have their photo taken. Marilyn Monroe was among the most famous guests.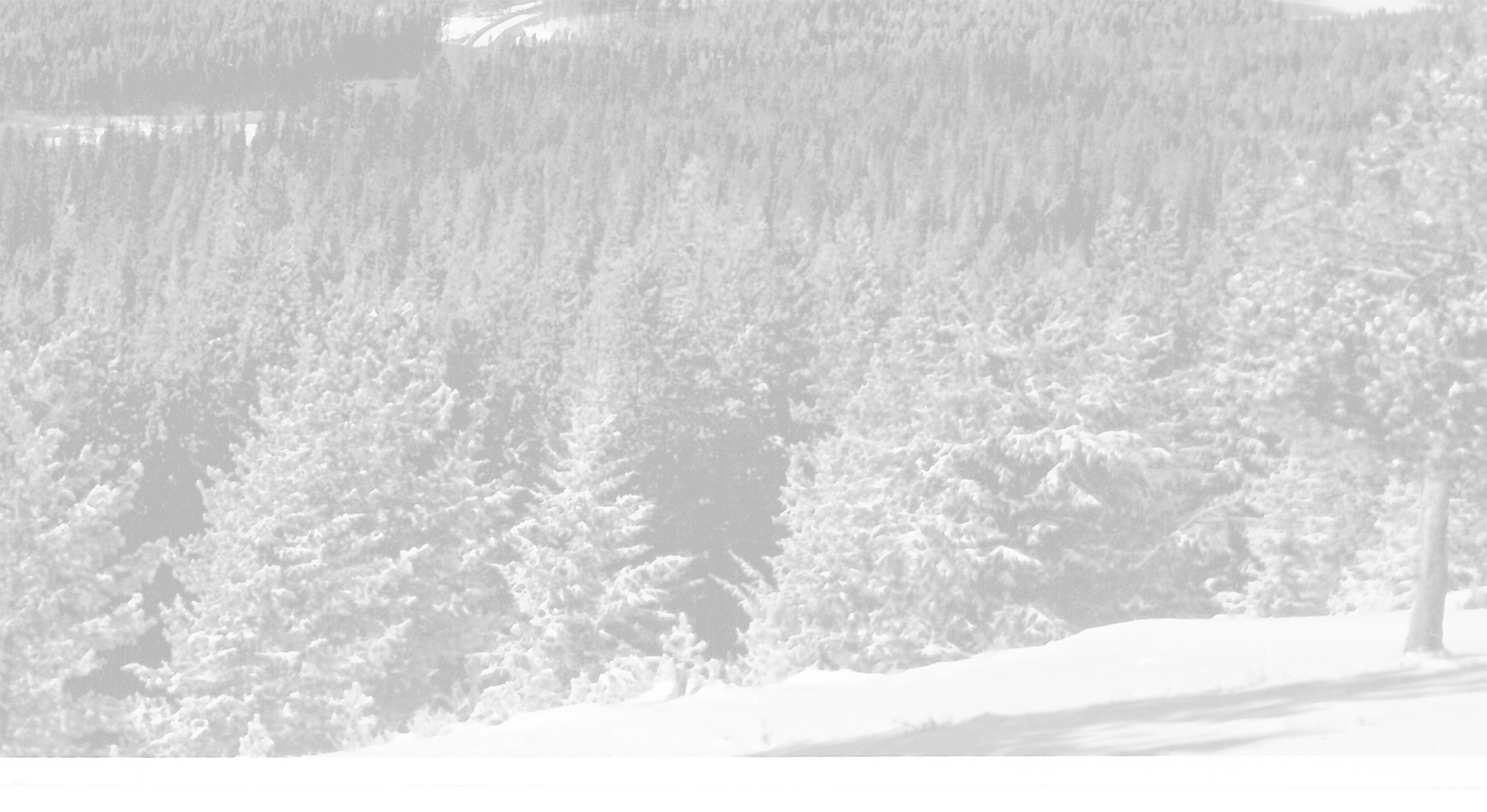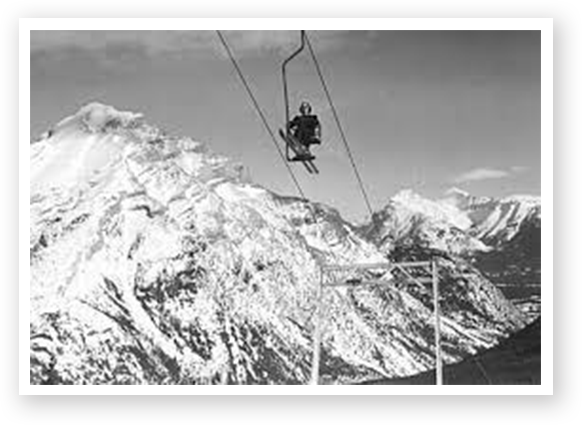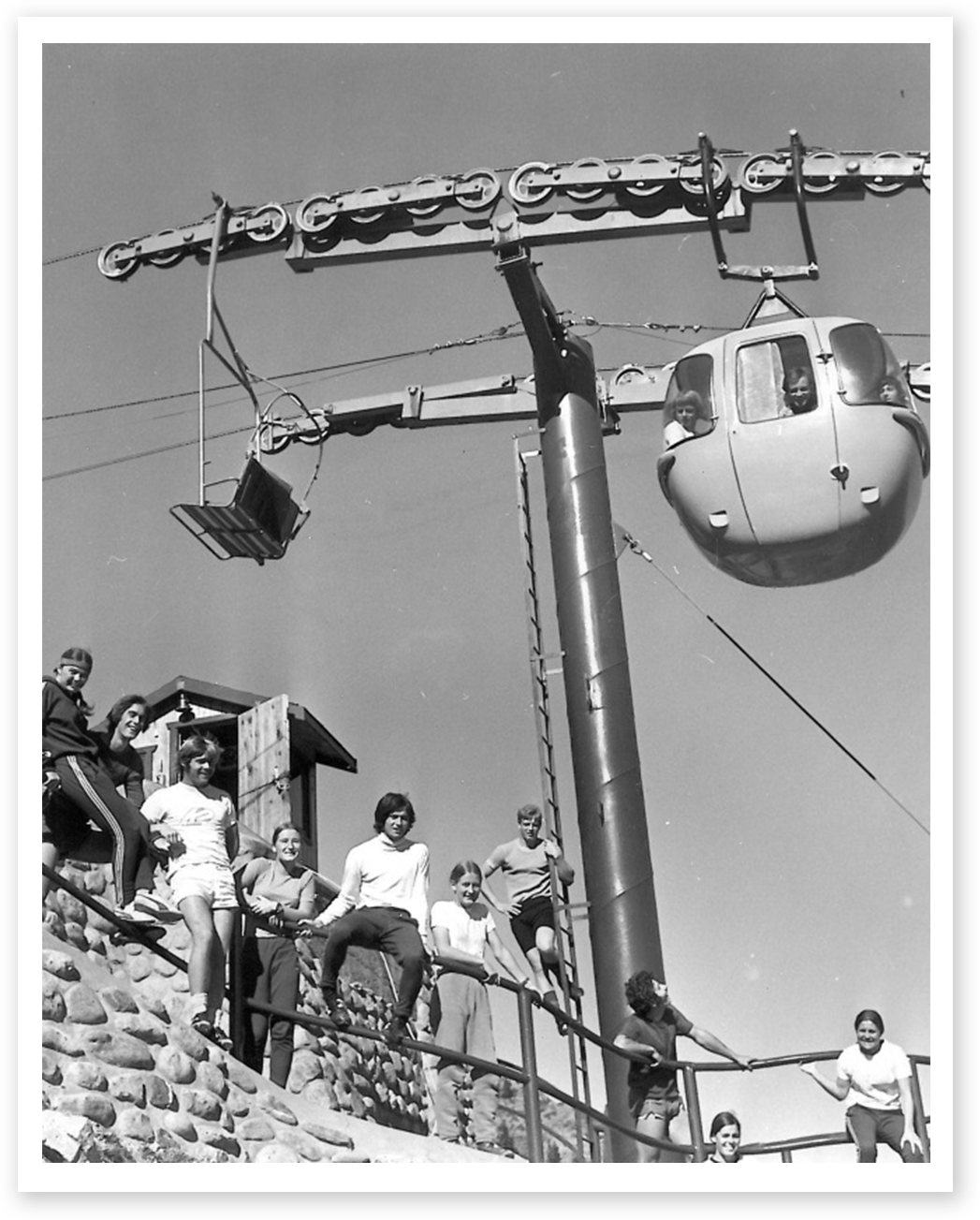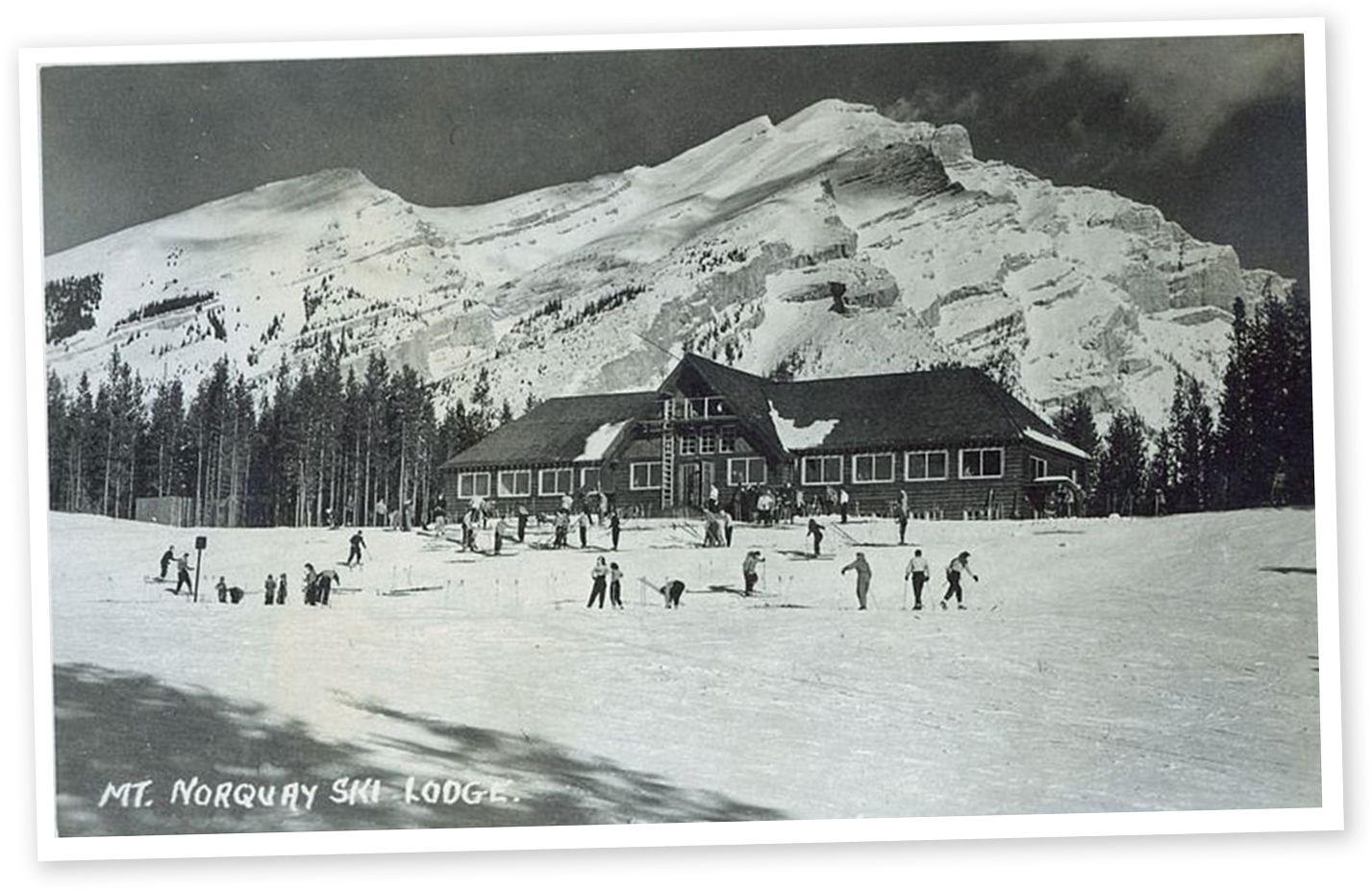 Downhill skiing boomed in the 1960s, and new ski areas popped up across North America. Around this time, Norquay's first private owner, Bill Fischer, led extensive refurbishments of the Big Chair. "When they renovated it in 1966, they took down the original chair," explains Andre Quenneville, Norquay's General Manager since 2006. "It was a very traditional structure, typical of the pioneering years of mechanized ski lifts: a single chair with square lattice towers. Then they built what we have now: mono-poles with a cable on each side, and a two-seater chair hanging in the middle. A big reason for the double chair was to cut down the line-up, so people could still ski on Sundays without missing church."
Later in the 1960s, Doug Robinson joined the Norquay team, and modified the Big Chair to accommodate gondola cars for summertime sightseeing. Then in 1966, Robinson converted the lift into a pulse gondola, designing a system to replace the old lift, by using the track line to raise the new lift—with big savings on cost and time. This allowed the Big Chair to run in the summer months, with six groups of three gondolas. Despite these upgrades, Quenneville notes this era of skiing was far from the high-performance experience available today. "There was no trail grooming—yet people would be using long wooden skis with steel edges, hardly tied in. They wore sweaters and leather boots in the '60s, then plastic boots in the '70s. Whenever I think it's hard [skiing Big Chair terrain], I imagine myself in the boots of someone in those days!"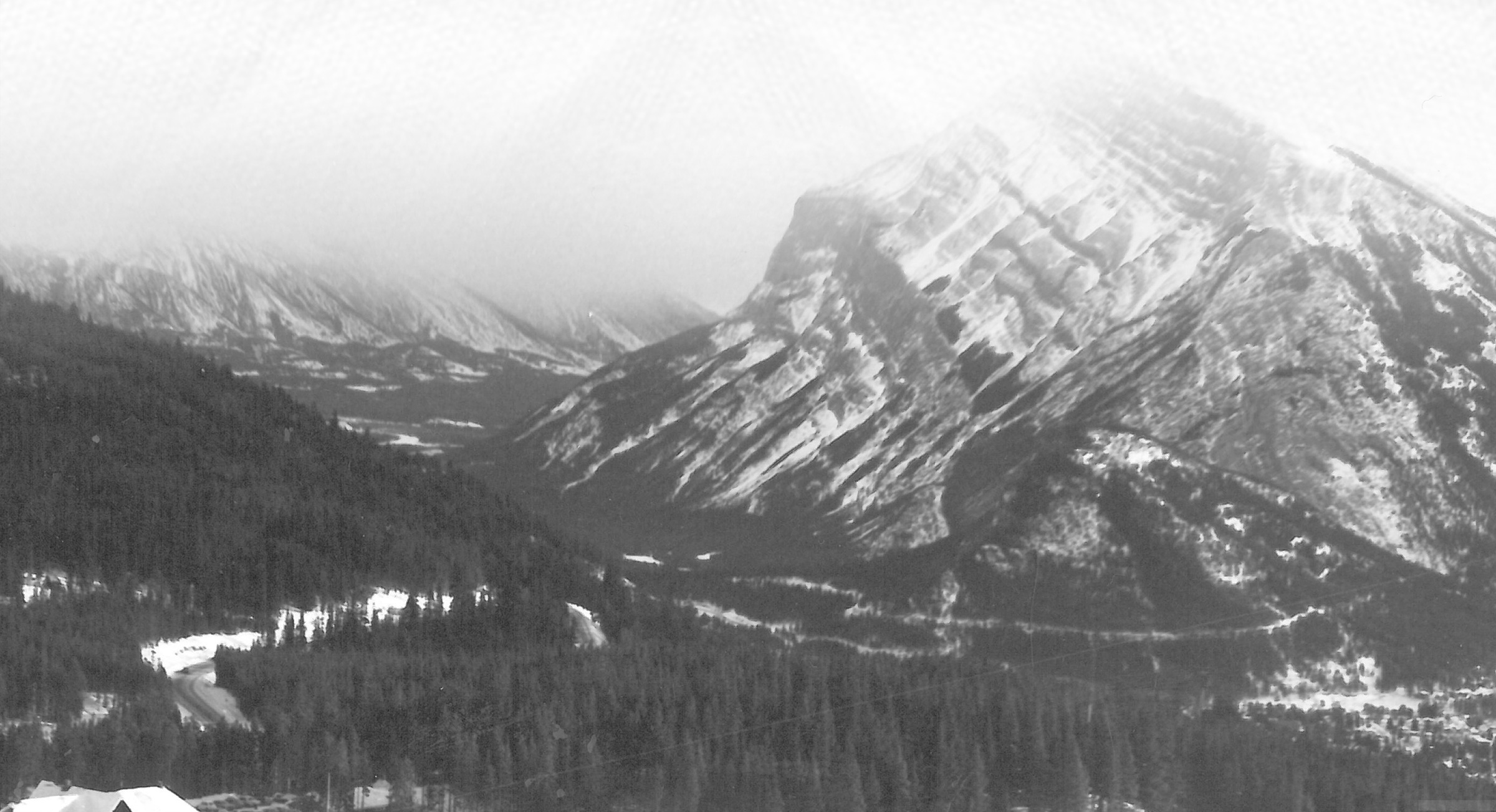 Ski Racing:
Where Champions Learn and Earn their Turns
With some of Canada's best ski racers starting on its slopes, and the first slalom courses set in 1929, Norquay played a significant role in the development of alpine skiing and racing in North America. Over the years, the mountain hosted many prominent races, from the Dominion Ski Championships in 1937, 1940, and 1948, to major intercollegiate competitions over 25 years with U.S. and Canadian universities for ski jumping and alpine racing. Ski jumps were built at Norquay in the 1920s, with judging towers added in 1959 in preparation for a Banff Olympic bid. In those days, mid-week skiing was slow, while weekends or special events attracted up to 7,000 people per day. Norquay hosted its first World Cup, in giant slalom and slalom, in 1972.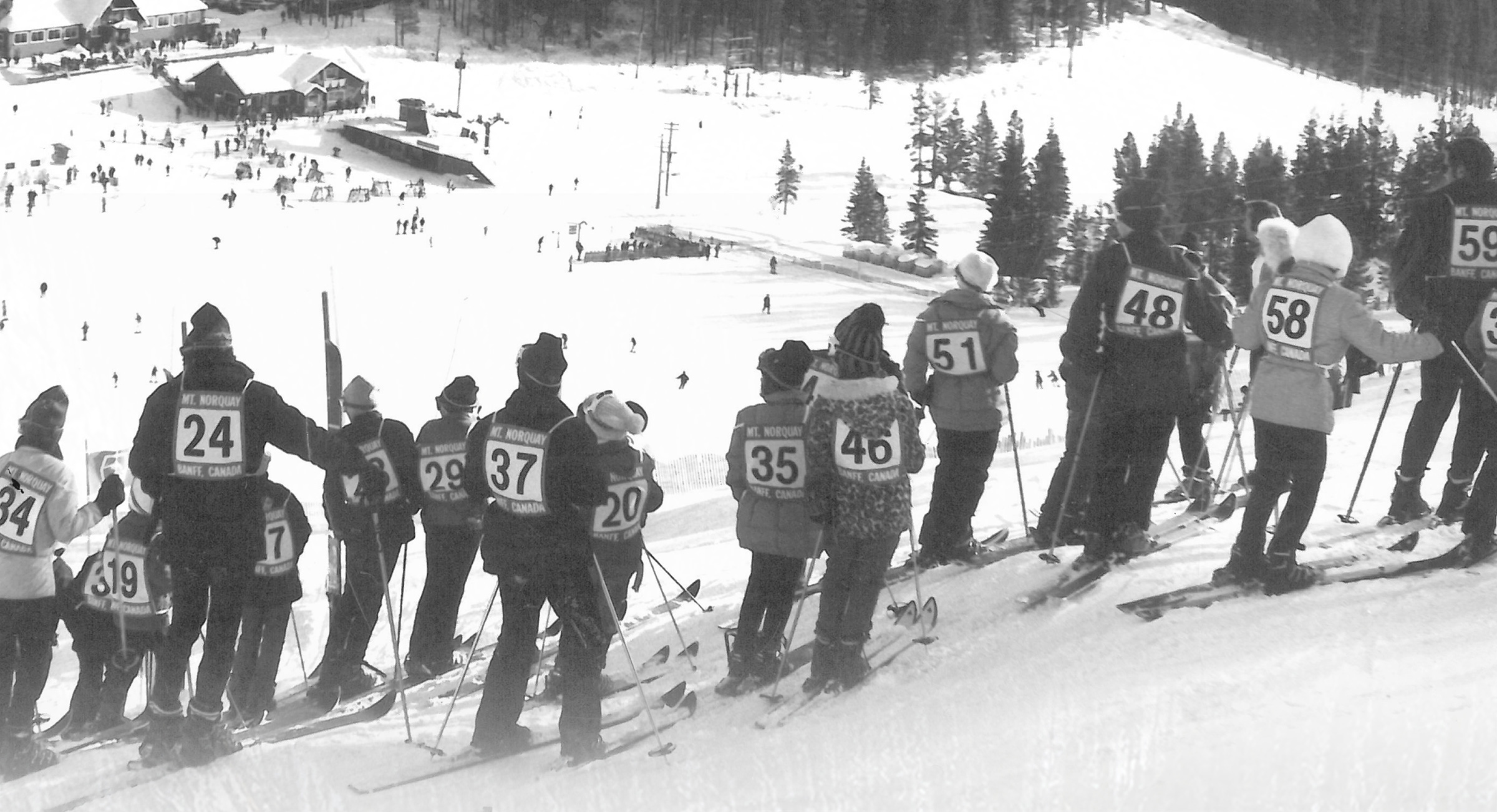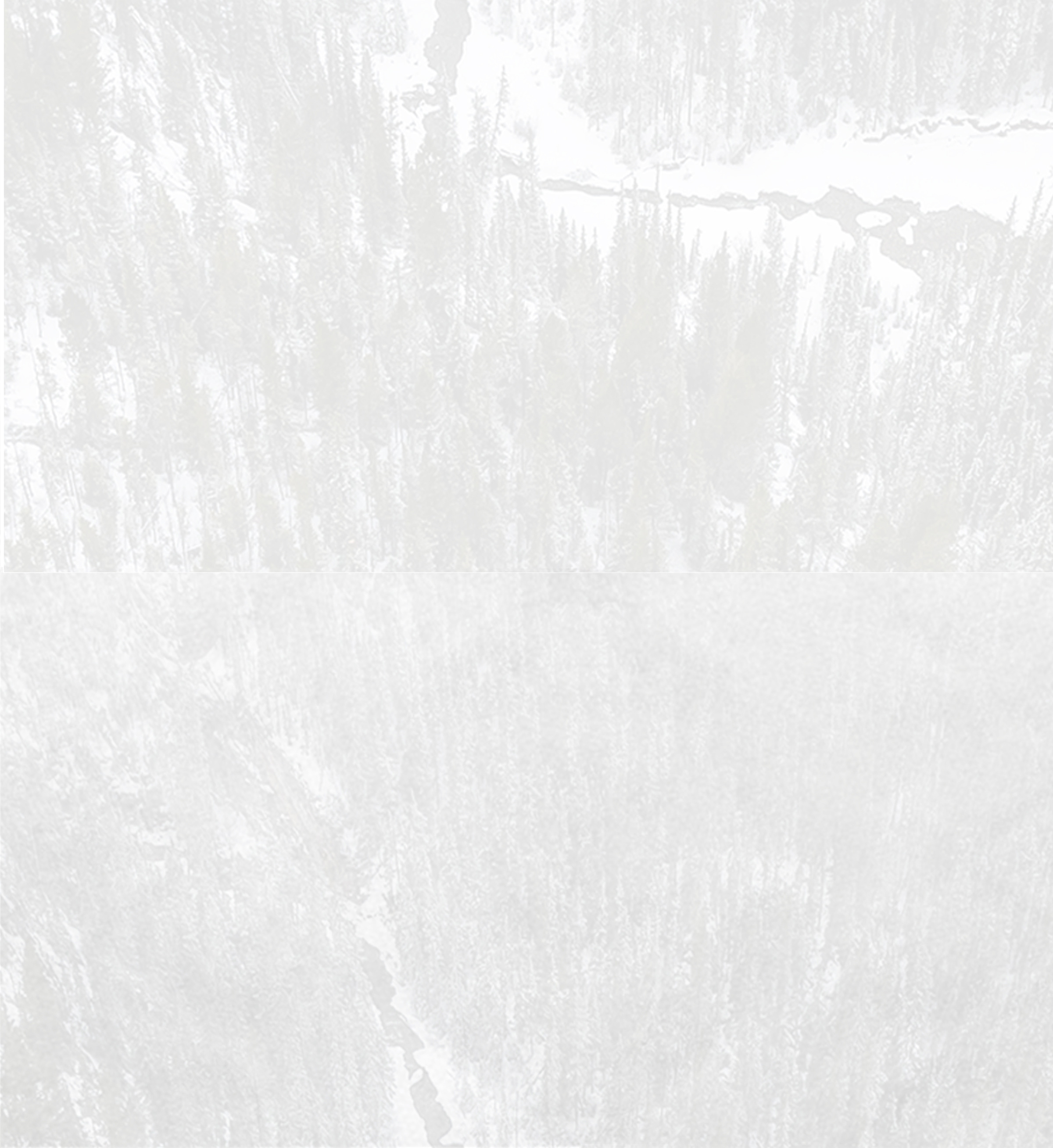 "My Dad started teaching skiing at Norquay in 1952, and the first time I skied the Big Chair was with him. I was five. To ski from the Chair was a huge deal. I remember, we had the long skis with the bear trap binding, and lace-up leather boots – it was a big challenge for us.
Then, when I was 12, I was ski racing at Norquay with local kids, and Rudi Gertsch came to town – he was in those well-known photographs, jumping off the tea house roof (Rudi is the Founder of B.C.-based Purcell Heli-Skiing). We were all standing there, watching the action. Rudi was our coach, and he had built a little kicker off the tea house roof. I remember, he took off, went flying over the rail and landed down in the bowl. Five big turns and he was gone.


I once told Rudi, in that very moment at Norquay - when I saw him flying over my head – that he became God to me. He stayed our ski god forever. He was a major character in skiing here, and that moment stayed with me my whole life.
Every opening day for the Big Chair, we'd do all we could to be there. We would skip school, drive from Calgary, whatever it took. We wanted to be there on opening day, and we didn't miss many. Out of 56 years of skiing, I've probably had 40 opening days at Norquay. It's not a ski season for me, if I don't ski from that Big Chair.".
- Marty van Neudegg, life-long resident of Banff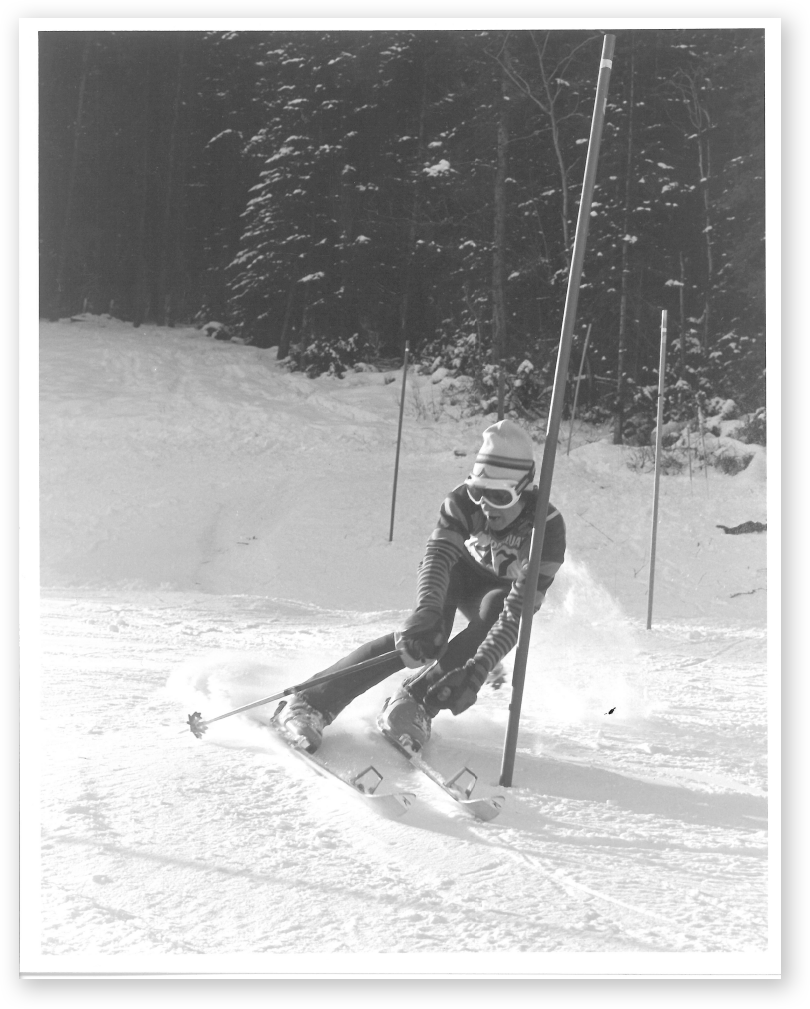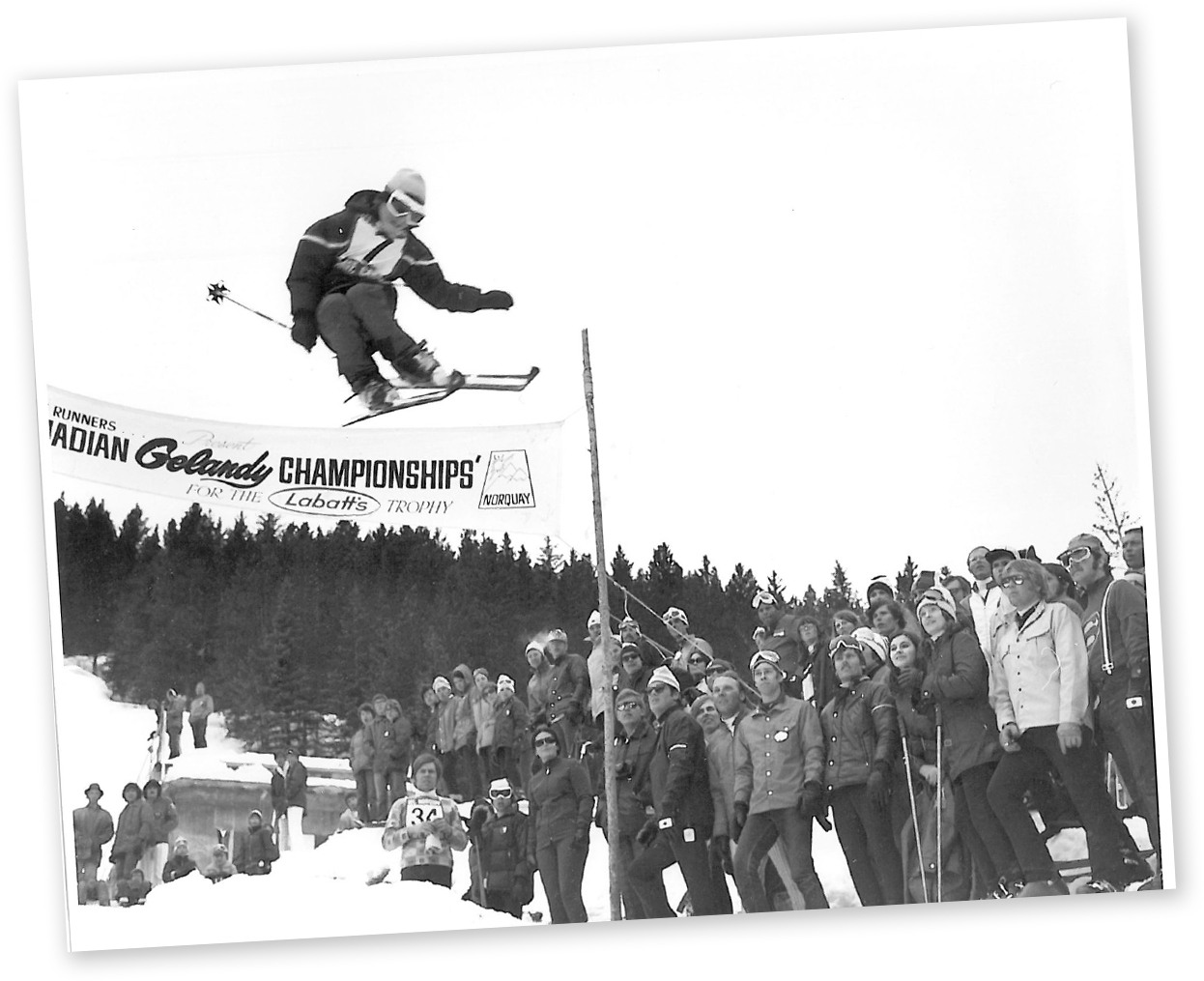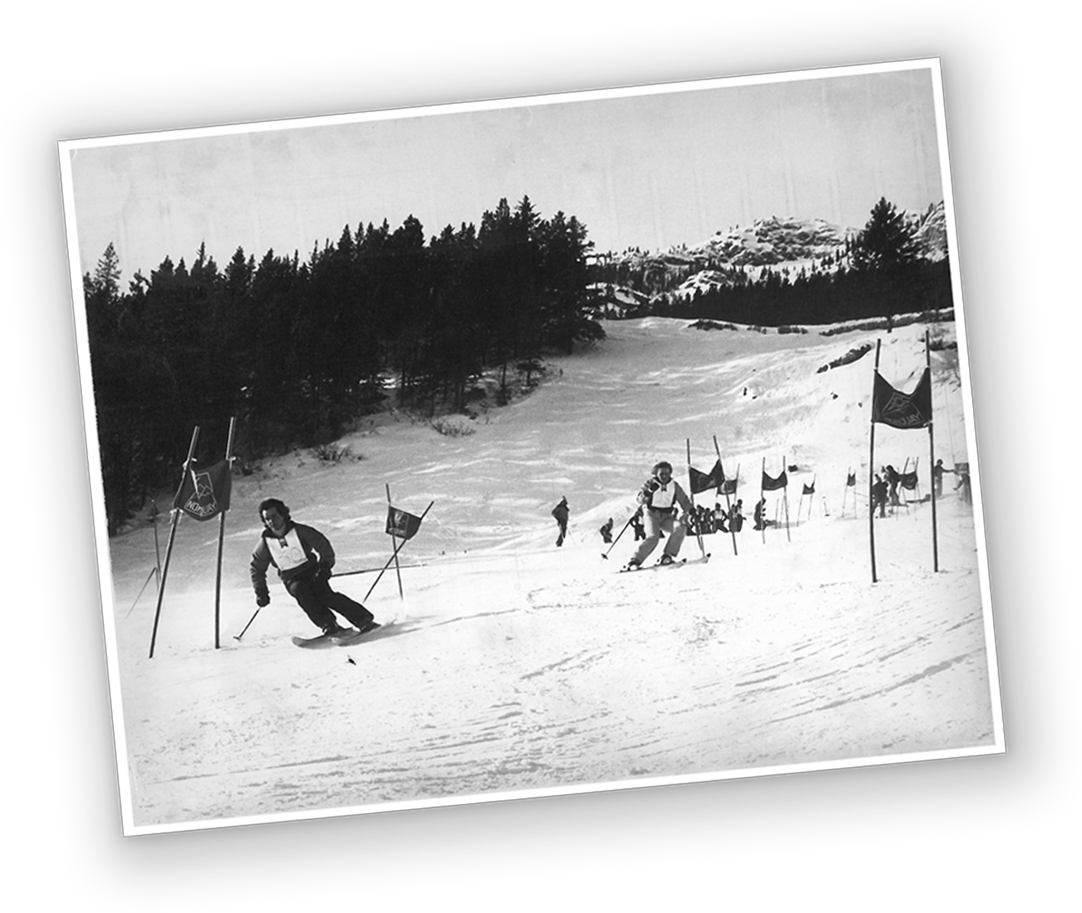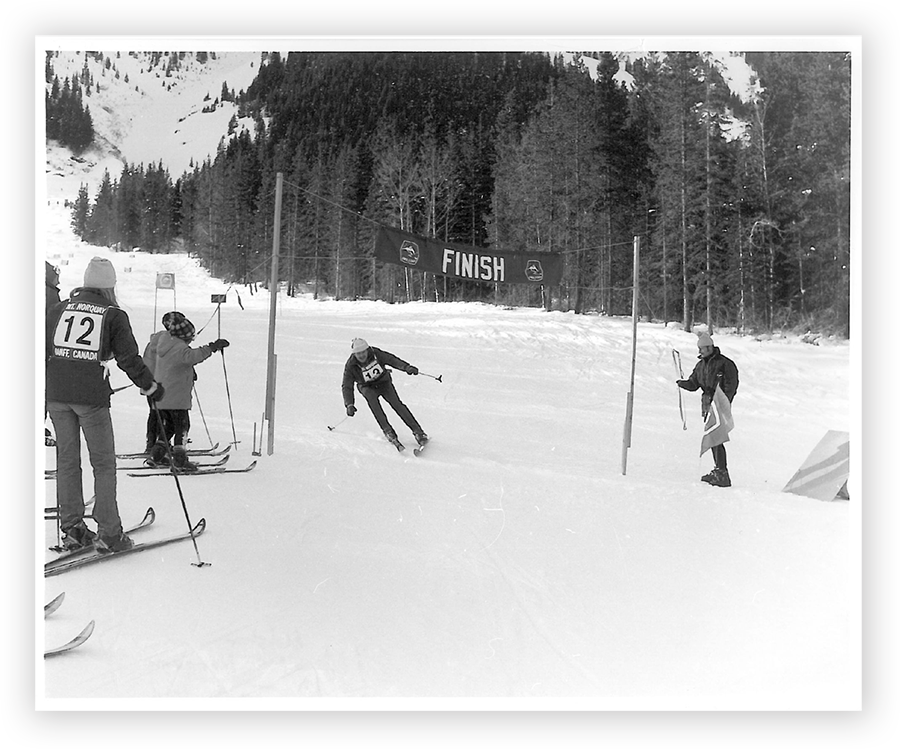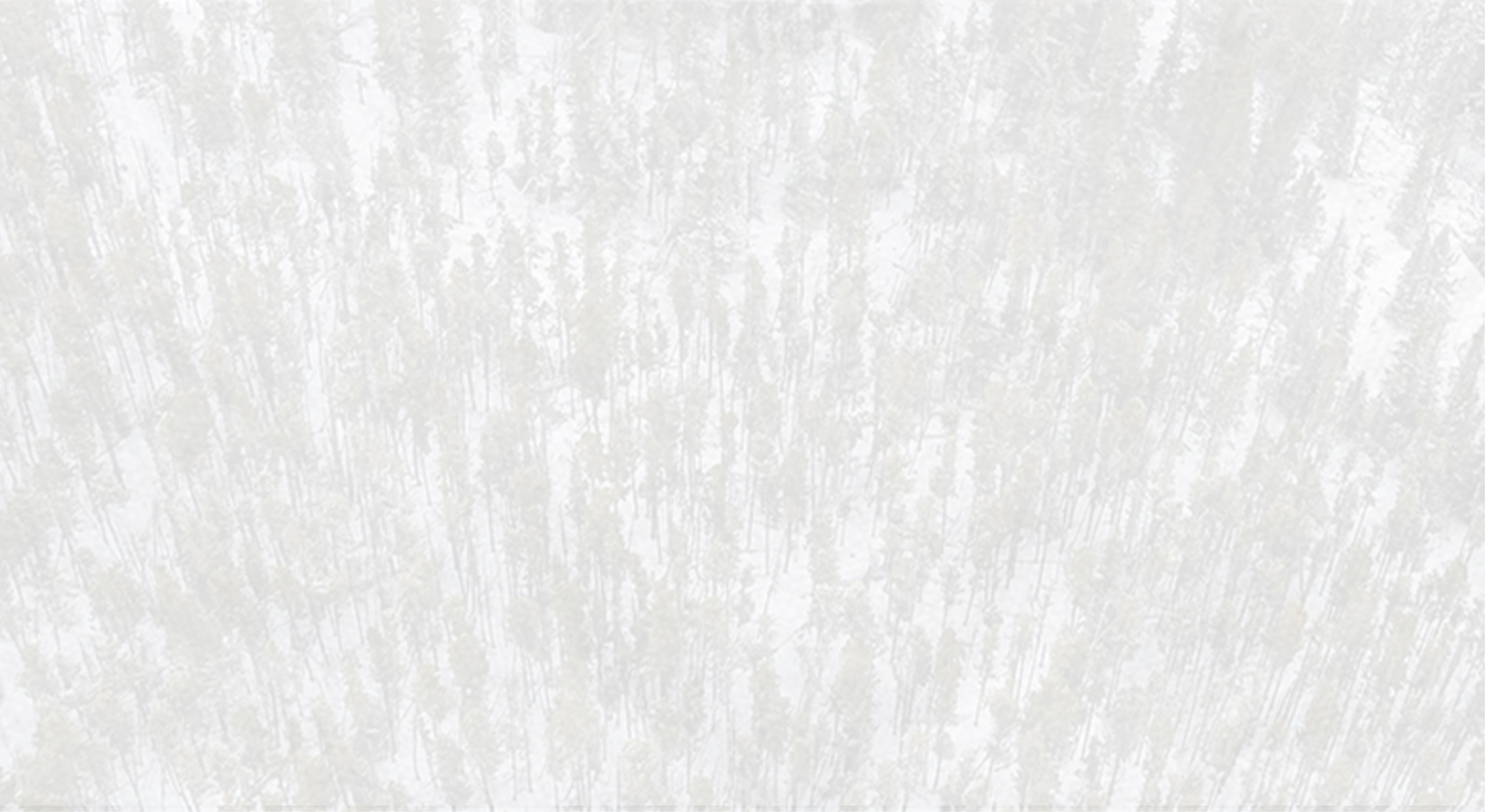 "Norquay embodies a passion for skiing in its raw form—there is no hoopla,"
- says Thomas Grandi, placing nine times on the World Cup podium and three-time Olympian, who first skied Norquay aged two.


"Instead of meeting your buddies at the mall, you met at the hill,"
- adds Stephanie Townsend Bucher, a Canadian National Ski Team racer from 1965 to 1969.


Other legendary skiers who honed their skills at Norquay include Bruno Engler, Eddie Hunter, Dave Irwin, Karen Percy Lowe, Scott Henderson, and Leo Berchtold, to name just a few. A number of distinguished athletes from the Albertan and Canadian ski teams are also alumni of the Norquay-based Banff Alpine Racers, including Jan Hudec, Thomas Grandi, Stephanie Irwin, Paul Stutz, Trevor Philp, Jeff Read, and Erik Read. To this day, Norquay continues to host this renowned training program for future champions.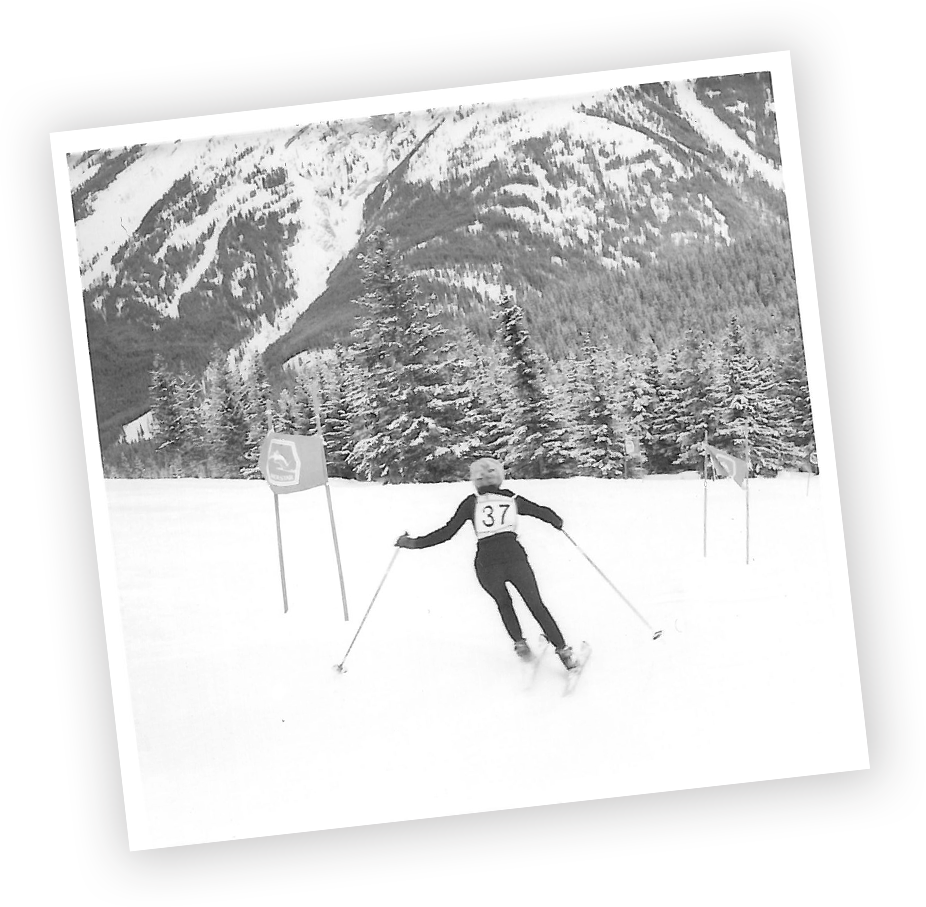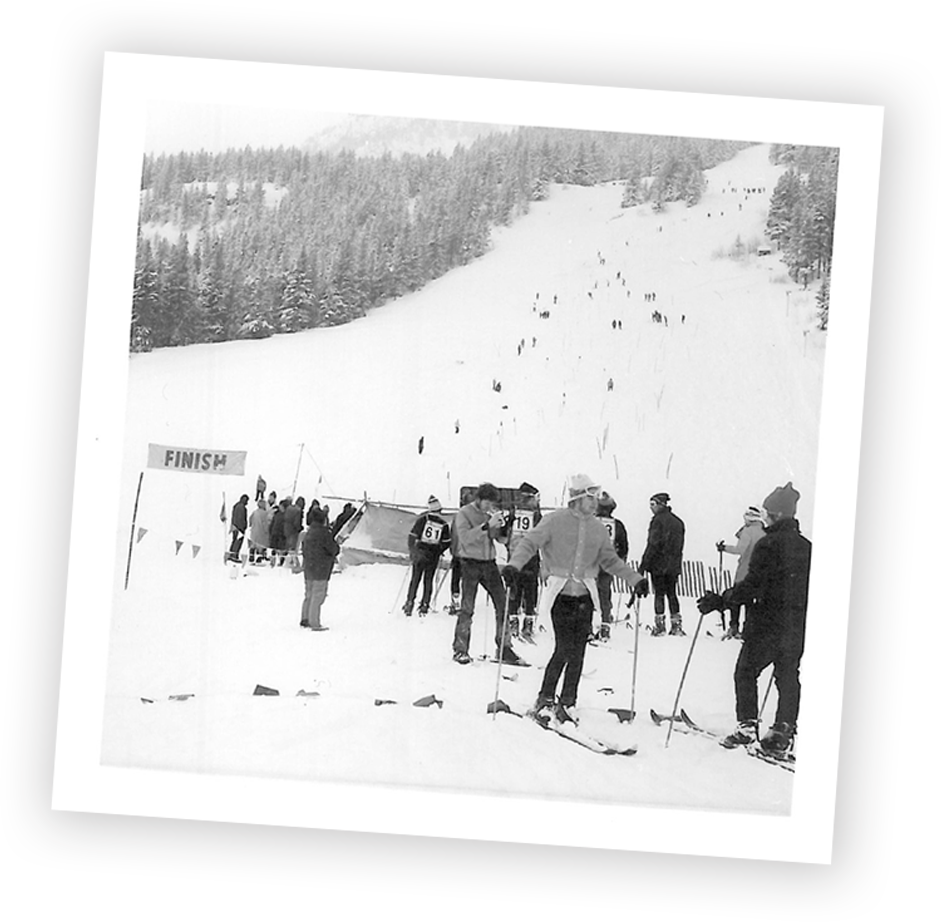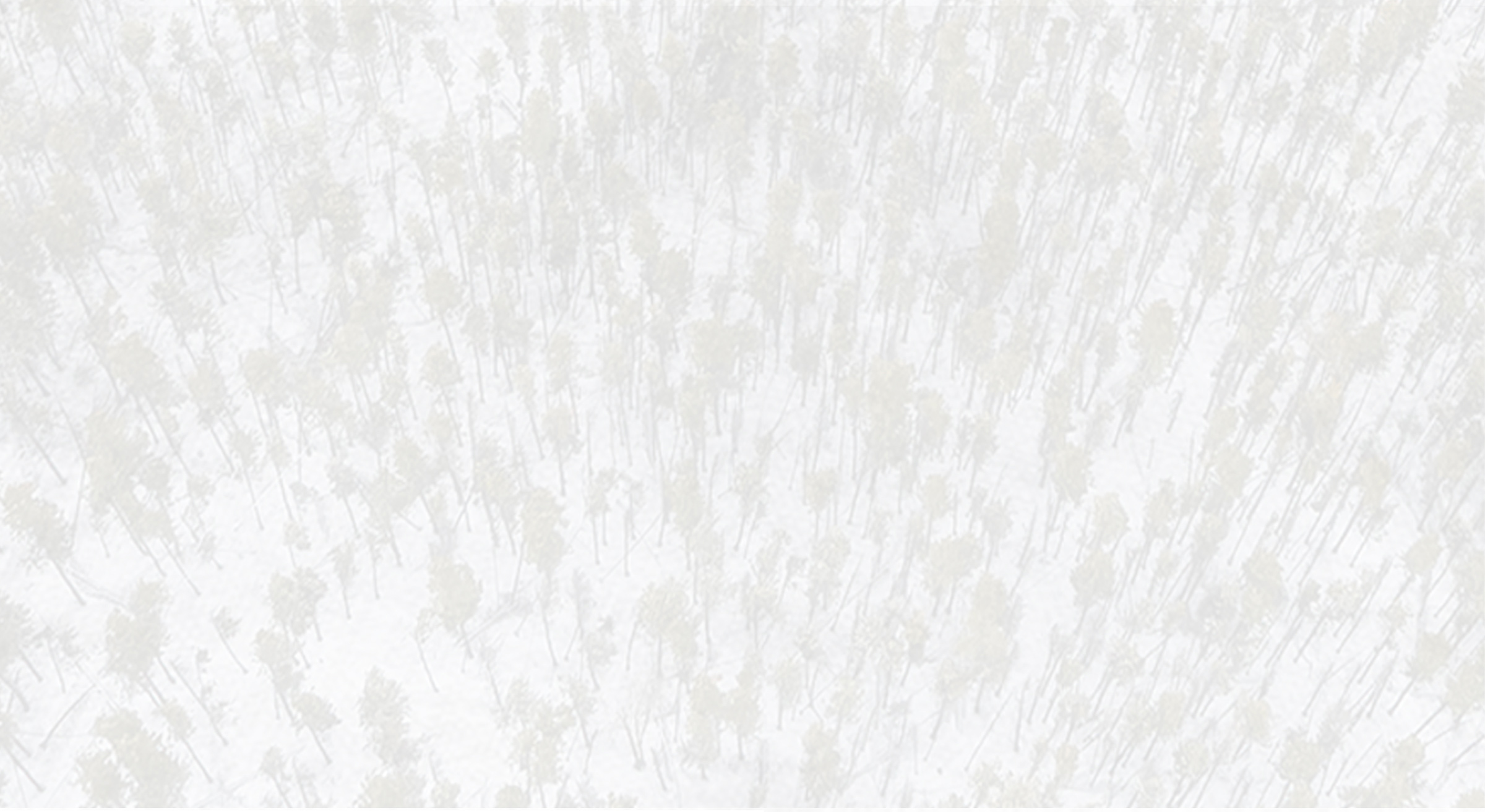 "Mt. Norquay, to me, is the number one place.
The staff are so nice and helpful."- Leo Berchtold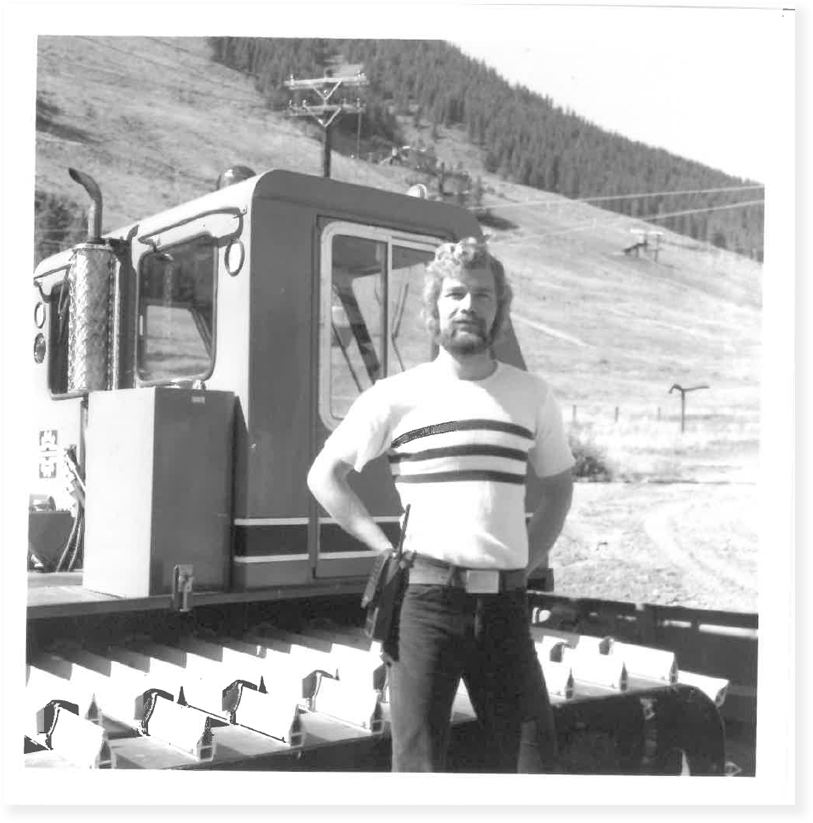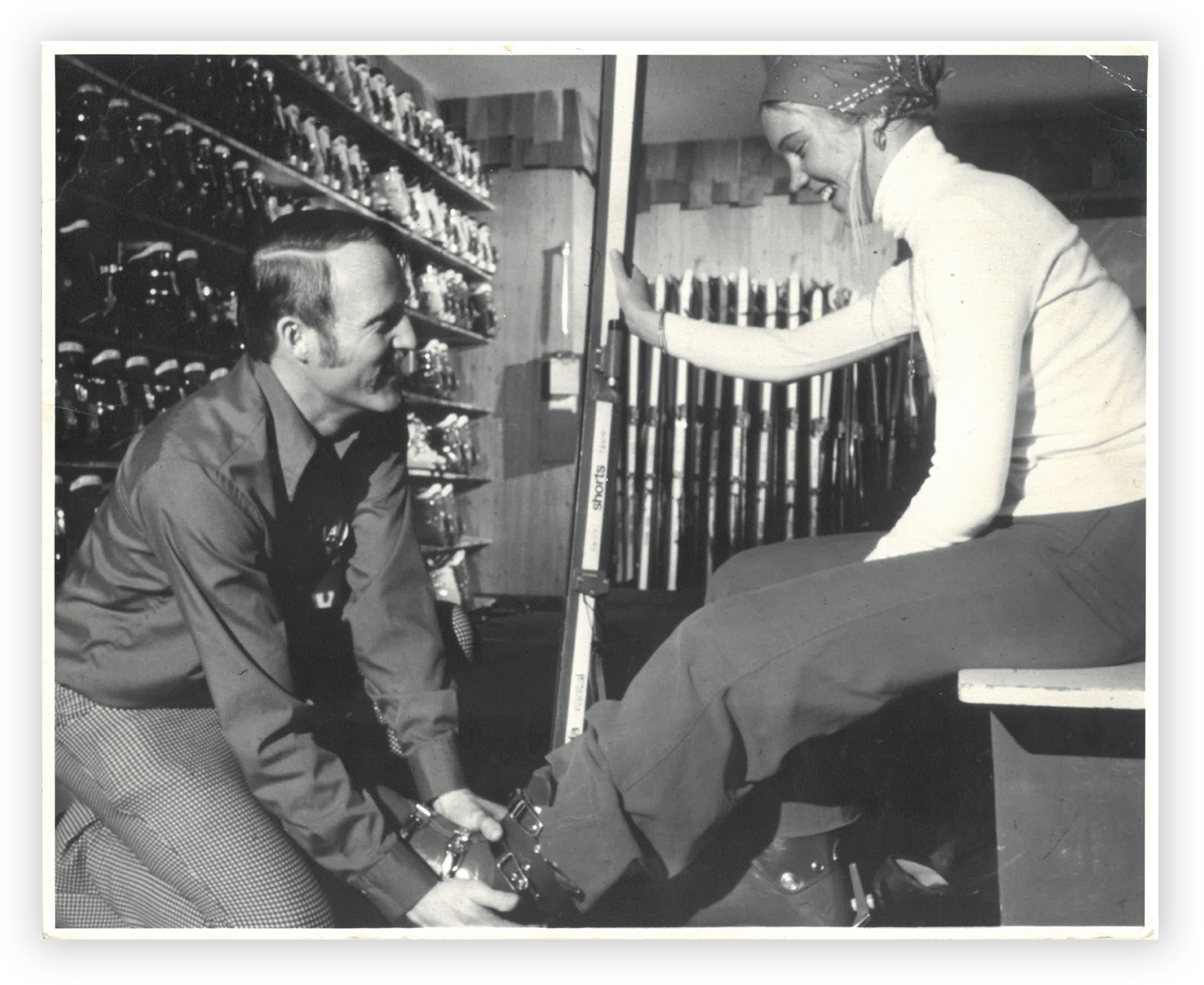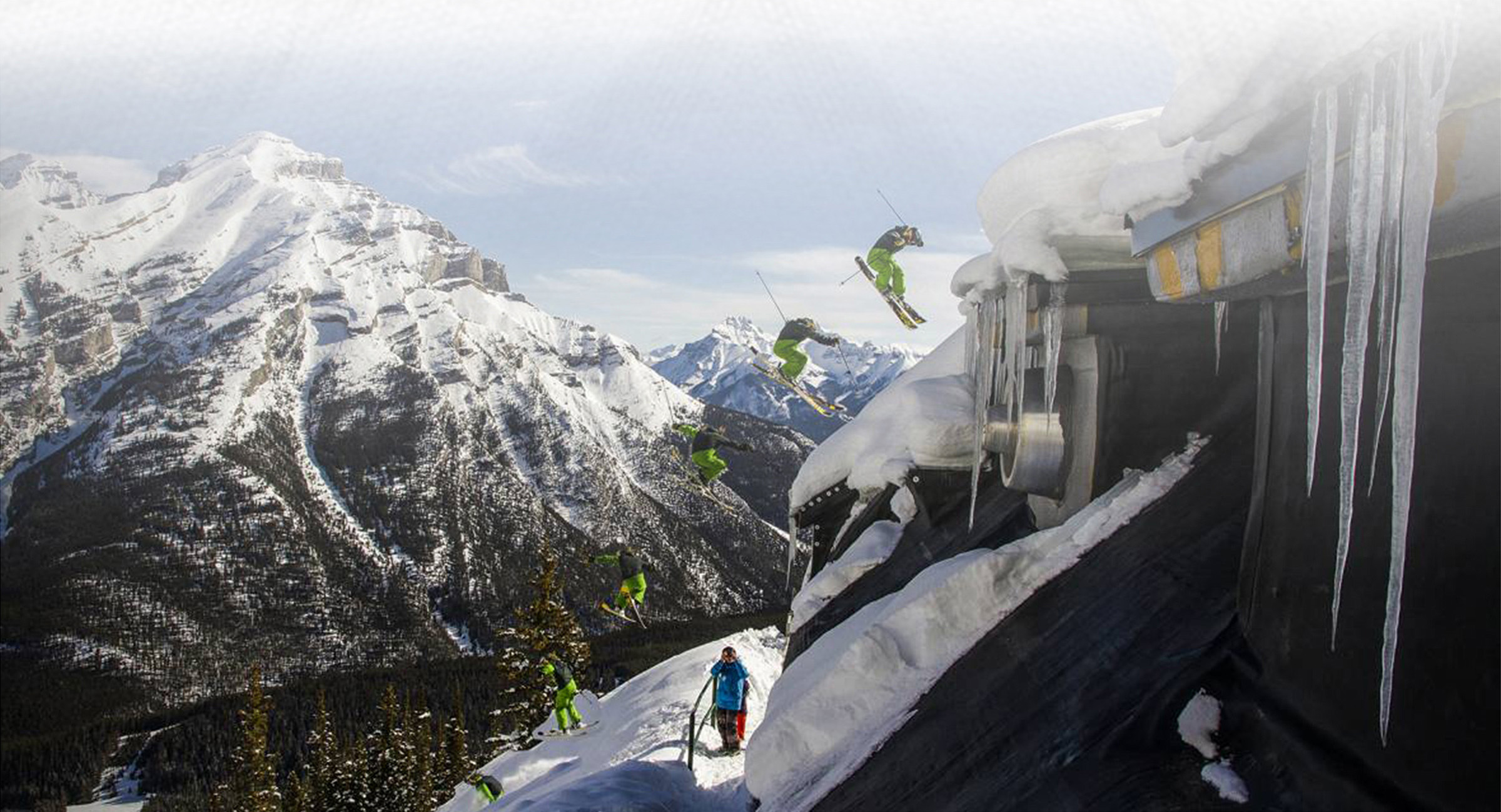 Through the Generations:
Family Legacies Live On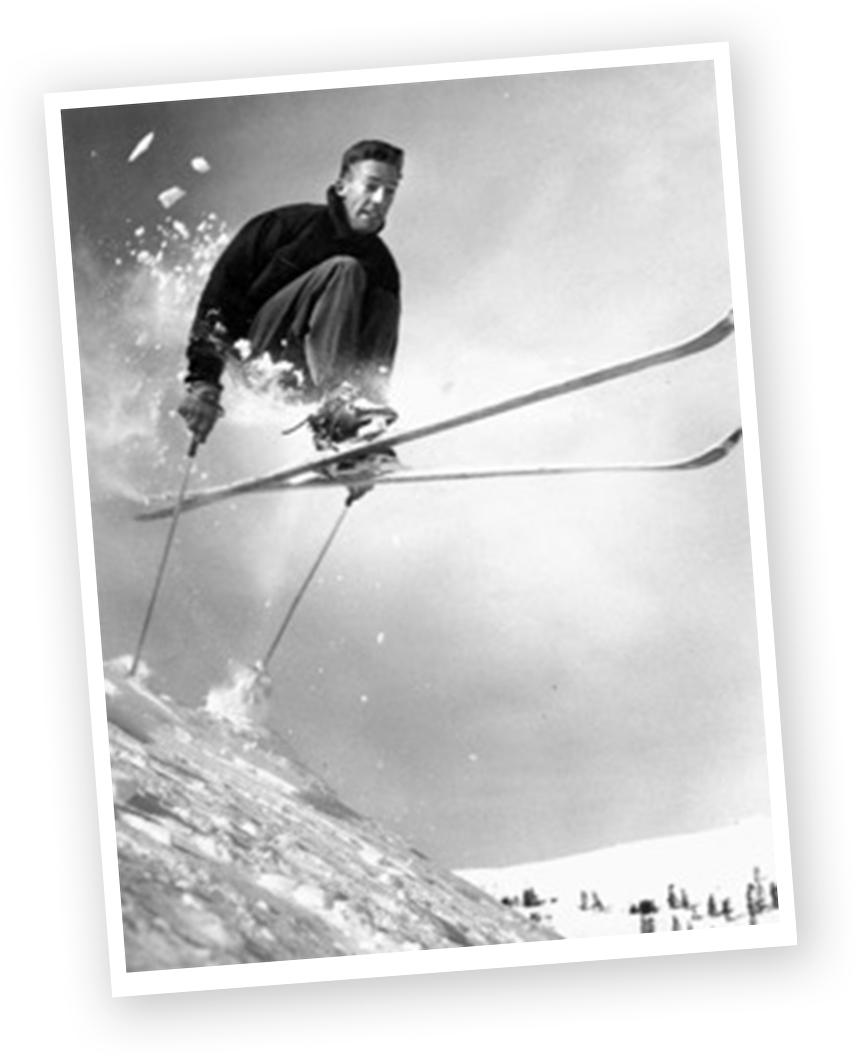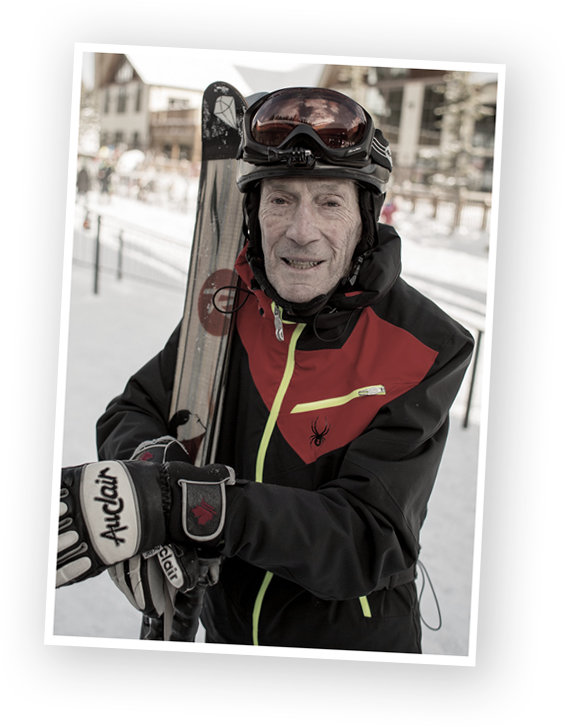 Known as the local's hill, Norquay also earned a reputation as a multi-generational mecca for skiing. Born in 1926, the same year Norquay opened, lifelong skier and Banff local legend Eddie Hunter raised his own children and grandchildren on its slopes—and he has a remarkable connection to the mountain he calls home. "When the Big Chair opened in 1948, I made a vow to ride it every year it was running," Hunter explains.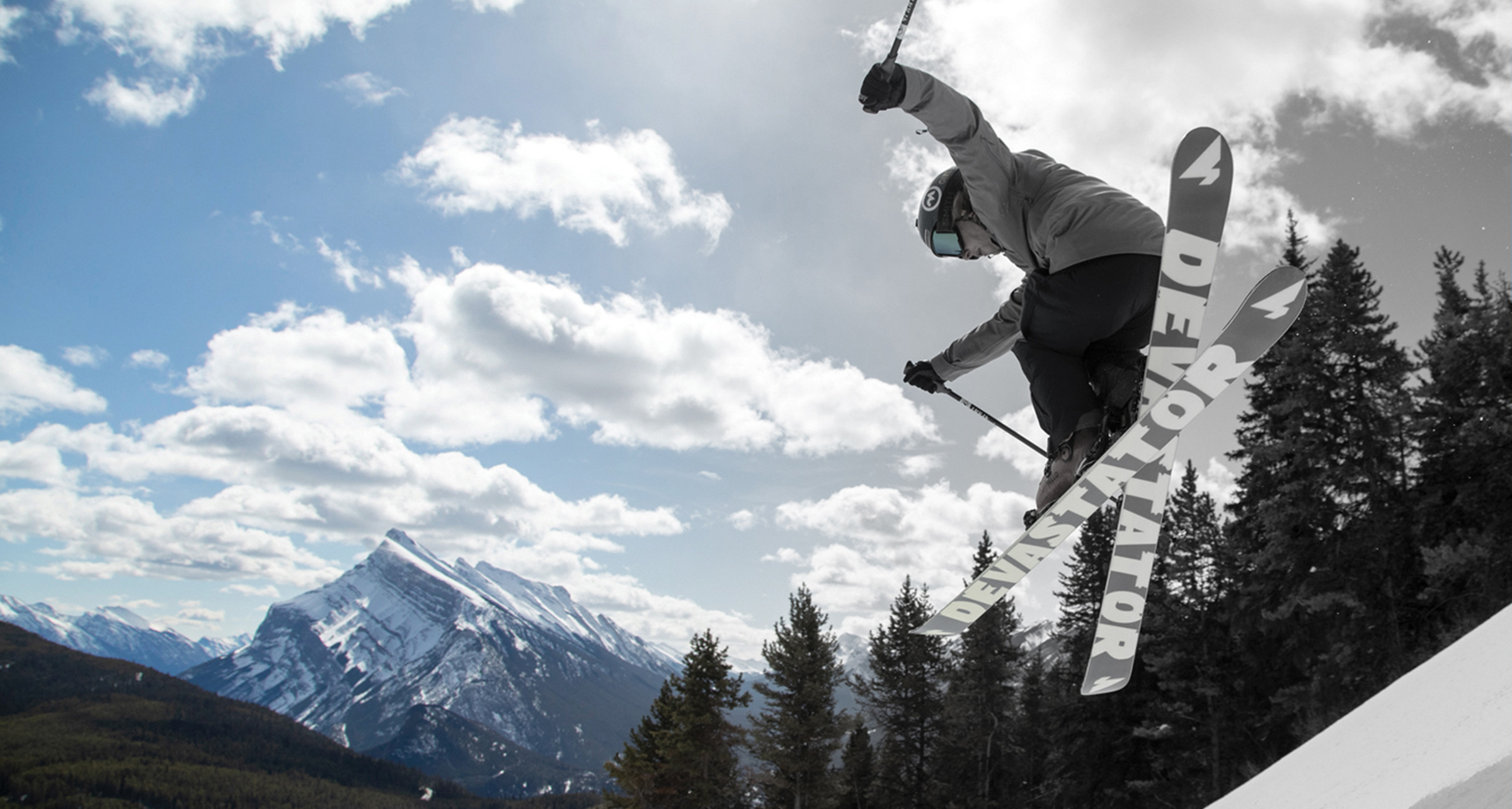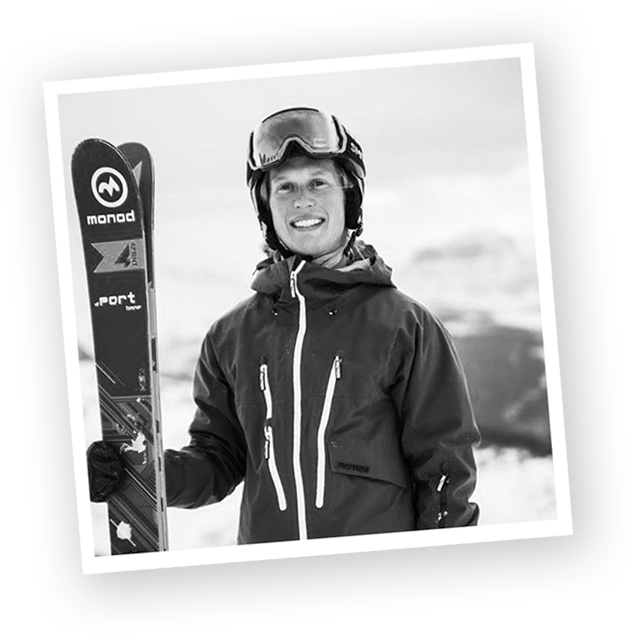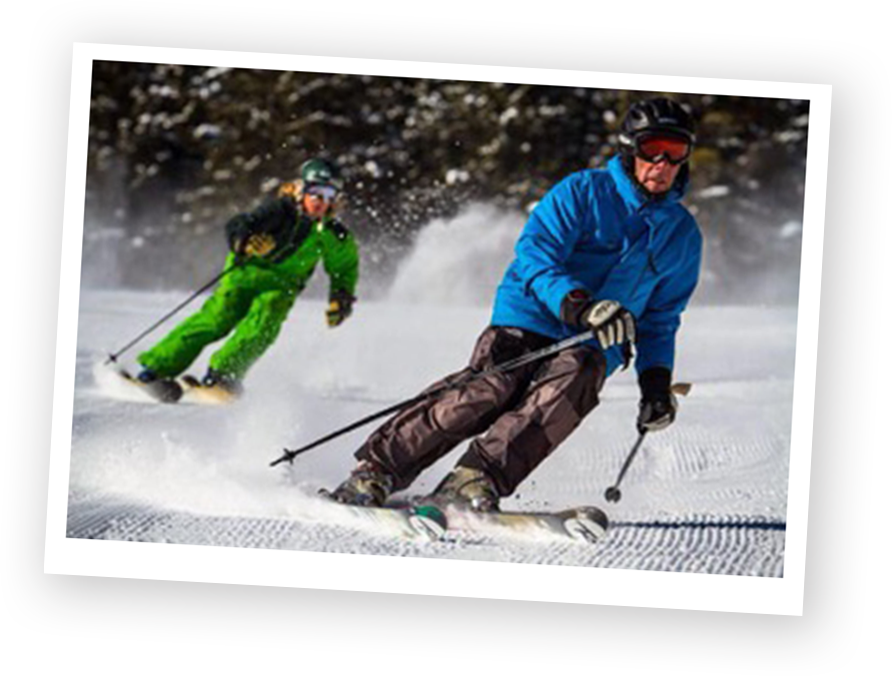 To this day, 70 years later at age 92, Eddie remains steadfast in this promise. The 2014 Sherpas Cinema film Sculpted in Time: The Wise Man, celebrates Hunter's love of winter spent with family. "I feel good in the morning when I see the sun hitting the upper slopes of the mountain and slowly work down. I feel good when I see my kids carrying on skiing. Any day is better if I'm skiing with them." In the film, Hunter's grandson Noah Maisonet lands a huge 360 off the top of the Cliffhouse Bistro above the Big Chair. He names Hunter's love for skiing as a lasting influence. "If I'm ever contemplating whether or not to go skiing, I just know my grandpa is probably already at Norquay, waiting for first chair. That definitely gives me motivation."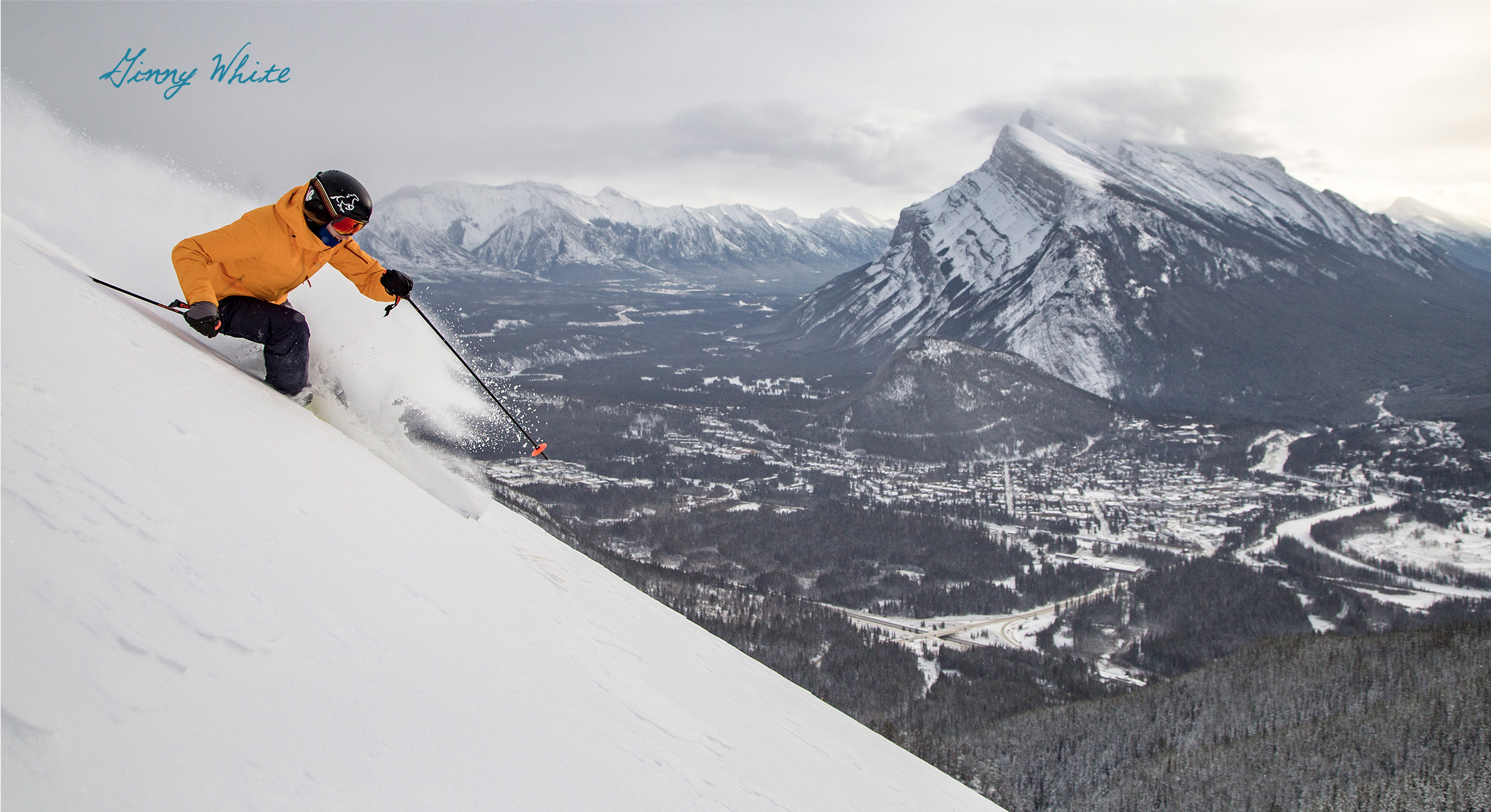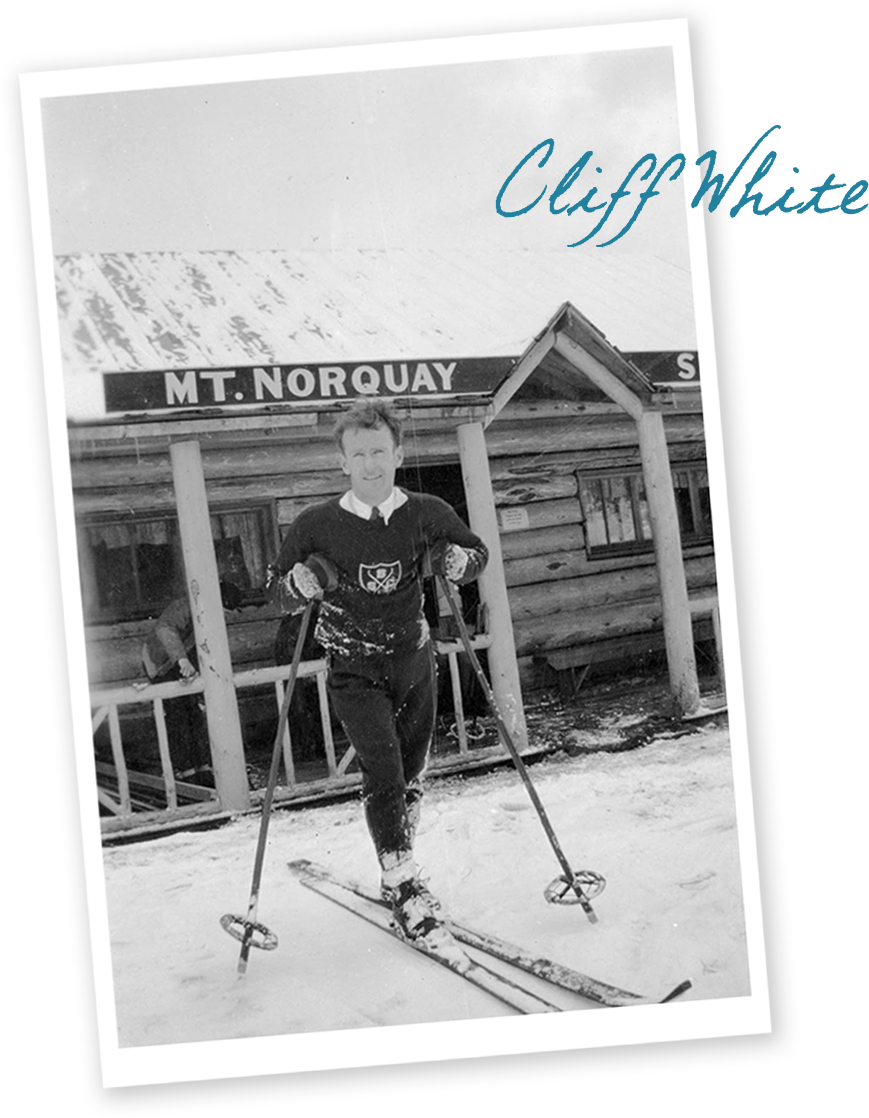 Another talented local with a deep connection to Banff ski culture is Ginny White. A fifth-generation Banffite, her great grandfather started the Ski Club of the Canadian Rockies, and the family's legacy in the area is preserved in the Whyte Museum of the Canadian Rockies. "Everyone who grows up in the Bow Valley starts skiing at Norquay. It was like the local melting pot—plus daycare. You start on the smaller terrain with your family, and progress through. Then once you ski the Big Chair, you've made it. It's like the epitome of growing up." No matter how far she roams, White says there's no place quite like Norquay on a powder day. "There's a whole generation of kids that stay in the mountains here. I think the sense of community is something we have that other ski towns don't."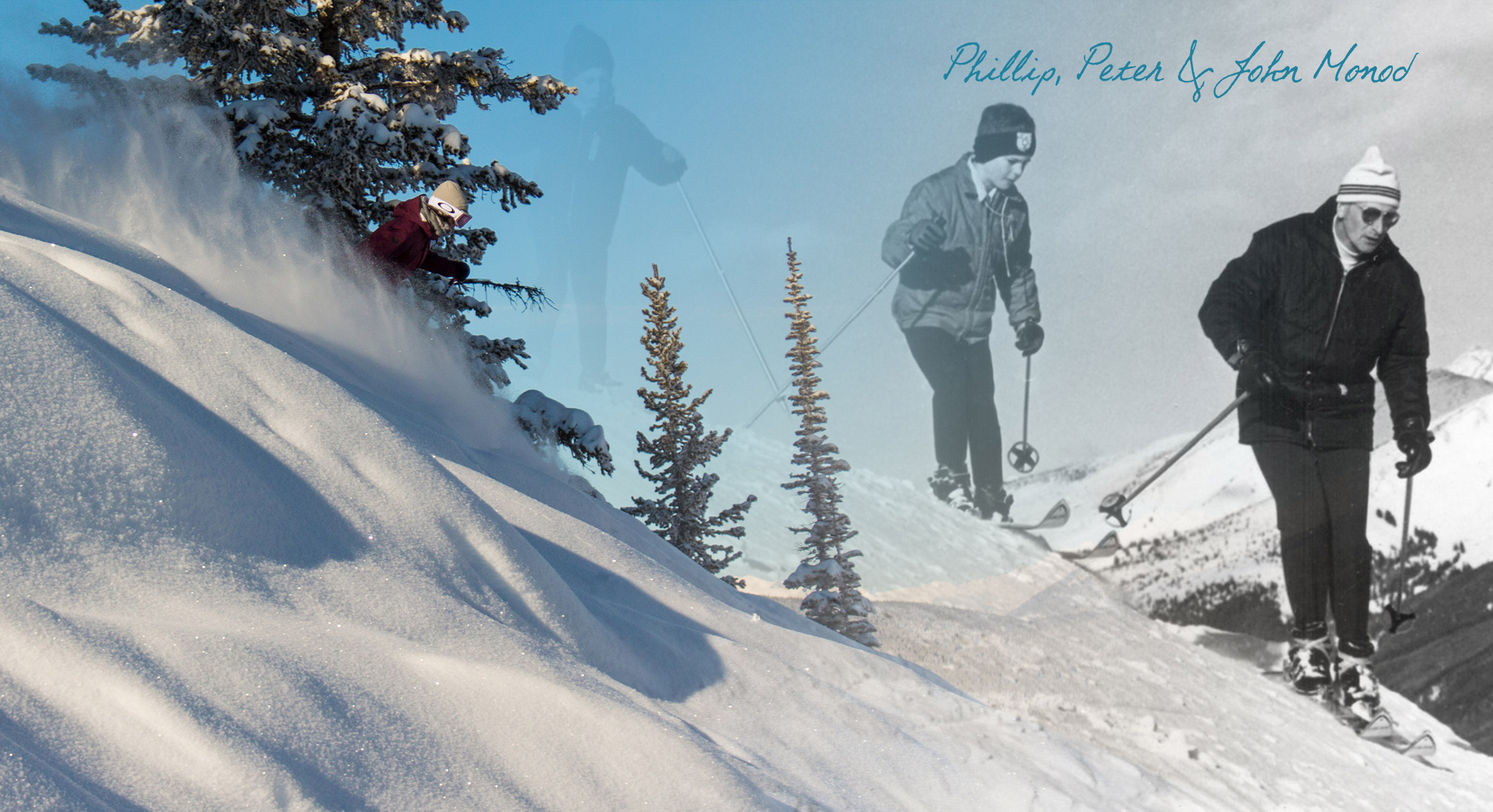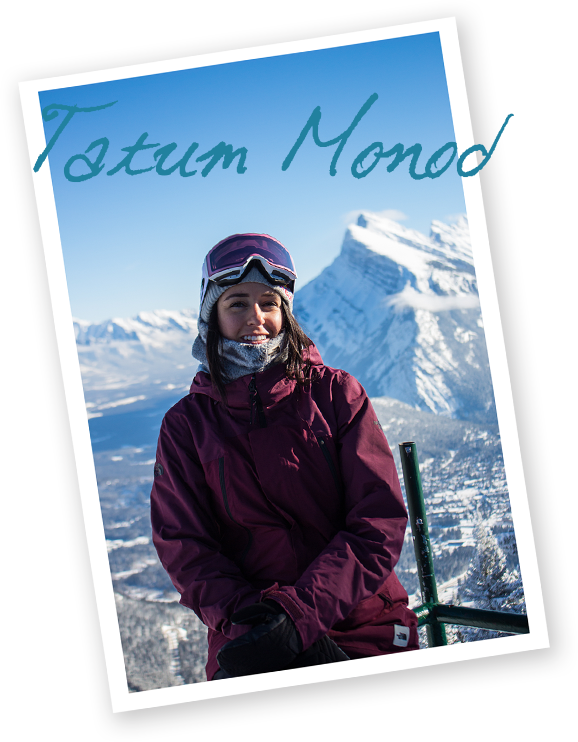 Monod is another family name synonymous with Canadian winter adventure. Tatum Monod's parents met through skiing, her dad was a racer on the Canadian Ski Team, and her grandfather was the Swiss Mountain Guide who founded Monod Sports in Banff, one of North America's first outdoor gear shops. Like White, Monod grew up in Banff and learned to ski at Norquay. "The Big Chair is one of my first memories of skiing. It didn't matter the conditions, being out there and smashing the moguls down Lone Pine with my friends was the most fun in the world," she says. Tatum podiumed at the 2011 Freeskiing World Tour, was Freeskier's World Number 1 Female Freeskier in 2015 and 2017, and Powder's Freeskier of the Year in 2017. "I had amazing coaches with Banff Alpine Racers, and we skied and trained at Norquay. We had some of the best access to steep and technical terrain—and I think that is what truly built me as a skier."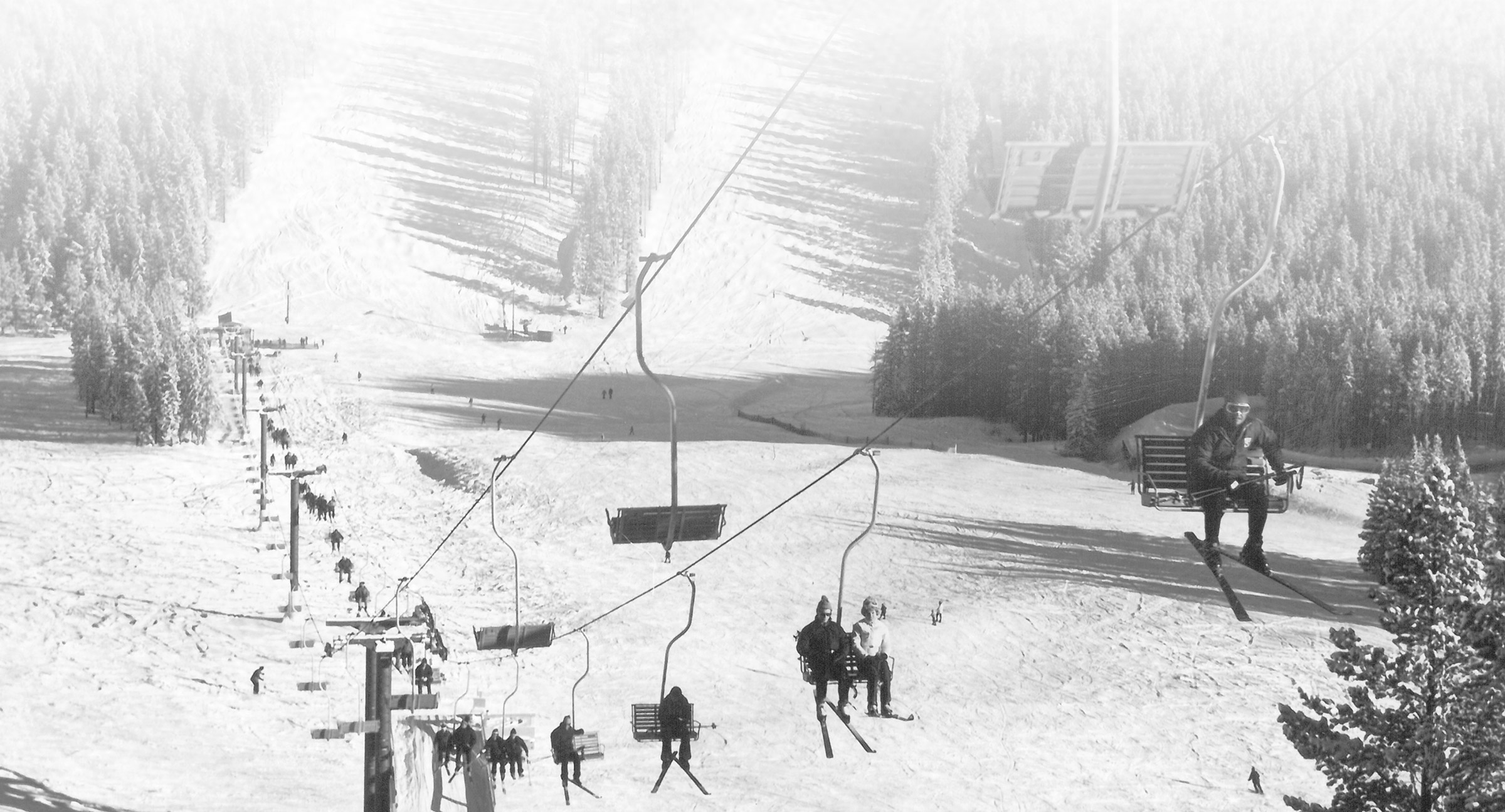 Best of Old & New:
Norquay Continues to Grow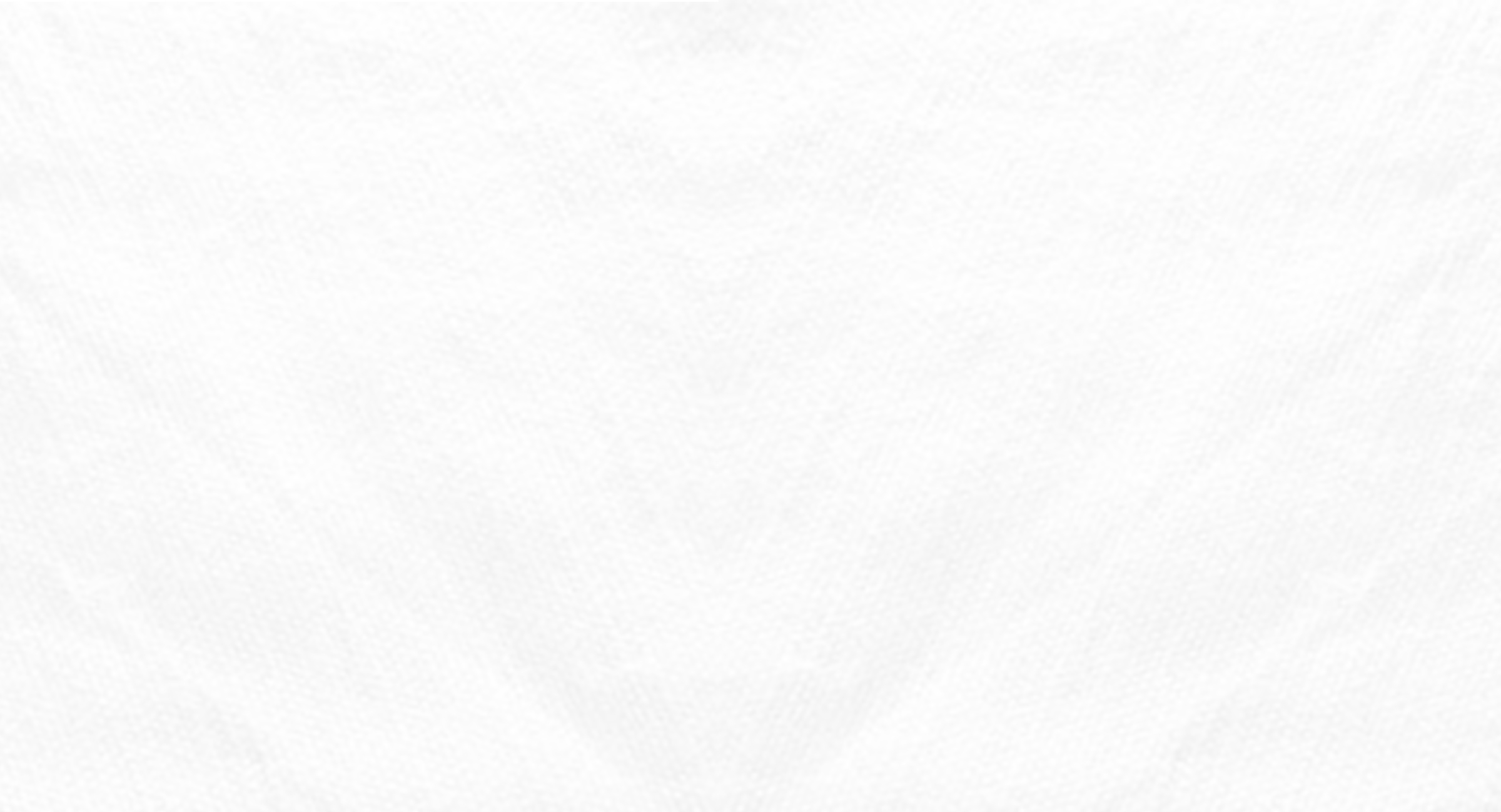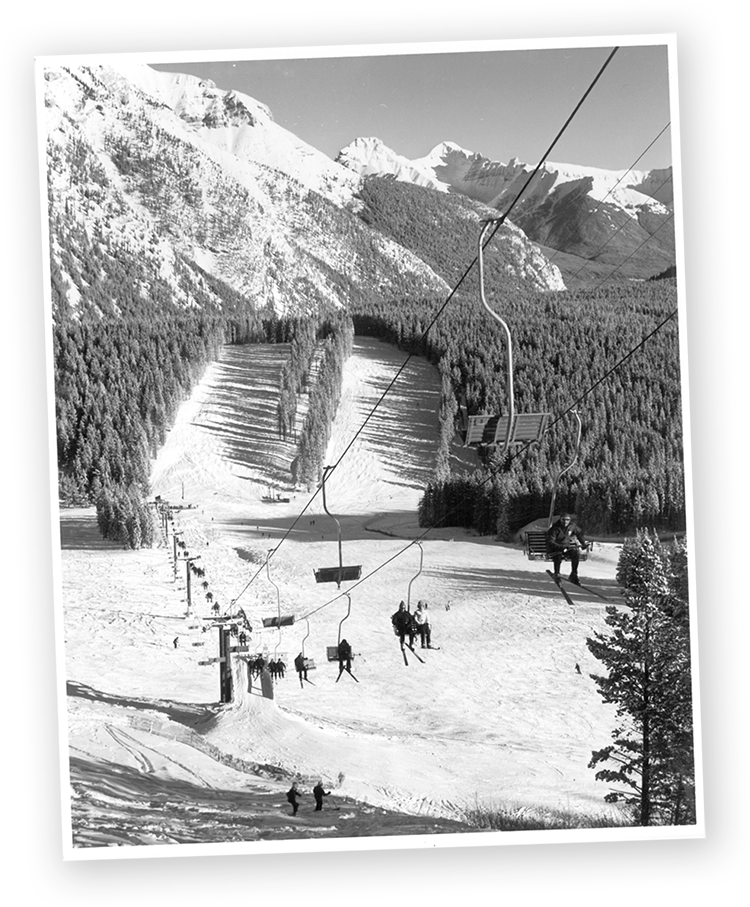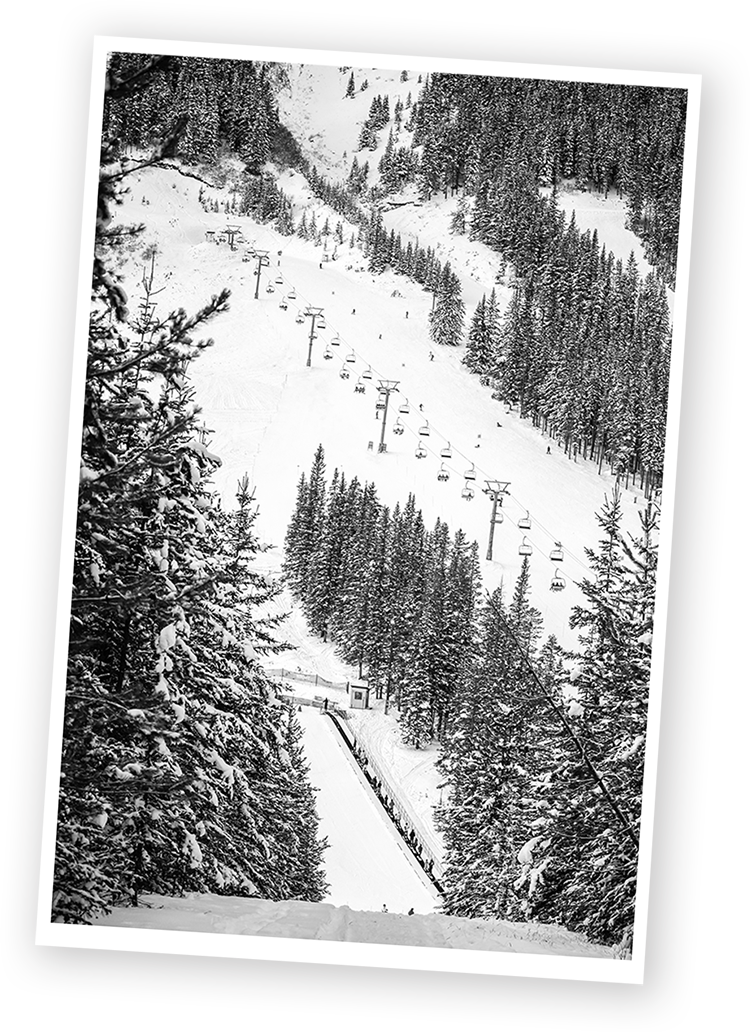 In spring 2015, the Big Chair underwent a full renovation, including new communications lines, drive system, and motor and breaking system. "Since these upgrades, it's connected to the internet, and we have dedicated mechanics monitoring it all season. We worked with an engineer specialised in ski lifts to increase its speed, to suit what we need it to do now. It's a pulse-lift, so it slows down to allow foot traffic to board. It's more accessible for more visitors, year-round," says Quenneville.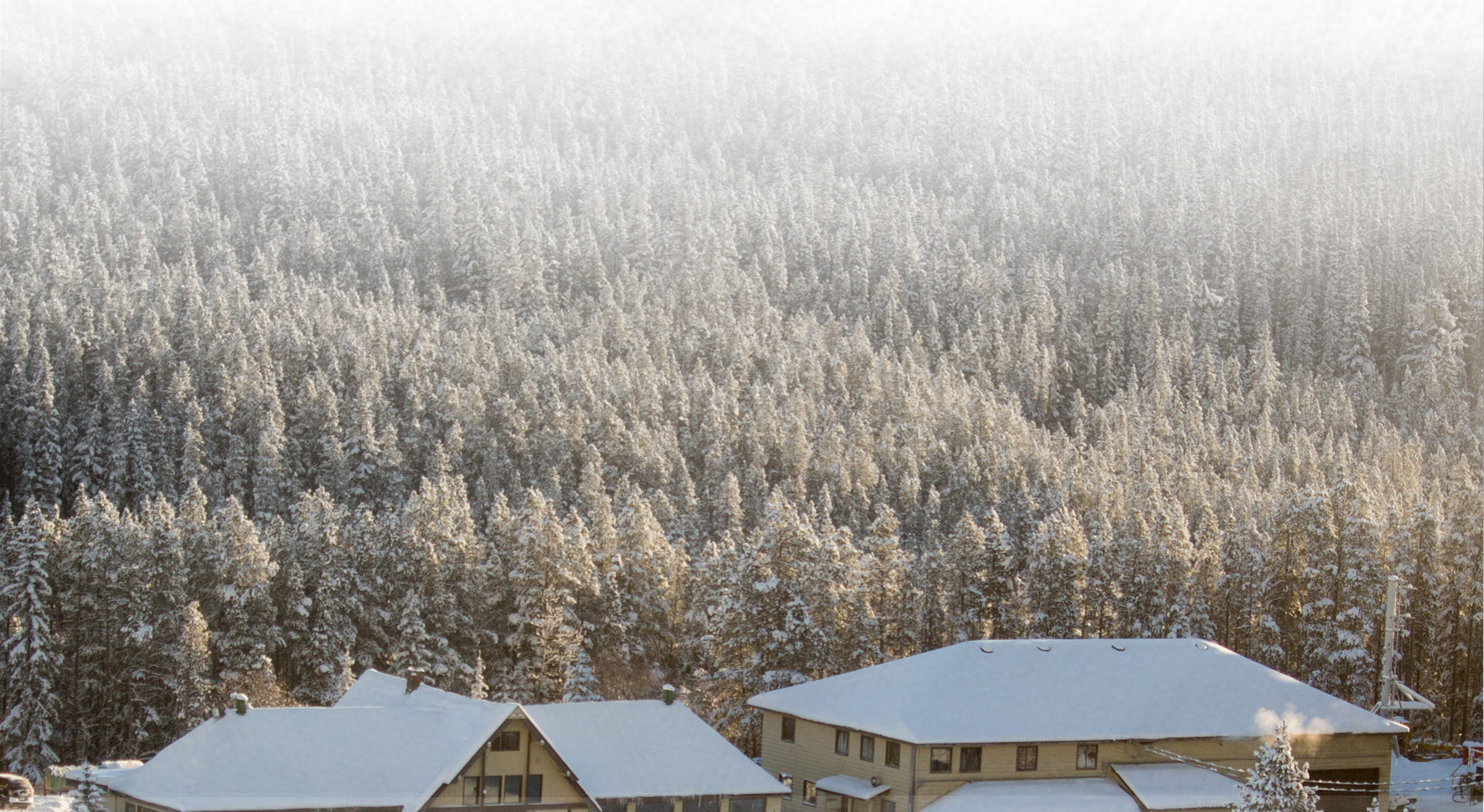 Since 2013, Norquay's investments to maintain and modernize the Big Chair totalled over $800,000. What's more, some components are rare and hard to replace. "This one Swiss company builds about 80 per cent of the world's gearboxes for ski lifts. Luckily, last time we needed a rare part, they had exactly what we needed, somewhere on a shelf in Europe—but they had to go to their oldest warehouse." Although lift disruptions are frustrating, Quenneville says the team views the Big Chair as a labour of love—and part of Norquay's character. "It's like a classic car—a wonderful piece of history. The most important thing is that it's safe and reliable."
As of winter 2018/19, Norquay has one high-speed quad chairlift (Mystic), two quad chairlifts (Spirit and Cascade), one double chairlift (Big Chair), and two surface lifts—a total lift capacity of 7,000 people per hour. Across 190 acres, skiers and riders can discover 60 runs. To this day, Norquay continues to honor its roots in ski racing, close ties with the local community, and hosting role for a number of iconic events, such as the annual Bruno Engler Race—Canada's longest-running ski race, which marked its 52nd year in 2018.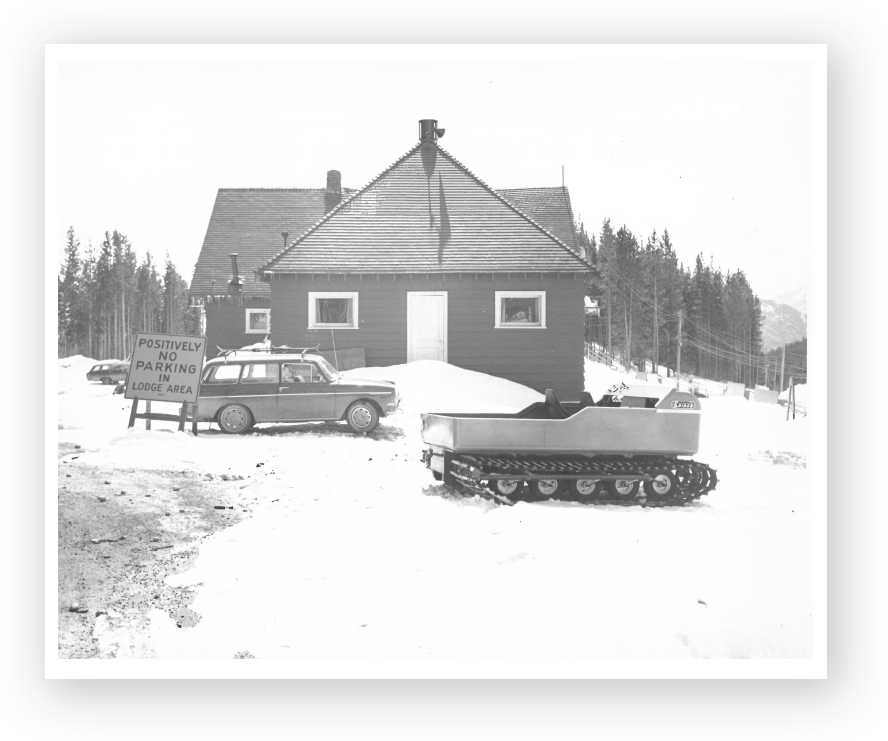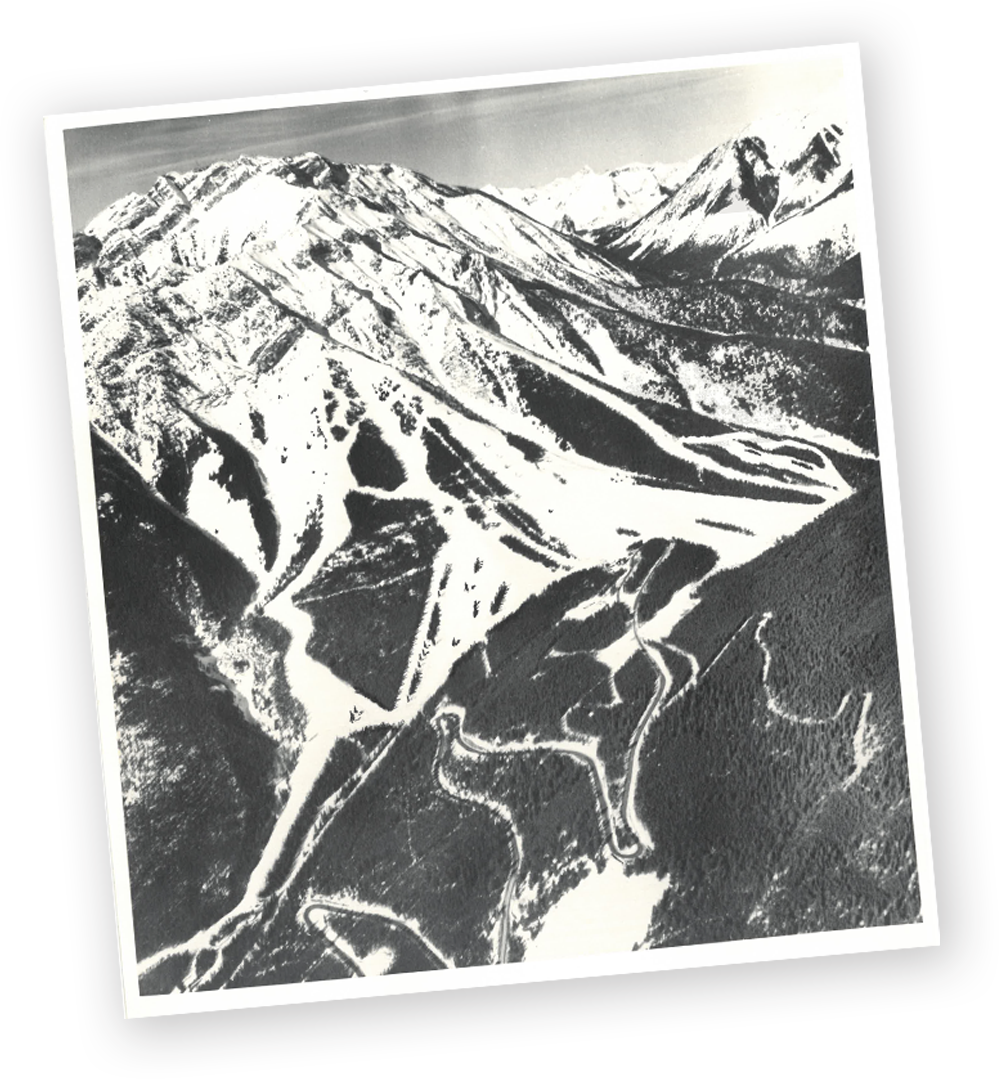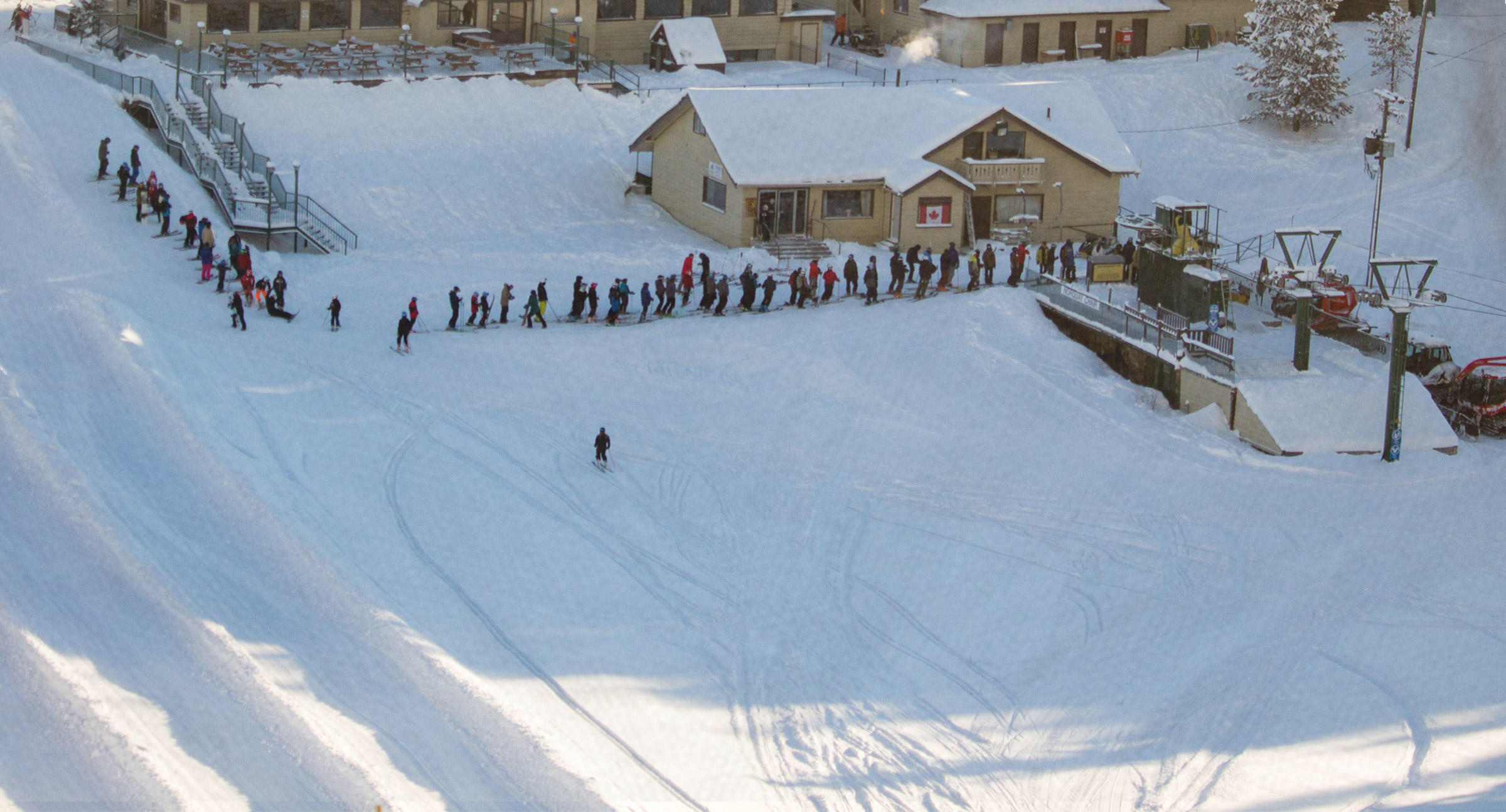 Another notable event is Norquay's Mountain Smoker Race, which was first held from the late 1970s to early 1980s and returned from 2006 until 2014. Within three hours, adventurous skiers raced to complete the most laps of the Lone Pine run. Accessed via the Big Chair, this notoriously steep leg-burner was one of the first runs in North America to receive a double black diamond designation—a challenge for even the most experienced skiers. To this day, Bob Rankin still holds the record of 24 laps. In 2007, Eddie Hunter completed 16 runs—at the incredible age of 81. Nowadays, anyone can take the challenge and be awarded a Lone Pine trail pin, with platinum, gold, silver, and bronze up for grabs. Each season, young athletes from Banff Alpine Racers also complete the Big Chair Challenge, competing for the most runs in one day.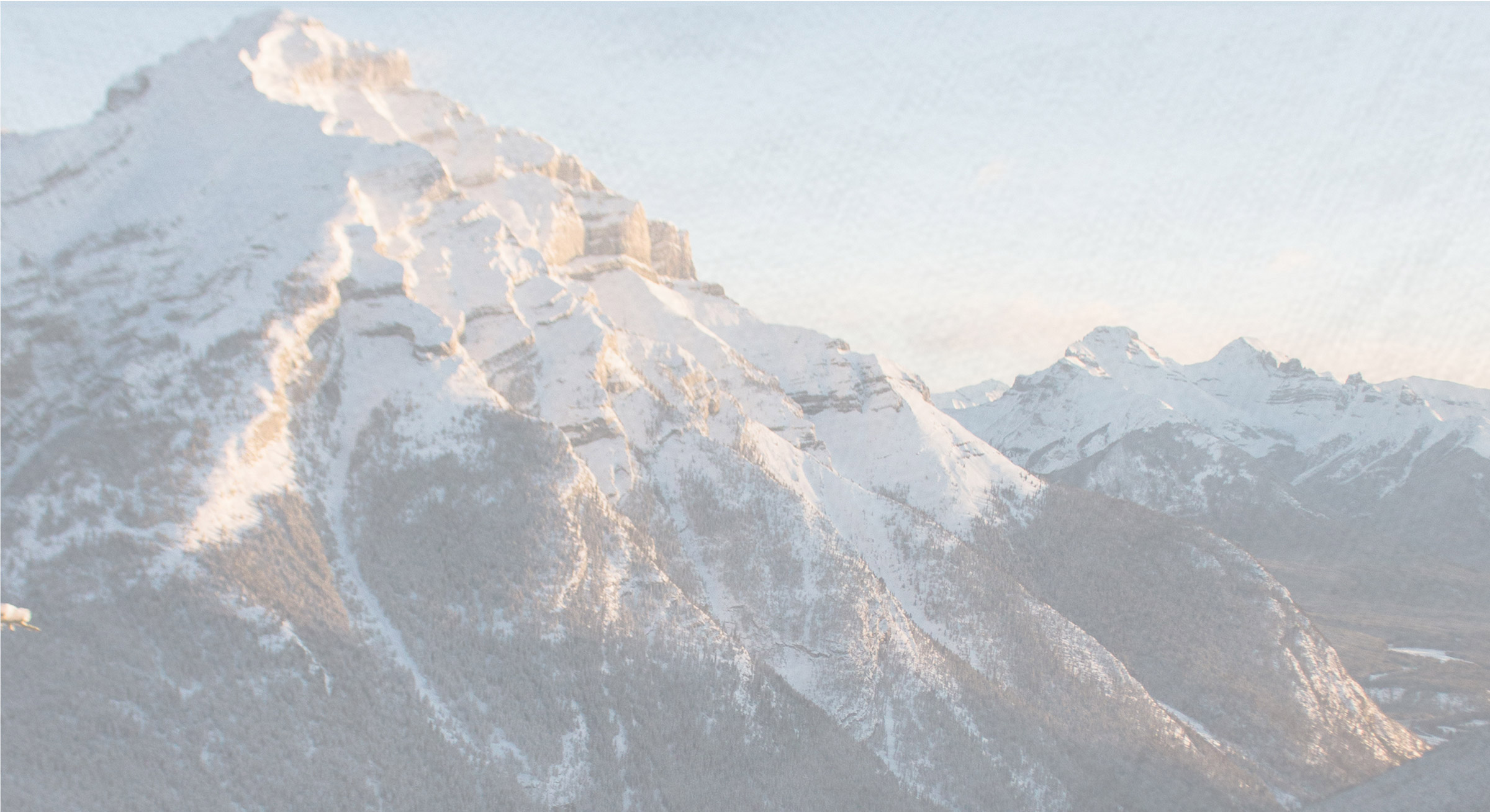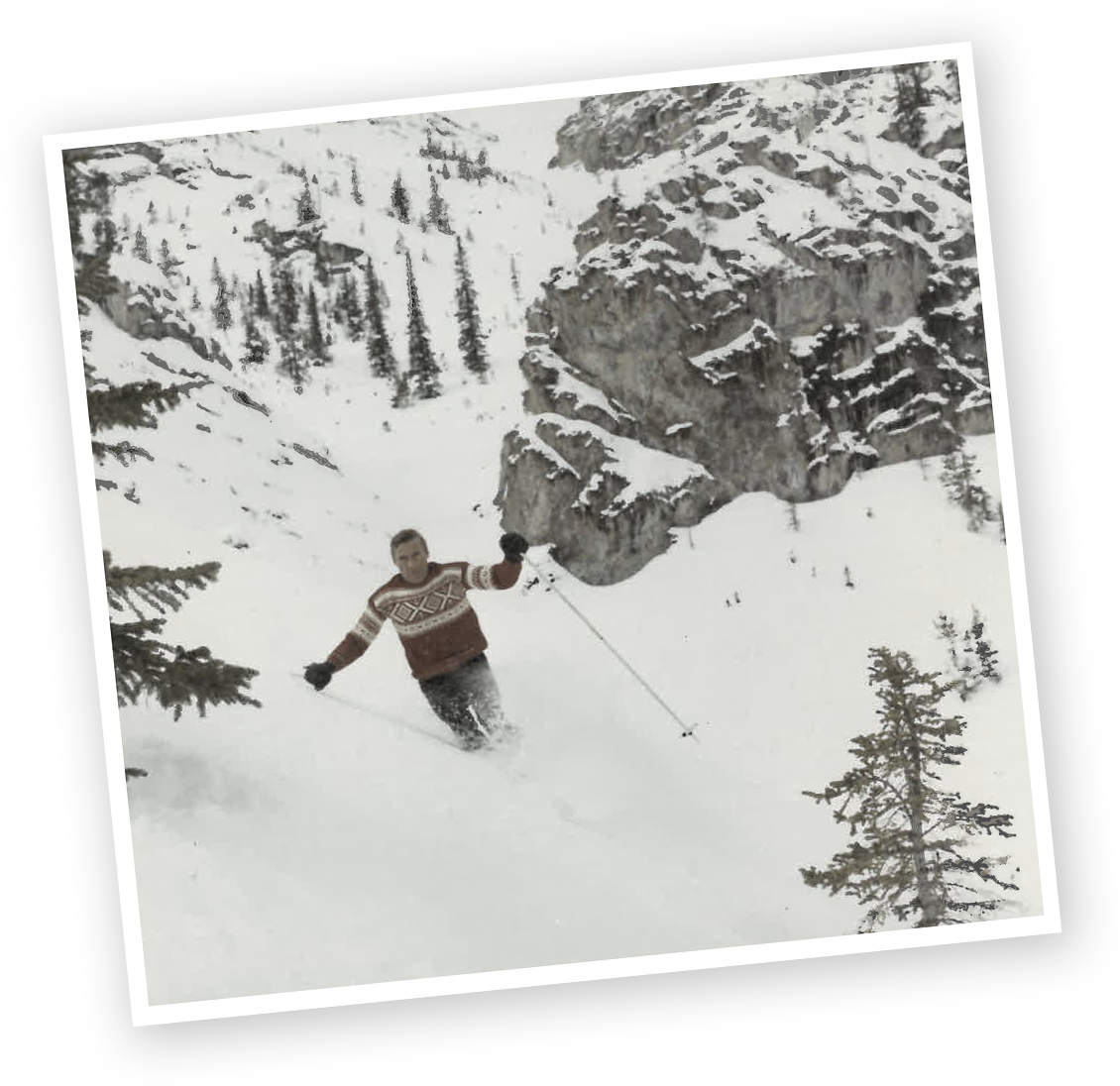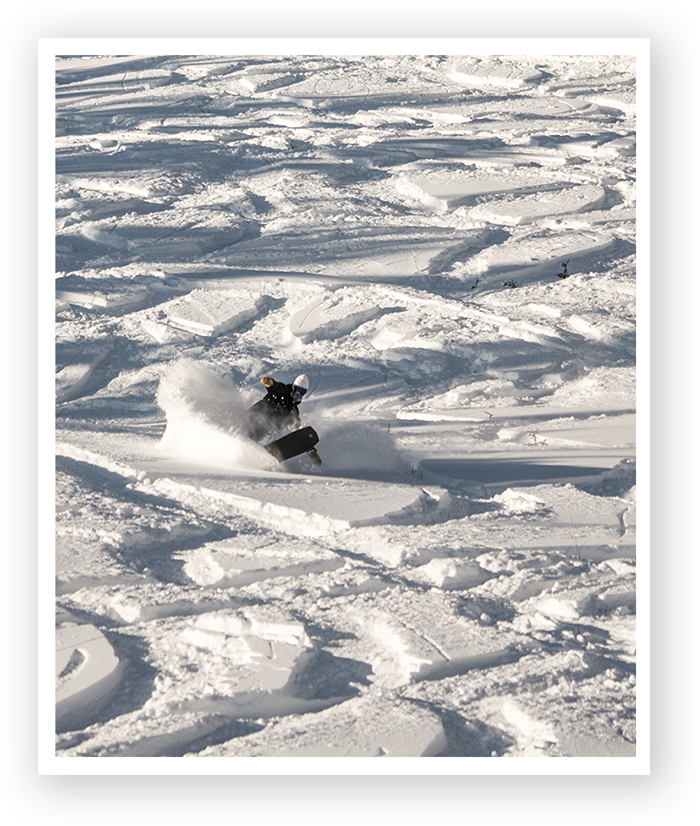 Continued investment in the Big Chair has opened up a whole part of the mountain, and Norquay's last decade has heralded more exciting changes. In winter 2009/10, the Norquay management team at the time, opened the Tube Park, the first of its kind in the Rockies, and expanded summertime access to focus on sightseeing and weddings. Sightseers can also ride to the top of the Big Chair for alpine-inspired dining at the Cliffhouse Bistro, once again. Previously closed since the 1980s, the iconic teahouse was reopened in 2012, renovated in 2014, and today hosts Starlight Dinner special events each winter. Norquay's Via Ferrata climbing experiences also launched in 2014, taking adventurers aboard the Big Chair, before a hands-on adventure via ladders, iron rungs, and suspension bridges to the mountain's most stunning scenery.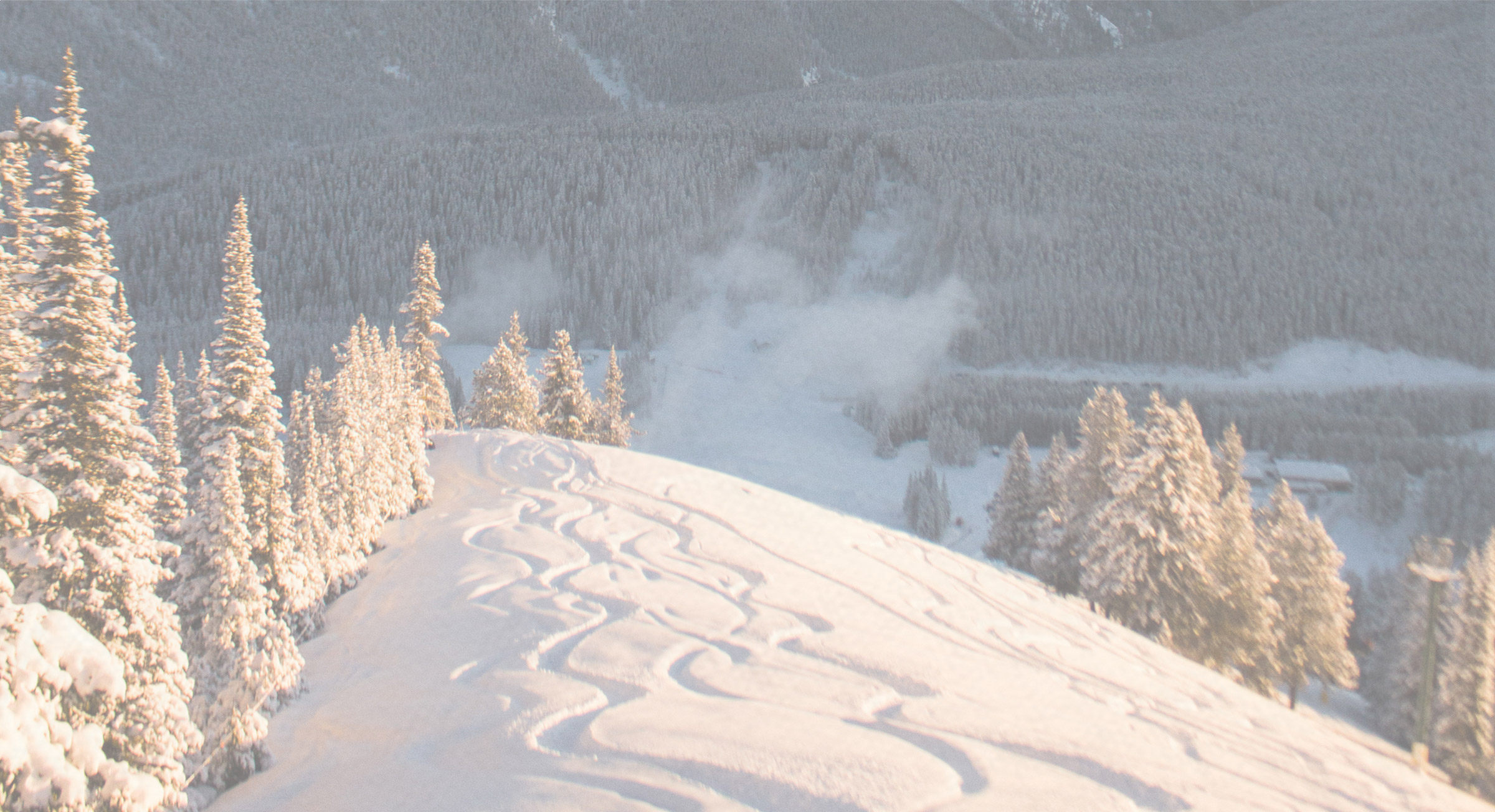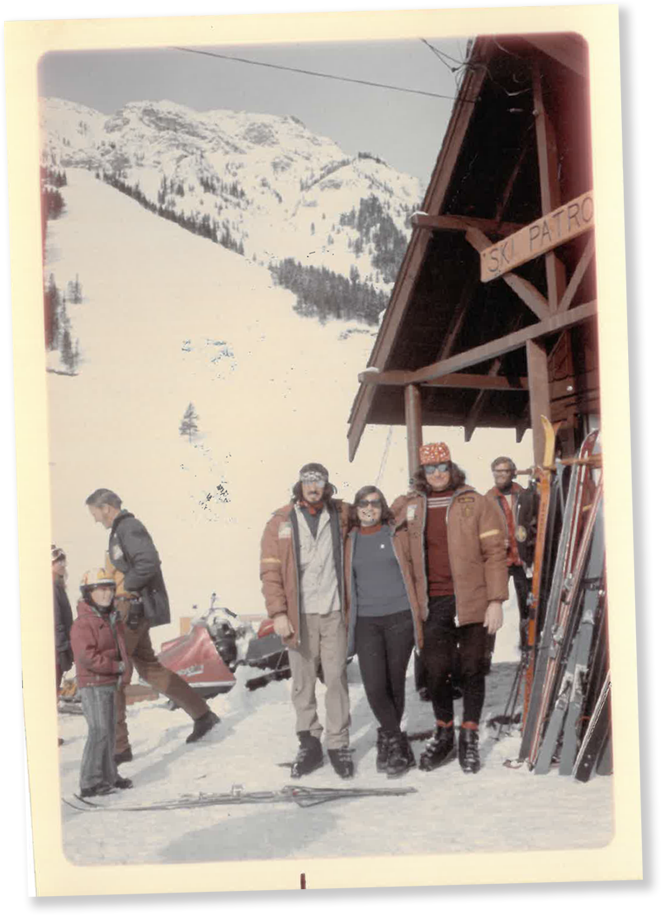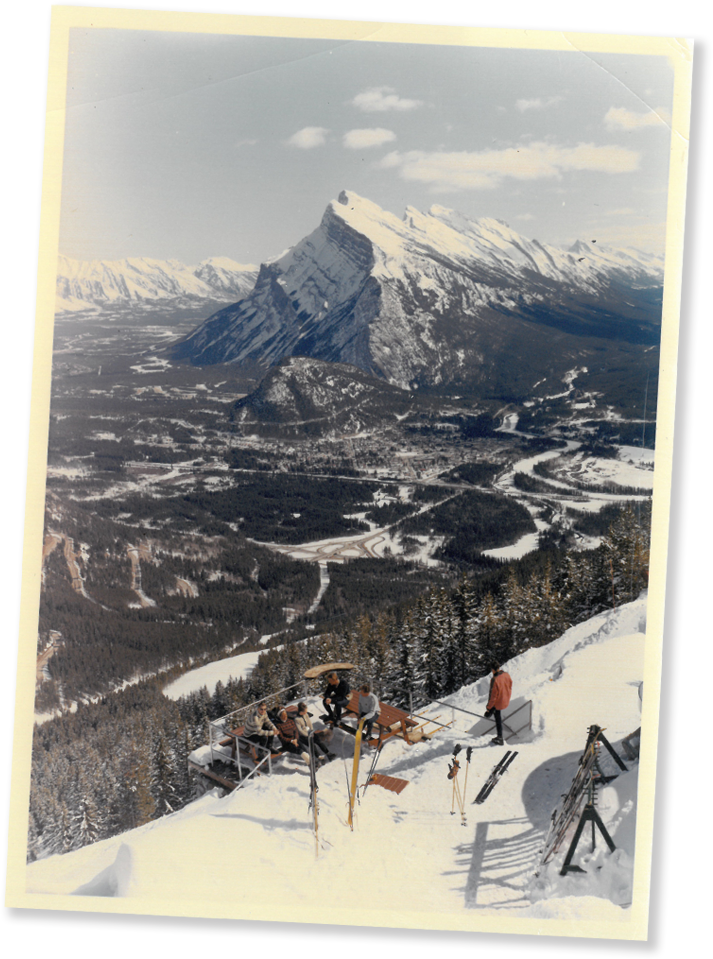 Young and old, countless skiers have braved Big Chair terrain since 1948—and there are many stories of four-year-olds skiing it by themselves. "Once you've skied Big Chair terrain, you can pretty much ski anything, anywhere," Quenneville says. "It's your step up in skiing—a rite of passage." From the snowy depths of winter to the sunny heights of summer, the Big Chair continues to provide unparalleled access to some of the most unique terrain and viewpoints in Banff National Park. Although it continues to evolve from its humble single-seat beginnings, it will remain a symbol of Rockies ski culture for years to come. So, here's to many more breathtaking Norquay moments above the clouds—and cheers to another great season.
Get the inside scoop on Norquay deals, news and events