Via Ferrata
Give in to the ultimate adventure
Please read about the changes and steps we have taken to ensure an amazing experience while keeping everyone at Norquay safe during the COVID-19 pandemic.
$185
2 – 2.5 hour round trip | 1km distance
Spend some time with your guide, get introduced to the equipment, head up a few pitches and cross the suspension bridge. This is a great choice for those who are slightly limited on time or looking for an introduction to Via Ferrata.
*Minimum 12 years of age and minimum 40 kg (88 lbs)
$240
3.5 – 4 hour round trip | 1.4km distance
To get a greater feel for heights, exposure and the full Via Ferrata experience, become a Ridgewalker! This half-day excursion takes you high up on the Norquay cliffs, climbing the Memorial, Sunrise and Vista buttresses – and of course, traversing the suspension bridge.
*Minimum 12 years of age and minimum 40 kg (88 lbs)
$270
4 – 4.5 hour round trip | 1.9km distance
Alpinists are continuously on the move. This 4-4.5 hr via ferrata tour takes in all that the popular Ridgewalker tour offers but continues out, and along the ridge to the epic Norquay "Panoramadome", then follows the scenic narrow crest of the mountain for 600m. Expect continuous moderate to strenuous exertion on this itinerary, with brief breaks.
*Minimum 14 years of age and minimum 40 kg (88 lbs)
$295
4.5 – 5 hour round trip | 2.5km distance
The Skyline includes an exciting high traverse on a sheer rock wall and crosses an "airy" 55m suspension bridge. Your effort is amply rewarded at the top, with outstanding panoramic views where the Rocky Mountains stretch out in every direction. With Banff as a backdrop over 1000 metres below, enjoy the uber-scenic ridge-crest descent as it leads you back to the Cliffhouse Bistro to celebrate your mountaineering accomplishments.
*Minimum 14 years of age and minimum 40 kg (88 lbs)
$370
5.5 – 6 hour round trip | 3.2km distance
The Summiteer tops out at the highest point of Norquay's via ferrata. A continuation of the Skyline route, this 6-hour adventure traverses the alpine ridge and crosses an additional three-wire suspension bridge over an impressive couloir. Be awed by the breathtaking 360-degree views of the Canadian Rockies as you enjoy a well-earned (and included) lunch on the East Summit of Mt Norquay. After your tour, unwind and share in the stoke at the Cliffhouse Bistro with a beverage and appetizers – also included in your tour.
*Minimum 14 years of age and minimum 40 kg (88 lbs)
$460
Up to 8 hour round trip | 3.7km distance
Mountaineers spend up to 8 hours on the via ferrata covering over 3km's of distance and nearly 500m of vertical gain, exploring the entire length of the mountain crest between the SE and NE summits. The longest tour, it includes all of Norquay's via ferrata routes into one big day! Be prepared for moderate exertion all day with picturesque rest stops and an included lunch up on the mountain. Finish your tour with a well-deserved (included) beverage and après at the Cliffhouse Bistro.
*Minimum 14 years of age and minimum 40 kg (88 lbs)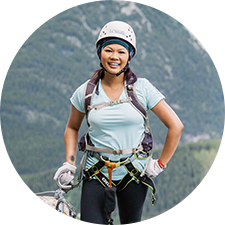 #1 rated Banff activity on TripAdvisor
"I have to be honest, when I got there I did not think I was going to be able to do it and I'm so glad I did. It was one of the best experiences of my life!"
Get the inside scoop on Norquay deals, news and events