Hiking
Explore some of Banff's best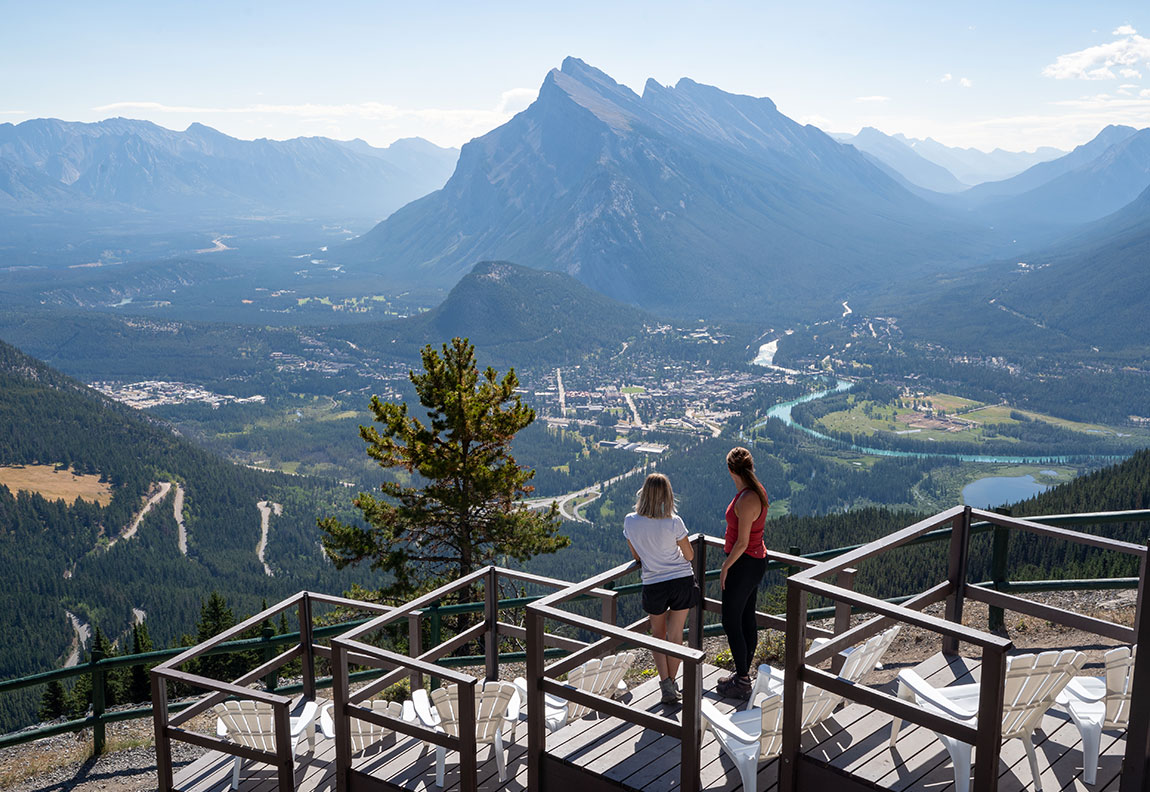 The gateway to some of Banff's most iconic trails.
Norquay is an exciting destination to explore on foot in summer.
Journey through sub-alpine forest, next to waters of glacier-fed streams and under iconic peaks. Breakaway from the crowds and immerse yourself in an authentic Banff National Park experience. Get ready to discover a whole new world.
Distance: 4.2 km return | Elevation Gain: 190m | Time Required: 2 hours | Difficulty: Moderate | Trailhead: Norquay main car park
Hike through a beautiful lodgepole pine and spruce tree forest for a unique view of Cascade Mountain, and peaks of the Fairholme Range. During the ascent, hikers will enjoy unique views of Banff, Vermilion Lakes and surrounding mountain ranges. This trail is also popular for mountain biking.
Distance: 15.4 km return | Elevation Gain: 640m | Time Required: 4-6 hours | Difficulty: Moderate | Trailhead: Norquay main car park
The hike begins at the Mt. Norquay ski area, crosses a bridge over Forty Mile Creek, and then zigzags its way through the dense forest to Cascade Amphitheatre. As you emerge into the amphitheatre, impressively enclosed by limestone cliffs, keep your eyes out for wildflowers.
Optional: With adequate preparation, experienced hikers can take their Cascade Amphitheatre journey even further, taking a full day trip to tackle the summit of Cascade Mountain. This challenging journey involves both hiking and scrambling to reach the summit, 9,836 feet above sea level.
If reaching the top appeals to your group, we strongly recommend visiting the Parks Canada Information Centre in downtown Banff, and viewing this guide for important safety information:
Tips For Hiking in Banff National Park
Make the most of your hiking trip. Please follow these tips to stay safe and help us protect our delicate alpine ecosystem.
Never hike alone.
Be prepared. Mountain weather changes frequently and suddenly, so carry extra clothing, including a rain jacket.
Check the weather forecast before your hike. Do not hike during thunderstorms.
Carry water, food, hat, sunglasses, sunscreen, a watch.
Observe all area closures. Stay on marked trails to prevent damage to the delicate alpine ecosystem.
Steep slopes, snow and ice fields are very dangerous. You may encounter various hazards such as cliffs, glaciers, crevasses, rock falls, avalanches and unstable surfaces.
Treat all wildlife with caution. Never feed or approach any wildlife, especially predators such as bears.
Carry bear spray while hiking. Although bear encounters are rare, we recommend carrying bear spray as a precaution. Bear spray is available for purchase at the North American Lodge at Norquay.
As the saying goes, please leave nothing but footprints. Do not leave any litter behind, and do not remove any plants or rocks.
Fires and camping are not permitted.
We love our beautiful home in the heart of Banff National Park, and we aim to protect the habitat and wildlife that makes your visit so special.
This is why we provide a free, return, shuttle bus service from Banff for Norquay guests, and hikers looking to explore the trailheads around the ski resort. No need to book a seat, just hop on at one of our pick-up locations around Banff – and you're on your way to Norquay!
Get the inside scoop on Norquay deals, news and events