How it Works
No climbing experience necessary
Take Adventure to New Heights
Norquay's Via Ferrata is designed to accommodate beginners seeking a taste of the alpine, as well as folks who already have a little alpine experience. No climbing knowledge is needed – just a basic level of physical fitness, and a big sense of adventure.
The classic Edelrid helmet is made of tough polyethylene and provides great ventilation. There's a choice of colors to match your outfit.
Two Iron Cruiser carabiners with slide-down locking sleeves that can be operated with one hand. The Energy Absorption System limits load impact in case of a fall. Extendable, bungee-style lanyards with webbing loop, attaches directly to the harness.
An economical, complete lanyard protection system for Via Ferrata, the Iron Cruiser set will efficiently protect you out in the vertical.
The steel cable can hold 40,000kg – that's equivalent to 80 moose or 200 male grizzly bears. The cable is secured to the mountain with 12cm thick stainless steel anchors; each drilled 15 cm into the rock.
Placed strategically along the iron path are a series of rungs and other tangible objects to help you climb to new heights.
Proper, covered outdoor footwear with a good grip is required to enjoy the Via Ferrata. Our exceptional fleet of Lowa hiking boots are available for our climbers' use from the North American Lodge, at no extra charge.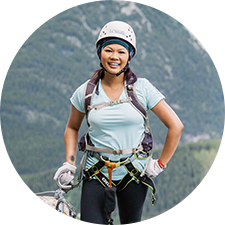 #1 rated Banff activity on TripAdvisor
"I have to be honest, when I got there I did not think I was going to be able to do it and I'm so glad I did. It was one of the best experiences of my life!"
Get the inside scoop on Norquay deals, news and events