Starlight Dinners at the Cliffhouse Bistro
March 16, 2024 @ 5:45 pm

-

10:30 pm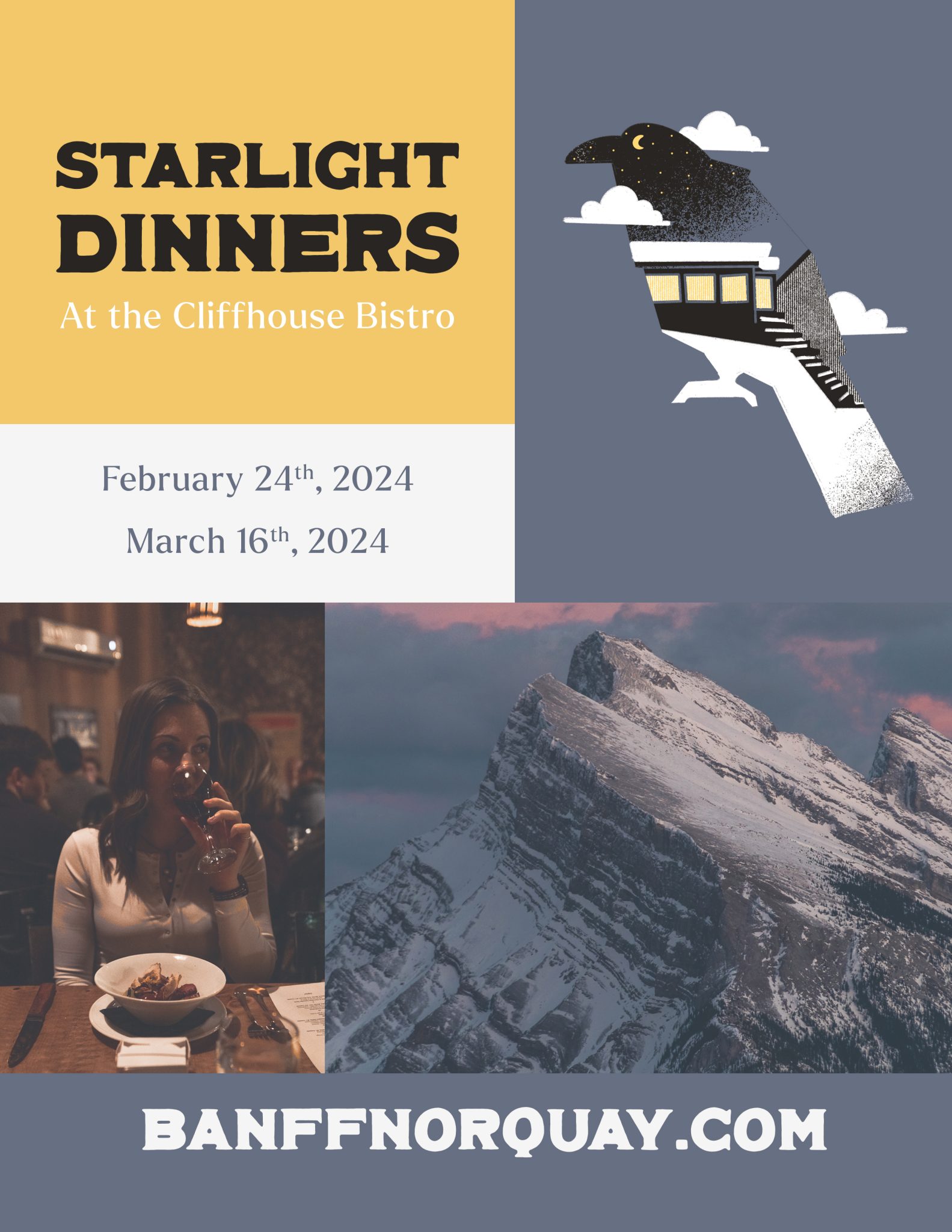 Cliffhouse Starlight Dinner
Date: 16th March
Join us for an evening of enchanting views and decadent Chef creations
Your starlit experience begins with a ride on the North American chairlift to our iconic 1950s teahouse, the Cliffhouse Bistro. Warm up by the fire, socialize with fellow guests, and indulge in a menu that is sure to impress. When the evening comes to a close, the North American chair will take you back towards the soft glow of town below, leaving you with memories you won't soon forget.
Step into an evening of pure enchantment and culinary delight at 7,000 ft. Your journey begins with a scenic ride on the North American chairlift to the Cliffhouse Bistro—our iconic 1950s teahouse. As you ascend, the starlit sky becomes your canvas, setting the stage for an extraordinary night ahead. Upon arrival, you'll be welcomed by the inviting warmth of a crackling fire, setting the perfect stage for an evening of engaging conversations with fellow guests. As you enjoy the ambiance, you'll savor a meticulously designed menu crafted to captivate both your palate and senses. As the night winds down, you'll hop on the North American chairlift again, and marvel at the stars and the lights of the town. This is an experience you'll cherish for a long time.
Date: 16th March 2024
Price: $220.00 per person includes a 5-course dinner with pairings and your trip up Norquay's Sightseeing Chairlift. The menu to be announced.
Where to park: If you are driving you can park in P3 (third parking lot on the left, follow the signs to the Tube Park) and it's a short walk up to the North American Lodge.
Don't want to drive? If you would like to take our complimentary shuttle service, please find times and locations here. The last bus departing Norquay is at 10:30pm, we ask that if you do need to catch that bus, to let your server know so we can pace service accordingly.
When you arrive: On arrival you'll need to check in at the North American Lodge and grab your ticket for the Sightseeing Chair.
Time: The Cliffhouse will be open and ready for your arrival at 6:00pm, please feel free to join us then to take in the views. Dinner will be served at 6:30pm so please plan to arrive by then.
Dietary Issues: When you make your booking, please let us know if you have any allergies or dietary restrictions so we can plan any alterations to the menu to accommodate your needs.
Get the inside scoop on Norquay deals, news and events