Behind the Beer: Introducing the Norquay 94 + Ride or Dry by Banff Ave Brewing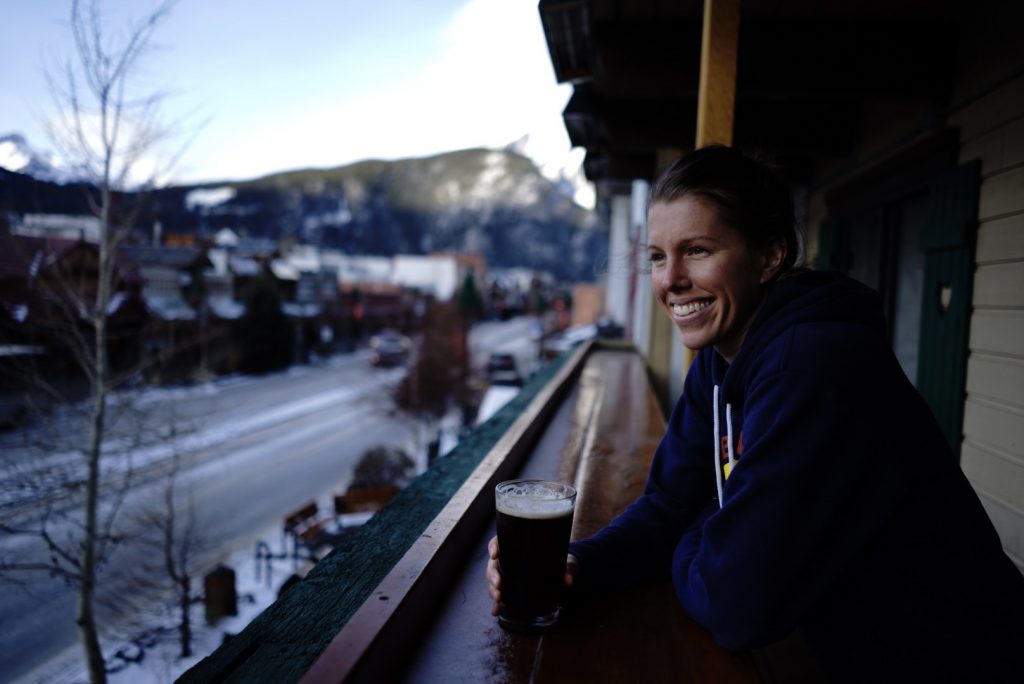 This winter, you're invited to fall in love with not one, but two, new on-tap après-ski options – thanks to locals' favourite, Banff Ave Brewing Co (as long as you're of legal drinking age, of course).
We recently caught up with Head Brewer Miranda Batterink to get the inside scoop on this year's special-for-Norquay brew, the 'Norquay 94', as well as the new Banff Ave 'Ride or Dry'.
First up, the Norquay 94: Your new favourite midday warm-up beer.
Keeping with the tradition that started for Norquay's 90th season, Miranda and the team at Banff Ave have once again produced a brand new, pairs-perfectly-with-skiing, special-for-Norquay brew in the name of winter stoke.
"This year, we wanted to create something that was warming and wintery, while still easy drinking and palatable. It's the kind of beer you won't think about all summer, but when that first snowfall hits, you just have to have it," explains Miranda.
To brew this winter winner, the team brought in honey malt (a unique malt that gives off distinct honey characteristics), then added in some real honey along with lots of rich chocolate and brown malt. The end result being a full-bodied flavour that gives off the perception of sweetness without actually being sweet. Think rich, malty tones, toasted chocolate, a hint of caramel, with an ode to honey. Are you drooling yet?
Although most wintery, malty beers are associated with higher levels of alcohol, it's worth noting the Norquay 94 sits at a nice and respectful 5.2%.
"You know when you're not quite done with the mountain yet, but need an hour to warm up? That's where the warming factor of the Norquay 94 comes into play. You can hangout, enjoy a drink, then head back out to take on the afternoon, safely and responsibly."
As if the Norquay 94 wasn't exciting enough already, also new to the Norquay menu this year is another delicious brewery concoction… the Banff Ave 'Ride or Dry'.
"We wanted to create something that was a true representation of Banff – locally made, nothing crazy, just a tried and true local product," says Miranda.
"The Ride or Dry is an incredibly approachable, year-round, anytime beer that's always a good fit, whether you've just come from a day of riding on your bike or your board."
When compared to the Norquay 94, Miranda explains that the Ride or Dry lives on the opposite end of the beer spectrum as a super dry pilsner.
"We used Nelson Sauvin hops from New Zealand which adds tropical, white wine characteristics. And because the Ride or Dry has a thinner and lighter body, those white grape flavours really come out. It has a bit of a malty profile, too, but it's more light bready notes instead of the roast honey you find with the Norquay 94."
Both the Norquay 94 and Ride or Dry can be found at Banff Ave Brewing Co., on tap here at Norquay (visit us at the Lone Pine Pub or Cascade Lodge), or at a select number of local restaurants and bars.
Supporting local never tasted so good!