All the Ways to Après this Winter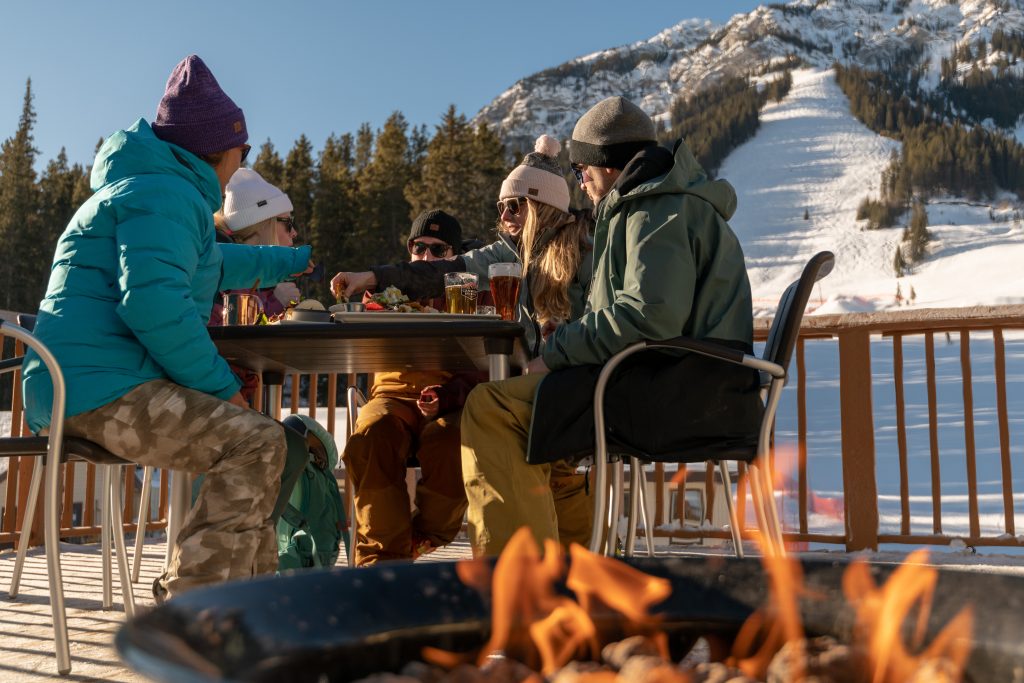 One of the best parts of a ski day is enjoying a well-deserved bite to eat and a hot (or cold) beverage after your last run.
Universally known as après ski, it's the defining moment when you slide out of your boots, take off your toque, and rest your weary ski legs.
Après ski comes in many forms, and here at Mt. Norquay, we're thrilled to cater to everyone's ideal version. From families to groups of friends, we bring you this definitive list of all the ways to embrace it this winter.
And don't forget to plan your day around our FREE shuttle bus service so you can safely and responsibly enjoy your après before heading back down to Banff.
1/ Lone Pine
When: Open 7 days a week, 11am – 5pm
The Lone Pine is our tried and true full-service après venue where settling in for a while is always recommended. Whether you're taking a mid-day break or are ready to call it a day over a lively pint, the Lone Pine's welcoming atmosphere is waiting for you 7 days a week. Looking to try something different? We've got plenty of craft brew options on tap, including the specially-created 'Norquay 94' from our friends at Banff Ave Brewing.
2/ Historic Cliff House Bistro
When: Open Friday to Sunday, 11am to 3pm starting December 20 [also open December 27 through January 5]
Who says you have to wait until the end of the day to enjoy a little après action? Take an afternoon break to refuel at our historic Cliff House Bistro, open Friday to Sunday from 11am to 3pm. Perched at a commanding 6,500 ft, this intimate venue not only offers incredible views over the town, but it also transports you back in time with its tasteful 1950's European chalet décor. Both the setting and the interior are complemented by a full roster of food and drink to sate your empty ski legs.
You should also note that the Cliff House Bistro is accessible to non-skiers, which means your friends or family members who don't want to rip a few runs can join you at the top of the mountain via a scenic ride on the North American Chair.
3/ Night Skiing and Après Ski Trivia
When: Night skiing for the 2019/20 season begins December 20
When the sun goes down on Fridays and Saturdays, the lifts start to turn for night skiing! Lap the Cascade chair, hit the park, or let first-timers try the bunny hill. Once you've had your fill, head to Cascade Lodge for supper.
For those over 18, we have Après Ski Trivia nights on January 25 and February 29 (8:30pm-9:30pm). Put your useless knowledge to the test after skiing under the stars with this tastefully competitive event in the Lone Pine. Transportation back to Banff is free on our shuttle bus, plus food and drink specials are available.
If you don't feel like skiing or snowboarding, you can take a spin in our popular snow tubing park! It's 8-lanes of fun for all ages, and no expertise required. Just sit in an inflatable tube and hold onto your hat as you spin your way down the specially carved slope.
4/ Après Ski Kids Crafter'noon
When: December 21, February 22, 4pm-5pm
Drop-off your kids and relish a blissful uninterrupted hour of après while we keep them busy with supervised crafts and games. We're talking felt, glue, sequins – the works! All you need to do when you collect them is 'ooh' and 'ahh' when they show you what they've made. Easy!
5/ Legends of Norquay, Fireside Chats
When: January 25, February 8, February 29
Join Banff legends around the Lone Pine fireplace this winter for refreshments and stories of Norquay's past, present, and future. Speakers include lifetime local skier and icon, Eddie Hunter, who will regale you with amusing tales steeped in ski history. Grab a drink and make yourself comfortable.
6/ Stay and Après Testing Sessions
When: January 11, February 1, April 11
Après ski meets breweries and distilleries. Join us in the Lone Pine for a series of informative tasting sessions of craft beer and spirits in this treat for the taste buds. This adults-only event is open to non-skiers and skiers alike; however, there are only 20 spots available for each date, so we highly recommend that you reserve your place for both the January and February sessions.
7/ Après Ski Events in Downtown Banff
When: Multiple dates this winter
Banff hosts many fantastic events throughout winter that are great for any member of your family. Catch our free shuttle bus to downtown Banff to events like the SnowDays Festival, January 15-26. Skate on outdoor ice rinks, view impressive snow sculptures, and (for the adults) indulge in some cocktail tasting. All are perfect pairings to your après ski plans.
View the complete list of Banff events, and see the full schedule for our free ski shuttle.
For a full list of everything happening here at Mt. Norquay this season, including demo days, a cardboard sled derby, rail jams, torchlight parade, Valentine's Day events, races and more visit our events page.