Laugh and learn on the lifts: Creative approach delights young skiers in Banff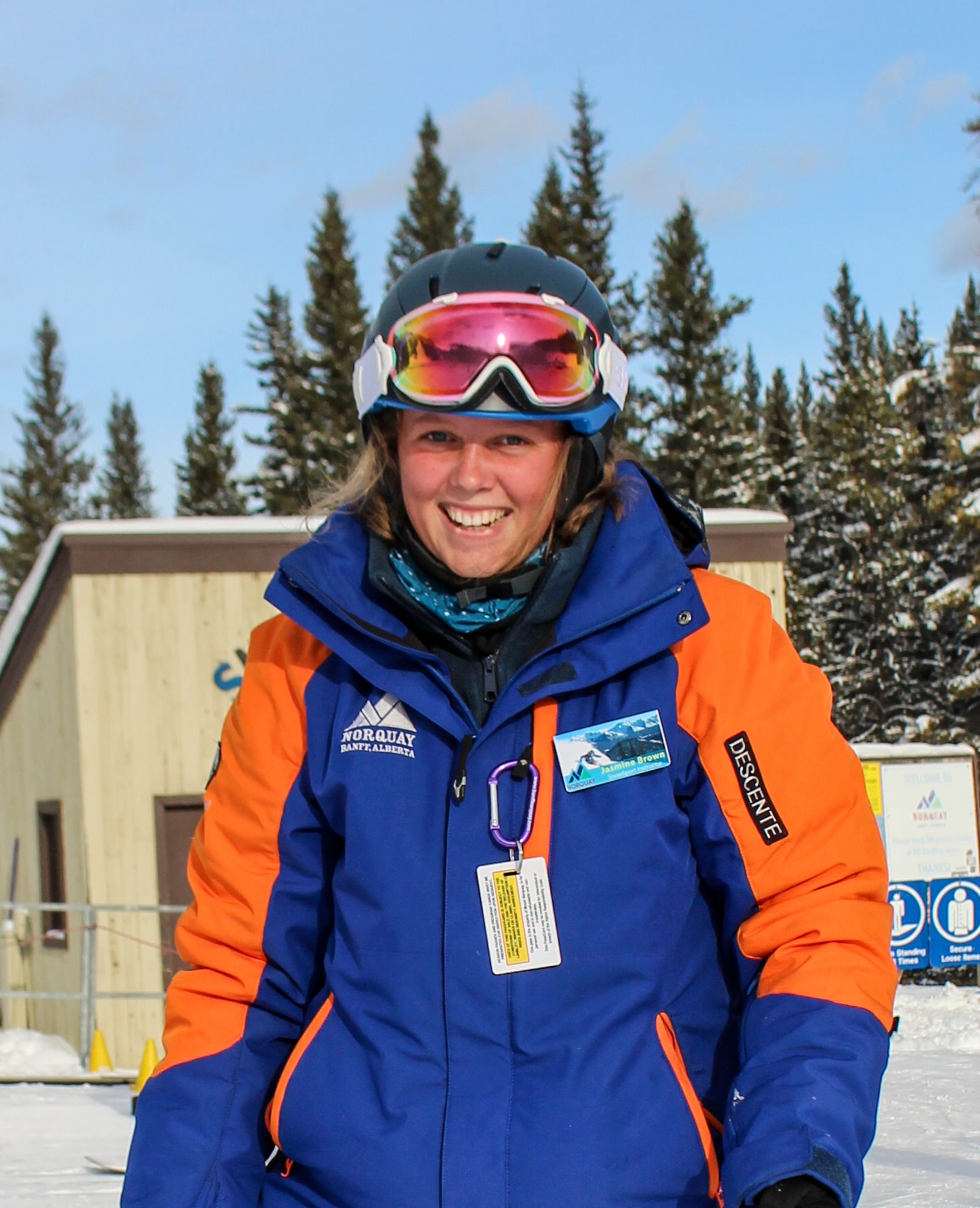 Laughter and learning go hand-in-hand – just ask Mt Norquay ski instructor Jasmine Brown.
After completing her instructor certification with Norquay's Snow School last year, Jasmine returned for her second ski season this week. And on her first day back on the hill, she marked a very happy reunion.
One of the very first students she taught last season was a three-year-old named Gillian, skiing for the first time. By chance, this year they shared their first day of the season, once again.
"It was a big coincidence – we were so excited! This year, she was keen from the start and grinned the whole time. Her parents asked if she wanted to take another lesson, and she said, 'Yes! I want Jasmine!', which was lovely to hear."
Specialising in kid's lessons, Jasmine is on a mission to make her lessons fun.
"Last year she took a while to feel comfortable, so we turned it into a game. Sometimes when she was putting on her mittens, her thumbs wouldn't go in the right places, so we skied around the mountain to 'find her thumbs'," Jasmine says.
Jasmine says her Norquay training improved her own skiing, and provided more techniques to engage with kids, such as tailoring unique games to each child – just like with Gillian.
"With one group last season, we played a game to get them turning. I found out that they loved Star Wars, so we'd pretend we were on another planet using light sabers. It was a lot of fun to hear the sound effects as we skied around the mountain," Jasmine says.
"Another group of kids hadn't skied before, and they were obsessed with dogs and huskies. So we used a wolf call throughout the lesson to let each other know where we were. They loved it, especially when we howled to each other on the chairlift."
For Jasmine, teaching small groups and enjoying one-on-one interactions with kids are highlights of her role.
"You need to build a bond so they trust you. When you're their friend, they will listen to you, so we ask questions to create games that they can relate to. They love the make-believe, so when you involve them in a story, they really get into it," she says.
Each year, the Gap Program is one way that Mt Norquay Snow School recruits high-calibre instructors, like Jasmine. It's an intensive instructor training course where participants work hard to achieve their certification, attend lessons while shadowing senior instructors, then lead their own lessons for the rest of the season.
"The program was brilliant. It was crazy how much they could help us change our skiing in just two weeks. And it's so rewarding to see how far the kids come in a single lesson – when they're having a great time, they want to keep skiing!"
Hailing from England, Jasmine joined the program to share her passion with others and experience winter adventure overseas. Like many visitors to Banff, she intended to stay one season, but felt called to return.
"I just fell in love with Banff and the teaching. Now, six of us have come back for a second season, living together after becoming really good friends."
Strong people skills and experience working with children are two of the most important factors that Norquay Snow School seeks from prospective instructors. Jasmine was a perfect fit, having volunteered as a student mentor with younger peers at while at high school, and helping her dad teach kids about horses during his work as a horse-riding instructor.
Hitting the slopes with her "ski-mad" family since she was three, Jasmine grew up skiing around the world – but she says Norquay will always have a very special place in her heart.
"I love Norquay because it has some really challenging terrain. Some of the blue runs on Spirit and Mystic would be classed as blacks in Europe, so I love testing myself here. The snow off the North American Chair is great, and the Mystic runs also have really good snow and are really fun to ski. Every time you go up on the first chairlift, it's an amazing feeling."
And what advice would Jasmine suggest for anyone who might feel apprehensive about booking a lesson, for their child or for themselves?
"We will help you feel confident. There's no pressure, it's tailored to your pace and your level, and at the end of the day it's all about having fun."
To book a lesson with Jasmine, or other passionate instructors at Norquay Snow School, or to find out more, visit norquay.com or phone 403-760-7716.