Trading One Plank for Two: My First Beginner Group Ski Lesson with Norquay's Ski School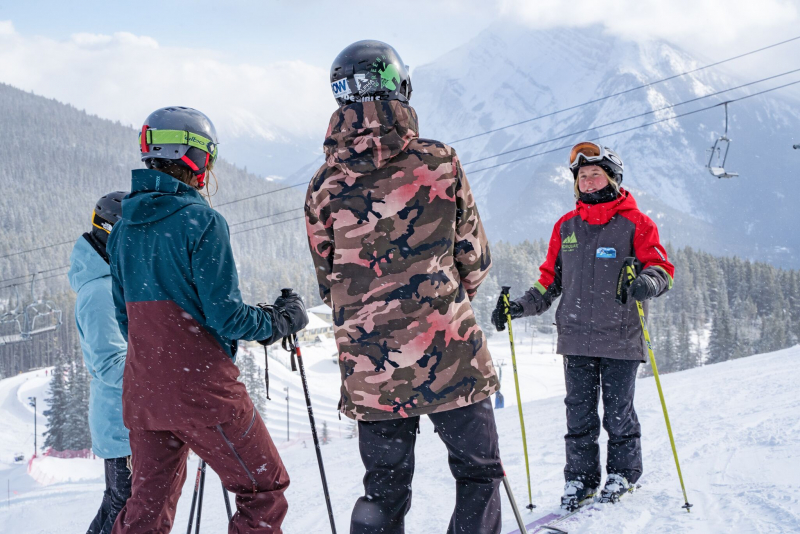 As a child, I happily threw myself into every athletic opportunity that came my way. There was soccer, volleyball, gymnastics, cross country skiing, snowboarding… just to name a few. I even admittedly went through a unicycling phase (story for a different day). But somehow among all the activities, downhill skiing slipped through the cracks.
Fast forward to today, and unfortunately that willingness and drive to try new things doesn't come as easily. There's less opportunities, less time, and slightly less leniency for being bad at things – the ground is now a lot further away, after all. But living in Banff means running into diehard skiers around every corner, and I couldn't help but wonder if I was missing out on something.
So, I put the excuses aside, gathered a girl gang of fellow snowboarders for support, and booked a beginner group ski lesson with Mt Norquay's Ski School. As a determined crew of five, we were ready to test out life with two planks instead of one.
While our experience levels varied from brand new beginner (me) to those who used to ski and just wanted to regain their confidence, the mountain stoke was high across the board.
After a speedy flow through the rental shop we met with Emily, our instructor for the morning. A friendly transplant from Ontario who grew up shredding the slopes of Mont Tremblant, Emily immediately put me at ease with her easy-going, start-right-from-the-beginning attitude. Any nerves I had disappeared, and that child-like excitement returned – I was ready to learn (and not be great) at something new again.
We began on a small slope to get the feel for skis under feet, before giving the bunny hill a go, which we shared with a two-year old in a puffy pink onesie. Yes, kiddos can start that young and yes, it was the cutest thing ever!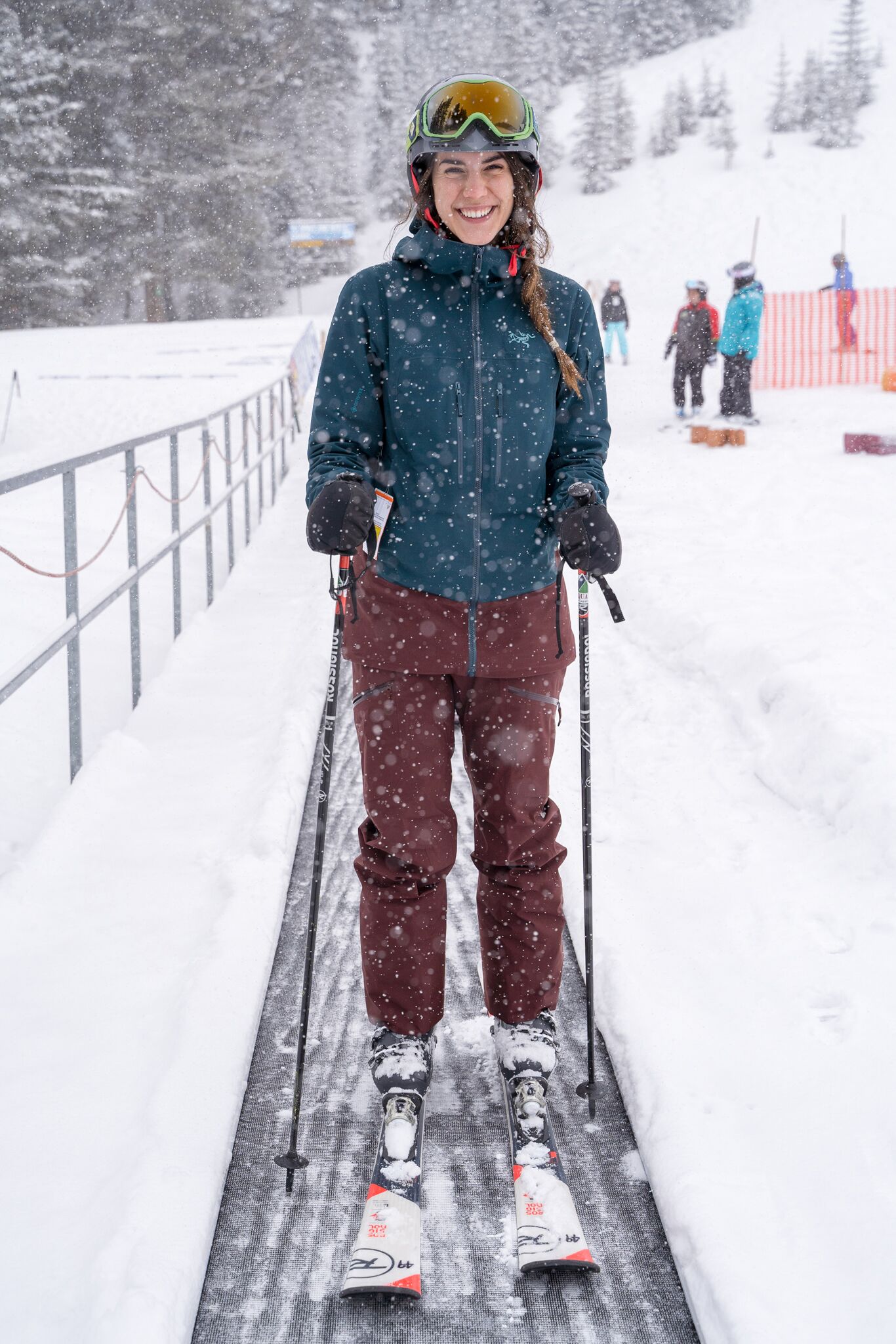 Even with our varying ski backgrounds, the lesson progressed at a perfect speed for both our personal goals and the overall group dynamic. While I had feared I would be the weak link holding everyone back, Emily personalized each exercise, so we all had something to work on at the appropriate level. From drawing quick diagrams in the snow to breaking down what our bodies should be doing and when, she was like a magical Goldilocks on skis, keeping everything paced just right.
Each tip and trick throughout the day added to my own confidence and understanding, allowing a fairly speedy transition to the Cascade and Spirit chairs for a couple green run laps to round out the morning.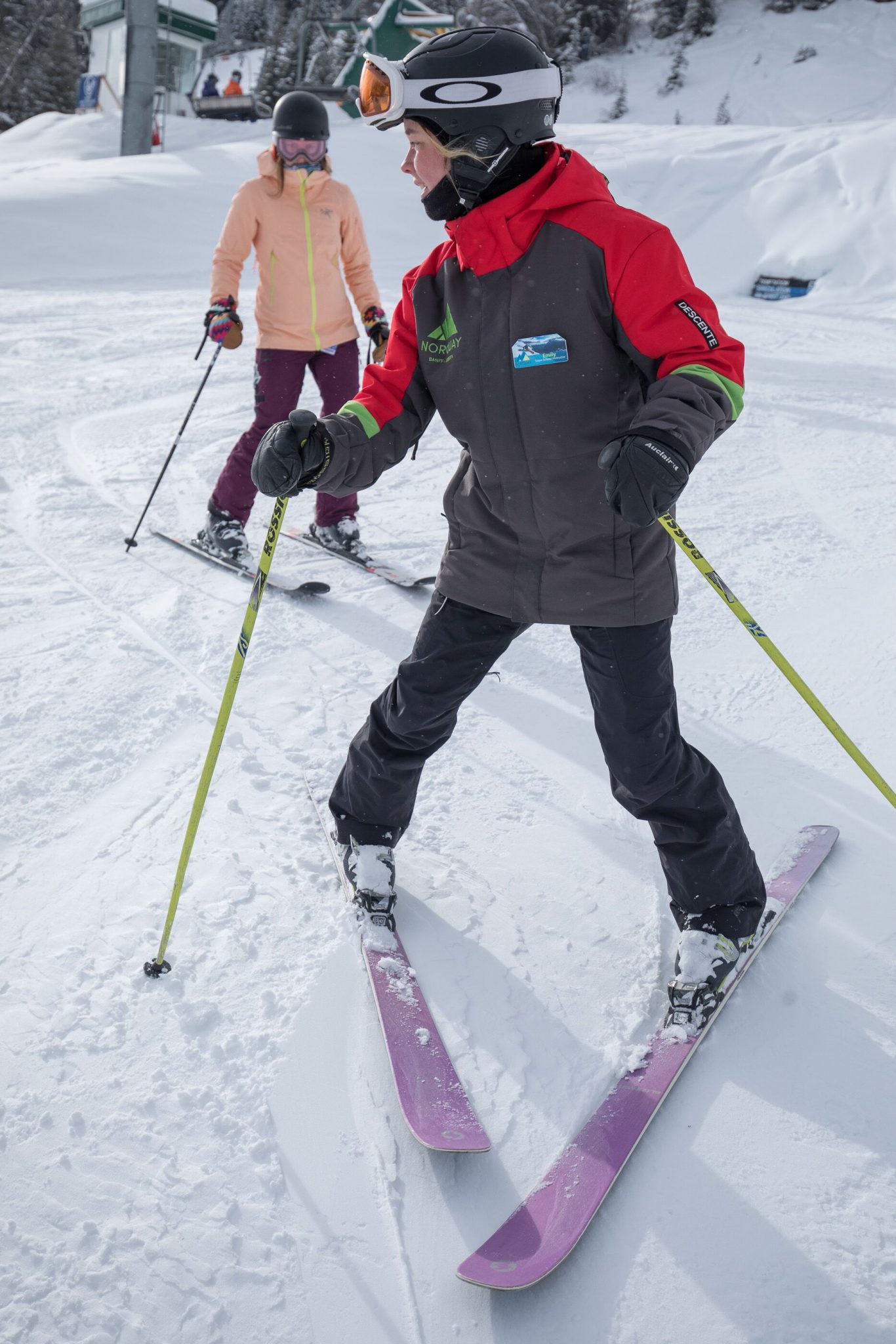 Embarking on this experience as a group allowed us to not only watch and learn from each other, but also share in all the little victories with an added element of fun. It also meant there was always someone to capture the glory moments, like my first turns beyond the Magic Carpet (sponsorships, here I come!) And at the end of the day, the biggest bonus was simply being able to share quality mountain time with quality people.
After the lesson, we experienced the joy of kicking off the ski boots – a feeling of both freedom and accomplishment – and settled in for some well-earned après-ski at the Lone Pine (like all professional skiers do) complete with hot chocolate and a tasty meal to match.
Feeling nicely refueled with good eats and big smiles still plastered on our faces, we headed back down to Banff, already excitedly planning our next day on skis.
If you've been thinking about transitioning from a snowboard to skis like us, or vice versa, a lesson is a great (and safe) place to take those first turns, establish a baseline, and progressively add to your mountain toolkit.
Start planning your lesson today: banffnorquay.com/winter-2/snow-school/
A big, big thank you to Norquay and their Snow School team! We'll definitely be back soon.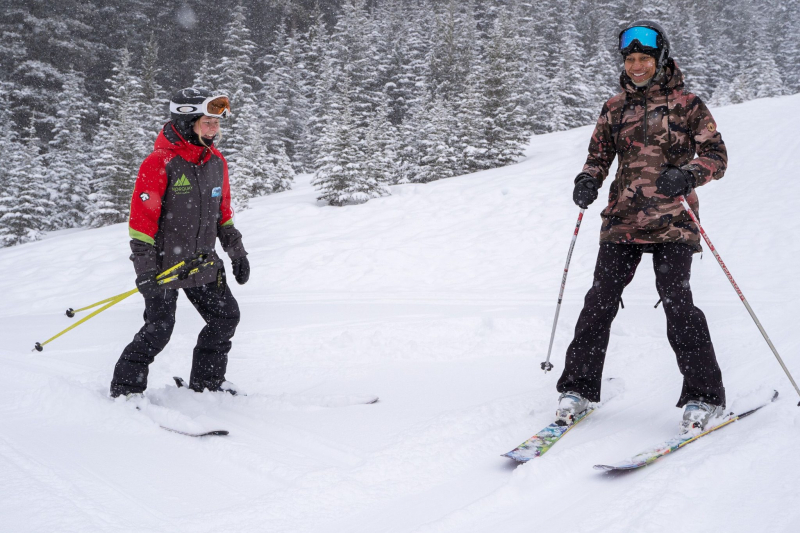 Rachel is a mountain enthusiast, dog mom, and soon-to-be professional skier (a girl can dream). Originally from the Okangan Valley in BC, the majestic Canadian Rockies got the best of her and she now happily calls the Bow Valley home.