Age is No Barrier When It Comes to Getting Back on the Slopes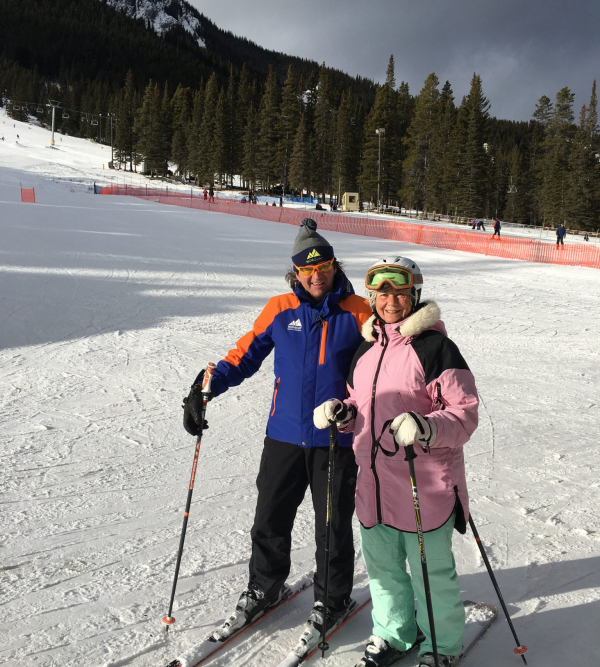 Jill Bodkin is no stranger to skiing. Having spent many of her formative years on the slopes of Mt. Norquay, Jill and her family were familiar faces lapping the lifts each week.
As she grew older, life charted a path for Jill that would see her move away from the Bow Valley and her ease of access to the ski resort she loved dearly. In fact, four decades would pass without Jill setting foot in a ski boot. Nevertheless, that didn't mean she ever lost her sense of adventure to slide on snow.
So when Jill returned to the Bow Valley, Gord Fielding, Snow School Director for Mt. Norquay took it upon himself to ensure he could re-hone Jill's love for her favoured past time. As of today, Gord has been Jill's personal ski instructor for the last six years.
"We started skiing just green runs for a few weeks. Then we moved to bumps, then to steeper terrain" says Gord. "Now, you can't keep her off the hill. On a lesson day, we spend time working on a skill that she would like to work on – plus lots of socializing on the chairlift".
"When getting back into skiing, you need to take is slow. Take a few lessons. For anyone heading back onto the mountain, we want to make a connection with you to find out more, like, how long ago did you ski? Do you remember what type of runs you were comfortable on? Were you in a snowplow or parallel?"
"We start in the beginner area. It's not a place just for kids; it's full of every one of every age. Then we put the skill plan together, coming up with a few easy drills to help you feel comfortable again", Gord continues. "Really, any skier's biggest fear is falling and hurting themselves. But soon, with the right instruction, it'll feel just like riding a bike, and it'll come back to you just like it did with Jill".
"It's funny, for skiers who haven't been on the slopes in a couple of decades, we usually get comments on how comfortable the boots are and how easy it is to turn in today's skis! Most refer back to the 200cm skinny skis and the uncomfortable boots they use to wear. Then they realize how much fun it is and they think, 'why did I ever stop!'"
As many people know, getting back on skis isn't just about refining skills – there's the social aspect of ski culture. There's meeting new people, connecting with old friends, joining others and forging a bond with your instructor.
"At Norquay, we have 15 instructors that do a great job with people that are getting back into skiing after many years, just like with Jill. We are seeing many people taking advantage of our mid-week flex package, to help them get back into skiing, while also allowing them to make new ski friends."