A Dinner Date that Dazzles – Take a Chair Ride Under the Stars to Your Seat, 7000ft High Above Banff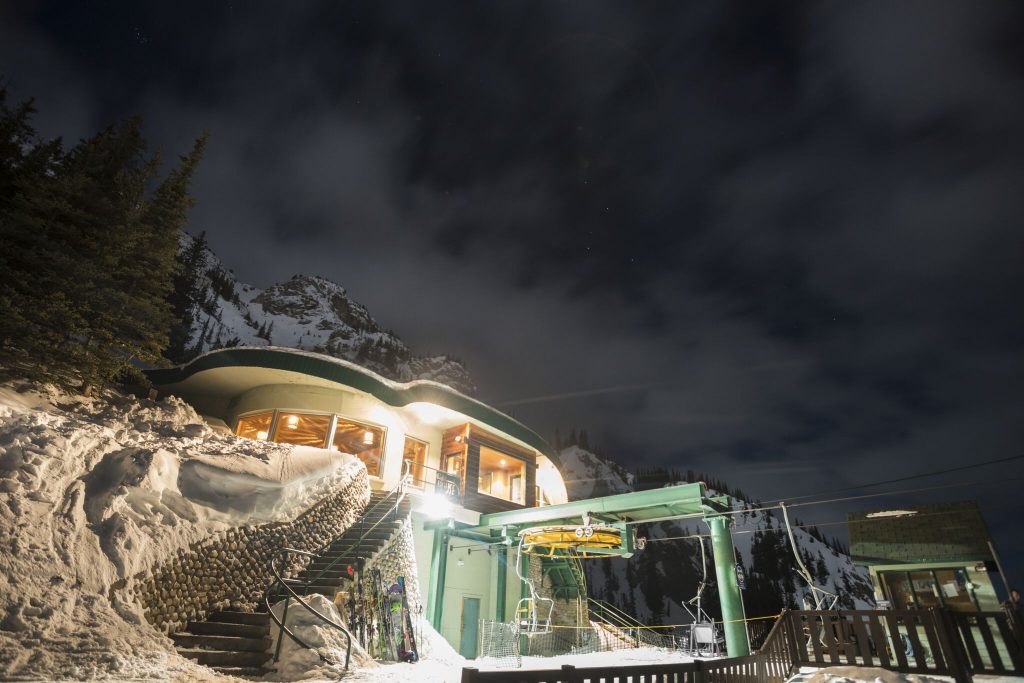 Get a Behind-the-Scenes Taste of Our Limited-Seat 'Starlight Dinner' Evenings
February 22, March 7.
Cliffhouse Bistro, Mt. Norquay
For two nights only, every winter, diners looking for an evening with a difference gather atop a mountain in Banff. Greeted by Executive Chef Morne Burger and welcomed by a warm, wood-burning-fireplace-filled ambience, these diners sip a freshly poured, crisp glass of sparkling wine as they gaze out to a show of stars, and the glowing lights of the charming town below. To get here, these diners have buried themselves under a warm blanket and taken an open chair ride to the North American summit, surrounded by gentle darkness – and perhaps soft flakes of falling snow.
At the top: a sense of serenity, and a feeling that you're about to take a seat at an intimate, family-style dinner, rather than a restaurant on a Saturday night. Lit up by a handful of spotlights, and with a spiralled stone staircase leading up to the doorway, the Cliffhouse Bistro awaits.
This is a place that's usually frequented by skiers warming up with a hot cocoa between runs, or in the summertime, a lunchtime crowd enjoying a bite of Canadian Rocky cuisine during some of Banff's very best sightseeing. To be here as it's covered in darkness and warmed by candlelight, feels pretty special. At 7000ft, this is elevated dining in every sense, presented with Norquay charm, an attention to detail, no-fuss-yet-attentive hospitality, and a humble, no-pretence approach to fine dining.
With just 40 seats, as diners settle at their table, arranged in long rows to encourage friendly conversation (these evenings are intended to be social; there are no removed tables for two here). The Starlight Dinner comes with an elegant après flair, where skiers, locals and visitors to Banff National Park gather together. Chef Morne quietens the room's warm chatter to introduce his team, and the dishes set to arrive from the kitchen; the evening's about to begin.
And on the menu: five tantalizing courses of regionally sourced fare, reflecting Chef's pick of the area's best produce. That, thoughtfully paired with matching wines for each dish. Think Albertan-raised game served with root vegetables and fig-balsamic jelly; truffled goats cheese presented with rooibos and fruity flavours; wholesome, comforting poultry dishes prepared with surprising flavours; beautifully-balanced sweet and salty desserts such as chocolate with hazelnut, salt, and olive oil – approachable luxury on a dinner plate.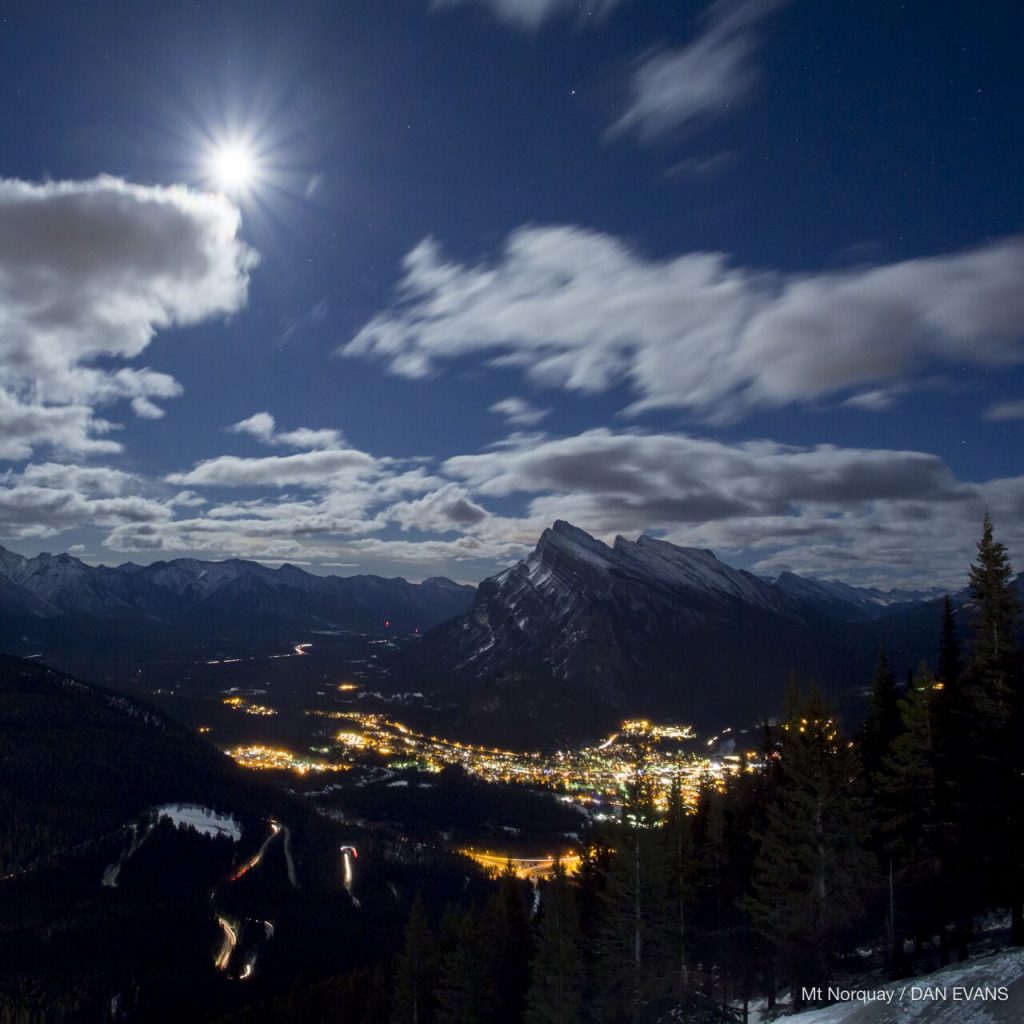 Now, a feast for the senses may sound cliché, but when you're talking about an arrival as memorable as the carefully prepared appetizer, the description fits. A seat at the Starlight Dinner feels like it's intended to; intimate, relaxed, friendly, sociable – something to be savoured and enjoyed together; a dinner to be remembered after a day on the slopes (or not, we're not judging). 🙂
Chef Morne has taken fine dining and simplified it to perfection, adding some unexpected twists and using his kitchen flair to create a curated menu of highest quality ingredients, with a true Norquay taste – presenting real, hearty mountain food with a burst of flavour, in a refined après-ski style. And back to that idea of satisfying all the senses, here are our Starlight Dinner highlights for each, together serving up an evening to remember:
For Sight: It has to be that view. There aren't too many places where dinner is served at 7000ft, with the town of Banff twinkling far beneath. Even in the winter evening darkness, this is a summit outlook worth savouring.
For Scent: The comforting smell of the crackling, open wood fireplace throughout dinner; it's the perfect accompaniment to your Starlight Dinner experience, and an original feature of the retro chic Cliffhouse Bistro (formerly a 1950s tea house and visited by Ms. Monroe in 1953).
For Taste: Well, isn't this evening all about the taste? Chef Morne and his team prepare a curated five-part series of the freshest dishes especially for the Starlight Dinner, with unexpected flavours and an abundance of taste sensations.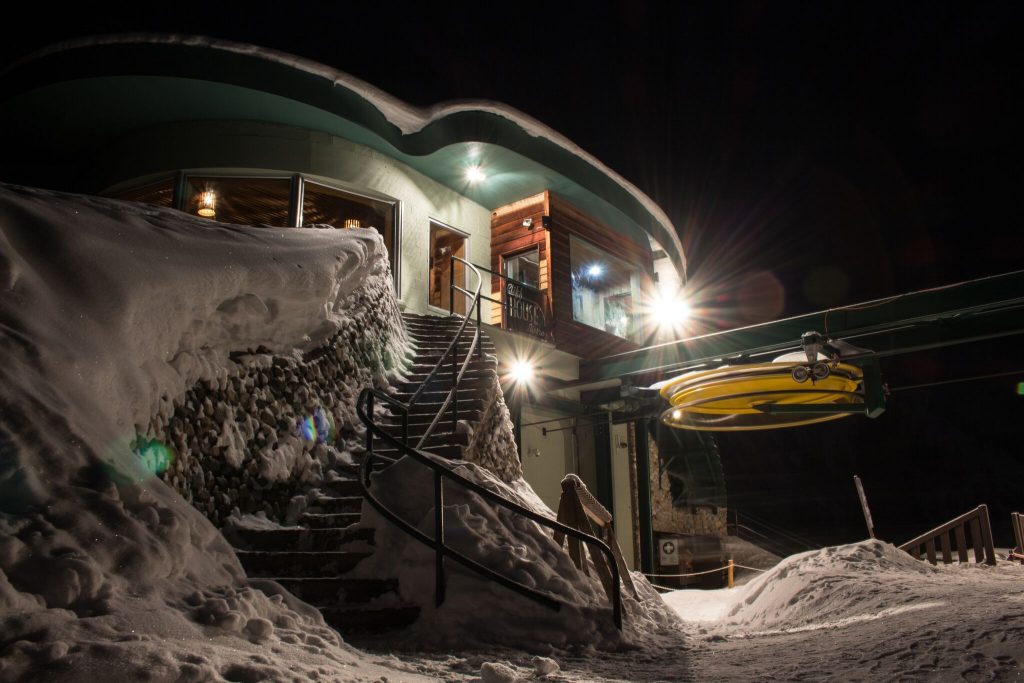 For Sound: Acoustic ambience; the ethereal vocals of talented Alanna J Brown flood the Cliffhouse Bistro throughout dinner, creating a heavenly mellow atmosphere.
For Touch: It has to be the soft comfort of the Chairlift blanket. Pre or post dinner ride, settle in and enjoy the ride.