What the 2019/20 Ski Season Has in Store for Trevor Philp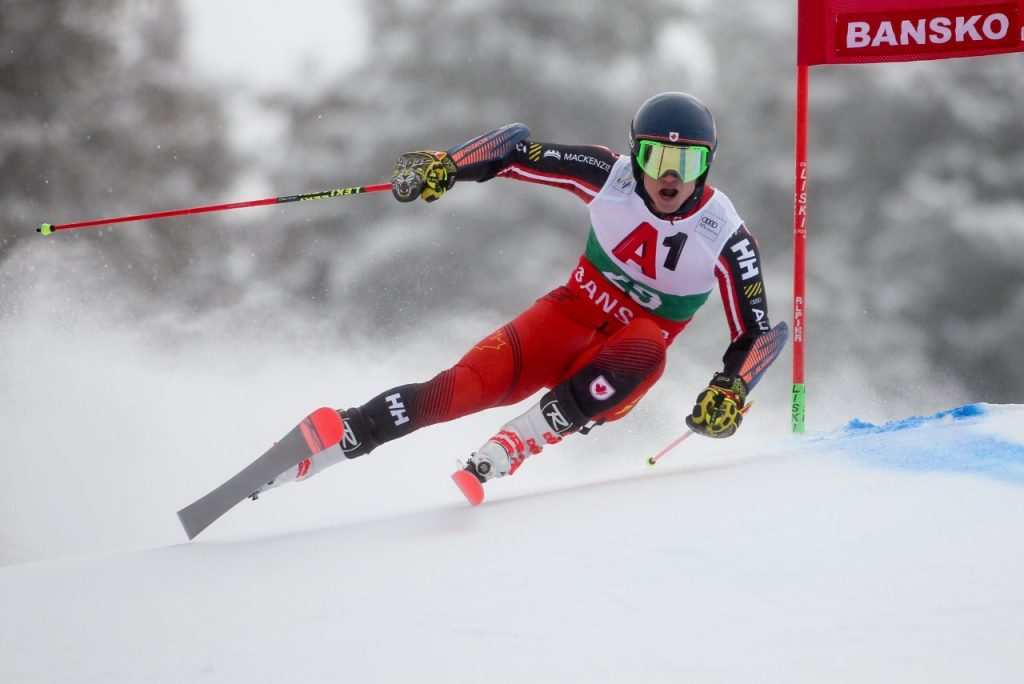 Hailing from Calgary, Alberta, Trevor Philp is an Olympian that grew up skiing the runs of Mt. Norquay. He made his Olympic debut at Sochi 2014 and was part of the Canadian squad that won silver in the team event at the 2015 World Championships.
As he adds accolades to his name, we caught up with him to ask a few questions about this race season, his tips for keeping his mind and body in shape, and the level of commitment it takes to endure this incredible sport.
Trevor, the 2019/20 ski season is here. How do you feel about your race schedule?
I finished last season on a high note, so I was excited to get going again this year. As an athlete, I know it is hard to begin one season where the previous one left off (I often start slower than I want to!). In general, I tend to build as the season goes on, but I always strive to steepen the learning curve at the start of the season as much as I can.
The race season schedule is…busy! The first weekend of December was in Beaver Creek, and now we're into 10 straight weekends of racing that takes us to mid-February. And of course, there are a few weekday races during that time as well. With a schedule like this, there is no time for us North Americans to go home. We will be bouncing around from hotel to hotel for the next 3 months.
What are you most excited about for the season ahead?
I am quite excited about the GS races in general. The second half of last season went pretty well in GS; I made some good progress that I am excited to try to build on. Physically I am in a good place. The mental side is a constant balancing act, but it's also in a good spot, and my skiing itself is coming along.
What is your one key goal for the season? What would make a great season for you?
I want to be a contender every single race I start this season. The actual result is personal and relative, but to have the feeling that I have the possibility to perform to the best of my ability that day, that's what I want. That would mean that my skiing is in the right place, I maintain a sufficient level of energy (and strength) week in week out, and mentally I am in a place that I can attack the course like I'm trying to win. With that, I will evidently have some 'Did Not Finish' (DNF) races, but also some top 10 races.
So how do you prepare for a season? Both mentally and physically.
I had a solid off-season training this summer. It was a little different than before, as I spent more time with my girlfriend in the US as well as working with a trainer in Quebec. It made for a significant amount of travel during the summer too, which is not what you want after a long winter, but things still went smoothly, and the training was good. Physically I feel better than last year, which was significantly better than the year before.
On the mental side, I find that I am continuously changing. Equipping myself with more "tools" to cope with whichever mental state I happen to be in on a given day has been key. Last year I was able to experiment a bit with different tools and was happy with the outcome. I'll use these tools as the new race season gets underway.
Can you describe your training schedule in-between races; what does a typical day/week look like for you during the winter?
Let's take a typical week during December or January. I try to stick to a routine of skiing 4-days a week, and then 3 days off. When I start getting into a 5 on and 2 off, fatigue build-up is more apparent, and it can be hard to get recharged as the season keeps coming at you. As we're skiing every weekend, we have to plan ski days around our constant travel schedule, which can be tricky. A single training day often looks like:
6:30am: Wake up
8:00am: Leave the hotel (after breakfast, coffee, and warmup)
8:15am: On the lift and train until 11:30
12:30pm: Head back to hotel and eat lunch
1:30pm: Have a little rest
3:30pm: Dryland training session
5:00pm: Video review
6:45pm: Team meeting
7:00pm: Dinner
9:30pm: In bed, ready to do it all again!
What do you see as your biggest challenge this season? And how do you plan to overcome it?
That's a great question and an important one! I feel confident in my physical abilities, in my equipment, and the team around me. I think my biggest challenge will be the way I manage myself throughout the season, with energy/fatigue management, and belief in my skiing. Confidence and trust in your skiing go a long way and are easy when things are going well and difficult when they are not. Having and using the right tools to turn things around if they are not going how I want will be the keys to my season. And right now, I am confident that I have them and know how to use them!
What keeps you going when the race schedule becomes gruelling, how do you stay motivated?
During good times it is easy to keep going and look ahead when you are getting the results you want. After a string of tough results, you need to narrow your focus on the task in hand. Often for me, that's focusing on just one race at a time. Asking myself, what can I do to give myself the best chance at this next race? If you answer this question honestly and follow its answer, you can be confident that you have given yourself a good chance!
What would be your advice to any young skiers dreaming of following a professional career in ski racing?
I think it's important to have racers that you look up to or try to model yourself after. That could be a World Cup racer, or it could be someone even in your club that you see as having qualities worth adopting. When I was a club athlete at Banff Alpine Racers, I remember looking up to the Alberta Ski Team athletes. They were bigger, stronger, and faster than me, and I wanted to get there! When I was on the Alberta Team, I saw the Canadian development team athletes as the next step and used them as my role models. Wherever you find that connection, I think its good to use it to get ideas to improve yourself or confirm that certain things you are doing are effective.
Are you planning on being back at Norquay?
I was stoked to get an early-season day at Norquay in November, and it was awesome!! There were so many Banff Alpine Racer athletes skiing and doing drills on cascade – it was great to see. I knew pretty much all the coaches out with their groups too. Norquay is such an amazing community to be a part of. Now that the race season is underway and the busy season is about to start, I likely won't be back at Norquay until the spring, but I'm counting down the days!
What's the best thing about doing what you do?
That's tough. At one point in my career, I would have said the travel, the many beautiful places you get to see around the world. While that part is still cool, living out of a suitcase 8 months a year takes a toll. The personal connections you make with people from so many different places within Canada and internationally are great too. But I think I will have to say the best part about my job is the racing itself. The training days and the constant pursuit of bettering yourself is a huge part of it, but the race day is where you get to show off your work, and that's what I love.
Is this career how you imagined it to be?
I'm not sure I really knew what to expect 8 years ago when I first joined the World Cup tech team! A lot has changed since then, in both the team and in myself. I can say there are a lot of things that I really appreciate that have allowed me to get here. When people say, "it takes a village" (of support) to get an athlete to the top, that is not an overstatement. There are truly so many people that have, and still do, help me in many ways – each plays their part. Most are "silent" partners and do not receive recognition, but they are a crucial brick in my foundation as an athlete.