Summer's Officially Here, and There's A Brand-New Adventure Base in Town
Summer's Officially Here, and There's A Brand-New Adventure Base in Town
Hassle-Free, Ride Up & Go Activity Days Have Arrived: Make Your First & Only Banff Stop the Heritage Train Station
this Summer Season – Here's Why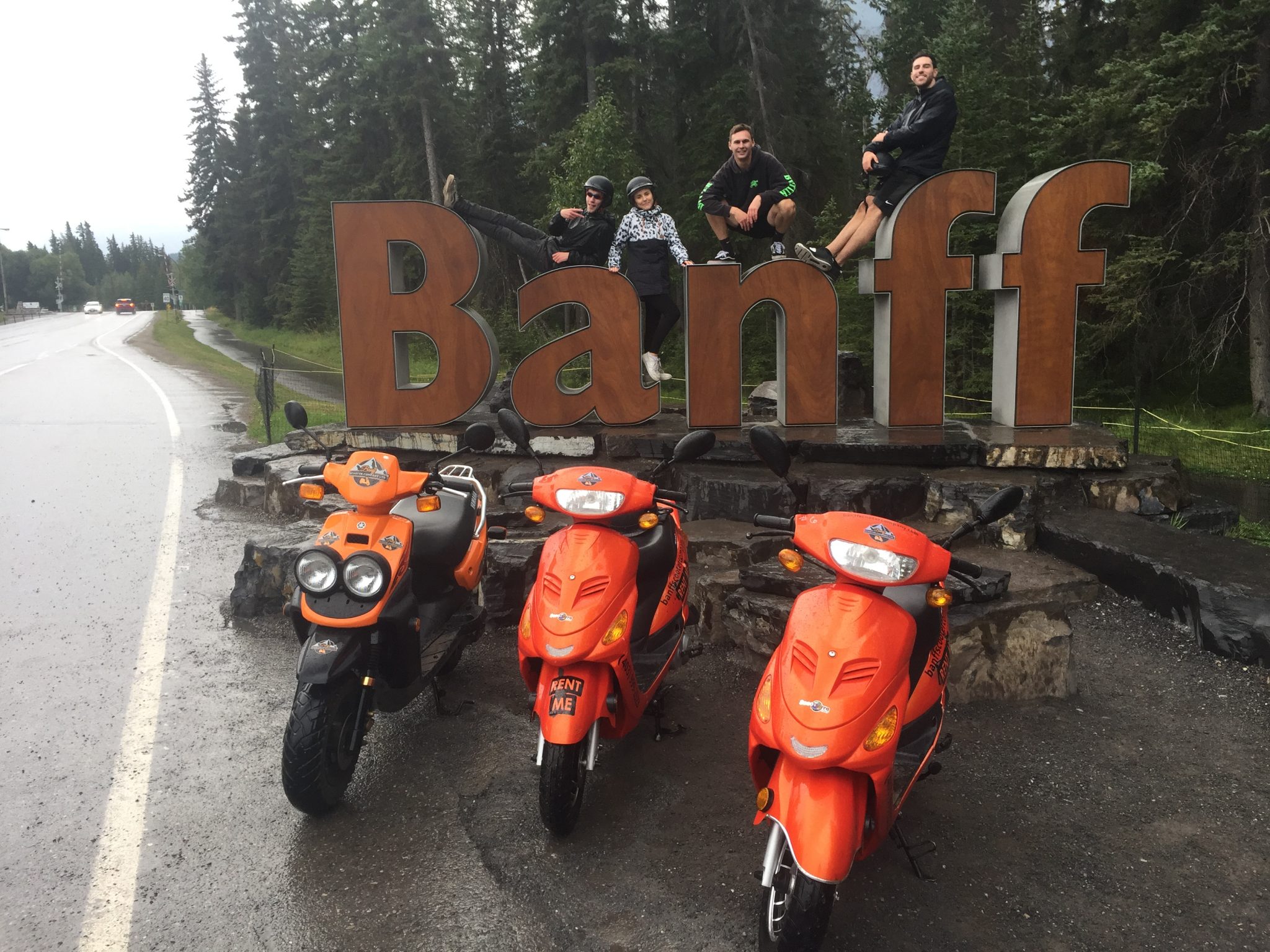 We say: less time figuring out plans, finding parking, and making your way from stop to stop around town; more time exploring and hitting up that lake, trail, or iconic mountain view. Because let's face it: when you arrive in Banff, all you wanna do is get what you need and get out there – and now, with Banff's newest activity hotspot comin' in real hot, summer days are completely stress-free and all about the good times.
Simply ride up to Banff's Heritage Train Station, just off the Highway at the Norquay exit, and set right into adventure gear. With no-stress, all-day (and free!) parking, you can say goodbye to the typical circling of lots; just rock up and go. Or go green: travel by Roam transit and hop off just outside. Whichever way you get here, the Train Station is the only stop you need to make for memorable days in the Park this season. Here, we show you why.
YOU CAN GET OUT ON TWO WEELS
What's more fun than exploring the sights and signature spots of Banff National Park? Doing it on two wheels of course! Whether you opt to explore with some good old-fashioned push power, or take the help of a little motor power, Banff Train Station is now the official location of both Banff Scooter Company and Banff Cycle.
Set off on a scooter and have fun zipping to all the must-see locations close to town; perhaps wind up the Mt. Norquay Road and take in the views over the valley, head to the impressive Fairmont Banff Springs, or cruise on up to one of the many lakes close to town, such as Vermilion or Two Jack* – the team at the family owned and operated Banff Scooter Company will give you plenty of ideas of where to ride to!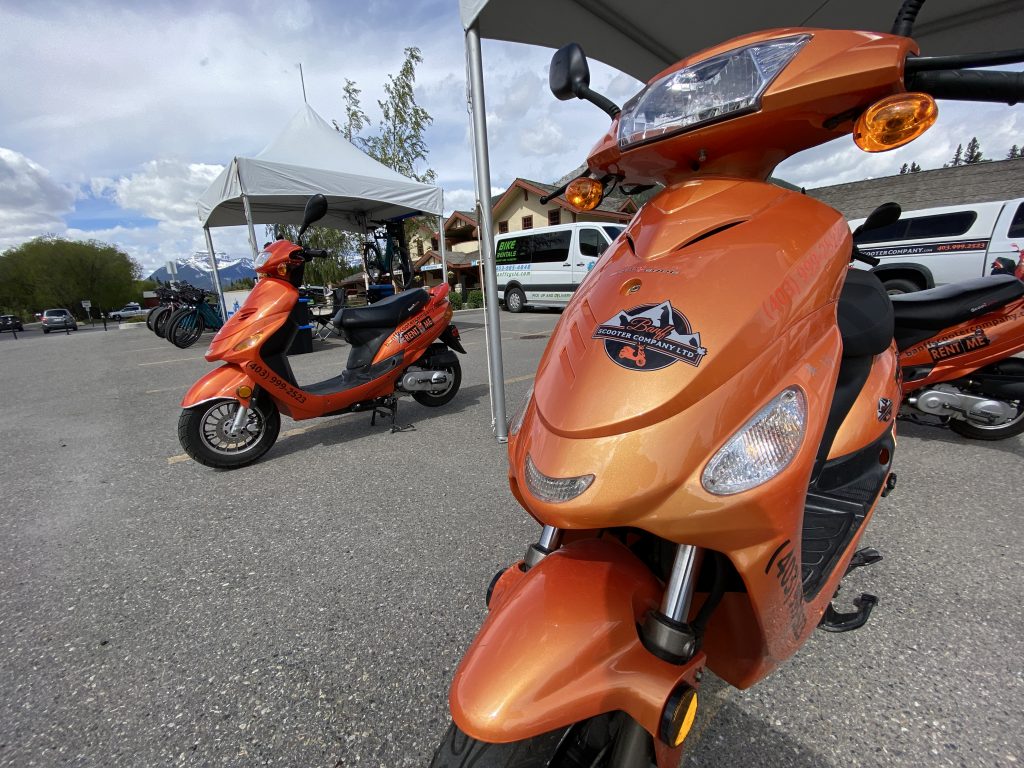 Exploring Banff by scooter is an experience in itself, it's the freedom of the open road and being able to head to all the sights quickly. It's a really fun way to travel, and we're here to give all our riders the very best time on the scooter as possible. We take the time to make sure all riders are 100% comfortable on the scooter by giving mini lessons to everyone before they set off. We talk them through the local map to help them plan a route based on what they want to see and do, and we're also known to head out with them for part of their drive, to show them the locals' favourites and best roads for scooter'ing. – Dwain Kotulak, Banff Scooter Company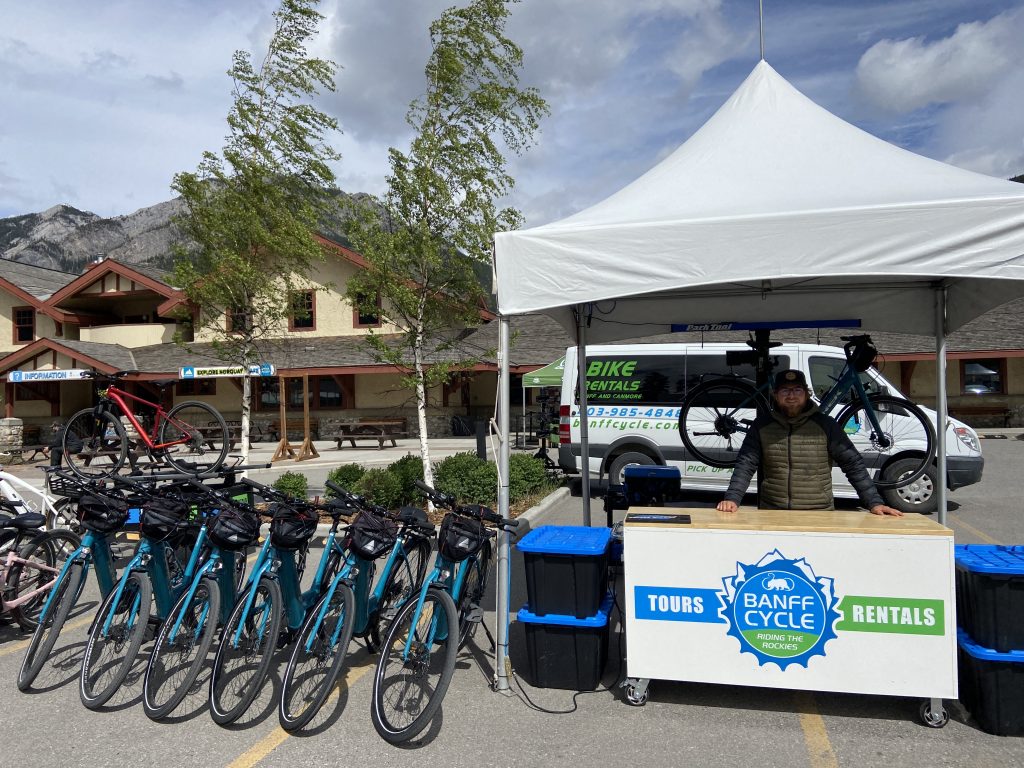 You can also hit the saddle with Banff Cycle and set yourself off with a top-of-the-line ride. With superior comfort, ultralight road bikes and adjustable-power e-bikes to choose from, let the experts get you set up for a day on Banff's scenic roadways (they'll give you all the insights on best routes).
Plus, if you're keen to check off as many Banff must-bike locations and get the maximum experience for your time, then look no further than one of Banff Cycle's e-bike tours. Whether it's the 'Banff and Bow Valley Tour' or the 'Johnston Canyon E-Bike & Explore' Tour' (new this season), you'll be joining an expert guide on a route to remember. Riding their Trek Verve+ 3 e-bike to a series of iconic spots, you'll get a real boost to your riding day (in more ways than one).
Banff is a bucket-list biking destination and we're here to make it as easy as possible to have a ride that's as memorable as the vistas and viewpoints seen from the roadside. And now with our e-bike fleet and tours, we can offer a power assisted ride that's not only great fun but a breeze on the uphill. Our guides are all passionate riders and we just love to see guests head out with us and be blown away by the experience. – Tom Couture, Banff Cycle
YOU CAN SECURE A SPOT ON A VIA FERRATA CLIMBING ROUTE
Want to head high above the clouds during your visit, and earn the views at the same time? Look no further than Mt. Norquay's Via Ferrata. With two brand new routes added this season, these assisted climbing circuits are suited to any appetite for adventure – all adrenalin-filled and with the wow-factor guaranteed. Just head on over to the Norquay Via Ferrata & Sightseeing Booking Centre (inside the station) and book your preferred route in a flash! Not feeling so adventurous? No problem: sightseeing lift passes for Norquay's North American Chairlift will take you soaring to one of Banff's most impressive views, no exertion required!
Bonus: once you have your tickets, jump on the hourly Norquay shuttle (starting June 30) to take you right to the base, where you'll meet your ACMC-accredited guide.
YOU CAN PICK UP A PADDLEBOARD AND HIT THE LAKE
With so many stunning lake locations close by, why not spend some gentle paddle time in the Park on SUP? Banff Heritage Train Station is now the home of Bow Valley SUP & Surf, so getting out on Banff's turquoise waterways couldn't be easier.  The team there can pair up you with a SUP for your half or full day adventure (they'll even take care of wetsuits if needed) or, for water-loving couples there's the option to paddle as a duo with an inflatable tandem kayak!  Groups of friends looking to go big won't want to miss "Big Red", the super-sized SUP for 6-8 people!
BONUS: New to paddling, or want to feel the reassurance of being with a pro?  Look out for Bow Valley SUP & Surf's SUP lessons and tours, such as the 'Intro to SUP' course and the 'SUP Tour of Banff National Park'.  Both are a great way to find your lake legs and get board confident in no time.  Both include PFD, SUP, paddle, and leash, and are led by a Paddle Canada Certified SUP Guide.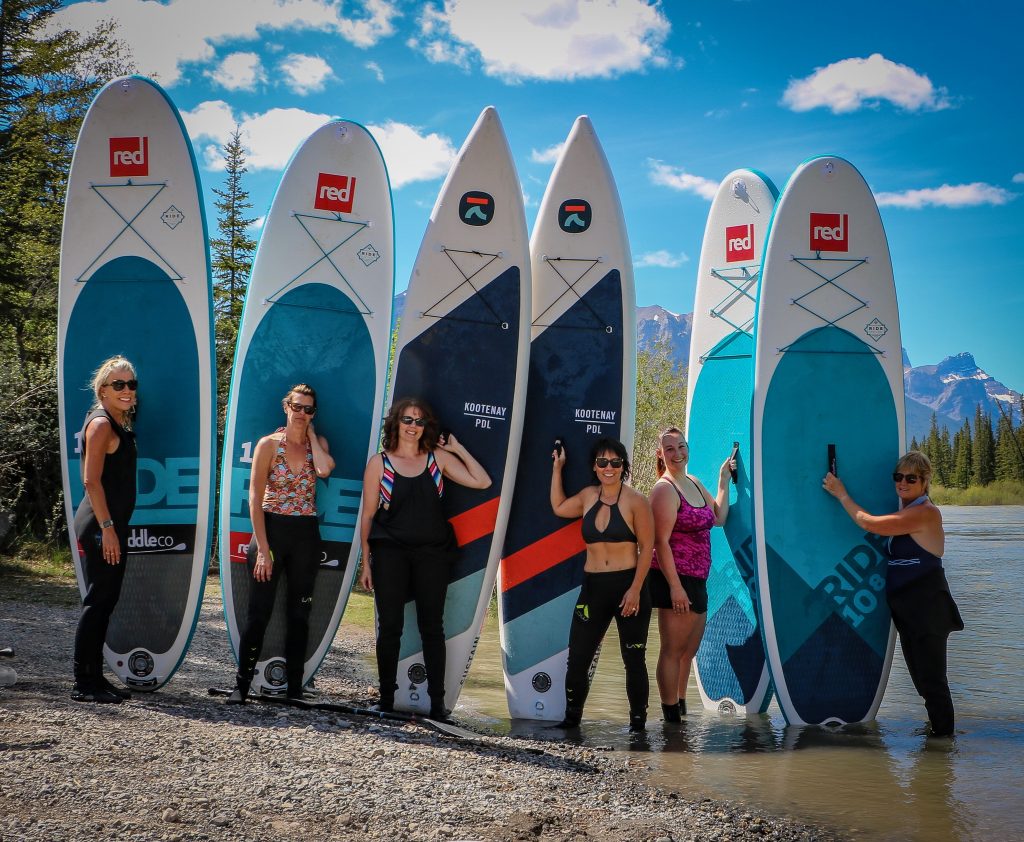 Paddle boarding is a whole lot of fun, but it can also be technical; some skill is definitely required to get the very most of the experience and stay safe out there on the water. And we pride ourselves on being the ideal introduction to SUP'ing with our lessons and tours. We're the only outfitter in the Bow Valley with certified instructors so when you paddle with us, you're in fantastic hands. – Ryan Hamilton, BOW Valley SUP & Surf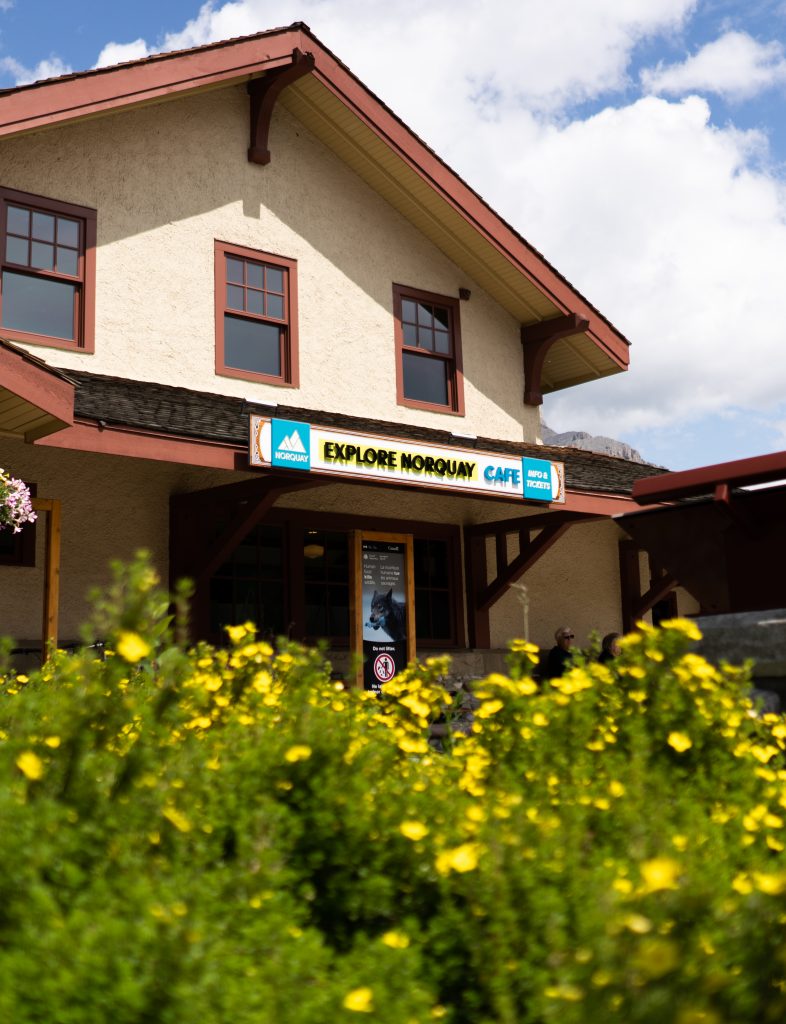 YOU CAN FUEL UP FOR ADVENTURE
Before all good adventures, comes great coffee and home-baked goodies! Get your caffeine fix, grab an energy-boosting bite pre-adventure, or stock up your backpacks for the day at the Norquay Café. Conveniently located right at the station, the café serves up deliciously delectable sweets, baked goods and sandwiches, as well as locally baked sourdough loaf varieties, coffee drinks, teas, and ice-cold beverages.
YOU CAN MAKE A MOUNTAINTOP LUNCH DATE
Take your Banff dining experience to a whole other level with a visit to Mt. Norquay's retro-chic teahouse-turned-bistro, The Cliffhouse.  Sitting pretty at almost 7000ft, the bistro's effortlessly-cool, laidback vibe is complemented perfectly with carefully-prepared, wholesome dishes made up of the region's finest fare and signature ingredients.  With brunch served all day – including the delightful French Canadian Toast – and a diverse menu of fresh salads, light lunch dishes and sharing platters (try the Meat & Cheese board with its locally cured meats & pâtés, artisanal cheeses, nuts, jams & homemade bread, you won't be disappointed!), the Cliffhouse Bistro delivers a satisfying bite with unparalleled mountain views.  Tempted?  Let the team reserve you a table; just drop by the Norquay Via Ferrata & Sightseeing Chairlift Booking Centre!
YOU CAN GET FULLY PREPPED FOR PARK DAYS
Looking for inspiration, day trip ideas, trail info, pocket maps or details on campsites close by? No worries, because Banff's Heritage Train Station has you fully covered for days in the Park (they can help with everything from passes and permits, to getting you kitted out with bear spray, bug repellant and sunscreen).  Step inside and find both the Parks Canada and Banff Lake Louise Tourism visitor information desks right there – for everything you need to plan your days and set off on your way, effortlessly.
Banff Train Station, 327 Railway Ave. Banff, T1L1K
*must have valid driver's license.