3 Beer and Food Pairings You've Got to Try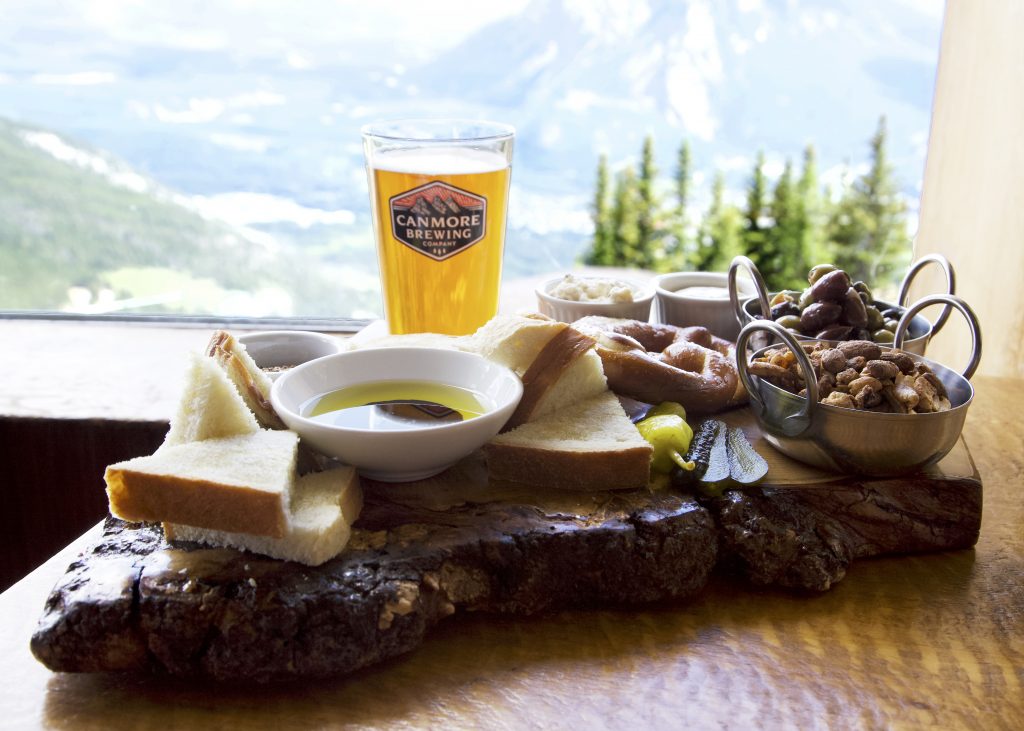 In Alberta, we take our craft brewing seriously. How could we not with all of the main ingredients grown right here in our very own province? And, we're just as passionate about pairing them with locally grown and sourced ingredients in our dishes.
Part of Alberta's appeal is its drastic landscape, from the prairies where the crops are plentiful, to the Rockies where the peaks are staggering. Take the Sightseeing Chairlift to the viewing platform to bask in awe of Banff's mountainscapes and then join us in the Cliffhouse Bistro for a delicious mouthful – prepared with ingredients from the prairies and surrounding areas. They not only taste amazing, but you can feel good about supporting local farmers and producers.
So, whether you're a downright homegrown Albertan or you're visiting for your first time, you can savour the bounty from this region that we call home.
RYE IPA + PICKING PLATTER
Canmore Brewing Co. Railway Avenue Rye IPA
If you've never tried an IPA before, the Canmore Brewing Co. Rye IPA is a great one to test out first. It's not a normal IPA either, combined with malted rye, you're treated to a complex, dry, and hoppy beer. The darkest of the three beers, it pairs well with the Picking Platter's rich and savoury flavours. Throw together slow roasted mixed nuts tossed in maple syrup (how Canadian?) and spices, marinated olives and freshly baked bread, and some warm salted pretzels with a mustard thyme mascarpone and a beer, confit garlic and cheddar dips – you'll be drooling as it arrives at your table. With a full and happy belly, you might want to stretch your legs with a walk down Banff Ave. or save the effort and simply enjoy your leisurely chairlift down.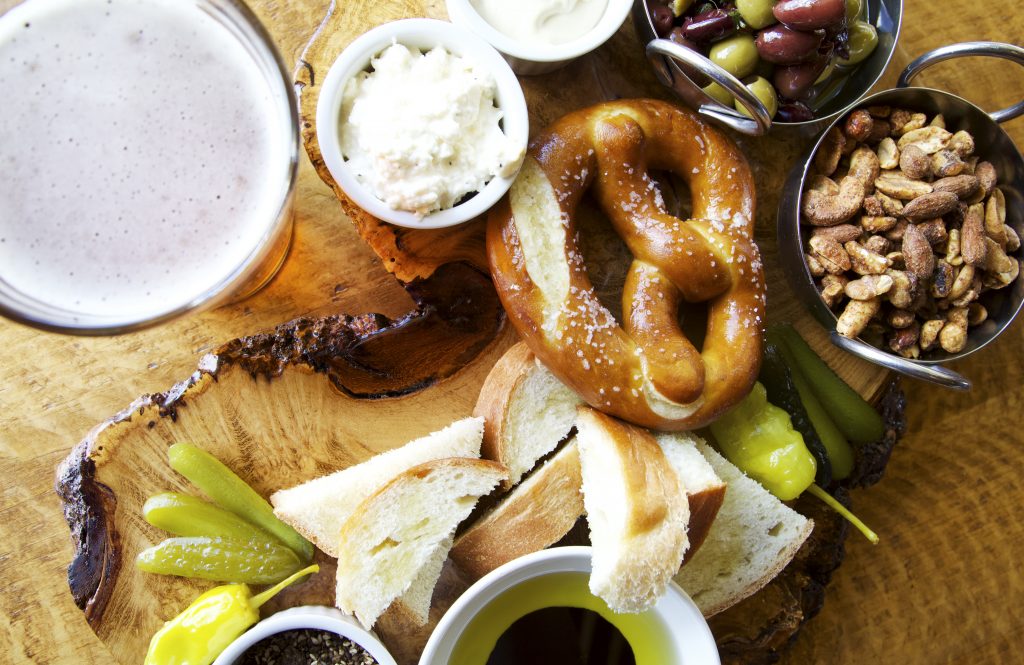 CRISP PILS + VIETNAMESE PORK
Jasper Brewing Co. Crisp Pils
The Czech's may have invented the Pilsner, but they certainly didn't have Alberta grain. Jasper Brewing Co.'s Crips Pils is a pilsner-style lager and features malt from the foothills of the Rockies. It's dry, crisp, and hoppy in flavour. What better way to soak up a little beer than with the Vietnamese Pork Bao Buns? They're topped with crisp carrots, mirin pickled cucumber, and nam jim sauce – yummy! The flavours of the Pils and Bao Buns complement each other with the bite of the pickled toppings, the zing of the pork, and the crispness of the beer. Your taste buds will be doing a happy dance.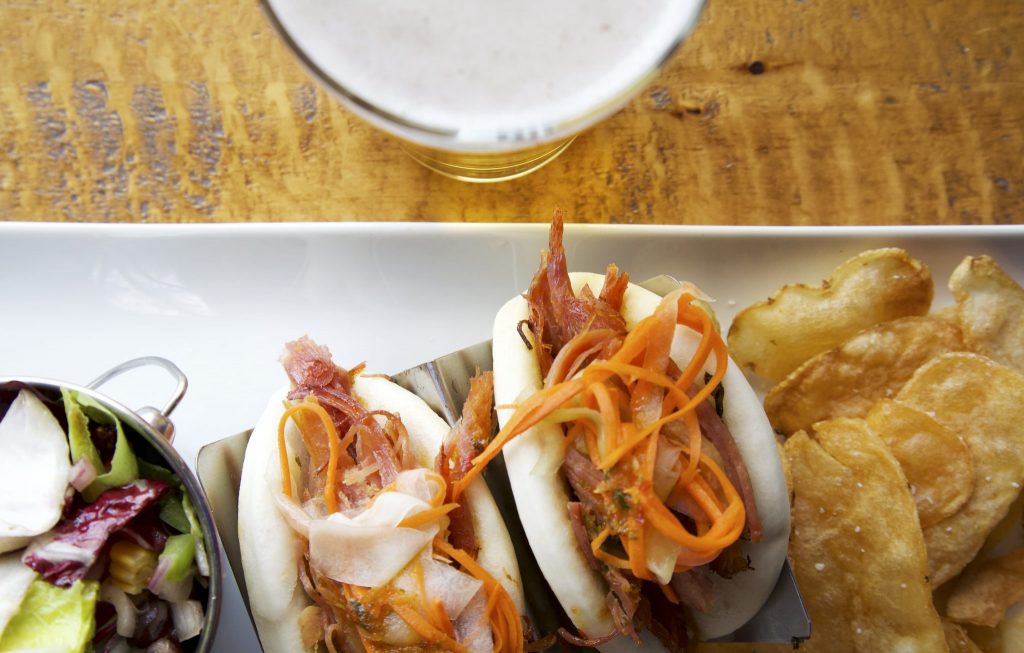 KOLSCH + TURKEY REUBEN PANINI
This Kolsch-style beer feels right at home in the peak of summer. Take in the warm summer breeze at 6,900 ft and sip on a refreshing Big Rock Brewing Co.'s Rhine Stone Cowboy. A beer as unique as the location, the delicate, crisp, and malty blend saddles the line between ale and lager. With a muted fruitiness it complements the Turkey Reuben Panini like a dream. Sandwiched together between rye bread, the smoked turkey, apple pickle, cranberry cream cheese, and gruyere are as light and breezy as the beer. When you've spent your day working up an appetite, you'll be rewarded by this filling, yet not-stuffed-in-your-pants meal.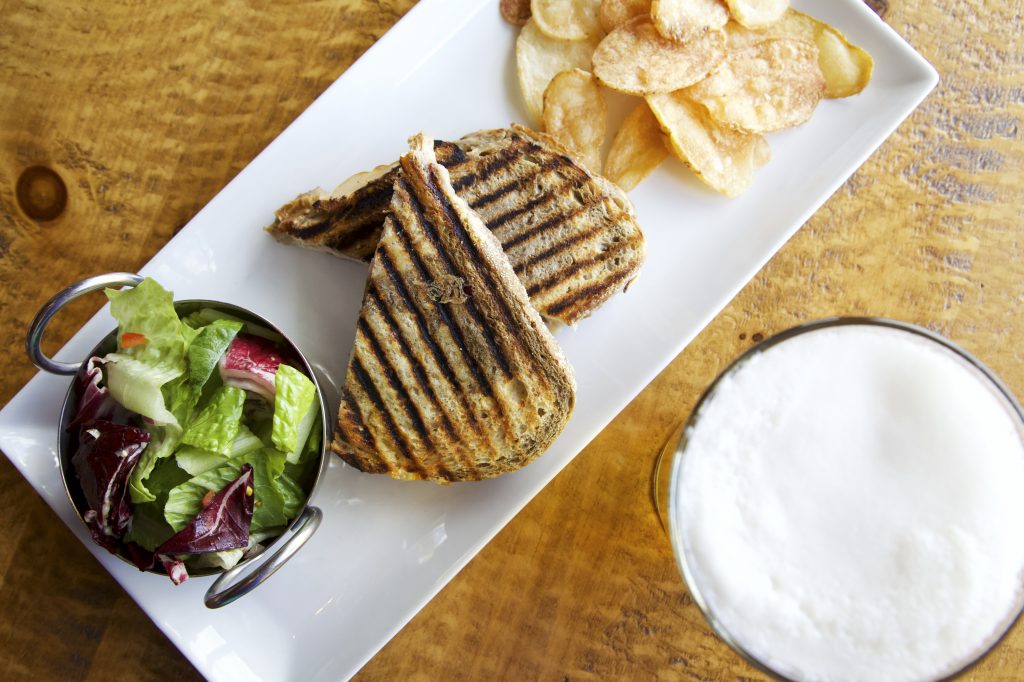 Come visit the Cliffhouse Bistro seven days a week from now until October 8, 2018. With all of the adventures to be had in Banff, you'll need a relaxing Chairlift ride that delivers you to scrumptious food and beverages. Or stop in post Via Ferrata for a rewarding meal and beer.