Add a Side of Acoustic to Your Cliffhouse Visit with Live Performances by Alanna J Brown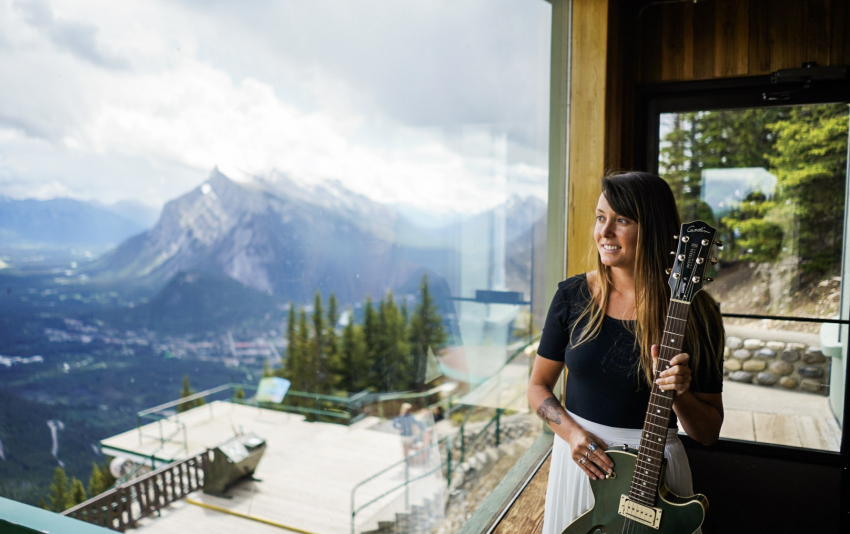 Picture this: You hop on a chairlift and take a scenic ride up to a mountain top getaway where you order a charcuterie board and refreshing tea-infused cocktail. As you embrace both the local flavours and stunning panoramic views, you're serenaded by a beautiful, silky voice and acoustic guitar. No, it's not a dream. It's simply another great Wednesday at Mount Norquay's Cliffhouse Bistro.
While delicious food and drink and stunning scenery are always on the menu, Wednesday's are especially memorable because from 1 – 4pm you can enjoy the added bonus of a live acoustic performance by local musician Alanna J Brown.
We caught up with Alanna (between her busy performing schedule) to discuss her musical background, current pursuits, and personal connections to Mount Norquay.
What first sparked your interest in the music world?
I grew up in a very musical family. When I was a kid one of my favourite things to do was to pick a random record from my Dad's vinyl collection and play it through the speakers. I grew up listening to all kinds of music from jazz to folk to psychedelic-rock.
How long have you pursuing music and in what forms?
Funny story… I was a late talker (you'd never know that now!) and I actually sang before I talked. My parents have old videos of me wandering around the house singing songs from the radio in my own made-up baby language. I couldn't speak but I could hold a tune and was always singing.
When I was 3 years old, I started playing the violin – mostly as a way to teach me how to stand still. Then when I was 4, I began piano lessons. At 13, I was gifted a guitar and taught myself how to play. Throughout my teenage years I played many different instruments as well but there was something so magical about playing guitar, so I became more serious about writing.
How would you describe your musical style?
I write indie-folk music inspired by the Canadian landscape. I also love incorporating some elements of jazz music into my writing.
If you could collaborate with any artist, who would it be and why?
Sufjan Stevens has always been a huge inspiration when it comes to song writing. His music is sometimes simple, but also so complex that I hear something new every time I study a song. It would be a dream to write and record an album with him.
Who is currently on your playlist?
Tom Misch, Led Zeppelin, Majid Jordan, Ta-ku, Billie Holiday, Foo Fighters, Neil Young, and Steely Dan.
What prompted you to start performing in Banff and how did your local momentum begin?
After I graduated from jazz music university in Toronto I started performing in a jazz/psychedelic-folk duo called The High Winds. I had always dreamed of living in Banff after spending lots of time snowboarding here as a kid with my family. We toured out this way to perform at Calgary's National Music Centre and I booked us a few performances at bars and hotels in Banff.
Once we got a taste, we decided to move here for a season and test the waters in the Bow Valley music scene. We began to make a name for ourselves out here, but my guitarist missed Ontario too much. I knew it would be a challenge for me to pursue my career as a solo artist, so I started practicing guitar a LOT more seriously, and now after 4 years on my own I'm performing professionally almost every evening in the Bow Valley.
What are your personal ties to Mount Norquay?
When I first moved out to Banff, I picked up a job teaching snowboarding at Norquay. Then, I moved over to the Cliffhouse Bistro where I worked as a server. Norquay has always been extremely supportive of my passion for music and began hiring me to perform at certain events. Eventually, music took over fulltime and I had to sadly tell them I could no longer work as a server. Norquay continued to support me even further by hiring me weekly to perform at the Cliffhouse Bistro.
What is your favourite part of playing at Mount Norquay?
The VIEW!! I've spent hundreds of hours in the Cliffhouse Bistro and that view will never get old.
What is your favourite non-musical activity at Norquay?
Nothing beats snowboarding with a big group of friends and then heading up to the Lone Pine for a pint and nachos.
What is your favourite Mount Norquay memory?
I perform every year for the Cliffhouse Bistro Starlight Dinners. [Executive Chef] Morne Burger and [F+B Manager] Amy Burt do an incredible job of creating a magical experience up there. Those evenings have been highlights for me. I feel very grateful to be able to enhance the guests' dining experience, and always get butterflies when I'm riding the chairlift up there at night.
Which of the new Norquay signature tea-tails is your favourite?
My favourite tea-tail has got to be the Coconut Abbot Pass Sour. The Rosemary sprig garnish makes the drink!
Where can we find more of your music and follow along?
If you google "Alanna J Brown" you'll find everything! I'm on Spotify, iTunes, YouTube, Amazon, Google Play, Deezer, etc., and I'm in the process of recording a new album right now so hopefully by the fall/winter there will be some new music for you to hear.
Accessed by a scenic ride up the Sightseeing Chairlift, the Cliffhouse Bistro is your spot to dine mountain-side all summer long. The Bistro is open from 9:30am – 7pm, with food service running from 11:00am – 6:30pm. Order from a wide selection of locally-crafted brews, sodas, Canadian wines, and creative cocktails, and then treat your taste buds to an upscale-yet-unpretentious menu of delicious dishes, from fresh bites to full meals.