Back to Doing It "Bozo" Style
Racing in the Name of Ski Legend, Rob Bosinger, Returns to Norquay for End-of-Season High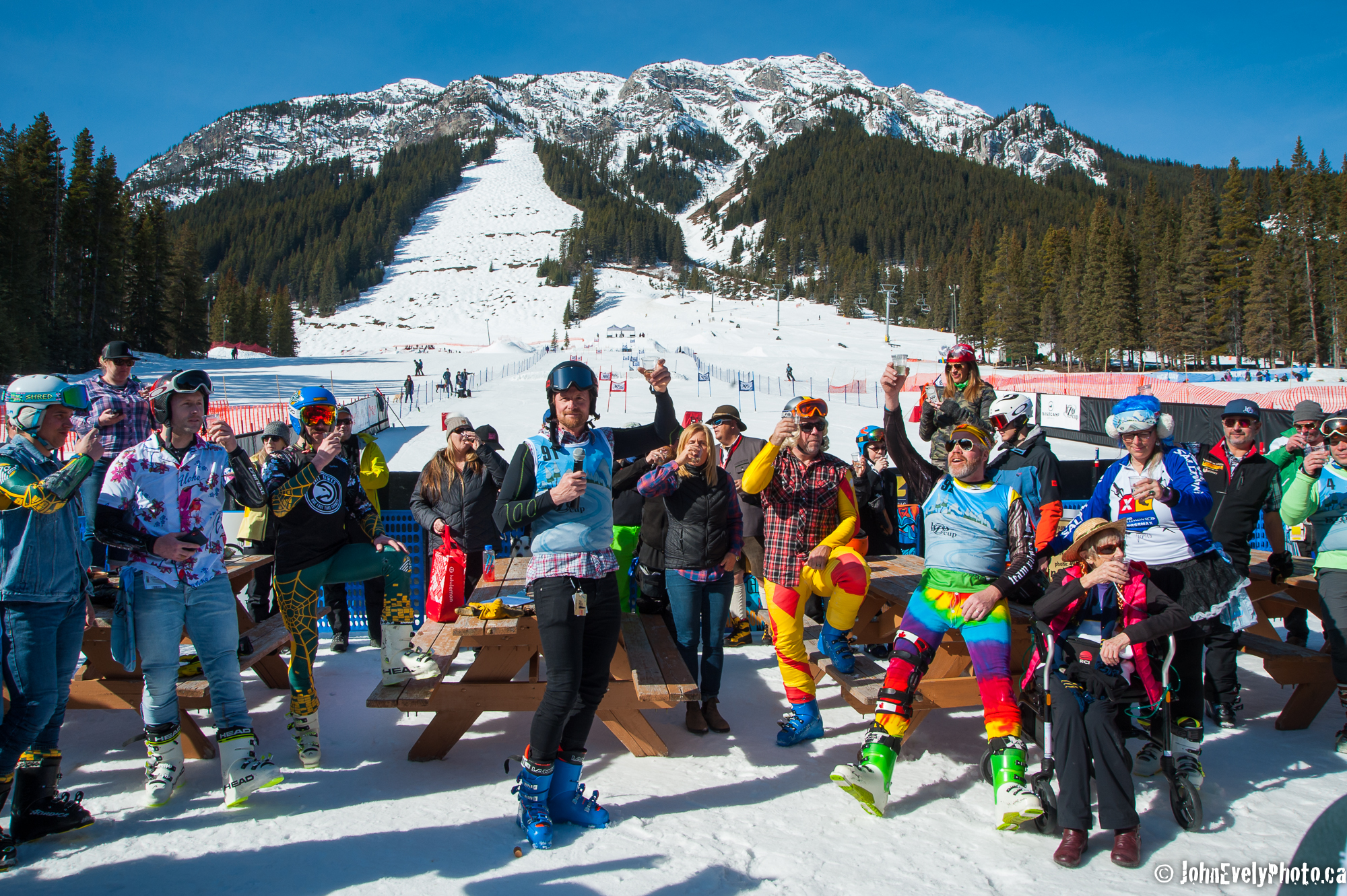 It's fast, it's furious, it's friendly ski racing all weekend long – and a whole lotta fun.   The annual "Bozocup" – named after and held in honour of one of the ski world's greatest names, Rob Bosinger – heads backl to Norquay this April 16 and 17.
After a two-year halt, this family-friendly crowd-pleaser is a much-welcomed return to Norquay's event calendar and promises to deliver all the action of a jam-packed, all-levels race weekend, and so much more.
Come for the racing; stay for the dress-up, the comradery, family-friendly atmosphere, the springtime après ambience with DJ beats and brews served in the Bozo Beer Garden, and did we mention the cash prizes?  The Bozocup & Kindercup weekend line-up is the perfect way to see out your Norquay season on a high.
Step up to the race circuit sidelines and see head-to-head, action-packed racing in a round robin, dual slalom "drag race" format, involving ski racers of all levels; from some of the biggest stars in the game, including Olympians and national team favourites, to much-loved coaches, masters' racers, friends of the ski race community, and those rising up the ranks on the junior racing circuit.
Kicking off the weekend will be the Mens' and Womens' Pro 16+, Amateur 16+, and 38 and over races at 11:10am, Saturday April 16, following an honorary toast to Rob and his late parents, Fred and Margaret Bosinger, who also made a tremendous mark on Canadian skiing. Sunday is all about the U14 & U16s, with the Kindercup kicking off at 11am.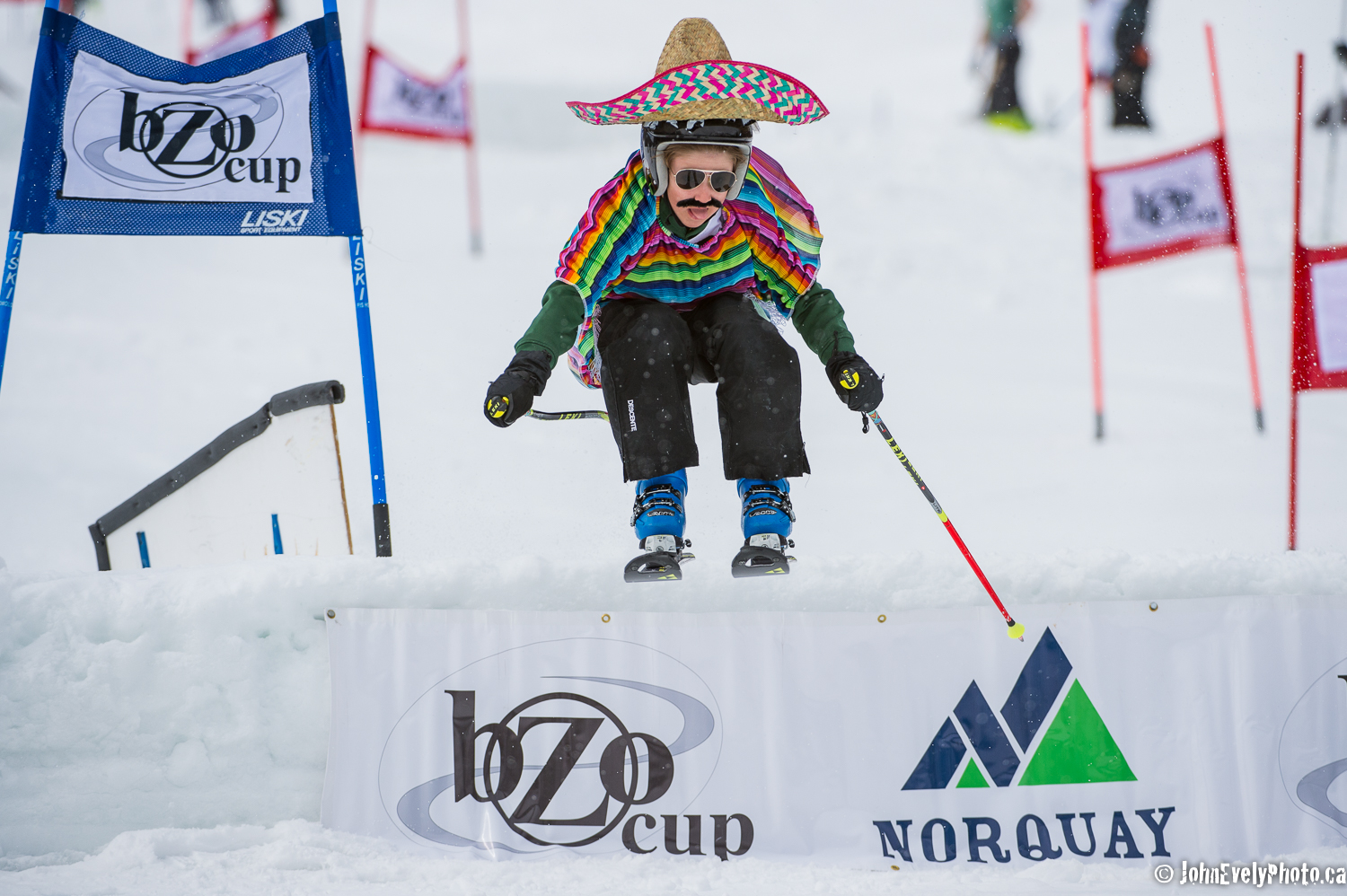 Started in 2005 by a group of Rob "Bozo's" family and friends, including older brother, Pete Bosinger, The "Bozocup" embodies a strong family feel, community spirit, a deep passion for skiing and supporting the future generations of racing, and not to mention fun, all of which was important to Rob.
"My brother would have loved the spirit of The Rob Bosinger Memorial Weekend, and Bozocup, and Kindercup. It runs in his honour, and we think it represents him and his character so well", says Pete.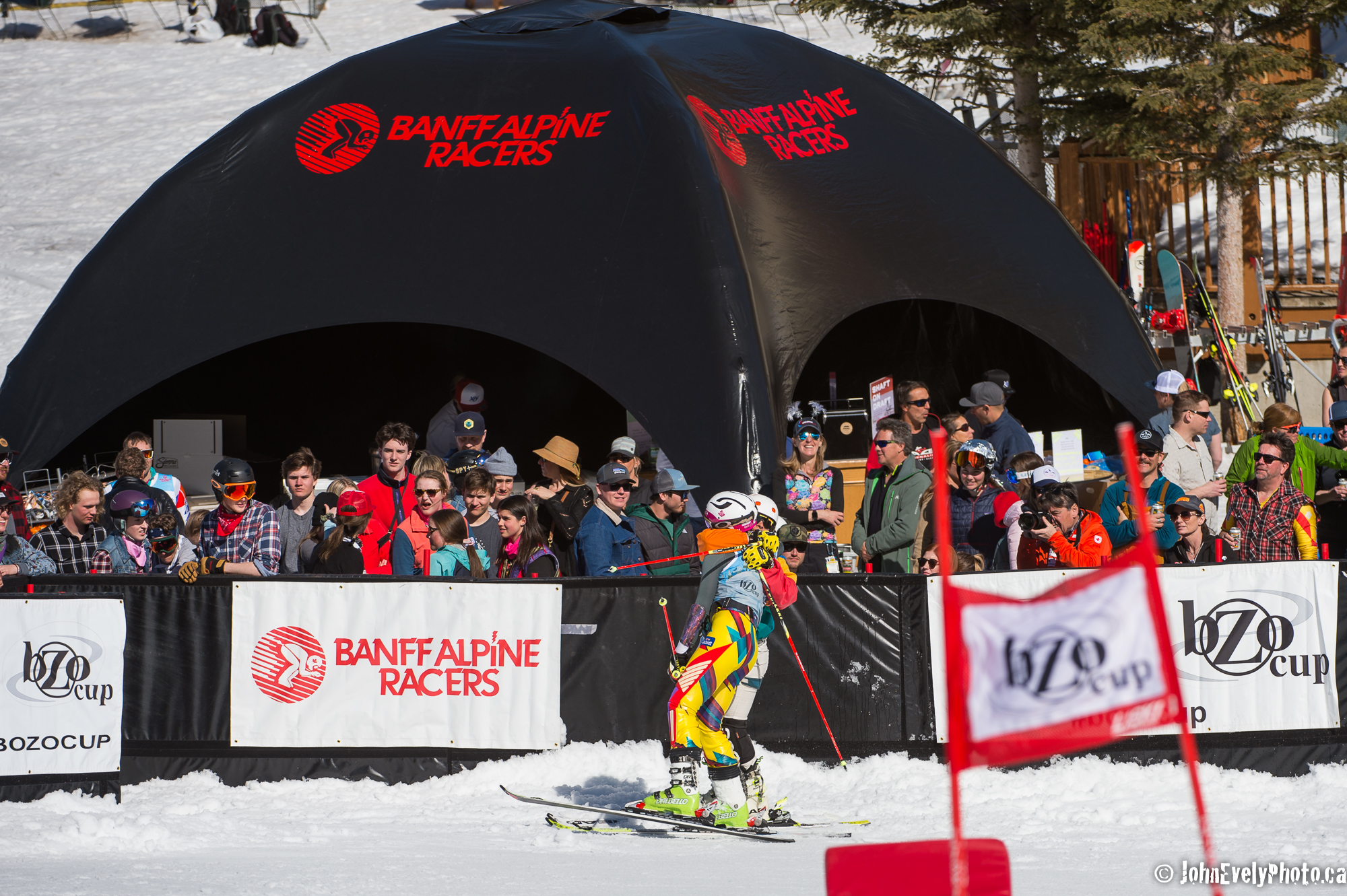 Rob Bosinger was a World Cup downhill racer and coach with Alpine Canada, much celebrated in international ski circles before he sadly died suddenly, from a coronary arhythmic disturbance at aged 38.  His racing saw him earn a seventh-place finish in 1988 at Beaver Creek, Colorado.  This was a career highlight for Rob, having grown up in a skiing family, spending seasons racing with brother Pete and skiing with his sister, Anna, and father Fred, most days.
Survived by his wife Janet, and son Mats – who was only seven months old at the time – Rob's legacy, and that of the Bosinger family, runs on through the event.  And true to his family roots, Mats – now of High School age – claimed the winning title of the U14 Kindercup just a few years ago.
"It's such an important, sometimes highly-emotional, yet celebratory and fun time for our family, and the fun part is so important," says Pete.
"We named the main event the Bozocup, in honour or Rob but also after our family nickname, so even the title itself reflects a light-hearted take on a ski race; Rob would have liked that."
Pete continues: "The kids come out in costumes, there's a great social atmosphere in the beer garden, it's people coming back together, it's springtime at Norquay and the last weekend of the season, it's just a great time.
But it's true that hosting events like this, year after year, really does take a village. I cannot tell you how grateful we are as a family to have had such immense levels of dedicated support from the community, friends, and those that knew Rob; from everyone that has shown up for this event every season, got involved, the many hours given by volunteers, and the huge support of the Mt. Norquay team and Banff Alpine Racers, is really what makes it all possible."
And everyone's invited. Whether a ski race fanatic and regular spectator from the sidelines, or new to the sport.
"I think anyone who comes out for the Bozocup will enjoy it, it's family-friendly, it's action-packed, it's social, and it's just a great final weekend at Norquay," Pete adds.
"As a family, we're so very passionate about skiing and racing yes, but for us it's so much more than the finish time or the place on a podium, it's about skiers young and old, amateur and pro, the community that surrounds skiing, and the meet-ups on mountain; it's the social time, atmosphere and toasting a beer together – that's all the heart of the weekend.
This is just how our family does things, and we want the event to feel authentic to us, and Rob. It's in the name of our family, but it's about the ski community, to invest in the future talent of racing. We look forward to it every year, it's always a highlight in the ski community calendar, and this year, being back after two years away, it's going to be even more special."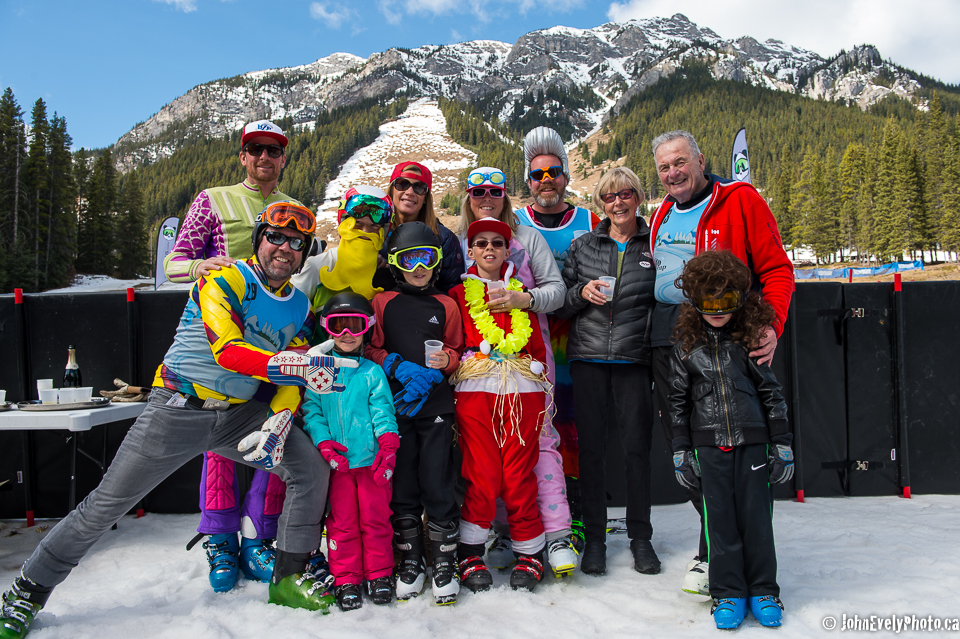 Rob Bosigner was also known for his love of coaching and developing talent in the future generations of racing. As a coach, he often worked with U14 & U16s, and so a key component of the Rob Bosinger Memorial Weekend is a scholarship, the Rob Bosinger Scholarship – whereby two scholarships of $2,500 are awarded to talented young racers under the age of 16, one male, one female, to assist with the costs of pursuing the sport.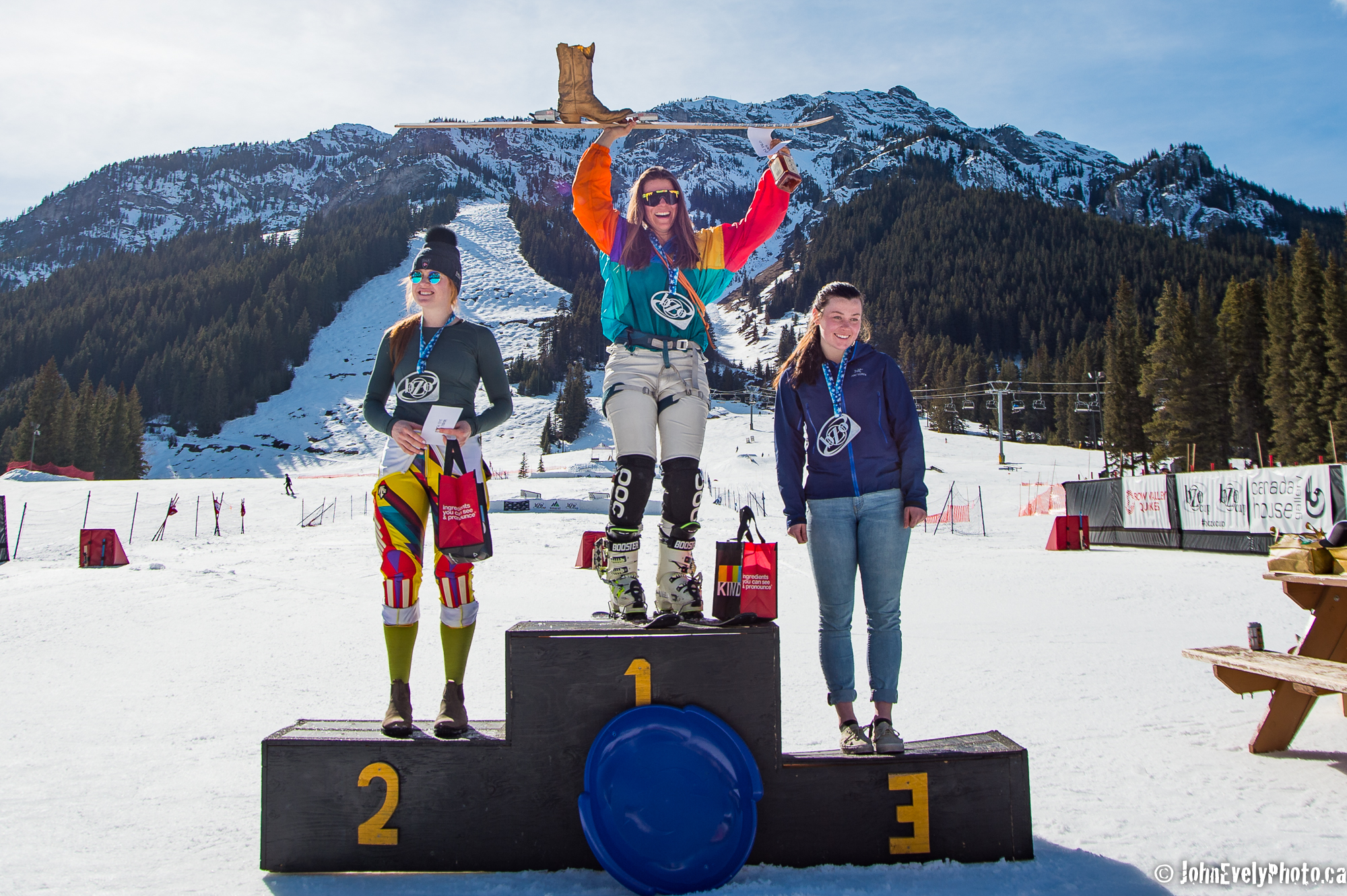 Throughout the weekend, money is also raised for the Heart & Stroke Foundation of Canada and the Canadian Sudden Arrhythmia Death Syndromes (SADS) Foundation.
So, the stage is set for the return of the BozoCup and Kindercup this April 16 & 17 at Mt. Norquay.
"Norquay has been an incredible partner for us, and such a natural home for the Memorial Weekend, Bozo & Kinder Cup.  It's the training ground for our young race talent here in Banff and as such a community-minded ski resort, with deep roots in ski racing, it's just the perfect location," Pete adds.