Taking Adventure to New Heights: The Via Ferrata Assisted Climbing Routes and the Man Who'll Show You the Way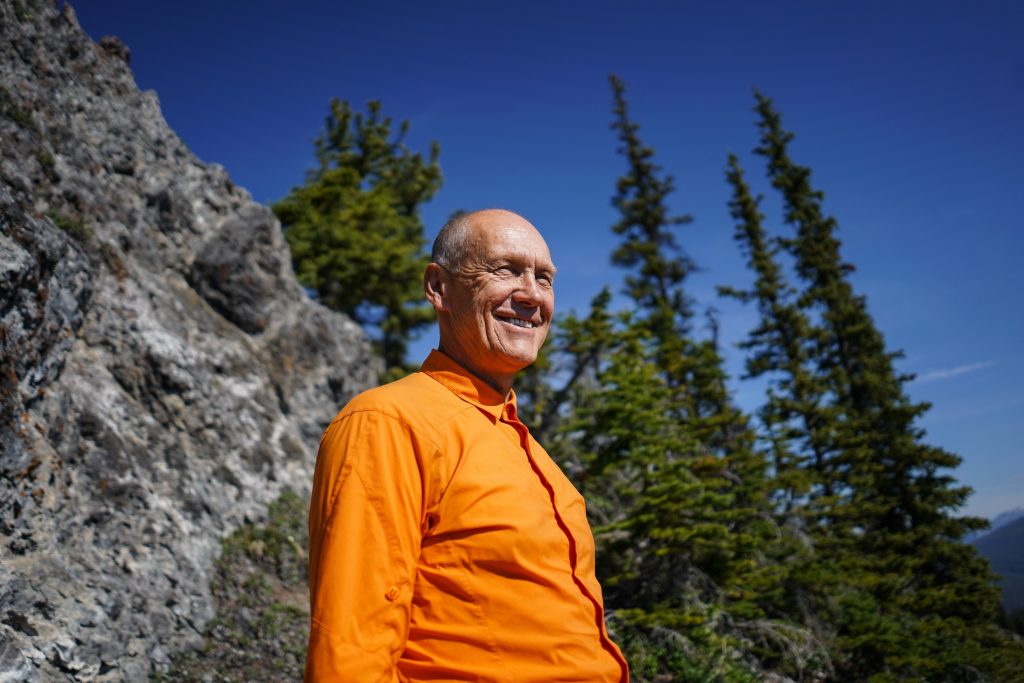 Meet JT, lead guide and outdoor enthusiast, as he invites you to explore his backyard
John Thornton (JT for short) has been shredding the slopes at Norquay for 25 years managing the Ski Patrol team and mountain operations. In a world that doesn't fall short on adventure, JT pushed the boundaries in search of a new thrill and joined the team that spearheaded the creation of Banff's only Via Ferrata. Come the end of the winter season he packs away his Norquay Patrol suit and switches to carabiners to manage the Via Ferrata and oversee a guiding team of 15 as well as a trail maintenance crew; he keeps himself busy year-round leading the ski and climbing teams.
We caught up with JT to find out why he chose a life of guiding and what makes Mt. Norquay home.
NORQUAY: How did you come to work with Norquay? What drove you to become a guide in the first place?
JT: I was guiding full time prior to Norquay and when my wife and I decided to start a family I wanted to be closer to home. I couldn't get a job anywhere else and, selfishly, wanted to ski with income. I wanted to share my enthusiasm for skiing and that's what led me to the guiding world.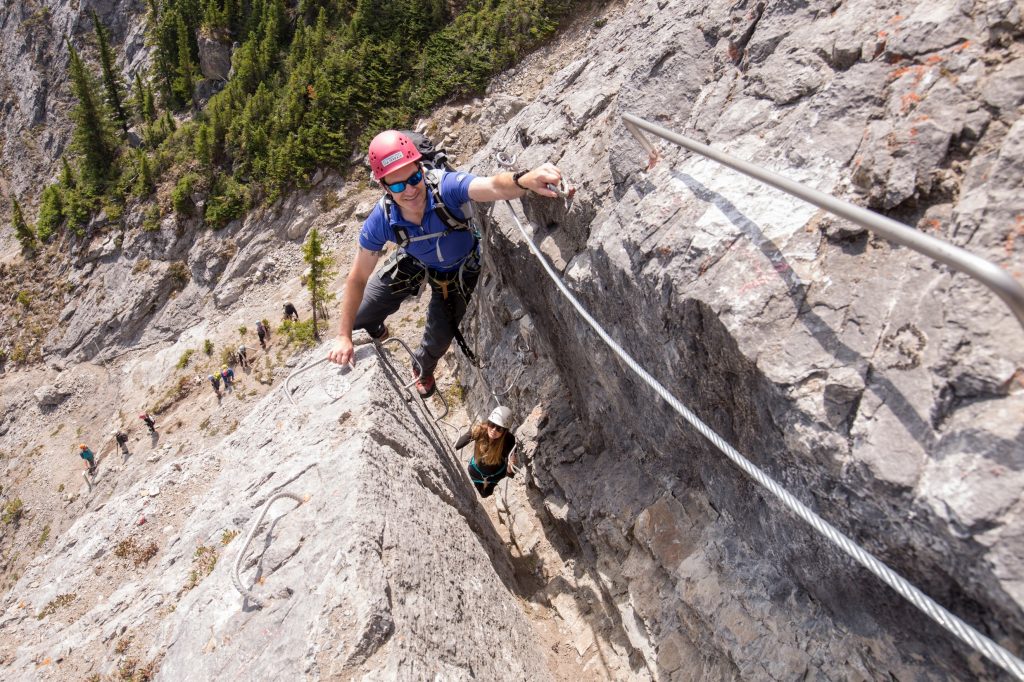 NORQUAY: What is ACMG and how does your Ski Certification differ from your Via Ferrata Certification?
JT: ACMG stands for Association of Canadian Mountain Guides. If you think of it like winter and summer guiding; winter is on-ski mountaineering, using skis to get across snow, ascend the flanks of peaks, and then you take your skis off and walk a little, to put them back on and ski down. Summer emphasizes the vertical world; places where it's important to use a rope to protect the progress. On top of it all, we do yearly refresh training for our guides on the mountain to keep them up-to-date on new techniques.
NORQUAY: What do you enjoy most about leading the Via Ferrata Team?
JT: Some really fantastic people, that also happen to be guides, have come to join us at Norquay Via Ferrata and I just happened to be here when they showed up. The best part is hanging around with these really super competent and knowledgeable people and having them raise the game for everybody amongst themselves.
NORQUAY: Tell us about the newest route? What's the difference between each of the routes?
JT: We have four routes: Explorer, Ridgewalker, and the newly added Skyline and Summiteer. The Summiteer is aptly named because it goes to the east summit of Norquay. You get to the top and it's neat to look down in all directions – you can see all the way down the valley to the east and west. Think of this trip as an extension on the Skyline route. Both tours have a really neat ascent route in the way that they travel across the mountain and take advantage of some really cool features that the mountain has to offer. But, also, on the way down, there are places on the descent that make you feel like you're walking right back to Banff Ave.
The Ridgewalker is an extension of the Explorer route and all of the routes are circuits that converge for a short part of the descent. If you book one of these, you should come back and experience the Summiteer or Skyline for the best of both worlds.
It's important to know that we're not trying to be the hardest Via Ferrata in Canada. We're trying to hit the sweet spot where you feel adequately challenged, that the physical demand is there, but also that it's achievable. People normally feel it, it's a good kind of tired. It's an achievement more than amusement and you've got to earn it – walk all the way up and walk all the way down.
NORQUAY: So, you really earn the beer at the end?
JT: It's true and it's waiting for you at the Cliffhouse Bistro. It's actually a part of the Summiteer route, you end with a charcuterie platter with a beverage. That's the whole deal. Come down from your route, have a snack, go back to down to town, get gussied up and go out to dinner – take off your hiking boots and put on your heels, take off your Gore-tex and put on your tux.
NORQUAY: What is your favourite kind of visitor?
JT: I don't have a favourite kind, I love them all. It's gratifying to get any visitor, from the uber athlete, not challenged by the fitness but who appreciates the movement, space, and place. To the folks that have never done anything like this before but have the gumption to give it a try. I like that range a lot. I love seeing families on the Via Ferrata, activities outside in fresh air in amongst the forest or mountains often brings the best out of families and the Via Ferrata is no different. We all feel that gratification as guides when somebody says they wouldn't have been able to do that otherwise.
NORQUAY: What is your advice for those who have never climbed before? And might be fearful of heights?
JT: Hire a guide. It's the fastest and surest way to make the most of your time and the best way to make sure you get service from someone who is competent and professional. Come try it, but if you're not sure go walk up a hill nearby. Call us or stop by and meet with us, we're always happy to share what we know, or visit our FAQ. But, if you're already wondering about it, you can probably do it.
If you're fearful of heights, I encourage folks to look at their shadow when they are on the bridge.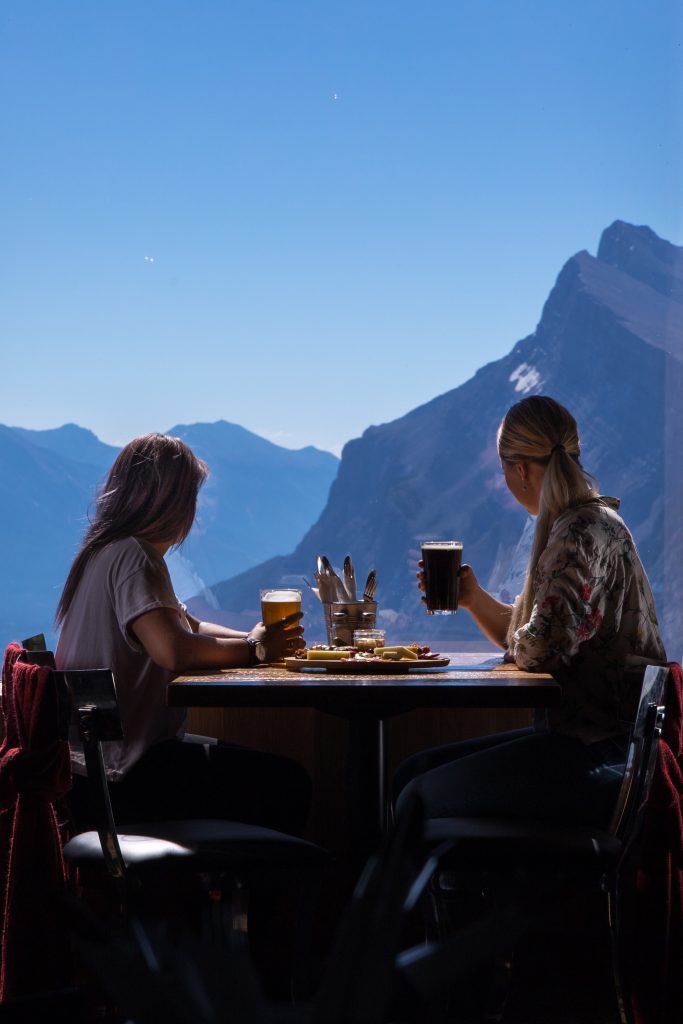 NORQUAY: So, your advice is to look down then?
JT: Yeah, might as well do it all, it's such a unique viewing perspective, why not make the most of it?
We, also, sometimes get families, couples, or groups – where some want to go and others don't want to try it. I often suggest Stoney Squaw Trail, a really nice, gentle hike accessed from the base of Norquay. It's a really well marked trail and people can do that while the other members of the party are on the 2- or 4-hour Via Ferrata routes. They can meet at the Cliffhouse Bistro after for a bite to eat and pictures. And, you still have stunning views from the Cliffhouse; it's the signature view of Banff looking at Rundle. The picture windows of the restaurant are unmatched, there's nowhere else with a view like that, it's amazing.
NORQUAY: Aside from climbing a mountain, what is the best part of the Via Ferrata? Will visitors be surprised with anything?
JT: There isn't one thing. It's many things combined. The feeling of achievement, like you've accomplished something, and that it takes a bit of effort to have done it. The sense of satisfaction lingers a lot longer than a quick adrenaline rush.
We hope that you feel inspired by the Via Ferrata and it could open up a whole new recreational world for you. There are lots of other Via Ferratas in the world. After you've done ours, go and try them out.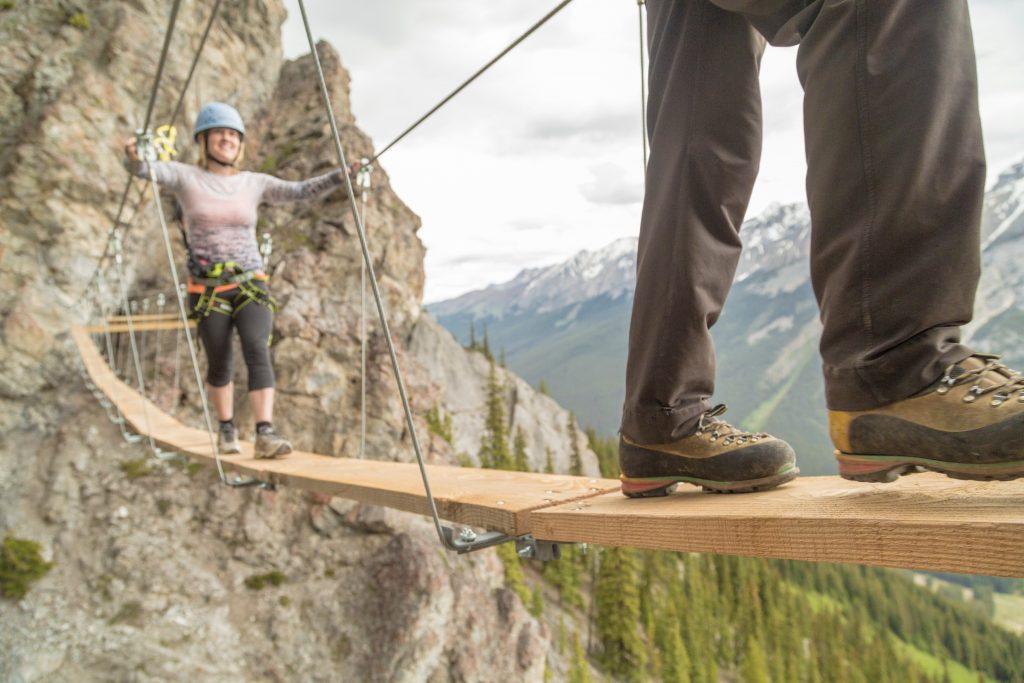 JT credits the whole team that brought the Via Ferrata from inception to completion. Mt. Norquay worked closely with Parks Canada, Yannick Berger-Sabettel, and the ACMG to bring you the four routes that now make up the Via Ferrata circuits.