Bike Banff's E-Biking Adventures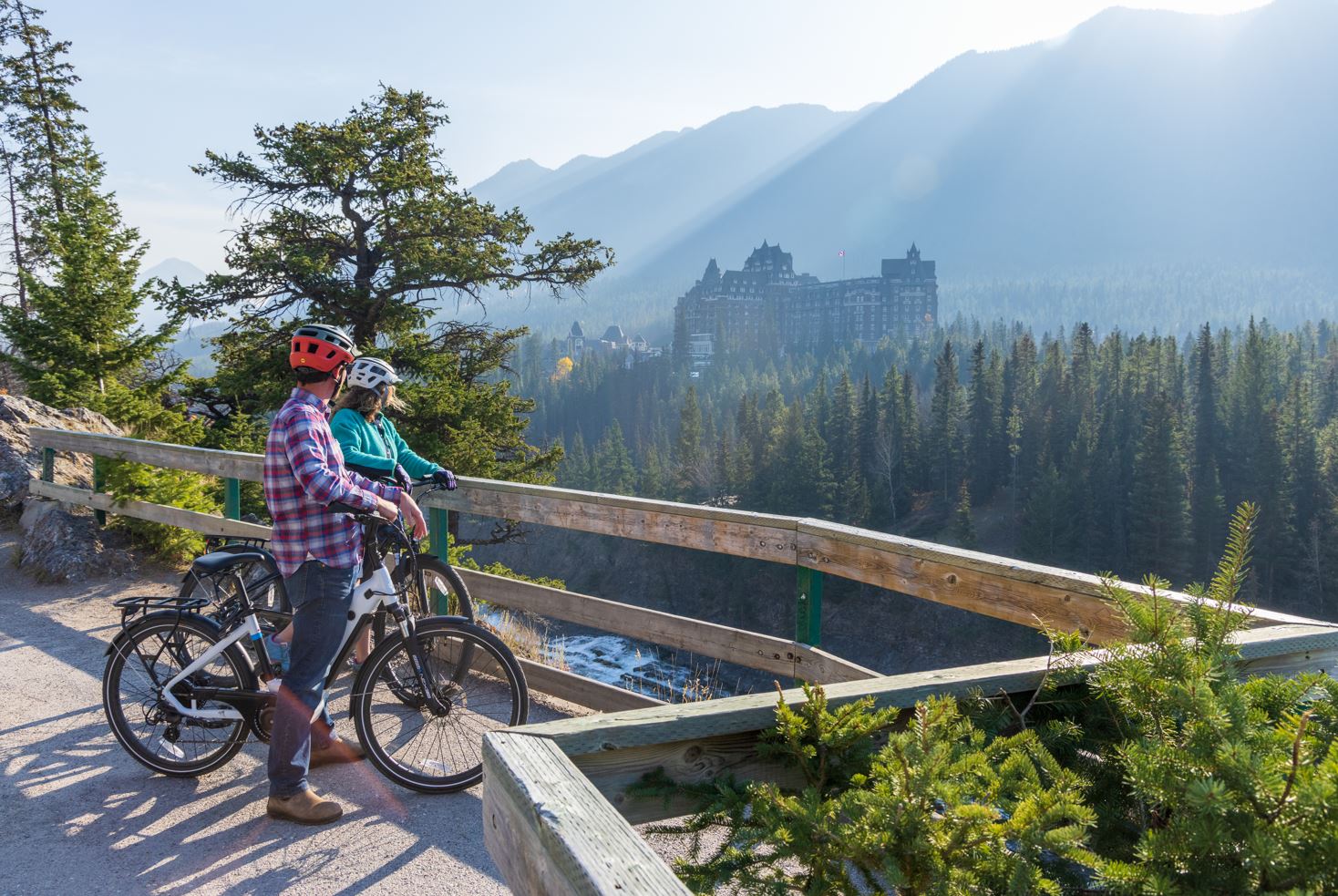 Welcome to the captivating town of Banff nestled in the Canadian Rockies. While Banff is renowned for its stunning natural beauty, there's an exhilarating way to immerse yourself in the splendor of this enchanting destination: e-biking. Join us on a thrilling e-biking adventure as we explore the scenic routes that wind their way through Banff's majestic wilderness. Strap on your helmet, hop on your electric bike, and let's embark on an unforgettable journey through nature's playground.
E-bikes have revolutionized the way we explore the great outdoors, offering an eco-friendly and exhilarating way to navigate the area. Combining pedal power with electric assistance, these bikes effortlessly carry you along the paths, allowing you to cover more ground and conquer challenging terrain with ease. Whether you're a seasoned cyclist or a beginner, e-biking in Banff is an accessible and thrilling adventure for all.
2. DISCOVER THE ICONIC BANFF LEGACY TRAIL
Start your e-biking journey on the famous Banff Legacy Trail, a scenic route that stretches 26 kilometers (16 miles) from Banff to Canmore. This well-maintained trail meanders alongside the picturesque Bow River, providing stunning views of the surrounding mountains. Pedal at your own pace, breathe in the crisp mountain air, and relish the freedom to explore the beauty of Banff's backyard.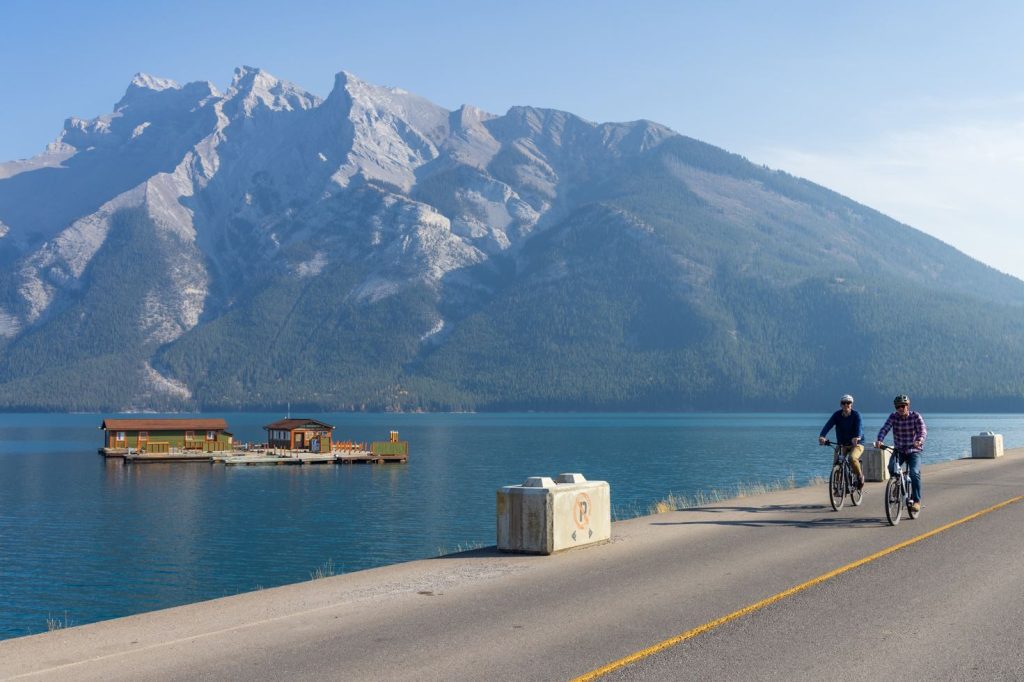 3. EXPLORE VERMILLION LAKES
For a more tranquil experience, venture to Vermilion Lakes, a series of interconnected lakes offering a peaceful oasis just minutes from Banff's town center. Hop on your e-bike and pedal along the lakeside trail, where you'll be treated to breathtaking vistas of the still waters reflecting the rugged mountain peaks. Keep an eye out for wildlife, as these serene lakes are a popular habitat for a variety of bird species and other wildlife.
4. LAKE MINNEWANKA SCENIC DRIVE
For a scenic e-biking excursion, head to Lake Minnewanka, a lake renowned for its turquoise waters and rugged beauty. Follow the Lake Minnewanka Scenic Drive, a picturesque road that winds along the lakeshore. With your e-bike, you can explore further along the trail network surrounding the lake, immersing yourself in the tranquility of the wilderness and discovering hidden viewpoints that offer postcard-worthy photo opportunities.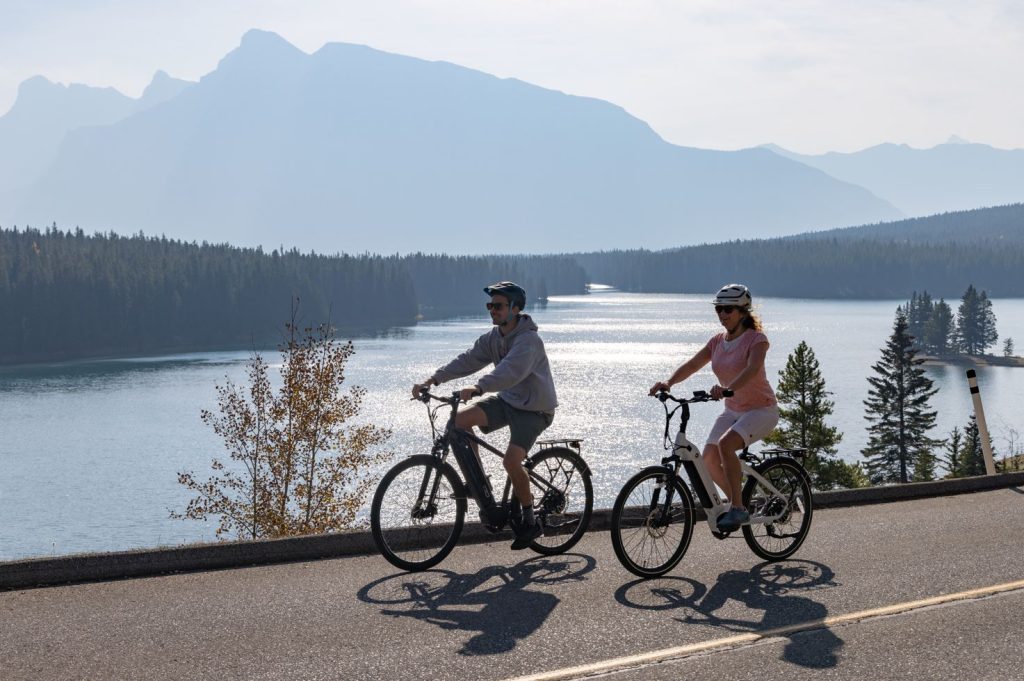 As our e-biking adventure through Banff comes to a close, we hope you're inspired to saddle up and embark on your own journey through this mountain paradise. From the iconic Banff Legacy Trail to the peaceful Vermilion Lakes, there's an e-biking trail for every level of adventurer. So, embrace the e-bike revolution, soak in the breathtaking scenery, and create unforgettable memories as you explore the scenic routes of Banff. Get ready to pedal your way through nature's playground like never before!