6 Routes. 20 ACMG Guides. An Elevation of Up to 2450 Metres Above Sea Level, and the Longest Route Taking 8 Hours to Complete.
GETTING UP CLOSE TO THE "IRON ROAD": THE BACKSTORY OF NORQUAY'S VIA FERRATA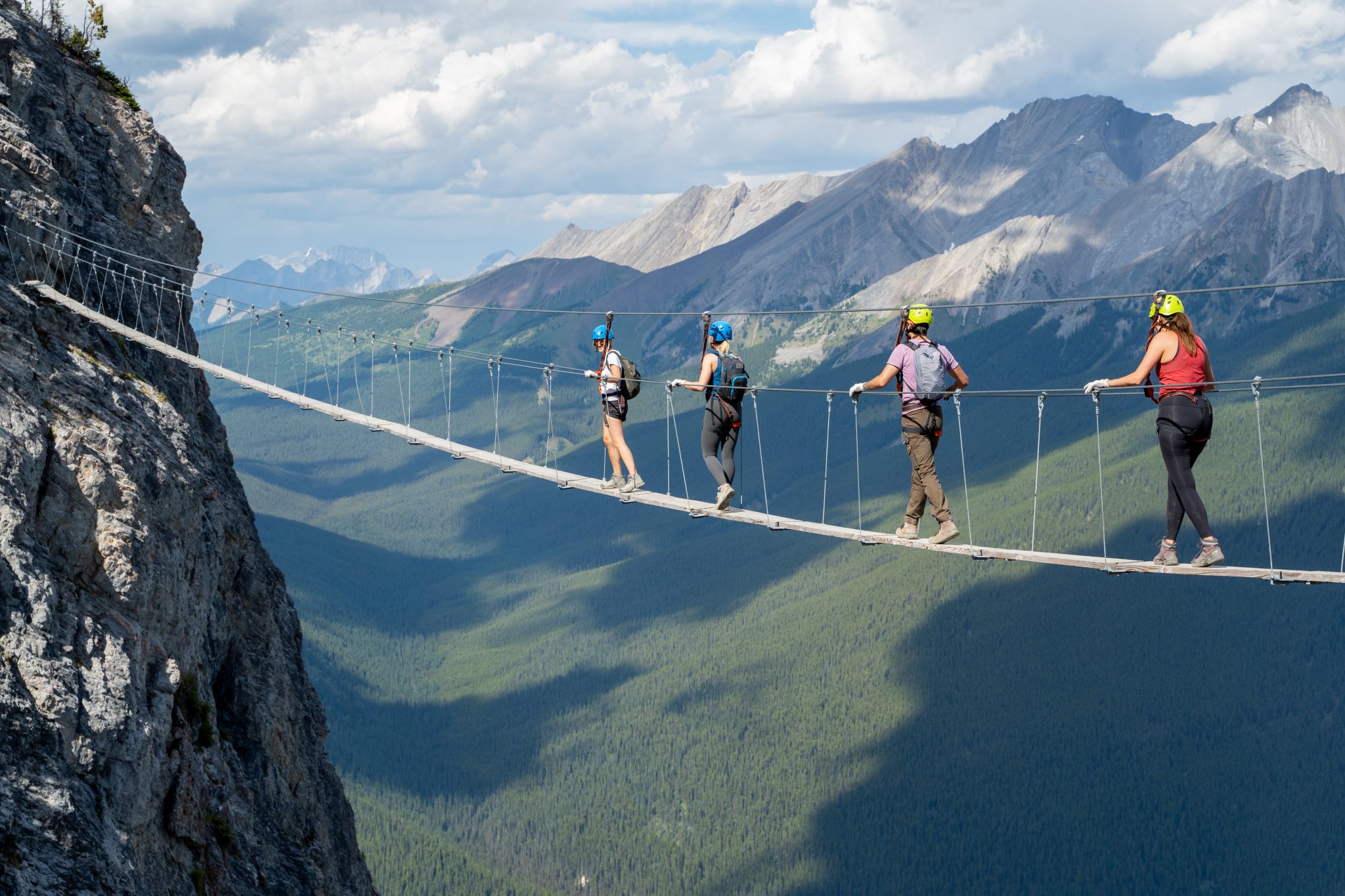 Chalking off a summit in the Rockies is always a high.
When that summit comes with your own ACMG-certified guide, exposed rock walls to traverse, deep valleys to cross, and a challenge that feels closer to rock-climbing than hiking (minus any of the pre-required training), then you must be talking Via Ferrata.
Enter Mt. Norquay's summer season highlight for adventurers.
First introduced by Norquay in 2014 as Banff National Park's only Via Ferrata, this hands-on, exhilarating, assisted climbing experience made up of fixed cables, metal foot holds, ladders, and suspension bridges, takes small groups of adventure-seekers, from novice to pro, around the mountain to various summit points – and quickly earning itself a place on Banff's summer bucket list.
And as "Via Ferrata" is Italian for "iron road", the mountain's series of now six iron routes will get you as high as 2454m asl, via the "Summiteer", with the longest route, "Mountaineer", taking up to eight hours to finish.
With an addition of new routes over time, the most recent being the "Alpinist" in 2021, returning "climbers" can continue to push their Via Ferrata experience to the next level, as they graduate through the routes.
And with an experienced crew of passionate guides departing onto the Via Ferrata routes multiple times per day throughout the summer until late September / early October (depending on the route), there's still chance to get out and get summiting this Fall.
But how did Banff's Via Ferrata come to be?
Clip in and get comfortable; this is the backstory to bringing European mountain inspiration, a passion for climbing, and mountaineering expertise to Banff's closest mountain.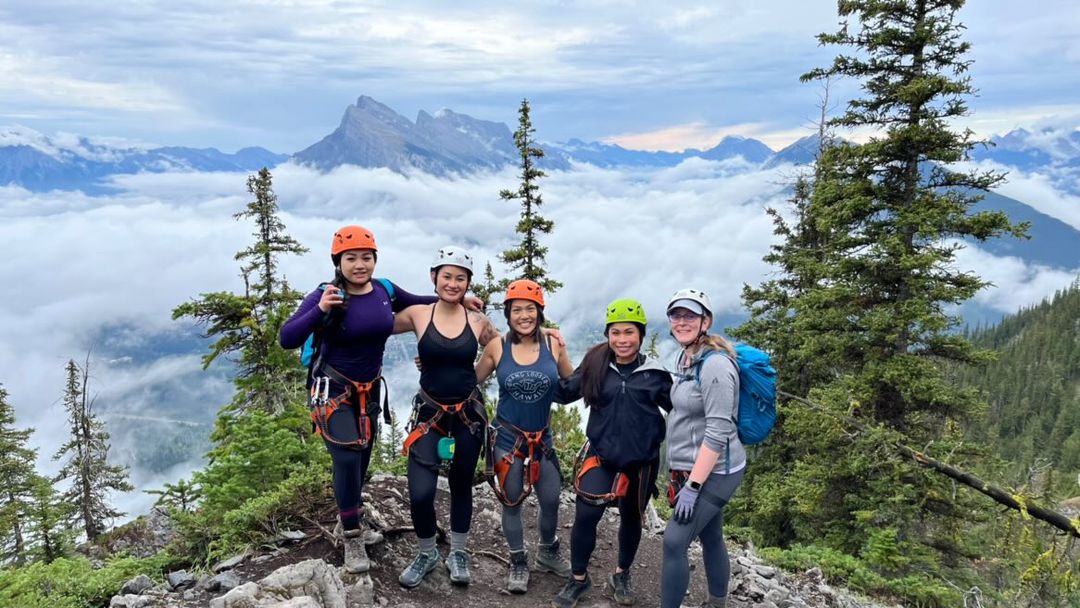 PUTTING A SHINE BACK ON SUMMER
The journey to six Via Ferrata routes started with the reimagination of summer at Norquay, to the golden memories of yesteryear.
It was way back in 1952, when then owner George Encil opened a tea house at the very top of the North American Chair (the chair from which all Via Ferrata routes ascend, and that tea house now being the Cliffhouse Bistro). Norquay was open for summer! – and would welcome visitors to ride the open air chair (including one of Norquay's most famous guests, Marilyn Monroe).
Later, in the 60s, then General Manager Doug Robinson modified the "Big Chair" (as locals affectionately refer to it) to accommodate gondola cars, and then, converting the lift into a pulse gondola, allowing the Big Chair to transport six groups of three gondolas up to the sightseeing platform – and taking Norquay summers to the next level.
Then in the late 80s, summer at Norquay would be put on hold with non-ski operations ceasing to exist – until plans went underway to not only bring back, but reinvent, what summer could look like at Mt. Norquay; these were the dreams of the ownership group at the time, led by Peter Sudermann.
There was a new vision, and a new plan: to bring a brand-new experience to Banff National Park – and that experience was the Via Ferrata.
The ownership group worked to begin the process of designing what it could look like. The plans were drawn up, the proposals were made, and from beginning the steps in 2008, by 2011 the site guidelines were signed off. It was happening.
THE LEAD GUIDE THAT'S BEEN AT EVERY STEP
John Thornton, or "JT" as he's known, is no stranger to spending time on a mountain, and no stranger to Norquay – having been a ski patrol at Norquay for over two decades and guiding since 1986.
And JT's been at every step of the Via Ferrata story at Norquay.
Having had some familiarity with the Via Ferrata concept – having seen some routes out in Europe while on a vacation trip – JT was tasked with the research.
With a sense of what was being proposed, JT immersed himself into all things Via Ferrata, travelling to Arco, Northern Italy, where he hired Via Ferrata guides to take him out on-mountain; he spoke with those that repaired and maintained the routes; he spent time interviewing these experienced European guides.
From there, JT – armed with his decades of guiding experience, an intimate understanding of Mt. Norquay, and his new knowledge of Via Ferrata circuits – was central to creating a signature Via Ferrata series of routes for Norquay, that would be a perfect fit for the resort.
"You see, we're not trying to be the hardest Via Ferrata at Norquay, we want to be the most popular, the most accessible," JT explains.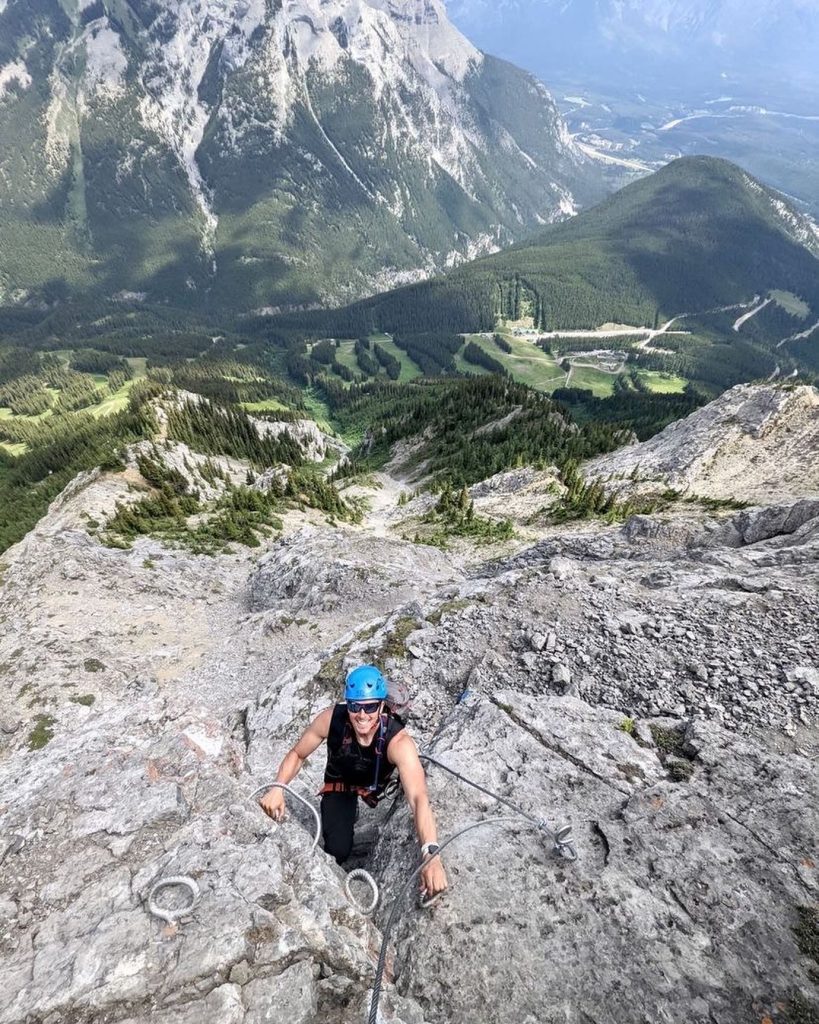 "We want to take guests at all levels of mountain experience out and have them feel the thrill of a Via Ferrata experience. We don't feel this activity should be reserved for the black diamond adventurer; we're like the gateway drug," he smiles.
And JT would continue to travel back to Italy, even after Norquay's first Via Ferrata routes opened, to hone his knowledge and continue his research of Via Ferrata design, access, and what makes a prime location for a route – which would all become invaluable insight as Norquay looked to enhance its own Via Ferrata route series.
So, what are you going to get from the Norquay Via Ferrata?
"If we're going to compare to ski runs, Norquay's Via Ferrata is a mix of green to blue runs, some of which have one to two black diamond sections. It's challenging, and exhilarating, but this is for anyone that can hike comfortably and wants to give it a go," JT explains.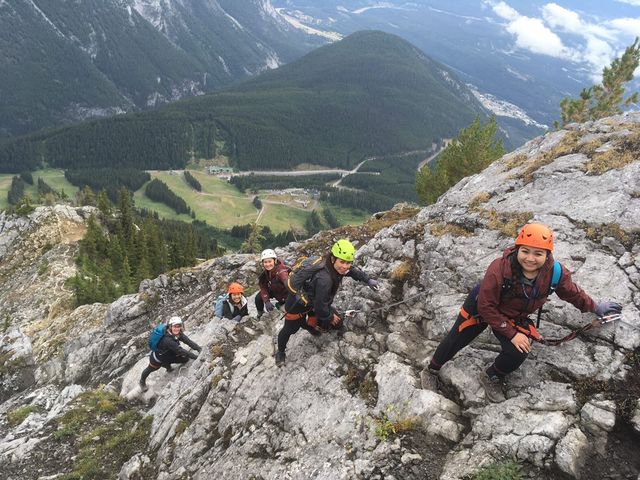 There are extremely challenging Via Ferrata routes across Europe, certainly, but Norquay is a family resort first and foremost, so a Via Ferrata experience here always had to match that. I think what we've achieved is the manifestation of that same Norquay philosophy; the routes we have reflect the mountain and who comes here to enjoy it. We're welcoming, and we take the exclusive, "big mountain" edge away from it."
And with Norquay's series of Via Ferrata routes, there's often a strong return factor, with the routes designed to offer a progression to a longer, more challenging route.
As JT explains, "in the winter, many people work up to skiing from the North American (Chair); it's a Norquay milestone; it's an achievement.
And similarly with the Via Ferrata routes, there are a wide variety of trip durations and challenge levels. Guests start with us and can get a taste for it with our shortest route, and then they return to experience another because it has something different to offer, or a new challenge; they want to see a different part of the mountain, or they're ready to take on different features like the vertical ladder, or the 3-wire bridge. It's a thrill, and you can get hooked on seeing what else is on offer. Like today, we have guests returning for their third time, their third Via Ferrata route with us."
And JT stresses that Norquay's "no prior experience" promise holds true, with the guide team seeing many guests arrive to experience a Via Ferrata for the very first time.
And behind the thrills, adrenaline, and mountain peaks, JT points out that a dedication to safety measures consistently over the years, has meant the guide crew have built a solid reputation for safety, quality, and value for money.
"You won't see our guides take photos of guests hanging off their lanyards or swinging from the cables. We encourage a thrill and a great time, but safety is paramount. And we're here to advocate for responsible mountain safety.
We're fastidious about the footwear all our guests wear, and this commitment over time has resulted in us being known for first-class mountain safety on our routes."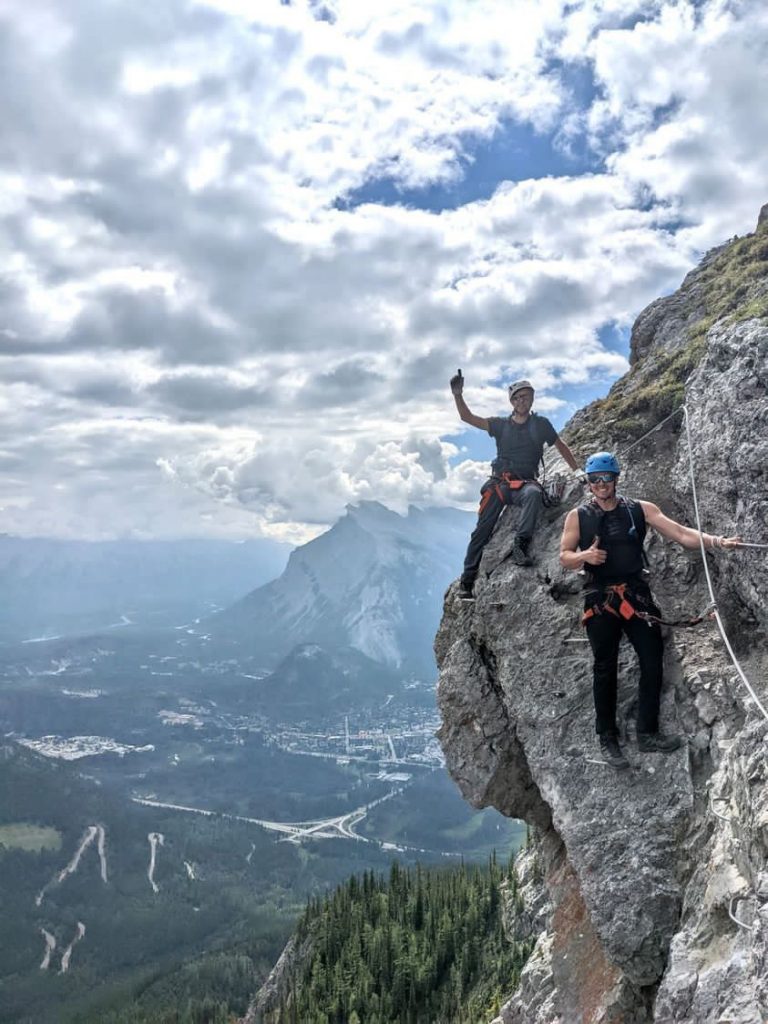 NEW ROUTES, NEW EXPERIENCES
Having launched the first two routes in the summer of 2014, what was next for Norquay's Via Ferrata arrival was already in the works.
The Norquay ownership group continued their quest to keep excitement levels high and continued building out the Via Ferrata experience to accommodate different tastes for adventure and exertion level.
In 2016, the Summit route was introduced, followed by the Skyline in 2017, and most recently, the Alpinist route, in 2021.
Working with a third-party company from France that specializes in the installation of Via Ferratas (having installed over 100 installations), Mt. Norquay was able to utilize this vast experience to design their signature routes, all of which would each offer something different.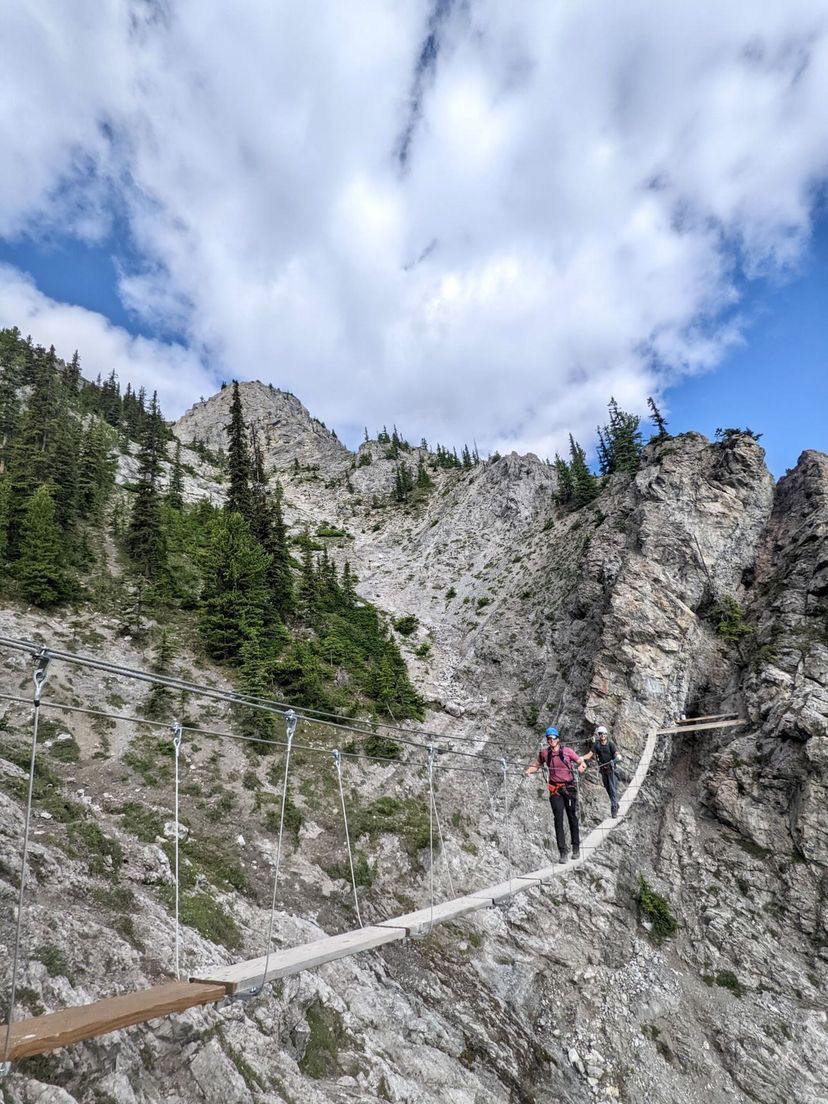 So, which route will you choose?
"The Ridgewalker is still our most popular, because it's a fantastic route!" says JT.
"The scenery is spectacular, and honestly, just keeps getting better and better as you ascend the route. The Alpinist is longer in terms of distance covered, compared to the Ridgewalker, but done in the same amount of time – so perfect for those that want a full experience without the time commitment of more than half a day; it's faster – so they're signing up for a trip that keeps moving, without lots of breaks.
And then there's the Skyline: more mountain, more features. And the Summit trip is appealing as you're reaching eh very highest point.
And the Mountaineer, that's the works; the pizza with all the toppings", he laughs.
But JT is confident that no matter the route you choose, the experience won't disappoint.
"We call it the Via Ferrata high. It's not a zipline; it takes time, it takes effort – and at the end you'll be the very best kind of tired. There's adrenalin when you reach that summit, but the feeling is a sense of true achievement – and it's such a thrill to see that as a guide."
So, after almost 40 years of guiding and eight years of overseeing Norquay's Via Ferrata, does it ever get old?
"I'm just really encouraged by the reaction we get every season, to the Via Ferrata, and how people respond to it," JT answers.
"I'm inspired by it every single day, to see people interact and connect with the mountain, from all walks of life and all parts of the globe, there's nothing like it.
And so no, trust me when I say, it doesn't get old."
To select your Via Ferrata route, click here.